Here it is, what you've all been waiting for: the 2010 Park Slope 100. This is the fifth  annual alphabetical list of 100 people, places and things that make Park Slope such a special place to live. 100 Stories, 100 ways of looking at the world.
This year I received many tips from readers of OTBKB. Quite a few of these blurbs were written by OTBKB readers.  Thanks to all!  Please send your typos, your fact checks, your comments to me.
Heck, I know you will.
Five years of the Park Slope 100. That means that  if you combine  all the lists there are 500 people, places and things. Click on this to see the Park Slope 100s from  2005-2009, a mini-history of people, places and things in Park Slope since 2005.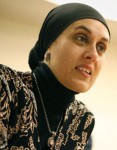 Debbie Almontaser because you were vindicated by the  Equal Employment Opportunity Commission, who said that the city Education Department discriminated against you when they forced you to resign. The "DOE succumbed to the very bias that creation of the school was intended to dispel," the commission wrote earlier this year, finding that you faced discrimination on "the basis of her race, religion, and national origin." Your lawyer Alan Levine wrote:  "Debbie Almontaser was victimized twice, first when she was subjected to an ugly smear campaign orchestrated by anti-Arab and anti-Muslim bigots, and second when the DOE capitulated to their bigotry."
The Baristas who walked out of Gorilla Coffee because you did what you needed to do, when you couldn't take it anymore. The note you wrote was cryptic but apt: "This isn't political and it isn't a strike. The staff quit and the matter will not be resolved. It's a matter of business, and a personal matter for each of the staff. Everyone at Gorilla Coffee, including the owners and the staff, are skilled, passionate, and hard working. It is unfortunate for everyone involved. The workers are grateful to the many wonderful patrons over the years, and we apologize that it was necessary to inconvenience them in this way."
Richard Bashner and Audrey Buxbaum because you contribute so much to the Park Slope community. You, Richard, have been the Chair of Community Board 6 for the past 4 years, as well as a long time basketball coach for the 78th Precinct league. You, Audrey, as an OBGYN at Downtown Women, are responsible for the deliveries of scores of Park Slope children over the past seventeen years.
Big Nose Full Body because you're the kind of shop where, according to Laura A. on Yelp: "you can walk in and say 'my friend is coming over for greasy pizza and Jersey Shore tonight.  What should I get?'and not feel like you're being judged. The guy narrowed it down to two choices for me, told me the prices without me having to ask, explained the basic differences in each of the wines, then asked whether or not I'd like a bottle that was already chilled.  Could this get any easier?"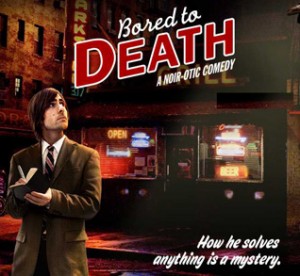 Bored to Death because you're the popular HBO series by Jonathan Ames about a Brooklyn novelist and private detective with Jason Schwartman, Zach Galifianakis and Ted Danson. You shot much of this year's episodes all over neighborhood—and we got to see the actors in crazy costumes. The location fees meant a new floor at the Brooklyn Lyceum. Woo Hoo. Thanks.
Brave New World Repertory Theatre because you are a Brooklyn-based group  dedicated to creating dynamic productions of classic plays, as well as new works by Brooklyn writers. Your site-specific production of The Crucible at the Old Stone House was simply wonderful.
Peter Bray and David Alquist for your work leading the effort to expand the Park Slope Historic District.  As Chair of the Park Slope Civic Council's Historic District Expansion Committee, Peter, you led the effort that has already succeeded in the calendaring by the Landmarks Preservation Commission of Phase 1 of the hoped-for neighborhood-wide district.  And as a member of the committee and the driving force behind the indispensable blog Save the Slope, you, David, has brought alive a trove of fascinating Park Slope history.  Together, Peter and David have already accomplished a great deal in the effort to preserve the architectural history that makes Park Slope such a special place to live
Brooklyn Brainery because you host inexpensive classes on anything and everything. It's been said you're like a book club on steroids. Brainery classes don't have real teachers but "class leaders" who know a bit about the topic, but they're mostly just there to keep things on track and guide the learning process.
The Brooklyn Prospect Charter School because you introduced an exciting new educational alternative to the parents and children of District 15.  The brainchild of Dan Rubenstein and Luyen Chou, who founded the school in 2009 with a commitment to providing a college preparatory environment using the pillars of the International Baccalaureate program.  They have attracted a talented and committed pool of teachers resulting in an environment ripe for learning.
Bussaco because you gave it your all despite opening during the worst recession in US history. The food and wine were lovely and your big open space was special. We miss you.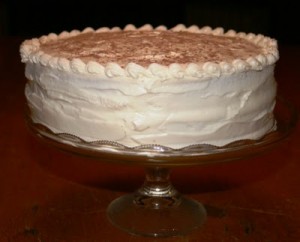 A Cake Bakes in Brooklyn because you, Susan LaRosa, are taking us on a delicious journey revisiting American home cooking in the era before convenience foods became popular (1919 to 1955), as you bake and cook from old cookbooks and recipe cards of home cooks purchased at estate sales in Akron, Ohio, and other exotic locations.
Michael Cairl because you've been a tireless neighborhood advocate for years, and have amply filled the big shoes left behind by Ken Freeman as president of the Park Slope Civic Council.
Dan Cantor because, hey, you're the founder of the Working Families Pary.
The US Census because you hired our unemployed friends and neighbors. We liked seeing your teams around the neighborhood.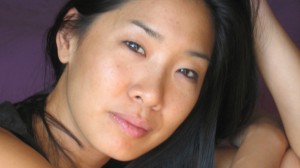 Tina Chang because as Brooklyn's new poet laureate you are passionate about reaching and educating diverse communities. Go poetry!
Cog and Pearl because for eight years you have been bringing us the finest in re-purposed and recycled artisan jewelry, accessories and objets d'art and you've taught us that, in the hands of artists, there is often beauty, humor and wonder in the things we throw away.
Paul Curtin because as head of junior development at the Prospect Park Tennis Center you're doing a great job teaching children this wonderful lifelong sport. You are flexible and patient with beginners and advanced players, and open to requests and suggestions. Your enthusiasm for the sport is palpable.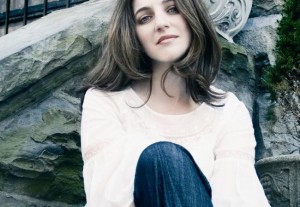 Simone Dinnerstein because as founding director of the Neighborhood Classical Music Series you bring innovative and inventive classical and new music programming to benefit PS 321.  The fact that you're taking the show on the road to underserved  schools in underserved neighborhoods is truly visionary and admirable.
Jenny Douglas because you post a monthly silent meditation. Over 300 people have passed through your open door. With special guests offering guided meditations  you are a beacon for anyone seeking solace, peace or to simply bask in the glow of your  beautiful spirit.
Jennifer Egan because your book, A Visit From the Goon Squad, a  collection of carefully arranged interlocking stories was described by one local reader as "one of the best-crafted, most intriguing and most readable books of the year." Picked as a one of the top 10 books of 2010 by the New York Times.
Ezra Goldstein because you followed your dream and your passion (despite your better judgement and the gasps of friends and family) to take over the Community Bookstoreand make it your own at a time when it truly needed some TLC and new vision. At the same time, you are reinventing yourself. Once an editor and writer, now a bookstore owner. Contrary to F. Scott Fitzgerald's famous quote: there are second acts in America.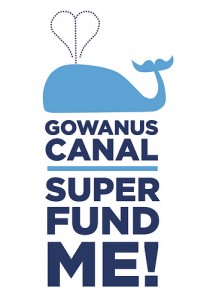 Gowanus/Superfund Designation because human health does matter and because the residents of Gowanus, like everyone else, deserve to live in an environment free of toxins.  Thank you to the Environmental Protection Agency for stepping in, getting the job done and promising a much brighter future to this long-neglected community. (Written by Katya Kelly of Pardon Me for Asking.)
Fifth Avenue BID because with Irene as your fearless leader you're bringing so much fun, energy and customers to Fifth Avenue businesses.
Martha Foote founder of Time Out from Testing because you've created a statewide coalition of parent, educator, business, community, and civil rights organizations in New York State committed to a "time-out" from excessive and high stakes exams. You call for comprehensive review of the Regents exams and state-initiated standardized tests and the impact they have had on our children, our schools, and our communities!
Four and Twenty Blackbirds because you gambled on a Third Avenue location and brought world class and imaginative pies to Park Slope
Fourth Avenue because you are changing—and changing fast before our eyes. We love some of the cool and eccentric things that are coming up and wish the apartment buildings had thought to face the Avenue with storefronts and not vents and parking lots.
Frank at Palma Chemist because you (and the others at Palma) make me realize how lucky we are in Park Slope to have a friendly, local, independent pharmacy to go to when we need to have a prescription filled.
Freddy's Bar because even though you were displaced by that ratty Atlantic Yards Project you fought the good fight and now you're reopening in the South Slope and bringing Prospect Heights-style  activism, drinking, music and good fun to the South Slope. As you say on the website: "The inmates now run the asylum — three cheers for Donald O'Finn, Matt Kuhn, and Matthew Kimmet, partners and owners of the new place which is set to open soon."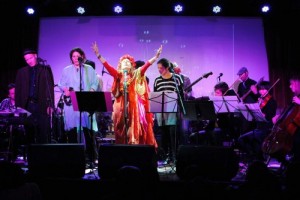 Greta Gertler and Adam D. Gold because just weeks after the 20th anniversary of John Lennon's death (and the attending tributes and nostalgia) you had the  audacity and the common sense to celebrate another ex-Beatles masterpiece from 40 years ago. Only in Brooklyn could a super group of stellar musicians calling themselves The Universal Thump come together to recreate the Phil Spector-style wall of sound that enhancedGeorge Harrison's 1970 All Things Must Pass. Only in Brooklyn could this dizzying array of vocalists and instrumentalists, perform the entire, yes, the entire three-album set.  In the process they brought down the house not once but numerous times during the three-hour show at The Bell House on November 29th, the 10th anniversary of Harrison's death from cancer and just days away from the albums release date in 1970.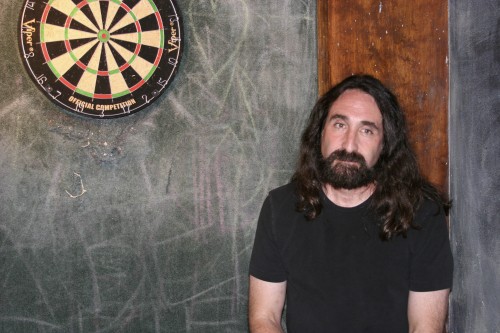 Keith Greenberg because you created a minute-by-minute chronicle of that terrible day in 1980 when John Lennon died. Amazing detail, well-told biographical sketches of Lennon, Ono, the other Beatles, Mark Chapman and all the other players in this tragedy, the book is a must-read for the Lennon-obsessed—and those who remember or are curious about those grief filled days and weeks after Lennon's death.
Michael Gross because he was a pioneer responsible for bringing one of the first upscale (and organic) eateries to Flatbush Avenue (New Prospect) when Park Slope was a foodie desert. Later he opened New Prospect At Home, a gourmet take-out shop on Seventh Avenue. He died this year of ALS (Lou Gehrig's disease).  RIP.
Hail Stones because you reminded us who's in charge (see Park Slope tornado).
Karen Hansgen, Park Slope mom and respected art book publisher. RIP.
Jennifer Michael Hecht because you're an author, whose work crosses fields of history, philosophy, and religious studies.  In The Happiness Myth, you look at what's not making us happy today, why we thought it would, and what these things really do for us instead.  Money—like so many things, it turns out—solves one problem only to beget others, to the extent that we spend a great deal of money today trying to replace the things that, in your formulation, "money stole from us."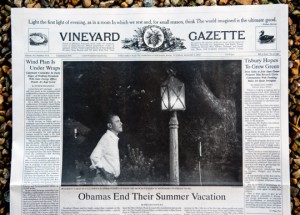 Gabriela Herman because as luck would have it you were dining last August at the Beach Plum Restaurant on Martha's Vineyard, when the Obamas came to dinner. You had your camera with you so when the president stepped outside to check out the magnificent sunset view, you snapped a few shots. Your glorious photo made the front page of the Vineyard Gazette.
Here's Park Slope because you bring us storefronts, history, food, oddities, tree-lined brownstones and so much more. Well-written, well-reported, great pictures. Good job!
Marketa Irglova because you're calling Park Slope home and we love the achingly beautiful solo work that you're developing and performing at Zora Space, as well as your work as one half of the fantabulously melodic and emotional The Swell Season.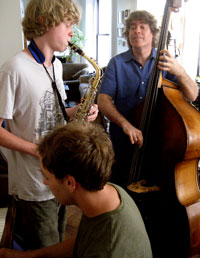 Jazz Mindfulness Program because this  innovative music program for teenagers at the Brooklyn Zen Center, the brainchild of  Park Slope musician and jazz educator Adam Bernstein, combines jazz and meditation in unexpected ways. And a 1,2, 3: Om.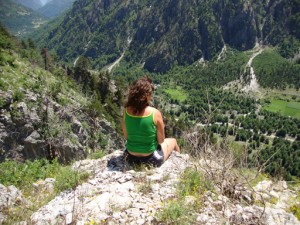 Journey to Valbona because you, Catherine Bohne, took all of us on your journey to Valbona with occasional blog postings like this one: "We are entering our fourth week with no electricity, which makes me realize how fast I adapt to things – oh, I don't mean that as a self-congratulation – more like I get much too comfortable too quickly.  It's pitch dark at 4:30 pm, at which point Alfred and I take to opposite ends of the sofa in the kitchen (getting tangled up somewhere in the middle) under a big blanket and he goes quietly to sleep while I read, knit or shush the mouse (Alfred is NOT as sentimental as I am about animals..." Hey Cat: We admire your ability to reinvent yourself!
Rick Kadlub from A Tour Grows In Brooklyn because for over 3 years you have been proudly showing people from all over the world the neighborhood you love and taking them to all the cool spots like Al Capone's birthplace, Two Toms Restaurant on Third Avenue and Prospect Park.
Marcia Kannrey founder of the Dialogue Project (and a dog walking business) because at the Dialogue Project you work to build trust, compassion, and partnerships among people who experience bias, hostility, and tension relating to the conflict in the Middle East. You work in communities where Palestinians (Muslim and Christian), Israelis and Jewish Americans, other Arab and Muslim citizens and new immigrants live and work alongside long-time residents of all other ethnicities. Here in New York, unlike the Mid-East, we have no barriers to dialogue except the barriers we hold within ourselves.
Nicole Caccavo Kear because we love your funny/real/smart Dispatches from Babyville, a regular column in the Park Slope Reader and your blog posts for A Mom Amok.
Jane Kelley because you are the author of the young adult novel, Nature Girl, about an 11 -year-old girl stuck in the wilds of Vermont for the summer with no TV, no Internet, no cell phone, and worst of all, no best friend. So when Megan gets lost on the Appalachian Trail with only her little dog, Arp, for company, she decides she might as well hike all the way to Massachusetts where her best friend, Lucy, is spending her summer. Life on the trail isn't easy, and Megan faces everything from wild animals and raging rivers to tofu jerky and life without bathrooms.
Jason Kersten because your award-winning journalism has appeared in Rolling Stone, Men's Journal, and Maxim. In you book, The Art of Making Money, you deftly traced the riveting, rollicking, roller coaster journey of a young man from Chicago who escaped poverty, for a while at least, after being apprenticed into counterfeiting by an Old World Master. Written by John Guidry.
Nick Kotsonis because you're a third-generation Slope businessman and the owner of Slope Health and Fitness who did a good deed this year by donating, yes, donating $10,000 towards funds much needed to send the Dancewave teens to the prestigious Aberdeen Festival in October.  The group's money disappeared along with the travel agent it trusted. The Kotsonis' family opened and ran Purity Diner on 7th Ave. for 50 years.
Lynette Kirchner because you opened our new favorite resale shop with the great name, Two Lovers. You used to work for Eden, Bono's clothing line. When Matter (one of your favorite 5th Avenue shops) closed their Brooklyn store you decided to go in. "I love bargains, stoop sales, sample sales. My taste is very feminine," you told me last summer when I discovered your lovely shop that carries an inexpensive selection of clothing from the last twenty years of so.
Deb Klein because you're the founder of Brooklyn Craft Central and its your mission to give independent artists and creative entrepreneurs an outlet to sell their work. Cool.
Nicole Krauss because of your new book, Great House (nominated for a National Book Award) and your reading and Q&A at Beth Elohim, as part of their Bookapalooza festivities. It was a master class in a style of literary fiction, that penetrates the inner lives of its characters and touches on major themes like trauma, remembrance, the legacy of the Holocaust, and what we pass on to our children.
Daryl Lang because you decided to leave Park Slope and you wrote rather eloquently about it on your blog, History Eraser Button: "I am leaving Park Slope because I am increasingly impatient with people too socially deficient to act like good neighbors. People who won't spare five seconds to help an old lady. People who can't figure out their way around without checking their iPhones. People who don't say hi to the neighbors with whom they share a stoop. These things are getting noticeably worse. Rather than stew here and become the local grouch, I'm recognizing that I have passed my expiration date in this neighborhood. Time to exit gracefully."
Victoria Libertore because you are the burlesque goddess of Park Slope at your frequent shows and classes at the Brooklyn Arts Exchange.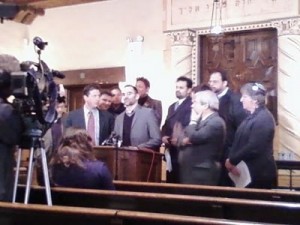 Local clergy, politicians and law enforcement officials,(including City Council Members Brad Lander and Steve Levin, Rabbi Andy Bachman, Rabbi Ellen Lippman, Rev. Daniel Meeter, Mohammad Razvi, Bob Kaplan, Representative Yvette Clarke, and Adam Barish of the NYPD) who came together for a press conference to denounce anti-semitic flyers in Park Slope.
The Makers Market because you put on an interesting artisan gift market and food sale every Sunday with music, lunch and a great atmosphere in the Old American Can Factory.
Robert Makla because he always dressed to the nines, with his signature bowtie and suspenders. He was a familiar attendee, avid supporter and eager participant at Brooklyn CB6 general meetings.  He often started off by reminding us that he was born at NY Methodist Hospital, and with the exception of serving our country oversees in the armed forces, spent his whole life living in Park Slope. Bob's message was often simple, and eloquently delivered.  To paraphrase…Parks are special places, where people of all races, incomes and interests mix.  They reconnect people to nature.  They feed the soul serving as inspiration to artists and dreamers, poets and planners. RIP. Written by Craig Hammerman.
Gloria Mattera because of your activism in the areas of health care reform, education, a fairer tax system, and many other issues and for running as the Green Party candidate for Lt. Governor in NYS helping the Greens get enough votes to get ballot status!
Marion McCleneghan, the 40-year-old Park Slope woman who lived on 14th Street and went missing one day last winter. We remember and honor you.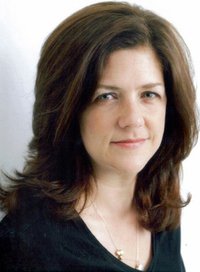 Nancy McDermott because you are the heart and soul of Park Slope Parents. This year you spearheaded creating the Park Slope Parents blog, which combines thought pieces about parenting with informative posts about the community. You can calm even the most stressed out parent with your eloquent words of wisdom and you've started a wonderful trend with your Lego Club at the Old Stone House! (written by Susan Fox of Park Slope Parents).
Jack "Skippy" McFadden because you have literally changed the face of nightlife in Park Slope. You were part of the group which established Union Hall and The Bell House. Your official title at those clubs was Talent Buyer, which is music business lingo for the person who books the bands. And Skippy has the knack of getting well known indie bands to play at his clubs. Skippy and the folks at Union Hall and The Bell House came to a mutually agreed upon parting of the ways earlier this year. But Skippy got right back into the mix by taking his knowledge and instincts as Talent Buyer down the street to The Rock Shop, the new club which opened on 4th Avenue near Carroll Street early this summer. Skippy continues to be one of the reasons that Park Slope is becoming an important location in the Indie scene. Written by Eliot Wagner.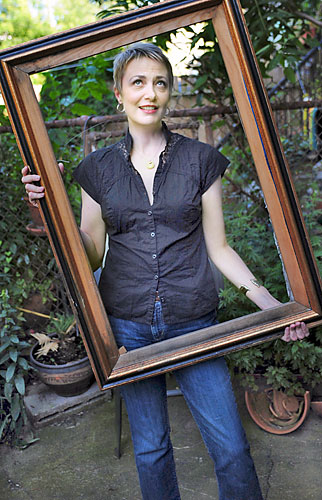 Sharon Mesmer because you are the author of eight books, including The Virgin Formica, Annoying Diabetic Bitch, Half-Angel, Half-Lunch (from Hanging Loose Press) and the winner of two New York Foundation of the Arts fellowships and a MacArthur scholarship for poetry (at the recommendation of Allen Ginsberg who called your work "beautifully bold & vivaciously modern."). You hold a Masters of Fine Arts from Brooklyn College, have taught and inspired hundreds of students in your 15 years as a part-time associate professor at the New School. You epitomize on a regular basis the power poetry has to enlighten as it thrills. And if that's not enough, you're hilarious!
Mile End because you are our Montreal style deli on Hoyt Street just south of Atlantic Avenue. Everyone is raving about it. I was wondering why there's always a big line over there. Turns out it's a small place and it draws quite a crowd.
Mission Dolores because you are "the world's most brilliant conversion of an auto shop into a bar. Big courtyard, 24 beers on tap, pinball, dogs on Fourth Avenue." (Written by Brooklyn Based).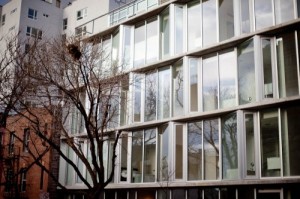 The Enrique Norten Building at 580 Carroll Street because, hey, you're a nice looking condo.
Lori Nelson because your One Hundred Little Recession Stories was such a creative way to document the individual stories of our tough economic times. In your own words: "I gather one- or two-line stories from friends, Craigslist, and Facebook describing what people as individuals are feeling and seeing during these new Hard Times. In the tradition of Studs Terkel, I feel compelled to document this important time in history so that people can understand how it is and maybe learn."
Natasha Cooke Nieves, a teacher at Park Slope's PS 282 on 6th Avenue and Berkeley Place, won a $25,000 cash award from the Milken Family Foundation (yes Milken of junk bond fame) for accomplished teachers. Nieves was among four other teachers from New York state to win the grant. $25,000.
Cafe Martin because it's Martin's new place. The coffee is top notch and he's as droll as ever. Carry on.
Briana Ojeda because we mourned the death of this 11-year-old, who was with her mother en route to the hospital earlier this year when their car was pulled over by an officer who refused to help.  A horse-drawn carriage accompanied by a police escort brought Ojeda's coffin to the steps of the church. RIP.
Joanna Oltman-Smith because you are a veritable one-woman crusade for safer streets for pedestrians and cyclists.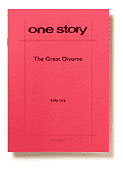 One Story Magazine because you are a pocket-sized literary magazine that contains, simply, one story. Published out of Park Slope, an amazing story arrives in your mailbox every three weeks (18 issues a year) if you subscribe.
Operaman because you share your counter tenor / castrato voice with residents of central park slope as you serenade them with your falsetto renditions of "You're So Vain" and "Under The Boardwalk" (to name only a few from your repertoire) as you carry your groceries home from Key Food.
Open Source Gallery because you have an indomitable spirit that even a terrible fire can't destroy. Since 2008, you have presented the work of dozens of artists and organized community participatory events, including "Thrift Shop", which transformed the space into a bazaar and "Soup Kitchen", which invited a different artist to cook a one-pot meal for the public each night last December.
Parents of NY Teens Monthly Support Group because you help those parents who are dazed and confused about this crazy stage of life and the impact it has on the entire family.
Park Slope Armory because you finally opened this year and you're a multipurpose athletic and educational center that people seem to love.
Park Slope's United Methodist Church Annual Book Sale because once a year you throw a great book party for those who love to buy used books in every  imaginable category.
Ed Patuto because you're the new executive director of Issue Project Room, an innovative and experimental music and performance space that lost its founding director, Suzanne Fiol, to cancer in 2009.
Pedestrian Countdown Clock because crossing the street at 9th Street and Fourth Avenue just got a whole lot safer. More of these clocks are set to be installed along the length of 4th Ave from Pacific to 65th Streets and on 3rd Ave from Prospect Avenue to 63rd Street, display numbers that count down the number of seconds remaining before the "flashing hand" phase turns solid red.
Allison Pennell because somehow you managed to piss off the powers that be at Park Slope Parents and got kicked off. Now you're on the blog that's as irreverent and funny as you are, Effed in Park Slope. Well done.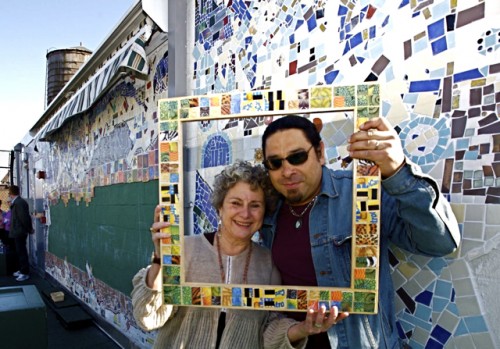 Juan Carlos Pinto(pictured left with Rosalee, director of the Rivendell School) because you created a beautiful mosaic for the children of the Rivendell school:  "I want kids to know that art is something you can touch and feel and play with, not just something to hang on walls behind glass," is how you explain it. You dice and cut Metrocards into different shapes and pastes together to form pictures (a portrait of Michael Jackson, the Mona Lisa) and messages. Cool stuff!
Louis Poggioli because you're a walking/talking history of Park Slope and you personify the Park Slope story. Born in Italy, you came to Brooklyn as a kid. I love to hear your stories about Park Slope back in the day. You bought buildings, you became a landlord. You owned a bar called James on 7th Avenue. You know how to fix anything and for a landlord, you are one heck of a guy!
Raphael Pope-Sussman because you have audacity, man. After you were diagnosed with testicular cancer, you had RPLEND surgery and are now cancer free. We salute you for writing a blog, The Audacity of Pope in a dark, funny, smart, honest voice that was compelling and very much your own
Proteus Gowanus because you are a museum-art gallery-reading room-event space-gift shop-study hall housed in a surprisingly sunny former box factory on the banks of the Gowanus Canal (just a stone's throw from the Park Slope side of the entrance to the Union Street Bridge). You offer events and workshops based on interdisciplinary exhibits and on the resources of  your nonprofit partners—including but not limited to the Brooklyn Historical Society and the Gowanus Dredgers' Canoe Club. PG is the home of the Hall of the Gowanus, "the only exhibition space in New York City dedicated to the Gowanus Canal and its environs." You are also the sponsor of The Fixers Collective, which meets weekly and encourages people to bring in torn or broken items and learn how to repair them—-from the tiny (broken jewelry) to the humongous (a tattered 130-foot-long American flag).
Roadify because you help people on the streets of Park Slope GIVE and GET updates that help make traveling in Brooklyn easier. You help us park, hop on the bus, catch a train and more, by giving you easy access to real-time information from other commuters and transit data sources (like the MTA, NY Dept. of Transportation, Google Transit, etc.). The first comprehensive "social transportation" company, combining social networking with a wealth of published transit information.
Michael Ruby because you may look like just another interesting, artsy Park Sloper but the truth of the matter is you're an experimental poet with a bevy of books in publication and a pile of reviews that are pretty damn impressive. This year you published two new books, Compulsive Words and The Edge of the Underworld, both from BlazeVOX.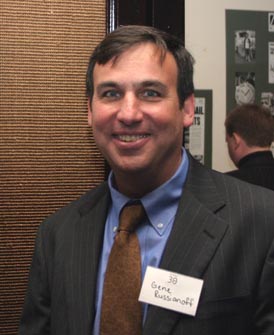 Gene Russianoff because as the staff attorney and chief spokesman for NYPIRG's Straphangers Campaign,, a NYC-based public transport advocacy group that focuses primarily on subway and bus services run by New York City Transit, you champion the rights of subway riders. You ride the subway every day, ride your bike around the neighborhood with  your kids and you don't, I repeat, you don't own a car.
St. Augustine RC Church because you are a diverse (masses are celebrated in Hatian Creole, Spanish and English) and not very wealthy parish of St. Augustine Roman Catholic Church, which manages to support a Haitian support program (The parish is 1/3 Haitian.), an AIDS ministry, a food pantry that feeds approximately 600 per month, a vital peace ministry, interfaith meditation, music and arts events, and a weekly after school program for families whose fathers are incarcerated -- all this while maintaining one of the great architectural masterpieces of Park Slope.
Ethan Schlesser because you are Park Slope's song and dance man and founder and producer of the Jingle Bell Jamboree, Park Slope's 10-year-old holiday party. You generate life and music wherever you are from Grand Army Plaza to Martin Luther King Day events to the Brooklyn Community Chorus to the Halloween Parade to Seventh Heaven. You teach kids—and adults—to sing and to love singing
Donna Schneiderman because you are a board member for Brave New World Repertory Theatre. Because you're a Daisy/Brownie/Girl Scout Troop founder/leader/supporter. Because you devote so many hours to emails, phone calls, marches, vigils, interviews, demonstrations and driving to Albany on behalf h Jews for Racial and Economic Justice (and their Employers for Justice Network)  to advocate for the Domestic Worker's Bill of Rights, which on November 29, 2010, the law becomes effective. Signed into law on August 31, 2010, by Governor David Patterson, this legislation affords substantive labor protections to certain categories of domestic workers, making New York the first state in the nation to do so.
Secret Science Club because once a month hundreds of people come to learn about science. The crowd is young and hip, mostly in their 20s and 30s, eager to gain entry to this very hot event, where scientists are rock stars!
Bruce Shearhouse because as a soccer administrator for AYSO, you collect soccer gear and clothes for the needy several times a year and you've been  doing it for years using your porch as a drop-off spot.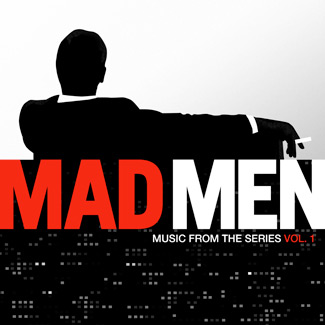 Sheep Station because you responded to a mad pressing need. As one OTBKB reader wrote:  "Like most Brooklynites, I don't have cable, and like many Brooklynites I enjoy watching Mad Men. In trying to find a bar that was showing the premier last week, I kept hitting dead ends… Until the friendly folks at Sheep Station agreed last minute to show it for me and a few friends on the projection screen in their awesome back room. They've agreed quite enthusiastically to continue showing it every week..."
Vicki Sher because you worked hard all year curating shows, appearing in them, getting your work (and the work of others) out there. In your own words:  "I choose my images/words to represent a gently shifting landscape where hidden uneasiness and elusive connections lie behind apparently plain and common human interaction. I like double meanings, deceptively simple language, and visible revisions. Humor plays a role, alongside a dreamy and solitary attitude of private reflection." Lovely.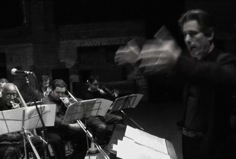 Josh Shneider and the Easy-Bake Orchestra because, dang, it's ambitious to compose for and conduct a 17-piece jazz orchestra that really  soars. Your ensemble is comprised of some of NYC's most illustrious and adventurous improvisers, who interpret your grooving, searching and harmonically inventive melodies. Swing on.
The Snowman on Vimeo because you, Li Perez-Rey, created a fantastic video of a day in the snowy life of a snowman in the park. You live in the South Slope with a view of Prospect Park West, from where you filmed this time-lapse video through your front window over the course of 9 hours last winter. Indeed it offers a fascinating glimpse into human nature.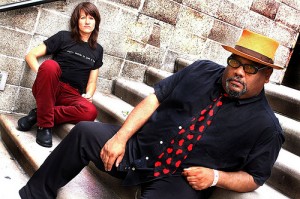 Stew and Heidi Rodewald,because you followed up your award-winning Broadway hit,Passing Strange, with performances at BAM of a new show called Brookyn Omnibus, a slew of hyperactive, inter-connected musical short stories on the theme of Brooklyn, including a song called Park Slope Mothers.  Stew, who lives in Ft. Greene (and Berlin) and Rodewald, who lives in Park Slope, say they are mirroring back what they see and feel about this place. In the process they have become a part of it. What a cool show!!!
Stink Bugs because we found one inside our hanging drum lamp. Hugh removed it started taking pictures of it to put on his Facebook page. He thought it was a Katydid. A friend told us that its a Dreaded Stink Bug or a Brown Marmorated Stink Bug and to be very careful around them because if startled they can release an absolutely awful odor. Taking pictures of it with a flash was probably not such a great idea. Apparently they can infest your home and make it a very stinky place to be. Thankfully we haven't seen any others. Yet. Fingers crossed that we don't.
Sugar because, little dog, you ran off during a storm in Prospect Park and your owners were so heartbroken they spread the word far and wide and your absence became national news. You must be one heck of a dog.
Taylor Swift and Jake Gyllenhaal because you're falling in love in (with?) Park Slope.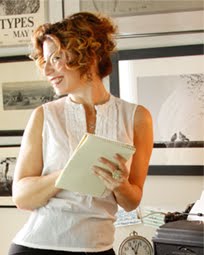 Stephanie Thompson because you not only succeeded Smartmom as The Brooklyn Paper's parenting columnist, but because one of your first columns — about whether you should divorce your husband — threw the entire neighborhood into turmoil. Everyone in a six-block radius of PS 107 was suddenly debating your sex life. Of course, your editor, Gersh Kuntzman, didn't care about the fallout — people were reading your column and that's all he cares about. Stephanie, you also get kudos for handing out those gold stars to thank people for just making an effort these days. Steph, you deserve one yourself.
Colm Toibin because your emigrant sagaBrooklyn was a quiet and shattering story about a young Irishwoman in the 1950s caught between a new life in Brooklyn and the pull of her homeland. Lovely.
The Park Slope Tornado because on the afternoon of September 16, 2010 you reminded us who's boss.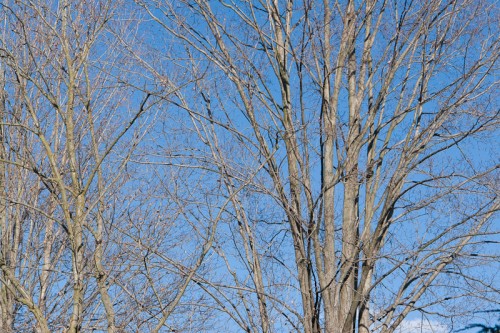 The Trees of Park Slope and Prospect Park (the casualties as well as the survivors) because they represent the beauty, resilience and renewal of the neighborhood.
The 134 Victims of the Park Slope plane crash fifty years go. The collision of a United jet and a TWA propeller plane rained destruction on and around the neighborhood. There was an 11-year-old boy named Stephen Baltz (of Wilmette, Ill), who initially survived the accident. He died 26 hours later at Methodist Hospital, where there is a plaque.
Yerba Mate from The Tea Lounge because like great music you are meant to be shared. The Tea Lounge serves mate the way it's served in South America: in a gourd with a metal straw called a bombilla. The gourd can be refilled many times, the mate becoming sweeter and milder with each re-steeping. Mate is high in Magnesium, slightly bitter, and strangely addictive. As the adorable barista Matthew remarked, "It's caffeinated, but in a different way than coffee. It gives you a mellow feeling. The more you drink it, the more you want to drink." Written by Sarah Deming.
Claudia Zeldin because you're the head of Berkeley Carroll Parent Association's Side by Side community service committee, non-profit professional, and mom of 3.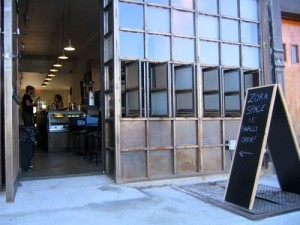 Zora Space because you're a new space for visual and performance artists, filmmakers and musicians on Fourth Avenue run by Zohreh Shayesteh, as a welcoming environment for artists to experiment, interact, communicate and create.