Louise Crawford (OTBKB Founder and Publisher) started a new company in March 2012 called Brooklyn Social Media providing PR and social media to authors and entrepreneurs. She was born in the French Hospital in NYC and grew up on Manhattan's Upper West Side, where she attended Walden High School. After college at SUNY-Binghamton now called Binghamton University,  she worked for many years as a film and video editor and co-directed (and edited) the documentary In a Jazz Way: A Portrait of Mura Dehn, which won a Blue Ribbon at the 1986 American Film Festival and screened at MOMA, the Film Forum and the Public Theater. The recipient of grants for the national Endowment for the Arts and the New York Foundation for the Humanities, she was a producer of corporate media and museum installations at Zacks & Perrier Productions from 1984-1993. With Batwin & Robin Productions she produced video for museums and theater, including Bring in Da Noise, Bring in Da Funk and Twilight, Los Angeles, 1992 with Anna Deavere Smith at the Public Theater and an award- winning installation for the Museum for the American Indian. From 2001-2008, she wrote and edited, The Link, a bi-weekly newsletter for FDNY Family members who lost loved ones on 9/11. She started OTBKB in September of 2004. In 2005, she started the Brooklyn Blogfest, a yearly gathering of hundreds of Brooklyn bloggers. She is the Smartmom columnist for the Brooklyn Paper and a freelance writer who has written for Newsweek.com and the Associated Press. She has just completed a young adult novel called, Searching for Bio Dad. She can be reached at louise_crawford(at)yahoo(dot)com.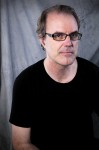 Hugh Crawford (OTBKB Webmaster and No Words Daily Pix) was born and raised on a walnut farm in Northern California. He studied photography at Bard College and received an MFA in post-studio art at CalArts. His photographic work has been exhibited around the country and published in Rolling Stone Magazine, Tattler and the Brooklyn Paper. He has been a software developer for Ergo Tech, G2X, Webline and Cisco Systems and a web designer at Black Hammer Productions. In 2008, he created Jamie Livingston, Photo of the Day an immensely popular and acclaimed website dedicated to the 6,000 Polaroids taken by Jamie Livingston from 1978 until the day he died in 1997. You can see more of Hugh's work here.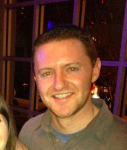 Matthew Taub is a lawyer, fiction writer and occasional journalist living in Brooklyn, NY. His work has appeared in Absinthe Revival, The Weekenders, Red Ochre LiT's BLACK&WHITE Magazine, The Squawk Back, Schlock Magazine, Foliate Oak Literary Magazine, The Fat City Review, The Brooklyn Daily Eagle, and Medium. He is currently seeking representation for his first novel, DEATH OF THE DYING CITY, a panorama of New York City's rapid gentrification and shifting cultural enclaves in the 1990s, with rotating character-driven vignettes connected by Mark Newstein, a young ethically-imperiled attorney protagonist. matthewataub.com

Paula Bernstein (Undomesticated Brooklyn) is the editor-in-chief of the blog Undomesticated  Me. Bernstein is the co-author (with Elyse Schein) of "Identical Strangers: A Memoir of Twins Separated and Reunited." Featured on NPR, CBS "Sunday Morning" and "Good Morning America," "Identical Strangers" won a 2007 Books for a Better Life Award. As a freelance writer, Bernstein has written for The New York Times, Redbook, The New York Observer, and other publications. Previously, she was a reporter at Variety and The Hollywood Reporter. She lives with her husband and two daughters in Brooklyn.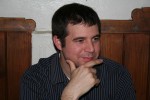 Pops Corn (OTBKB Film): Following an aborted, but valuable, film school education, the writer spent decades of self-disciplined cinema study finding ways to see movies for free or pay.  Years of work within film and media industries includes stints with B-movie studios, high-art non-profits and as a major media company censor. A former and founding member of New York-based underground country band, The Inbreeds.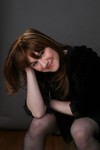 Sarah Deming is a novelist and essayist.  Her novel "Iris, Messenger" (Harcourt, 2007, for ages 9-109) tells the story of the Greek gods living in suburban Philadelphia.  She writes scandalous erotic novels under a secret name and blogs at The Spiral Staircase. Before becoming an author, Sarah was a Golden Gloves boxing champion, yoga teacher, pastry chef, and Brand Attaché for Grey Goose vodka.  She lives in Park Slope with her husband Ethan and their collection of stuffed monsters.
Leon Freilich (Verse Responder): Born in a Kentucky blog cabin to an unmarried, unharried Sea Beach, Brooklyn, couple who christened me Wiseguy until reminded by their rabbi they weren't Christens, I attended Stuyvesant High School, a science school, and graduated with the singular distinction of never having taken a course in biology.  This turned out to hamper my social life for many years. College, the army, work, marriage, fatherhood.  These followed in quick order.  Teaching English at Prospect Heights High School in its heyday–meaning all-girl classes–I avoided the bio lab like a crook keeping his distance from a police station.  Teaching got to be too little, so I entered the world of high lit, writing for the National Enquirer, Globe and Star.  Only the best. Next to following my English pug Winston, my biggest scoop was exposing Madonna as a virgin.  She sued Star's then-owner, Rupert Murdoch, for a billion down-under dollars but dropped charges when he repaired her unfortunate condition. Eager to make a lasting name for myself, I began posting posties on various blogs.  My Google score soon reached 370,00.  Mysteriously it's remained there no matter how many rhymes or recipes I send out.  You might say Google's going steady with me. If my fount of verse-writing ever dries up, I intend to find another font and write the Great American Postcard.  Lighter than an iPhone, cheaper than a newspaper, requiring only a postage stamp, my GAP will be suitable not only for frequent rereadingbut also for framing. And framing–another form of farming–will return me at last to my old Kentucky home.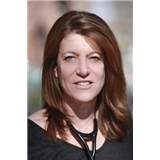 Dr. Amy Glaser (The Doctor is In) Born in Brooklyn, Dr. Glaser received her undergraduate degree from Smith College, her medical degree from Mount Sinai School of Medicine and completed her pediatric residency at Montefiore Hospital. She started in Park Slope 25 years ago with a special interest in teens, after completing a fellowship program in Adolescent Medicine at Mount Sinai. She has brought her expertise in that area into the community during her career at the Door, El Puente, Elmhurst Adolescent Center and Barnard. Dr. Glaser has been named by NY Magazine as a "top pediatrician" and as one of the "Best Doctors in America". She recently started a part-time practice for ages 13-22 called "Adolescents Only."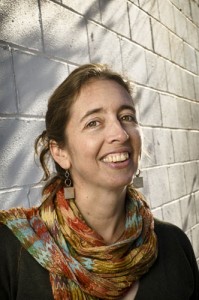 Jennifer Hayden (S'Crapbook): After a failed career as a fiction writer, and a slightly more successful one as a children's book illustrator, Jennifer found her bliss, writing and drawing alternative comix for women. She is a member of the ACT-I-VATE webcomix collective based in Brooklyn, and her first book, Underwire,is coming out in September 2011 from Top Shelf. Underwire started as a webcomic on ACT-I-VATE and has since gained critical attention as a fresh indie comic about womanhood, parenthood, and being-in-the-middle-of-life-hood. Jennifer's comix have also appeared in various anthologies, and she is currently desperately trying to finish a graphic novel about her life and her experience with breast cancer, to be published in 2013. . She grew up in Manhattan and now lives in New Jersey with her husband, two kids, three cats, and the dog. For more about Jennifer check out her blog: Goddess Comix The photo of Jennifer is by Christopher Smith. Her minicomics are available at Bergen Street Comics in Brooklyn.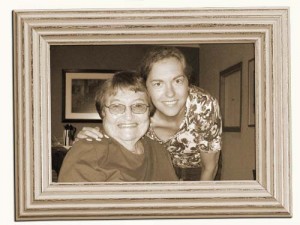 Katie Hustead, the owner of Paper Moon Moves, loves seniors. Katie has been running a volunteer reading program at a senior residence in New York City for seven years and was honored by President Bush for her commitment. She has an MBA from UCLA and has worked in project management and finance at major financial services companies for almost twenty years. She is personally involved in every job. She named the company after one of her favorite songs.

Tom Martinez (Witness, Tom Martinez) In his dual careers as a minister and photographer, Martinez is drawn to images that reflect the interfaith diversity of New York City, as well as its unexpected natural habitats. In 2003 Martinez became minister of All Souls Bethlehem Church in Brooklyn's Kensington neighborhood. He graduated from Union Theological Seminary in 2000 and subsequently completed a three-year stint at Christ Church in Summit, NJ. With the Christian Peacemaker Teams, he spent two weeks in Baghdad in an effort to promote a human connection with the Iraqi people and alternatives to war. He is the author of the book, "Confessions of a Seminarian: Searching for Soul in the Shadow of Empire." In 2010, Tom exhibited his work at the Old Stone House in Park Slope. His photos have been published in the Staten Island Advance, the Brooklyn Paper and, of course, on OTBKB. You can see more of work at Tom Martinez Witness Photography.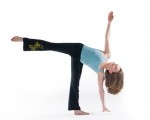 Anna Sheinman is a passionate yoga student, a teacher, an outdoor enthusiast, a foodie, a bookworm, and an amateur writer who is hopelessly in love with the Rocky Mountains. She is 500+ hours registered yoga teacher and she continues to study with her teachers Chase Bossart and Guta Hedewig in the tradition of T. Krishnamacharya. Anna has been fortunate to take an intensive therapy course with Mr. Desickchar, Gary Kraftsov and AG Mohan. She enjoys hiking, dancing, skiing, rock climbing, good company, and the vastness of the mountains. Anna currently teaches yoga around the New York City area and organizes outdoor yoga retreats, where she teaches in her favorite studio – at top of the mountain. Anna's life transformation has inspired her to help others on the journey to create healthier and happier lives through the exploration of yoga. Read more about Anna and connect with her on FB or via e-mail: streamoflifeyoga@gmail.com.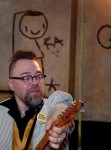 Scott Turner (Greetings from Scott Turner) is on hiatus for the moment. Sigh.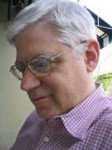 Eliot Wagner (OTBKB Music) runs the blog, Now I've Heard Everything. He has been involved with music and radio in New York City practically all his life. He started listening to top 40 radio station WINS (before it was all-news) soon winning a WINS Pick Hit of the Week, Young Ideas by Chico Holiday. He also listened to WMGM before moving on to the Good Guys and WMCA.  While still in junior high school, he walked into the WMCA studios in Manhattan, was given a tour and met Jack Spector (who was later celebrated by the New York City band the Del-Lords as Saint Jake). In the late 60s and 70s, Wagner spent much time at The Fillmore East, The Academy of Music, The Palladium and anywhere bands would set up and play. He was present when Lou Reed and Bob Dylan recorded seminal live albums. Throughout the 70s and early 80s, radio was Wagner's constant companion.  Sometimes the dial would be set on WPLJ, sometimes on WPIX, but mostly it would be set at 102.7, WNEW-FM. It is probably for that reason that Wagner's stint as a DJ on the University of Pennsylvania's WQHS in the early 80s was the highlight of his time there.