May 20, 2013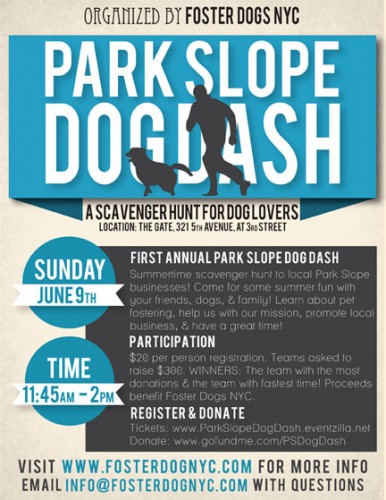 The Park Slope Dog Dash is coming!
On June 9th, Foster Dogs NYC is sponsoring a family-friendly (and dog-friendly!) scavenger hunt around Park Slope to benefit Foster Dogs NYC, whose goal is to facilitate the foster process with shelters and rescue groups around the NYC area. They also organize adoption events and help animal shelters improve their online presence.
The fun starts at The Gate on Third Street and Fifth Avenue in Park Slope at 11:45 AM on June 9th.
During the event, each team is urged to raise $300 to help Foster Dogs NYC provide foster care to a dog in need! Once there is enough funding, FDNYC can do AMAZING things to help other rescue groups in urgent need.
Funds will help:
–Pay for emergency vet care for NYC foster dogs
–Assist with dog training needs
–Pay for transportation of shelter dogs to adoption events
–Create foster marketing materials!
For more information about this event and to register, go to http://psdogdash.com.
May 20, 2013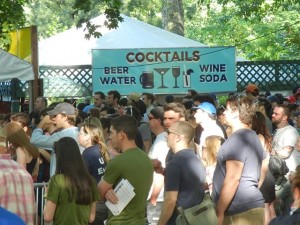 Anne-Katrin Titze, a film critic and Park Slope local, filed this special report about Saturday's Great Googa Mooga in Prospect Park. Due to rain, the event was cancelled on Sunday.
The NOT SO Great GoogaMooga is back in Prospect Park with the same false information as last year.
It is beyond the pale that after last year's damage the Prospect Park Alliance would allow this again and in fact add a day, Friday this year. The arrogance of everyone involved is destructive to the park. They have their operation trailers all over Wellhouse Drive. What is going on is more than three Hollywood movie shoots at one time.
Not only is this a three plus weeks invasion of the park by a crass commercial operation being allowed carte blanche by the Prospect Park Alliance to do what they want, the Alliance is sending out false information with regard to access and the long term harm done last year by this fiasco.
The NOT SO Great GoogaMooga includes dozens upon dozens of poles stuck into the Nethermead Meadow and surrounding areas. Dozens upon dozens of boards and heavy plates crushing down the grass. This is going on in a public park when it should be held at a concrete parking lot, not harming a Prospect Park meadow.
This is another glaring example of how ineffectual the Prospect Park Alliance/Parks is when it comes to protecting the natural beauty we all enjoy. The NOT SO Great GoogaMooga is back and has already fenced off the Nethermead Meadow loading in huge refrigeration boxes, structures being built since last week.
After last year's fiasco, the Prospect Park Alliance is allowing the disorganizers to add an extra day of events. The free tickets to allow you to wait on long lines to buy beverages and food are gone, unless you agree to become a member of the Prospect Park Alliance. They have closed off access to try to get naive park visitors to feel as if they are being treated special, when all they are doing is selling, selling, selling.
The Prospect Park Alliance closed the Boathouse/Audubon Center due to mismanagement of their own budget and for two years running turn over the park to a crass commercial misadventure. In addition, there is a lack of commitment of resources to maintain the lakeside and landscape. Allowing any entity to come in during the spring migration of countless species of birds through Brooklyn, is one more illustration of the disconnect from the beauty of Prospect Park shown by those who are paid to protect its value for all.
May 18, 2013
I used to call Assemblyman Vito Lopez the Darth Vader of Brooklyn politics—and that was before I knew about the sexual harassment allegations. Many have charged that he is a Democratic kingmaker, a real old school party boss that rules the roost and is almost never challenged. Tish James told the New York Times in 2010, "Some people, when you mention the name Vito Lopez they quiver. They're fearful."
Lopez was first elected to the State Assembly in 1984 (representing Bushwick and Williamsburg) and since 2006 has served as the Chairman of the Kings County Democratic Party.
Last summer he announced that he would not seek re-election as Kings County Chairman due to allegations that he sexual harassed two of his female staff members and he was stripped of his committee chairmanship.
This week the state's Joint Commission on Public Ethics issued a report outlining the sexual harassment of multiple women on his staff by Lopez. It sounds like there was a system of sexual harassment in his office. On Thursday, Governor Andrew Cuomo and many others recommended that Lopez be expelled from the Assembly.
On Friday, finally, Lopez, said he would resign his seat in the Assembly in five weeks. Five weeks? He should go immediately. But in an even more exasperating move, he announced that he plans to run for a City Council seat.
This guy is just unbelievable.
Steve Levin, a Park Slope City Councilman, issued a  statement today renouncing his former mentor. While I am a fan of Levin's I always wondered why he never spoke out against Vito before. I think he's either very naive or very beholden to the man who helped him get elected.
"I was shocked and saddened to read the findings in the JCOPE report on Assemblyman Lopez.  The findings detail behavior that is disturbing, indefensible, and constitutes a breach of the public trust. During my time in his office there were never any incidents or allegations of sexual harassment. If there had been I would have contacted the authorities immediately. Sexual harassment is unacceptable under all circumstances and I do not tolerate it. Due to the circumstances, I believe it is the best thing for everyone concerned that he voluntarily step down."
Lopez should leave the Assembly immediately and never run for another office. Systemic sexual harassment is not acceptable in our government, in our military, anywhere. Out with the bad. Time to go Vito. Someone show him the door.
May 14, 2013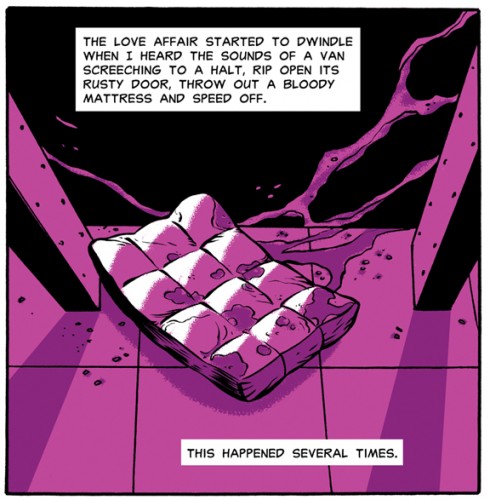 Have you seen Bklynr? It's a brand new web magazine offering quality journalism about Brooklyn. Founded by Raphael Pope-Sussman, who you may remember from the Park Slope 100 for his blog The Audacity of Pope, and Thomas Rhiel, it is  gorgeously designed and it features stories, smart and deep, about immigration reform, barber shops, the Gowanus Canal, and happens when the biggest Jewish cemetery in Brooklyn runs out of room and much more. Plus photojournalism, graphic stories and illustration.
The illustration is from "What You See Is What You Get," a semi-autobio comic by Dean Haspiel featured in this month's Bklnr.
Here's the pitch from Bklynr, which costs $2 a month or $20 a year.
It's harder than it should be to find quality journalism about Brooklyn. Certain aspects and areas of the borough are covered to death (you know which ones), while the rest of Brooklyn gets limited attention. We want to help change that. BKLYNR strives to produce thoughtful, compelling journalism that explores new narratives rather than retreading tired tropes.

Twice a month, we publish in-depth stories about the political, economic, and cultural life of Brooklyn. Each issue contains three pieces.

To read BKLYNR, subscribe. You can choose either a recurring monthly subscription, which is $2, or a one-time annual subscription, which is $20.
May 10, 2013
Thanks to all for Edgy Moms 2013. It was a great night with Sophia Romero, Karen Ritter, Lori Topoll, Susan Hodara, Vicki Addesso, Chris Nelson, Cathy Brown and Nicole Calihan.
I think we delivered on our promise of funny, poignant, frank and fresh writing about motherhood and mothers. It was truly a great night.
May 7, 2013
Last night's mayoral forum, organized by the Park Slope Civic Council and other local civic groups, was set within the grandiose beauty of Congregation Beth Elohim's sanctuary. Esteemed WNYC radio journalist Andrea Bernstein sat on the bema (stage) at a round table with a blue tablecloth. There were maybe two hundred people in attendance.
The idea was that each candidate, one at a time, would get their fifteen minutes or so to answer questions, some of which were submitted previously by members of the audience.
A fairly simple idea. But politics is always a circus, isn't it? Apparently there were two other mayoral forums going on elsewhere in the city and the candidates were shuttling from one to the next.
Up first was City Comptroller (and former City Council Member) John Liu. Fresh on the heels of a conviction by a federal jury of two of his campaign staff on campaign-finance fraud charges, he came across as smart, direct, well-informed and a little defensive.
"I will defend Jenny Hu until the day I die ," he said referring to the 26-year old staff member. He called the investigation into his campaign "basically a witch hunt."
I couldn't help but think he was making the old "I am not a crook" mistake. Let it go, Liu. Let it go and move on.
The Park Slope audience was pleased by his dis of the Barclays Center and disdained the developer's use of eminent domain and the promise of affordable housing. "We got a stadium and jobs for popcorn vendors," he told the crowd. "What else have we gotten but promises that were never met?"
He proposed ending all subsidies given to corporations for development,  including tax abatements. "We can develop without tax payer's money if we're getting little in return," he said and many in the audience applauded.
In a moment of levity, he asked that the audience not hold it against him that he's from Queens. Asked what he didn't like about Bloomberg he said, "NYC is too much of a Nanny state," citing the proposed restrictions on beverage drink sizes.
Asked about the Prospect Park Bike Lane, he said there was was "a paucity of outreach" and that many of the bike lanes around the city were eroniously set up as pilot programs that circumvent the community process. (In fact, the Prospect Park Bike Lane was supported by the Community Board process.)
May 2, 2013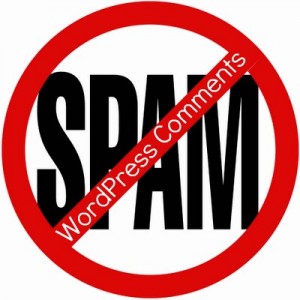 I hate blog comments spam. Hate it.
Those of you without a blog probably don't realize that bloggers are constantly besieged with blog comments spam. This spam is a form of advertising, an attempt to sneak a particular company or website link onto a public page. It's written in English, sometimes bad English and sometimes makes me laugh but mostly annoys me. A lot.
I obviously never approve these comments but I thought you might like to see what I have to contend with. I've deleted any references to stores or websites that the spam is trying to promote.
–Solid post. I'm studying something similar here at ___University. It's definitely valuable to learn new stuff from fellow …
–Can I just say what a relief to discover an individual who basically knows what theyre talking about on the …
–An impressive share, I just given this onto a colleague who was performing just a little analysis on this. And …
–Nice post. I find out some thing more difficult on several blogs everyday. It is going to normally be stimulating …
you've a terrific blog here! would you like to create some invite posts on my blog?
–You need to take component in a contest for among the very best blogs on the internet. I will advise …
–This internet web-site is really a walk-through for all of the info you wanted about this and didn't know who …
Awful.
April 30, 2013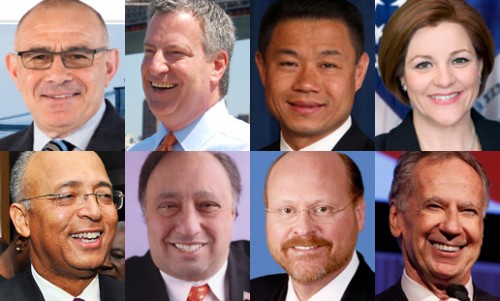 Wanna hear the mayoral candidates discuss parks, schools, transporation , development? Indeed, this could be a good opportunity to hear the candidates on issues of interest to Brooklynites.
WHAT: NYC Mayoral Candidates Forum
WHEN: Monday, May 6, 2013, at 7:00 –9:00 p.m.(doors open at 6:30 p.m.)
WHERE: Congregation Beth Elohim (274 Garfield Place at 8 th Avenue)
All the mayoral candidates as of March 2013 have been invited to attend the forum (Sal Albanese; Adolfo Carrion; John Catsimatidis; Bill de Blasio; Joe Lhota; John Liu; George McDonald; Christine Quinn; and Bill Thompson).
The forum will be moderated by Andrea Bernstein of WNYC and will be strictly timed. There will be 1.5 minute opening statements and 2 minute closing statements. We wish to extend an invitation to all interested voters to attend this forum, and hear the candidates' vision for the future of Brooklynand NYC. All local news outlets, publications and blogs are also invited to attend.
You can even submit questions in advance at Google Moderator: http://go.gl/mod/8 pOB. The  forum is free and no RSVP or tickets are required. first come, first served seating.
April 30, 2013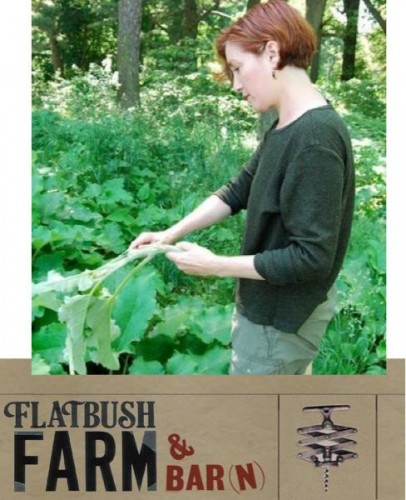 My friend Branka just wrote to me about this cool activity on May 5th from 2-6PM. Spring is here and everything's in bloom. Come discover what greens are growing wild in our back yard. Learn how to identify seasonal edible and medicinal plants in Prospect Park with locavore and urban gardener Leda Meredith. For more info and tickets go here. 
Learn to identify plants like: lamb's quarters, burdock, pokeweed, plantain, mugwort, dandelion, peppergrass, epazote, sassafras, spicebush, sorrel, milkweed, garlic mustard…and many more.
Tastings will include – red clover blossom bread and a garlic mustard pesto spread, plus one other wild-food based dip or spread to enjoy.
Afterwards, sample tastings prepared by Leda, accompanied by your favorite beverage at Snail of Approval bar/restaurant Flatbush Farm.
Proceeds from this event support the programs of Slow Food NYC, including the Urban Harvest program of good food education for NYC kids at schools in the South Bronx, Harlem, Lower East Side, and Brooklyn, as well as a summer urban farm in Brooklyn.
April 29, 2013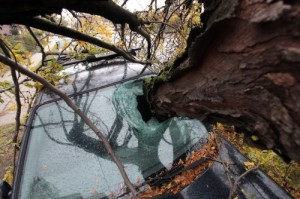 I remember waking up at 4AM on October 30th and writing this.
The television was still on when I awoke Tuesday morning at 4AM after falling asleep exhausted at midnight during a Dave Letterman show recorded without an audience.

After Sandy.

A few hours of sleep and then it was time for an update on the havoc wreaked by Hurricane Sandy's landfall in New York City. The wind gusts are still fierce on Third Street; the trees sway violently. From my windows it looks like Park Slope made it through the storm very well. The same, of course, cannot be said for areas close by…

Walking though the apartment I see signs of yesterday's panic/preparedness. The stove top is covered with pots filled with water. On the countertops are pitchers of water. The bathtub is filled with water.

The dining room table is covered with flashlights and batteries. A  Scrabble board with tiles of a game played last night next to a thousand jigsaw puzzle pieces, an image of Marilyn Monroe coming into view.

The refrigerator is filled with food; our rain boots and foul weather gear are at the ready by the front door. We never got around to creating "Go Bags" but I don't think we'll be needing them now anyway.

On the TV, a flooded Brooklyn Battery Tunnel, a dark Manhattan, a crane dangling from atop a NYC high rise under construction. New Jersey looks hard hit, weathermen and women describe weather conditions to come. More than 600,000 are without power in NYC and  Westchester.

Before sunrise it's hard to even know how bad the devestation. The Gowanus just a few blocks away  flooded familiar streets near our home. Park Slope may have averted disaster but Manhattan, especially below 34th Street, wasn't so lucky.

Shock. Pain. Incredulity. A native New Yorker I don't remember a situation like this before. 9/11 comes to mind as a similarly disorienting and traumatic event. We know from that experience that we can pull together, that we are resilient, that we will get through this.

Remember: this too shall pass—with a great deal of hard work by rescue workers who evoke our gratitude. But all of us will have to find a way to help those in need and muster our strength to get through this anomalous and disorienting situation.
April 29, 2013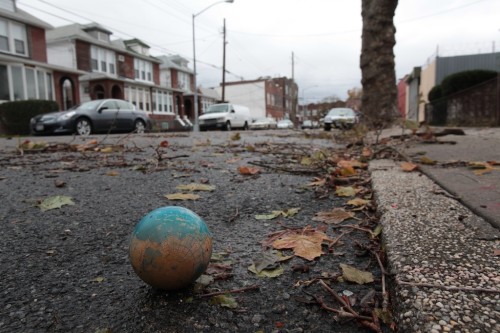 I wrote this on October 30th, 2012 the day after Sandy hit.
We  waited and watched.

In Park Slope power outages and flooding never came (though the Gowanus overflowed just blocks away). But on the television we watched as Con Edision transformers exploded, Manhattan went dark below 34th Street; fires raged in Queens; and water flooded subways and tunnels.

We waited and watched as trees flailed violently outside our Park Slope windows and images from lower Manhattan painted a portrait of life after wartime. A flooded metropolis astounded us. Catastrophic was a word that was bandied about. A back up generator at NYU failed and patients were shown being transferred to other hospitals. On Twitter, incredible images of a submerged FDR Drive, a soaked Penn Station, a dark Tribeca, a flooded  Stuyvesant Town in the East Village.

At 4AM Tuesday morning, my city is in ruins. A million are without power, the subways are stilled, stations soaked. The streets are canals, fires rage and forecasters discuss a bizarre convergence of weather systems that left unseen destruction in its wake.

I wait and watch for the sunrise when my resilient city begins its slow recovery from this destruction.
April 25, 2013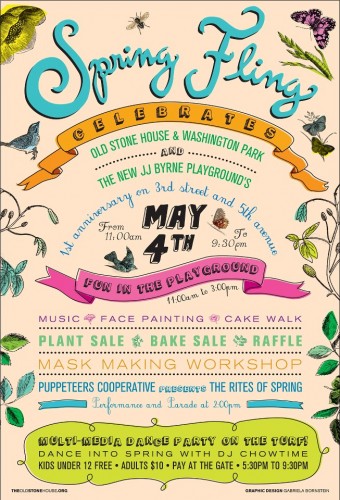 Celebrate the one year anniversary of JJ Byrne Park and Washington Park's new look and the official re-opening of the JJ Byrne Park Playground, which is extremely popular with local parents and kids.
On the fourth, there will be a bake and plant sale, face painting, puppets, and activities galore for kids and adults. From 5:30 until 9:30 PM,  there will be a multi-media dance party on the turf. Nice poster, huh?
April 25, 2013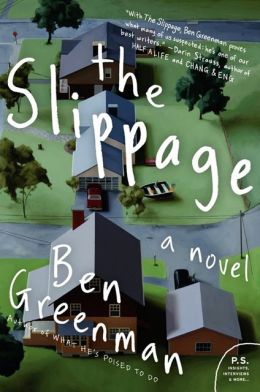 A New Yorker editor Ben Greenman is known around Park Slope as a PS 321 dad and an author of some very interesting fiction, including the novels Superbad from McSweeney's, Please Step Back and a collection of short stories called What He's Poised to Do. 
So how's this for a cool idea for a literary reading?
To celebrate the launch of his new novel The Slippage (Harper Perennial), Greenman welcomes students from Park Slope's esteemed elementary school, PS 321, to read from their original work.
What a cool idea. It's sure to be a great event. As a former editor of Pandamonium, the school's annual poetry magazine, I know the kids do great writing at that school.
Greenman will also read from The Slippage, the story of a suburban husband and wife in the process of assessing what their relationship means to them, and if it will survive.
April 16, 2013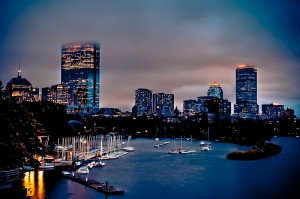 News of yesterday's bombing at the finish line of the Boston Marathon hit me hard. With incredulity and anger, I watched the TV as the euphoria of a 26-mile run turned into horror and chaos.
Maybe because I am a runner and have run a half-marathon, I felt like it was my people who were targeted yesterday. Obama, who looked grim during his remarks yesterday said, "On days like this there are no Republicans or Democrats — we are Americans, united in concern for our fellow citizens."
To which I might add, we are all runners, we are all citizens of Boston.
In January I attended a book launch at the exquisite Boston Public Library, the oldest library in America. I stayed at the Lenox Hotel and ate breakfast at the Four Seasons in Copley Square. Boston's Back Bay neighborhood was vivid in my mind as I watched video of first responders wheeling runners on gurneys across bloody sidewalks.
Another day was vivid in my mind, too.
The weather was perfect, the sky bright blue just like the morning of September 11, 2001, when I felt the same sense of violation and loss. Just like that day, it was the second hit that convinced us that it was not an accident but an attack.
Yesterday afternoon the TV news played the same video over and over again, just like they did on 9/11. I knew from that time to turn it off and tune in to what I was thinking and feeling. Shock. Pain. Fear. Grief. Sympathy for the victims, hope for the injured.
To which I might add, we are all runners, we are all citizens of Boston.
April 11, 2013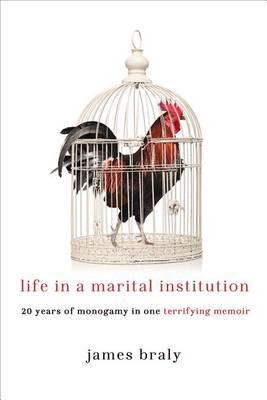 You know I enjoy the work of James Braly. You've almost certainly read about him here before. He's a laugh-out-loud kind of guy who was part of a great panel we did at Brooklyn Reading Works called The Truth and the Ghost Writer.
Today's the news is that he's just published his first book, a laugh-out-loud memoir based on his hit Off-Broadway Show Life in a Marital Institution. You don't need me to tell you that James has a lot going on:
–He is a contributor to This American Life
–He is a frequent performer on The Moth, and its first two-time GrandSlam winner
–His hit Off-Broadway show has been optioned for television by Meredith Vieira Productions and received fantastic reviews from The New York Times, Variety and others.
From what I've read (and I've read a few hilarious chapters), Braly's memoir is a brilliant expansion of his show, and a hilarious treatise on the endless battle of the sexes.
Here's the quick synop: James and Jane are a 21st century Lucy and Desi: It's a classic love story– a relatively conservative man marries an increasingly progressive woman with whom he tries (and frequently fails) to find middle ground. Eating placentas? Check. "Post-betrayal sex?" Check. Breastfeeding past the 1st, 2nd, 3rd… birthday? Check.
The culture is ready to be examined– and Braly's memoir examines the clash, from a male perspective, between the old world and the new in the context of modern romance and timeless male/female dynamics and differences.
Sound like your cup of tea?
April 11, 2013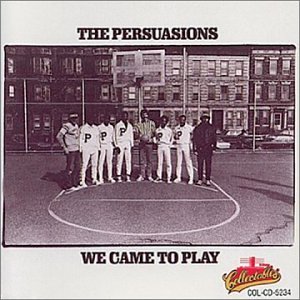 When I was in college, we listened to albums by The Persuasions non-stop. We Came to Play was one of my favorites with songs like Chain Gang, Man Oh Man, Gypsy Woman and more.
In my mind's eye, I can see us in the big living room of the house on Mendelsohn Street in Binghamton listening to another favorite Persuasions album called Street Corner Symphony with songs like People Get Ready.
That's why I am so excited to see that they're coming to Park Slope where they're going to raise the roof—literally and figuratively—of Old First Dutch Reformed Church.
On April 26 at 7PM come on out for Raise the Roof with A Cappella, a benefit concert featuring Brooklyn's own, The Persuasions, the sophisticated harmonies of VOX BOP(including our own Jennifer Nelson), Old First's in house ADOLESAINTS, PolyPrep's UNACCOMPANIED MINORS, and musical interludes provided by the fiery fiddling of PITNACREE. Tickets:$30 adults, $25 children(12 and under), $35 at the door. Purchase at bpt.me/357326
All proceeds will be donated to the Ceiling Restoration Fund
Venue: Old First Lower Hall
Visit fourthmission.com for details.
March 27, 2013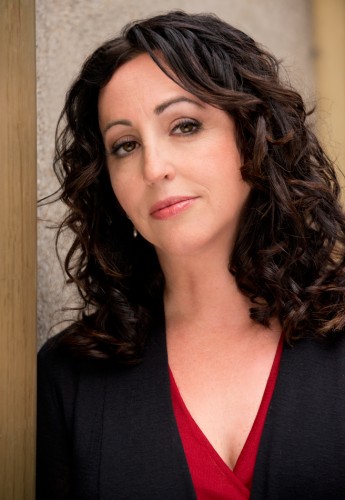 It's that time of year again. Time for a funny night at Brooklyn Reading Works. And if Marian Fontana is curating you KNOW it's gonna be funny.
On April 18, 2013 at 8PM  join Don Cummings, Sarah Fearon, Marian Fontana, Deborah Goldstein, Martin Kleinman, Leah Mitchell, Anya Ulinich and Adam Waring for the Second Annual Funny Pages, an evening of music, mirth and merriment curated by Marian Fontana.
The Old Stone House, 336 Third Street in Park Slope between 5th and 4th Avenues. The $5 suggested donation includes refreshments.
FYI: Brooklyn Reading Books is now on Facebook. Please like us.
March 27, 2013

How audacious and what fun. L Magazine picked the 50 Best Blocks in Brooklyn but it's really "the 50 best, worst, and most unusual we've encountered in our many perambulations around the borough and its many communities."
The reporters didn't just go to the usual gentrified locations. They went out far and wide. Props to L Magazine for a great list.
Some examples from Park Slope
Block Most Unlikely to Change

Sherman Place, between 11th Avenue and Terrace Place, Windsor Terrace

Lined with a mix of brick and limestone townhouses set back from the street, this block feels protected from any development. Strictly residential, it's unlikely ever to undergo any changes other than the occasional new family moving in. But once they're in? They stay. It's that kind of place.

Most Obama Block

2nd Street, between Eighth Avenue and Prospect Park West, Park Slope

Our president, the cause of so much disillusionment, lived in a few apartments in Brooklyn during the 80s, including one on the top floor of a brownstone on this block off the park, where he used to jog. Given its location, we assume the block now is full of Obama-voting Democrats. We mean, that vegetarian Jonathan Safran Foer lives on this block!

Best Block to Get a Sandwich and Eat it at a Bar

Fifth Avenue, between 22nd and 23rd streets, South Slope

So, your friend wants a Cuban sandwich? She can get one at Guerrero Food Center, which makes one of the area's best. And you want a delicious vegan burrito? Try Luna on the opposite corner. And then you can both meet back at Bar 718, one of our favorites, to eat them over Sixpoints. Then pop over to Mary's before you go home, just for good measure.

Best Block for Unexpected Porches 11th Street, between Third and Fourth avenues, Gowanus There're certain architectural styles you expect this close to Park Slope: brownstones, yes. Apartment buildings, sure. The occasional town house, why not? Even a warehouse or something. But porches?! Walk down this Gowanus-border block, and you'll find many row houses not with front stoops but with honest-to-goodness porches: we're talking decks and columns and roofs and shit.
You get the idea. Read lots more at L Magazine. 
March 26, 2013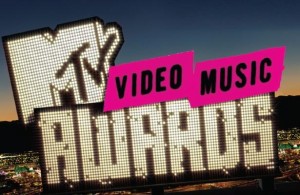 On August 25th for the 30th anniversary of the Video Music Awards, MTV will be hosting the show in Brooklyn, the first time the show has been in New York City since 2009.
Ya think Jay-Z (or Beyonce) had something to do with bringing the show to Barclays Center?
These are the awards where Kanye West famously disrupted Taylor Swift's acceptance speech. That was really tacky but the show is known for bling, bluster and mega big names in the  music biz.
August 25th: Leave town or be square.
March 23, 2013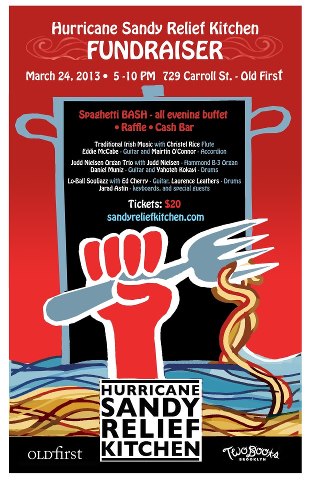 This Sunday (3/24) there's a fundraiser for Hurricane Sandy Relief Kitchen at Old First Church from 5PM until 10PM (729 Carroll Street at 7th Avenue in Park Slope). There will great food, music, speakers and fun, as well as the vibrant spirit of volunteerism in the house.
The Sandy Relief Kitchen is something we're really proud of here in Park Slope.
The Sandy Relief Kitchen is a community-based relief effort based in the Park Slope neighborhood of Brooklyn, New York. What began as an immediate, around-the-clock effort cooking out of the back of Two Boots of Brooklyn, has now transformed into an operation comprising local business, community groups and friends. Now operating out of Old First Reformed Church, the group has served tens of thousands of those affected by Hurricane Sandy in coastal neighborhoods of Brooklyn and Staten Island.
The help for those in need continues Wednesday through Friday, from our base at Old First Reformed Church, located at 729 Carroll Street (at 7th Avenue) in the Park Slope. We're preparing hot food and sandwiches and delivering them, along with other necessary cleaning and personal supplies, to the Rockaways, Staten Island, Gerritsen Beach, Coney Island and other areas still gravely affected by the storm.
March 2, 2013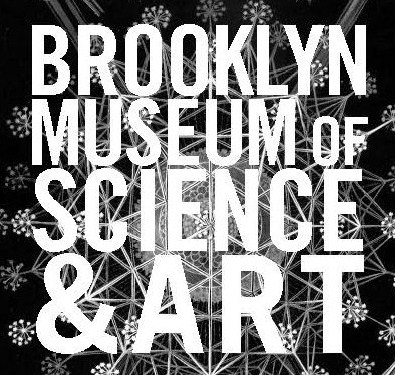 An email from Town Square caught my eye:
On Wednesday, March 13, at 7PM, there's a March Planning Meeting at Fada (530 Driggs Ave, near N 8th St) for the up and coming Brooklyn Science & Arts Museum.
Apparently, $19.5 MM is available to Greenpoint from Greenpoint Environmental Benefits Projects! Sounds like a great opportunity to launch a world-class institution.
In the meantime, the group plans to offer pop-up museums, salons, and symposiums. More proof of the unique indie, can-do spirit of Brooklyn!
While not necessary, you can RSVP for the March meeting to info@townsquareinc.com.
March 2, 2013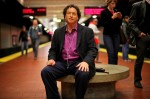 He is a forty-year-old man now. When he was only 4 in 1973, his insane next-door neighbor threw hot acid on his face and he's been blind ever since. This heartbreaking crime happened on President Street in Park Slope. The perpetrator Basilio Bouza (24) was found not-guilty on grounds of insanity. The story by Wendell Jamieson is in the New York Times today.
Josh Miele is now  president of the Lighthouse for the Blind in San Francisco and he lives in Berkeley, California with his wife and two children.
The story is sad and unbelievable. But the portrait of Joshua Miele that arises out of Wendell Jamieson's article is inspiring and beautiful.
Josh has a degree in physics and a Ph.D. in psychoacoustics from the University of California at Berkeley. He took several breaks, years long, while getting his undergraduate degree, and worked full time for the technology company Berkeley Systems on software to help blind people navigate graphics-based computer programs.

He worked for NASA on software for the Mars Observer. He is the president of the board of directors of the San Francisco LightHouse for the Blind. He plays bass in a band. And he works as an associate scientist at the Smith-Kettlewell Eye Research Institute, a nonprofit research center. "It's not that I don't want to be written about," he said. "I'd like to be as famous as the next person would, but I want to be famous for the right reasons,for the work I've done, and not for some stupid thing that happened to me 40 years ago."

Photo of Joshua for the NY Time by Jim Wilson
March 2, 2013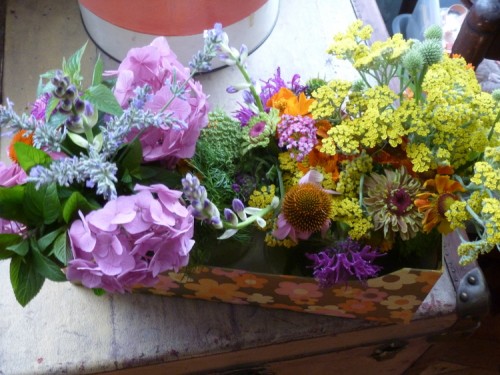 Just when I was feeling really fatigued by  winter, Susan Steinbrock Design sent me an email about her new garden and floral design website. The  photographs on the site of arrangements of colorful wild flowers grown in a Brooklyn lot made my day.
Spring is afoot and I am grateful to Susan for reminding me.
Brooklyn-based gardening business, Susan Steinbrock Design will plant and maintain perennials, annuals and flowering shrubs. SSD will select plants to create a continuously blooming garden, from spring bulbs through fall asters, yielding personally designed bouquets, directly from your garden to table.
"I believe in environmentally sound practices, using compost to enrich soil that is often depleted of nutrients. I choose flowering perennials native to our region as well as other plants that encourage pollinators and benefit the overall health of our Brooklyn neighborhoods," Susan writes on the website.
Whether you are looking for a complete design and renovation of your current garden space, a new window box or container, or just advice in choosing plants that will thrive in your garden's light and shade, Susan can work with you to make something beautiful.
And that is beautiful.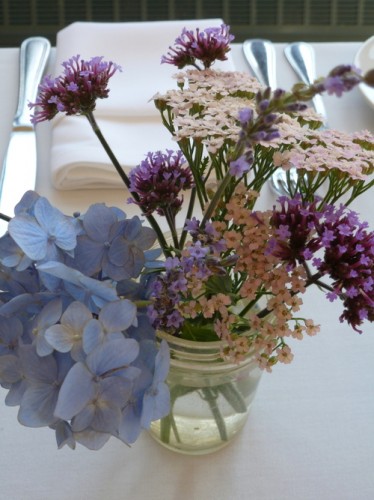 February 27, 2013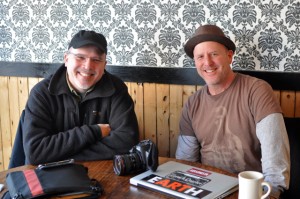 OTBKB's Witness photographer Tom Martinez is adding Photography Workshops and Photo Walks to his resume, which already includes Unitarian minister and social activist.
Martinez and fellow photographer/videographer Antonio Rosario have opened a new business called Switch to Manual to help beginner and intermediate photographers take control of the camera's basic settings, which they believe is the doorway to real creativity.
According to Martinez and Rosario, most people new to photography have a vague sense that it's possible to control the camera's settings, but are intimidated by the myth that to do so requires years of technical study. "And when you're in love with photography all you really want to do is take pictures," says Martinez.
That's where the Switch to Manual photo workshops come in. In a workshop setting, Martinez and Rosario will give you a practical overview of the two manual settings you'll want to master (shutter speed and aperture) and then take you out to shoot pictures.
Instead of a bunch of technical jargon, they will explain these settings in everyday language.  By the end of the workshop you'll understand how these camera controls relate to each other. "You'll be in control of your camera and not the other way around. You'll be adjusting both to get the image you want, no matter  the situation," says Rosario.
February 25, 2013
I am very frustrated with the way that the Daily News edited my op-ed about Barclays Center in Sunday's paper. I suppose I shouldn't be surprised—it is a corporate conglomerate that has a stake in the Barclays Center. I was shown a shortened vershion but had little time to make changes. I had nothing to do with the headline (The drunken hordes that never came) or the subtitle (Park Slope was wrong about Barclays Center), which, as you can imagine, really rankled me. Here's the original that I sent to the newspaper.
by Louise Crawford
Whatever you thought about the Atlantic Yards Project —what the new Brooklyn Net's stadium was called before it was branded Barclays Center—it's very possible that you think differently now.
Not because you're a hypocrite. It's just that when urban planning  becomes urban reality, those who live in it must adapt and learn from it, just as they would when a giant gorilla decides to move next door.
During the planning stages for the twenty-two acre site, it was easy to feel apoplectic when Forest City Ratner, a Cleveland-based developer with big pockets, was able to bypass standard review procedures, the City Planning Commission and The City Council.
The proposed stadium and sixteen high-rise apartment buildings rankled locals in an area defined by its historic structures, low-rise vistas and a strong belief in gentrification as a form of grass roots development. The Fort Green neighborhood was already testy from the poke in the eye that is Forest City Ratner's less than beautiful Atlantic Mall.
Just about every project that smells of big business, traffic and noise inspires local opposition in Brooklyn areas like Park Slope, Prospect Heights and Red Hook, big city neighborhoods that feel like small towns.
In the nineties, New York Methodist Hospital announced they were building an underground parking garage in the center of Park Slope with Rite Aid and Barnes and Noble on the retail level. Citizens feared traffic, noise, garbage and the loss of their beloved local bookstores and pharmacies. Indeed, most of the neighborhood's bookstores did perish, except for one brave exception (Community Bookstore).
The coming of Ikea and Fairway caused no small amount of tsuris among Red Hook pioneers, who worried about traffic, congestion and changes to the areas historic charm.
Back in 2005, the guerilla opposition to Forest City Ratner's Atlantic Yards gorilla organized almost immediately. Locals cried "Develop Don't Destroy" to a plan that lacked context and common sense. What about schools, subways, traffic, jobs, parking, affordable housing, tax dollars, and infrastructure? They demanded answers.
Ultimately, legal tactics using Eminent Domain won the day. The area, which has been gentrifying at a rapid pace, was dubiously deemed blighted and buildings were demolished, including Freddy's, a beloved, historic bar, as well as a condo building, home of Daniel Goldstein, the Rosa Parks of the Atlantic Yards battle.
A funny thing happened on the way to Barclays. Locals realized it wasn't so bad to have a basketball stadium in their midst despite their opposition to the way it got there. Fears about noise, traffic, garbage and public urination proved unwarranted, though there are some problems and traffic on nearby Third Avenue has worsened and rats run rampant and have invaded Park Slope, as well.
We also learned that having a basketball team can actually create a sense of camaraderie and Brooklyn pride.  Barclays Center has become a public square (sponsored by the New York Daily News) in a racially and economically stratified borough that often feels segregated. The Barclays Center is one place in Brooklyn, other than the subway (and maybe the Cyclone) that truly has an integrated clientele.
Some like the Reverend Daniel Meeter of Old First Dutch Reformed Church in Park Slope, who opposed the project from the start, aren't so sure about the benefits "The only real gains to Brooklyn are the economic gains to certain private businessman and ephemeral emotional gains to individual fans. Societal gains, real ones, like on race: realistically zilch. Architectural gains? Zilch, Lessons: ancient lessons rehearsed about money and power able skillfully to manipulate democratic processes of decision making. Big money sports (entertainment) is an essentially anti-democratic, anti-organic, and ultimately anti-social business."
Still, the entertainment programming at Barclays has been inspired. Hip Hop ruled when Jay-Z performed in a series of opening week performances. The sound level was off the charts and Barclays was charged a $3,200 fine. But Hip Hop and Brooklyn were in the house.
Having Jay-Z as mascot and fifty of 1 percent owner of the Brooklyn Nets certainly went a long way towards making African-American and young Brooklynites feel a sense of trust and "ownership." Mos Def, however, was not thrilled and wrote a powerful poem that expressed concerns that the trickle down from the stadium might never flow to those in need.
My Baby Boomer friends, many of whom protested angrily against the Atlantic Yards Project, seemed pretty excited when Bob Dylan, Patti Smith, Neil Young , The Who, The Rolling Stones, and Leonard Cohen performed at the stadium. I wondered if, once again, we were being pandered to. Just like when they brought in starchitect Frank Gehry to design the first iteration of the stadium before he was fired.
I think it's universally agreed that the architecture is less than the Miss Brooklyn we were promised. That said, I like the way the public space rises out of the subway station. I also like the rusty basket weave skin of the building, which is evocative of the site's former life as a train yard.
The Barclay's logo and other corporate signage is not only ugly but a reminder that corporations have control over our cities and that product placement has more power than the people who live right next door. It reminds me that even the borough of Brooklyn can be bought by corporate interests.
So the big gorilla moved in and we're adapting. Like it or not, Brooklyn has a new cultural hub, a crossroads for an economically and racially diverse Brooklyn to come together. And we've got a team that gives us all something to cheer about.
This is the new now that we must build upon with plenty of lessons learned. But the question remains: how does Brooklyn enhance the neighborhoods that we love to build a community and not a battlefield?
February 9, 2013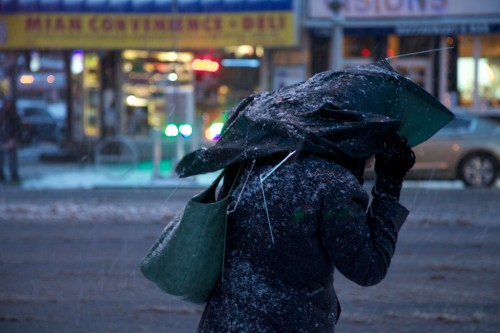 February 9, 2013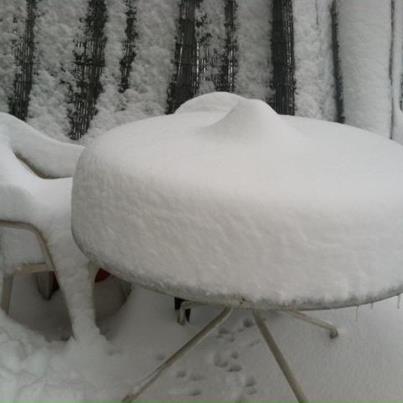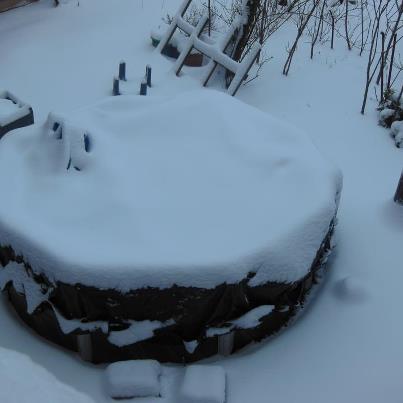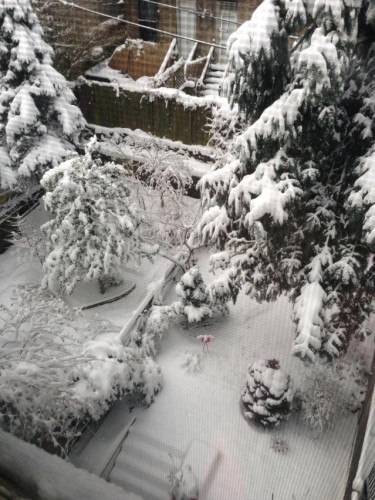 Photos from Betsy Reid in Carroll Gardens, Mary Engel and Sophia Romero in Park Slope
February 8, 2013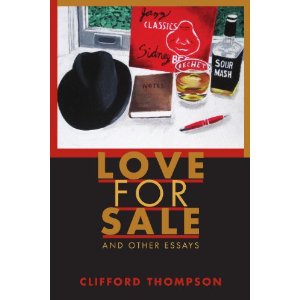 What a nice surpise. And just in time for a snowy weekend at home. Today I received a package from Autumn House Press. Inside: Cliff Thompson's new book Love for Sale, a collection of essays
Cliff Thompson is the author of Signifying Nothing, a novel. He participated in a wonderful and memorable Brooklyn Reading Works evening curated by Martha Southgate called Young Gifted and Black (Men) with Victor Lavalle and James Hanihan. He lives in Park Slope with his family.
I was immediately taken in by the cover of Cliff's new book: a painting of a Sidney Bechet album, a bottle of Sour Mash ,a fedora, a notebook and a pen (a painting, it turns out, by Cliff Thompson).
This book of essays was selected by Philip Lopate as the winer of the 2012 Autumn House Fiction Prize. Lopate writes "The triumph of this deeply satisfying essay collection is its presentation of a whole human being: immensely cultivated, likable because unfailingly honest, reasonable, mature, witty and never less than eloquent."
I surveyed the table of contents and saw essays on Zadie Smith, Miles Davis, movies. These essays have appeared in The Threepenny Review, The Iow Review, Commonwealth, Film Quarterly, Cineaste, Oxford American and more…
I am grateful to receive this book today because I am just about done with my current book (Mr. Penumbra's 24-Hour Bookstore) and am deeply in need of something new for a long, snowy weekend.
Love for Sale. Just in the nick of time. I'm looking forward to reading these essays about books, film, jazz, race, "and the oddities of daily life."
February 8, 2013
Craig Hammerman, District Manager of Community Board 6  sent me the mayor's sever weather advisory issued Thursday evening. Here goes:
At the direction of the Mayor, the public is hereby advised that significant snowfall has been forecast starting tomorrow afternoon through Saturday morning.

The public is urged to avoid all unnecessary driving during the duration of the storm and, until further directed, to use public transportation wherever possible. As New Yorkers are making their commuting plans for tomorrow, they should be aware that driving conditions will be difficult. If you must drive, use extreme caution.

The MTA has advised of potential service disruptions, and information about any service changes to public transportation is available on the MTA website at http://www.mta.info/.

Any vehicle found to be blocking roadways or impeding the ability to plow streets shall be subject to towing at the owner's expense.

Alternate side parking is suspended citywide through Sunday. Due to anticipated high winds the Staten Island Ferry will be operating on a modified schedule beginning tomorrow afternoon.

The Emergency Management, Fire, Police, Sanitation, and Transportation Commissioners will be taking all appropriate and necessary steps to preserve public safety and to render all required and available assistance to protect the security, well-being and health of the residents of the City.

City government and public schools are open tomorrow. Afterschool programs are subject to cancellation.

Due to potential power outages and transportation difficulties, New Yorkers are advised to stock up on potential supplies, including medicine.
February 6, 2013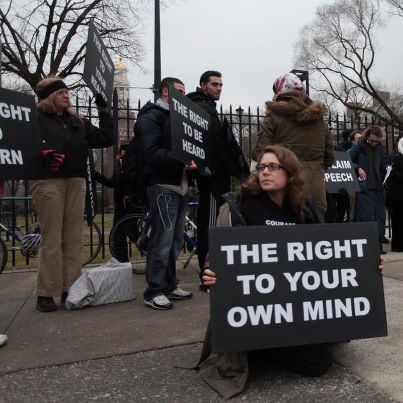 The Political Science Department and other departments and clubs at Brooklyn College are  getting slammed for their decision to sponsor a forum featuring two speakers—Judith Butler and Omar Barghouti —who support BDS (Boycotts, Divestment and Sanctions) an international boycott to force Israel to end its occupation of the Palestinian territories.
BDS is the same group that  caused a conniption fit at the Park Slope Food Coop last year when they proposed that the Coop stop selling Israeli products. A hearing and vote among members opposed the proposal.
I applaud Karen Gould, President of Brooklyn College, for her decision to proceed with the event despite opposition from pro-Israel activists, and a group of City Council Members, who threaten funding to the college.
A college is meant to be the center of free speech and academic freedom. Below is a letter published in the Nation by President Gould to students, faculty and staff.
Dear Students, Faculty, and Staff,

Each semester, student clubs, academic departments, and other groups on our campus host events and invite speakers on a broad range of topics. At times, the issues discussed may be challenging and the points of view expressed may be controversial.

Next week, Students for Justice in Palestine is hosting two speakers who will discuss their views on the BDS movement, which calls for boycott, divestment, and sanctions against Israel. The event is co-sponsored by several campus and community organizations, including the political science department.

As an institution of higher education, it is incumbent upon us to uphold the tenets of academic freedom and allow our students and faculty to engage in dialogue and debate on topics they may choose, even those with which members of our campus and broader community may vehemently disagree. As your president, I consistently have demonstrated my commitment to these principles so that our college community may consider complex issues and points of view across the political and cultural spectrum.

Unfortunately, some may believe that our steadfast commitment to free speech signals an institutional endorsement of a particular point of view. Nothing could be further from the truth. Brooklyn College does not endorse the views of the speakers visiting our campus next week, just as it has not endorsed those of previous visitors to our campus with opposing views. We do, however, uphold their right to speak, and the rights of our students and faculty to attend, listen, and fully debate. We also encourage our students and faculty to explore these issues from multiple viewpoints and in a variety of forums so that no single perspective serves as the sole source of information or basis for consideration.

In addition, as I have said on several occasions, our college community values mutual respect and civil discourse. We ask all students, faculty, staff, and guests on our campus to conduct themselves accordingly so that Brooklyn College continues to be a learning environment where all may discuss and debate issues of importance to our world.

Sincerely, Karen L. Gould, President

PHOTO BY TOM MARTINEZ