November 25, 2013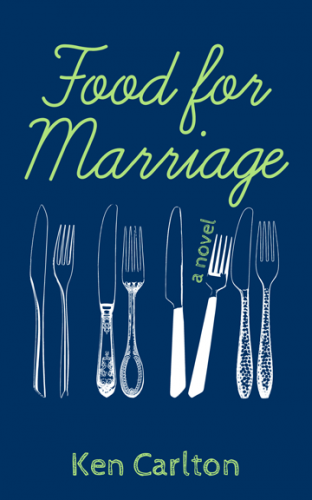 BRING SOMETHING TO READ, BRING AN APPETITE TO FEAST
On December 12, 2013 at 8PM, Brooklyn Reading Works at The Old Stone House in Park Slope presents Feast: Writers on Food (as subject matter, as metaphor) presented by Ame GIlbert, founder of The Poetry Soup Salon, a monthly reading and dinner series.
Soup will be served.
Feast's curator Ame Gilbert invites anyone who wants to read a poem, a short story or a non-fiction piece about food to read at the FEAST open-mic (8-minute time limit).
Ken Carlton, author of The Hunger (included in Best Food Writing of 2009) will open the event with a short reading from his new novel Food for Marriage.
Feast is a fundraiser for a local food pantry. Give generously ($10 is suggested donation). Soup, bread and dessert will be served. Plus wine. Readings are limited to 8-minutes.
When: December 12, 2013 at 8PM
What: Feast: Writers on Food Open Mic
Where: The Old Stone House, 336 Third Street between 4th and 5th Avenues. F train to Fourth Avenue. R train to Union Street. For info: 718-288-4290
What else: $10 donation includes wine, soup, bread and dessert
November 12, 2013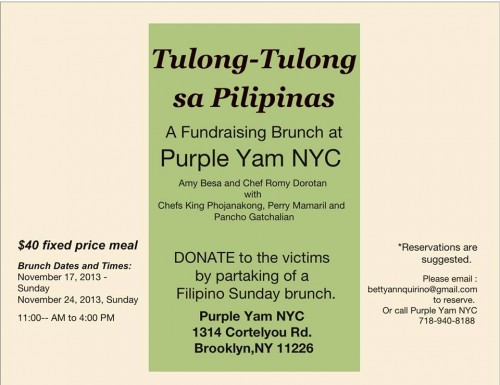 November 12, 2013
I received this note from the owners of Dalaga, a lovely shop in Greenpoint owned by two Filipino sisters. There is an event at Jeepny tonight. But Dalaga will be accepting donations in the coming days. Dalaga: 150 Franklin St, Brooklyn, NY 11222, (718) 389-4049
Dearest Dalagas,

As some of you know, my sister and I are Filipino and this weekend a devastating typhoon hit the country. Typhoon Haiyan resembled a tsunami, leveling houses and drowning hundreds of people in one of the worst disasters to hit Southeast Asia. Thankfully our family's area was not badly hit, but 480,000 others are displaced and 4 million more are affected by the typhoon across 36 provinces. They are expecting another storm to hit them tomorrow morning. Relief agencies are immediately calling for canned food, water, medicines and tents for the homeless.

For anyone who lives in the New York metro area, Jeepny is hosting a Typhon Haiyan Fundraiser TONIGHT, 6pm to 9pm. They are accepting canned food and monetary donations for the Philippine Red Cross. If you cannot make it to the Jeepny event tonight and wish to donate, we will accept donations starting today. We will be making regular drops to The Philippine Red Cross. Please see the list of donations we will be accepting.

Canned/ packaged ready to eat food (sardines, instant noodles, shelf stable milk, rice, etc.)

Water purifier tablets

Water containers

Tents and other temporary shelters

Freshly laundered and clean blankets, pillows, sheets, towels, etc

Flashlights and batteries

Hygiene kits with personal care items-soap, toothbrushes, toothpaste, shampoo, sanitary napkins

Baby diapers, wipes, bottles, baby formula

Cooking apparatus-pots and utensils

General medical supplies and over the counter medications at least one year from expiration

Mosquito repellant

At this time, we cannot accept clothing. We appreciate any support you can give and hope you'll help to spread the word.

Thank you.

Michelle & Mary Mangiliman

Owners

DALAGA
November 12, 2013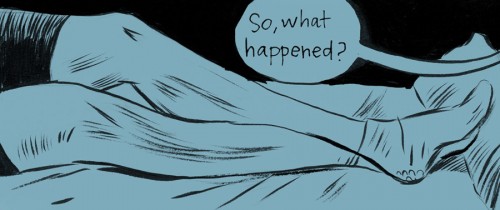 This Thursday (November 14) at 8PM: Brooklyn Reading Works presents: WRITING WAR: Fiction and Memoir by Veterans curated by Peter Catapano with Phil Klay, Kevin R. McPartland, Maurice Emerson Decaul, and Lynn Hill.The Old Stone House in Park Slope 336 Third Street between Fifth and Fourth Avenues. R train to Union Street or F train to Fourth Avenue. A $5 donation includes wine and snacks.
Lynn Hill is a United States Air Force veteran, performer and poet. She is a graduate of Columbia University and served as an intelligence analyst and worked with bomber, Red Flag simulated war games and Predator drones. In 2012 and 2013 she appeared in the multimedia show "Holding It Down" with Vijay Iyer and Mike Ladd. Her next project, "Lioness," with Maurice Decaul, will debut at the Atlas INTERSECTIONS Festival in 2014.
Maurice Emerson Decaul served in the United States Marine Corps in the Iraq War. He is an essayist and librettist whose work has been featured in the New York Times, The Daily Beast, Sierra Magazine, Barely South Review, Epiphany and others. He is a graduate of Columbia University and is working towards his M.F.A. at New York University. In 2012 and 2013 he appeared in the multimedia show "Holding It Down" with Vijay Iyer and Mike Ladd. His next project, "Lioness," with Lynn Hill, will debut at the Atlas INTERSECTIONS Festival in 2014.
Kevin R. McPartland is the author of "Brownstone Dreams" (Boann Books and Media), a tale of love and death in 1960s Brooklyn. A native Brooklynite, novelist and short story writer, his work has appeared in AIM Magazine, Grit Mag and in "Adventures in Hell," an anthology of short stories by Vietnam veterans. Follow Kevin on Facebook.
Phil Klay served in the United States Marine Corps from 2005 to 2009, and was deployed to Iraq in 2007-8. He is the author of the forthcoming short story collection, "Redeployment," and is a contributor to the collection "Fire and Forget: Short Stories From the Long War." His work has appeared in The New York Times, Granta, Tin House and elsewhere.
Matthew Mellina served in the US Army from 2002-2007, deploying to Iraq in 2006 with the 4th ID. He is working on his first novel and has had pieces featured in The New York Times, Newsweek, and Slate.
Peter Catapano (curator) is the editor of Happy Days, Home Fires, and other opinion sections at the New York Times Web site. He lives in Brooklyn.
November 7, 2013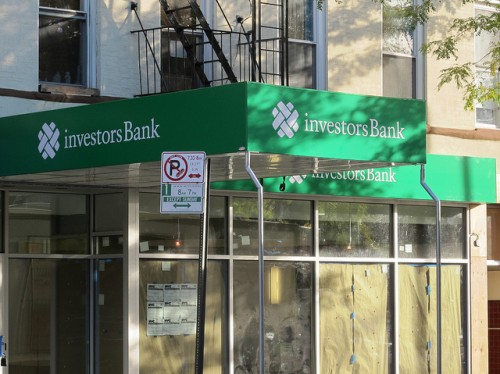 Dear Investors Bank,
When you move into a new neighborhood it's nice to be respectful of the people who've been there for a long time. We hope that you will look around you and notice that a big, bright, inappropriate lighting scheme doesn't really fit into a historic neighborhood like Carroll Gardens.
For goodness sake, your bright lights are keeping people awake.
We know you don't want to make bad with the neighbors. You're new and probably want to make a nice first impression. That said, you really don't need to show off with all your big, bright light. Trust me, we'll notice you without it.
Truth is, we'd like to bring the welcome wagon by but its hard to do that when we feel like you're not respecting what we're about—visually, culturally, community-wise and even historically.
Take a look around and TURN DOWN THE LIGHTS.
Sincerely,
Only the Blog Knows Brooklyn
—————————————————————————————————————————————–
Below is the petition. To sign it get in touch with lkentgen(at)gmail(dot)com
Carroll Gardens residents are concerned by the amount of light pollution coming from the new store front, Investors Bank, on Court Street between 3rd and 4th Place. There is also opposition to the bright awning that extends into the street. The new business has not used nearby financial businesses and banks as a model for its design. The other businesses do not disrupt the residential atmosphere that is highly valued here.
We, the signed residents of Carroll Gardens and its Brooklyn neighbors, are requesting that Investors Bank:
1) remove its awning
2) Dim its lights.
We are requesting this in the spirit of Investors Bank's willingness to become a part of the neighborhood instead of standing out in a way that is unattractive and disruptive to the neighbors.
Obviously, Investors Bank, a New Jersey-based financial institution, has little sensibility for our brownstone neighborhood. Let's hope that they wise up quickly and realize that this sign and the bright lights are not appropriate for Brownstone Brooklyn.
Sincerely,
Your Neighbor
November 7, 2013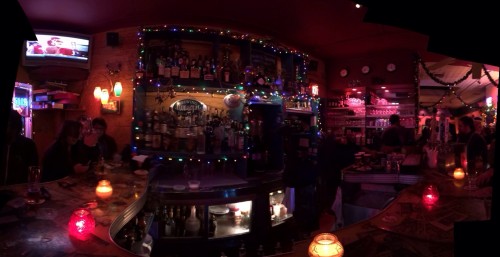 November 5, 2013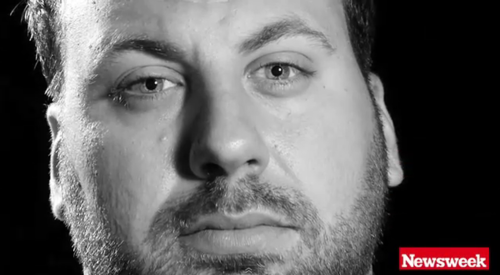 Brooklyn Reading Works is pleased to announce that Matthew Mellina, who served in the US Army from 2002-2007, deploying to Iraq in 2006 with the 4th ID, will be joining a terrific roster of writers at Writing War: Fiction and Memoir by Veterans on November 14th at 8PM at The Old Stone House in Park Slope (336 Third Street between Fourth and Fifth Avenues).
The reading is curated by Peter Catapano and will feature writers Phil Klay, Kevin R. McPartland, Mauric Decaul, and Lynn Hill. Mellina is working on his first novel and has had pieces featured in The New York Times, Newsweek, and Slate.
November 5, 2013
Today I will vote for Bill de Blasio for mayor of the city of my birth. He resides with his family just a few blocks from where I live, and we share many of the same values. I know this is a tough city to govern but I have high hopes that he will hold fast to his vision, and do the right thing.
Can he manage this city? Can he stay on track and not succumb to its political forces with the same discipline he brought to the campaign? That will be the true test of his character and his leadership abilities. We have learned that it takes a tough and determined mayor to get things done. Bloomberg was a mixed bag but he achieved much of his agenda and much was brilliant: 311, bike lanes, smoking bans, restaurant grading, traffic slowing, waterfront development, a long-term plan to protect against effects of climate change, Brooklyn Bridge Park, green infrastructure plans and more.
I am fascinated and delighted by De Blasio's rise from underdog in the mayor's race to number one. He ran a brilliant campaign, while the other candidates floundered and in some cases flailed. He found his message and stuck to it. A tale of  two cities, end stop and frisk, affordable housing for all, universal pre-K by taxing the wealthiest, education. He was disciplined, focused and smart.
And it seems that some of what he had to say struck a chord, as he is set to win by a landslide. His tale of two cities resonated on many levels. It is felt in every neighborhood, by many different kinds of people. New York has become a city of the rich and it has become harder and harder to rise up in it.
I think this city needs a humane mayor who understands that if the most in need are  provided for, the rest of this city will flourish. He understands that New York City must not just be a city of the wealthy  because all of its character will be siphoned away. He understands that New York City gathers  its strength and distinction from its artists, its activists, its outsiders and its subway population, not just from those who ride in limousines.
Today I vote for Bill de Blasio, who at one time represented my neighborhood in the New York City Council. I have seen him more times than I can count at local civic gatherings, school events. I believe he has the capacity to be a great mayor if he can guarantee that the under-served, the undervalued, the underachieving and the underemployed will have an advocate at City Hall. That is my hope anyway.
Back in July, De Blasio answered questions for OTBKB. Here's his answer to one:
The idea that every kind of person can make a life for themselves and their family is supposed to define New York. But over the past 12 years of Bloomberg, we have seen New York become a tale of two cities. We're living in a reality where the focus of the city's resources and development has turned disproportionally to lower Manhattan. My experiences in Brooklyn as a resident, a City Council Member and Public Advocate have shaped my vision for what kind of mayor this city needs. As mayor, I'll spend every waking moment fighting to bring opportunity to every New Yorker, whether that be through expanded affordable housing, police reform, or an economic strategy that brings jobs to all five boroughs.
November 4, 2013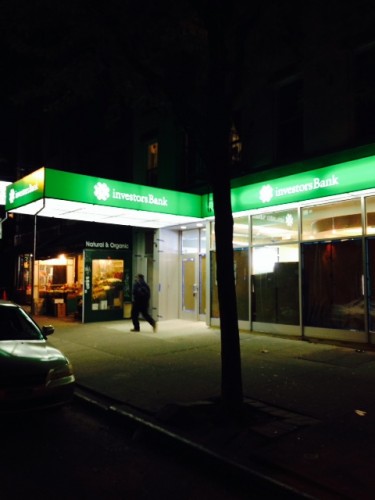 A friend writes that an outrageous and inappropriately bright sign and awning for the Investors Bank that took over the old Italian grocery store space at 81 Court Street is causing consternation among Carroll Gardens residents.
As you can see from the picture, the wattage coming out of their signage is like something that belongs in Times Square. My friend is hoping to gather 100 signatures requesting that the bank show regard for the other signage of the neighborhood, take down the awning, and turn down the lights in the evening.
You in? Email lkentgen(at)gmail(dot)com to sign the petition and for more information.
November 4, 2013
I've had this story, in rumor form, since Saturday. But I couldn't bear to share it until I'd confirmed it. I guess I felt sad, disappointed, and angry that a true Park Slope institution was moving on.
And I dragged my feet confirming it, I hoped to get to it today. To ask my friend Pastor Daniel Meeter of Old First Dutch Reformed Church, what he knew. I knew he'd know something. But I didn't get around to it.
And now it is confirmed. Effed in Park Slope has word that it is true. Indeed, Two Boots is closing. One of the original owners, John Touhey is moving on. So Andy and Piper Wandzilak will stay in the space and try something new: a new concept, different food, a wholly different approach? We shall see.
It's actually a much better story than I imagined. The space will be renovated and they plan to keep much of the staff on. Will it still be child friendly? Well, that's a very good question. I'm guessing it will still have the same great bar up front.
Here's the note on Andy's Facebook page.
After 24 years, Two Boots Brooklyn is coming to a close; our last day will be November 10.
It's been our very great pleasure to have been a part of your lives, and to have had you in ours.

Piper & Andy Wandzilak, the current operators, will be continuing on in this space as their partner, John Touhey, Two Boots co-founder, retires.

Piper & Andy will be renovating and making big changes over the next two months and are hoping to re-open sometime mid-winter.

They plan on having the same warm welcome and relaxed party atmosphere, with much of our same happy staff and management.

We all thank you for your loyalty and support all these years.

For us, this place has been like a second family and a home away from home, and we know it's been the same for many of you.

We're heartbroken to be saying goodbye, but we hope to see you again for our re-birth!

Most sincerely and gratefully,
Piper & Andy & John
November 2, 2013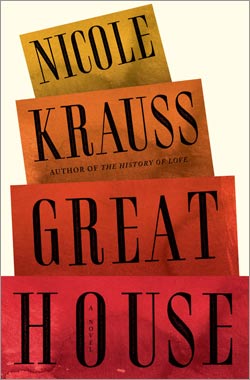 Nicole Krauss, the author of Great House and The End of Love, two novels that I adore, is moving away from Park Slope She and her husband Jonathan Safran Foer are selling their great Park Slope house and heading to points unknown.
I remember seeing her read and discuss Great House at Congregation Beth Elohim quite a few years back. I admired her intelligence, her quiet strength and her grace. She said that a desk that came with their Second Street house inspired the novel.
That house must be very inspiring because it inspired a brilliant tale about (and I quote from her website here because the book, something of a long shaggy dog tale, isn't that easy to describe, "a reclusive American novelist, who has been writing at the desk she inherited from a young Chilean poet who disappeared at the hands of Pinochet's secret police; one day a girl claiming to be the poet's daughter arrives to take it away, sending the writer's life reeling."
This is indeed a loss to Park Slope as it was wonderful to have two such fine writers among the many writers in this neighborhood. They made us proud, they illuminated us (pardon the pun), they were among our literary stars. I wish them the very best and much great writing in the future.
Here's a quote from Great House, which is well worth a read.
Ten days together in this house, and the most we've done is stake out our territories and inaugurate a set of rituals. To give us a foothold. To give us direction, like the illuminated strips in the aisles of emergency-stricken planes. Every night I turn in before you, and every morning, no matter how early I rise, you are awake before me. I see your long gray form bent over the newspaper. I cough before entering the kitchen, so as not to surprise you. You boil the water, setting out two cups. We read, grunt, belch. I ask if you want toast. You refuse me. You are above even food now. Or is it the blackened crusts you object to? Toasting was always your mother's job. With my mouth full, I talk about the news. Silently, you wipe the sputtered crumbs and continue to read. My words, to you, are atmospheric at most: they come through vaguely, like the twitter of birds and the creak of the old trees, and, as far as I can tell, like these things they require no response from you.
November 1, 2013
I am so moved by the fact that the parents and sister of Sammy Cohen Eckstein, the 12-year old boy killed by a van on Prospect Park West, testified at a City Council hearing yesterday in support of a bill reducing speed limits in residential areas to 20 mph. From all reports there was not a dry eye in the house. Here is a quote from Sammy's mother Amy Cohen Eckstein:
"Our family has suffered an unspeakable loss. Every day is filled with pain so deep we are not sure we can bear it. But the world too has suffered a great loss, for Sammy could have really made a difference. He would even have been an excellent Council member had he had the chance."
November 1, 2013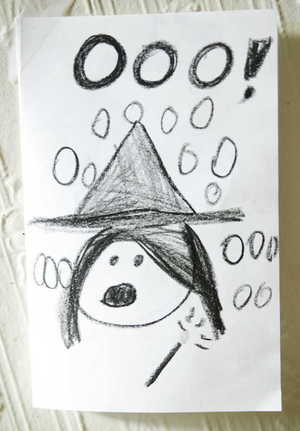 October 21, 2013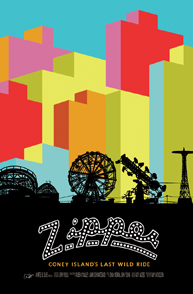 One night only. On October 30th at 9:30 catch Zipper at Nitehawk Cinema in Williamsburg.
Zipper, directed by Amy Nicholson,  is a tale of Coney Island told through the story of a small-time ride operator Eddie Miranda who operates a  carnival contraption called the Zipper in the heart of Coney Island's gritty amusement district.
When his rented lot is snatched up by a real estate mogul, Eddie and his ride become casualties of a power struggle between the developer and the City of New York over the future of the world-famous destination.
Be it an affront to history or simply the path of progress, the spirit of Coney Island is at stake. In an increasingly corporate landscape, where authenticity is often sacrificed for economic growth, the Zipper may be just the beginning of what is lost.
See more at: http://www.nitehawkcinema.com/movie/zipper/#sthash.W3sG2nn7.dpuf
October 20, 2013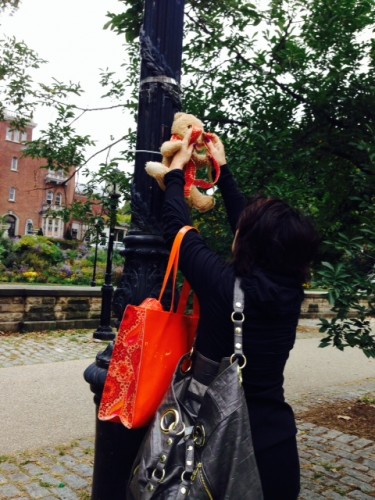 I  didn't know where they came from: the identical teddy bears that appeared on lamp posts on Prospect Park West after the death of Sammy Cohen-Eckstein, the 12-year old boy who was run over by a van a few weeks ago.
I'd seen the make-shift memorial for Sammy. Flowers, notes, stuffed animals at the entrance to Prospect Park on Third Street. Heartbreaking.
Then I heard that it was a student at Park Slope's MS 51, an eighth grader like Sammy, who put up the bears. Alison Collard de Beaufort bought forty of them to put up as a way to remind drivers to slow down. She also wanted to remind people about the senseless loss of her friend and fellow classmate.
On Saturday, a friend of mine decided that the teddy bears needed bows. Red bows. She asked my sister and her 9-year-old daughter to help her place handmade ribbon bows on twenty of the bears on Prospect Park West. I thought it was a beautiful gesture, one that perfectly compliments the initial gesture by Alison, as it honors Sammy with love, beauty and a message to us all to slow down.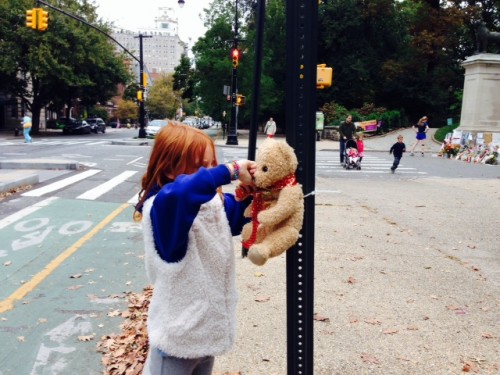 October 14, 2013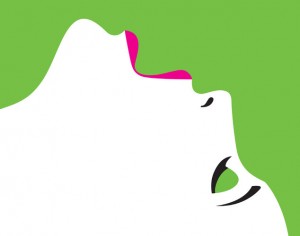 On October 17 at 7PM, Edgy Moms and Babeland Present: What Do Women Want?  Author Daniel Bergner in conversation with Babeland founder Claire Cavanah (462 Bergen Street in Park Slope, Brooklyn)
When it comes to SEX, common wisdom holds that men roam while women crave closeness and commitment. But in his provocative new book, Daniel Bergner turns everything we thought we knew about women's arousal and desire inside out.
Drawing on extensive research and interviews with renowned behavioral scientists, sexologists, psychologists, and everyday women, Bergner forces us to reconsider long-held notions about female sexuality
Claire Cavanah co-founder of Babeland and the co-author of Moregasm, will interview Bergner about his journey into the world of female desire and ask him thought-provoking questions such as: Are women perhaps the less monogamous sex? What effect do intimacy and emotional connection really have on lust? What is the role of narcissism-the desire to be desired-in female sexuality? And is the hunt for a "female Viagra" anything but a search for the cure for monogamy?
DANIEL BERGNER is a contributing writer for the New York Times Magazine and the author of four books of nonfiction: What Do Women Want?, The Other Side of Desire, In the Land of Magic Soldiers, and God of the Rodeo. In the Land of Magic Soldiers received an Overseas Press Club Award for international reporting and a Lettre-Ulysses Award for the Art of Reportage and was named a Los Angeles Times Best Book of the Year. God of the Rodeo was a New York Times Notable Book of the Year.
CLAIRE CAVANAH and Rachel Venning opened the first Babeland store in 1993 in response to the lack of women-friendly sex shops in Seattle. The store offered top quality products, a pleasant place to shop, and most of all information and encouragement to women who wanted to explore their sexuality. The store's popularity with both women and men has led to three more stores in New York, plus a thriving and educational website.
EDGY MOMS is the brainchild of Louise Crawford, artistic director of Brooklyn Reading Works, a monthly thematic reading series at The Old Stone House in Park Slope. Edgy Moms presents smart, powerful, funny, whiny, non-sanctimonious writing about mothers and motherhood. She runs Only the Blog Knows Brooklyn, a popular Brooklyn blog and Brooklyn Social Media, smart social media, publicity and special events for authors and entrepreneurs.
October 9, 2013
Very sad news.
A 12-year-old boy in Park Slope was hit and killed by a van on Third Street and Prospect Park West when he ran out into the street chasing a soccer ball in front of his apartment building. His name is Samuel Cohen-Eckstein.
Note from City Council Member Brad Lander:
"Like many of you, I am heartbroken over the death of our neighbor, Sammy Cohen-Eckstein, a 12-year-old boy who was hit and killed by a van last night on Prospect Park West. Sammy could have been any of our kids. There are no words for a senseless loss like this, but I know our whole community is praying for his friends and family.
Condolences to his family and friends.
October 8, 2013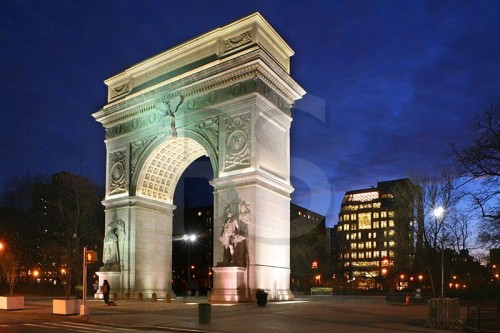 Friend and fellow blogger Cathryn Swan has a book coming out, an event which always calls for a celebration. Especially a book about an important New York City space.
This Thursday October 10th, Bluestockings Books hosts the official release party for Tales of Washington Square Park (and a few other places), a book/zine written by Swan, the editor of the Washington Square Park Blog.
The book includes some of her favorite stories from the blog. At the event, there will be a reading by Swan, conversation about the famous Greenwich Village park and more, and discussion of New York City's privatization of public space.
In the book, Swan touches on the following interesting factoids and more:
Why was the fountain moved 23 feet east to line up with the Arch at Fifth Avenue after 137 years in its previous location?
Did cars really run through the Arch?
What is the story behind the "Hangman's" elm at the park?
Why did Henry James hate the Arch?
From Eleanor Roosevelt, Jane Jacobs, Bob Dylan, Dave Chappelle to today, the park remains the heart of Greenwich Village. It is a constant reminder of the magical commons in the midst of the privatized city
WHEN: Thursday, October 10th @ 7 pm
WHAT: Reading+Discussion: Cathryn Swan's Tales of Washington Square Park (and a few other places)
WHERE: Bluestockings Books, 172 Allen Street between Stanton and Rivington (which is 1 block south of Houston and 1st Avenue).
By Train/Bus: Take the F train to 2nd Ave, come above ground at 1st Ave, and walk one block south along Allen Street. The Delancey-Essex JMZ stop is also nearby, and the M15 bus has a stop on Allen at Stanton.
The event page is here: http://washingtonsquareparkblog.com/official-release-event-for-tales-of-washington-square-park-at-bluestockings-books-thursday-october-10th-reading-discussion-with-cathryn/
Photo by Ron Saari
October 4, 2013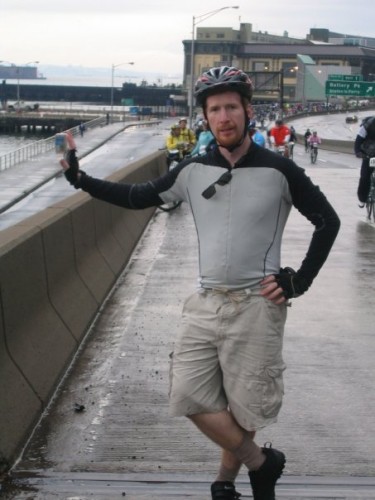 Here's a big shout out to Park Slope's Chris Hennessy, who has Multiple Sclerosis. This weekend he will be riding his bike along with nearly 5,000 people from the tri-state area, up to 100 miles to raise money for support programs, services and research sponsored by the National Multiple Sclerosis Society.
This year for the first time ever, riders with MS, such as Chris, will be provided extra support during the event through a program called "I Ride with MS," a bike series designed specifically to empower cyclists with MS by providing visibility and support tailored to their needs.
You can donate to "Team Hennessy" and help those with MS
Many people with MS experience a temporary worsening of their symptoms when the weather is very hot or humid, or they get overheated from exercise, the program will provide body-cooling neck wraps for these riders to use throughout their journeys, as well as special jerseys that identify them as "I Ride with MS" participants.
Good luck, Chris. Park Slope is rooting for you.
September 24, 2013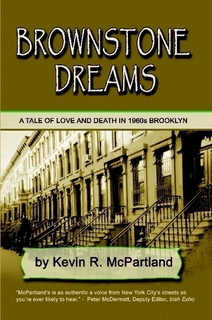 What was Park Slope like before it became the affluent Brooklyn neighborhood it is today? In the Park Slope of Brownstone Dreams, a new novel by Kevin R. McPartland, there are no cappuccino cafes, Bugaboo strollers or real estate offices selling million dollar apartments. Author McPartland spins a tragic tale about the mean streets of 1960's Brooklyn, evoking the sights and sounds of tenements, bars, and schoolyards that comprise the battleground of warring teenage gangs.
The year is 1962. It's early summer and it's already a hot one. 19-year-old Bobby Dutton, street tough and gang member, is in a state of turmoil, after stealing the gun of local wiseguy Vincent Casseo. Still high on glue and beer, Bobby has to figure out how to get the gun back to crazy Vincent, without getting himself killed.
"The next morning Bobby sat leaning on one elbow on a cluttered kitchen table. He sat watching his grandfather go about his morning ritual of drinking tea by the fire-escape window while he shaved and complained. 'Someday you'll know what this is all about, Bobby-boy. It's not fuckin easy makin' a buck in the world. Look at me, other men work on ships that go to sea. I work on a stinking barge in a filthy goddamn canal called Gowanus."
But Bobby isn't interested in how hard it is to make a buck in the world He is much more concerned about Vincent Casseo and his missing gun.
Brownstone Dreams is a gripping thriller about fear, anger and revenge. It is also the story of a Brooklyn neighborhood where drugs and alcohol take control of people's lives; where working-class immigrant families fill tenement buildings; where hardworking men drown their disappointments in seedy pubs, while their sons fight each other with sticks and bats in Prospect Park.
Bobby, forever the dreamer, believes he can get the gun back to Vincent without incident. But that is just the first of many miscalculations that makes Brownstone Dreams such a compelling—and heartbreaking read.
Born and bred in Park Slope, McPartland writes about the world he grew up in with the eloquence and grit of Pete Hamill and Malachy McCourt. "McPartland's is as authentic a voice from New York City's streets as you're ever likely to hear." write Peter McDermott, Deputy Editor of the Irish Echo.
Bobby's story comes to a head with the savage beating of one of his best friends by Vincent. That's when Bobby's game plan changes and he goes on the offensive, unafraid of Vincent's reputation or his threats, determined to avenge his friend's beating.
So begins a downward spiral from which Bobby will never return. Even the love of Cathy, a good neighborhood girl, can't save Bobby from his inevitable trajectory. "Before Park Slope became the trendy family neighborhood of New York's wealthy elite, it was the home of Bobby Dutton, an Irish-American teenager growing up in the cockroach infested flats of McPartland's Brownstone Dreams," writes Marian Fontana, award-winning author of A Widow's Walk: A Memoir of 9/11. "The book captures a bygone era with a voice as fresh as it is engrossing,"
Brownstone Dreams will engross fans of Pete Hamill, Joe Flaherty and Frank McCourt, who will discover in McPartland a brave and bold writer with an urban story worth telling.
About the author: Kevin R. McPartland is a native Brooklynite, novelist and short story writer. His work has appeared in AIM Magazine, Grit Mag and in Adventures in Hell, an anthology of short stories by Vietnam Veterans.
September 24, 2013
Forever Brooklyn from Francesco Paciocco on Vimeo.
September 19, 2013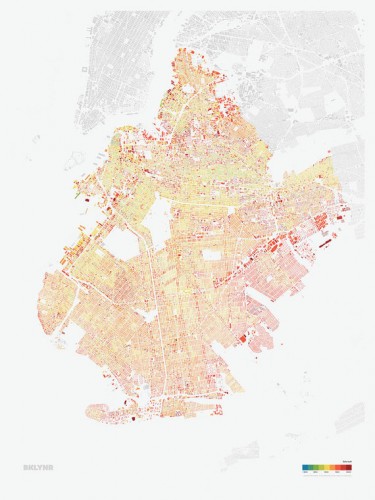 As you know, Brooklyn is one heck of a BIG and complex place.  And while there's ample media coverage of selected aspects of Brooklyn life, news about certain issues and certain neighborhoods is limited.
 Hello BKLYNR, a  bi-weekly that is now releasing its 12th issue This journalistic endeavor tells in-depth stories about all of Brooklyn, and it tells them in innovative and interesting ways. Best of all, if you subscribe, it will magically appear in your inbox every two weeks for only $20 per year. Good deal I say.
In Bklynr Issue 12:
Fighting for Life: A doctor at Long Island College Hospital on the battle to keep the lights on. by Douglas Sepkowitz.
One Block in Crown Heights: Stories behind the buildings we walk past, an interactive panorama by Albert Sun, Zachary Friedman, and David Lei
In the Weeds: The derelict majesty of Brooklyn's Marine Park, photo series by Will Ellis
You can also get a limited edition print of the map pictured above of every block in Brooklyn for $39.
September 16, 2013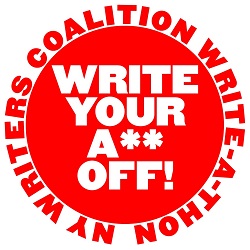 Get your pencils, pens or computers ready. The 8th Annual New York Writers Coalition's Write-A-Thon is this Saturday, September 21, a great writing event and a fundraiser for the New York Writers Coalition.
Please join me at the NYWC Write-A-Thon. I'm going to spend the day writing and you can too. Even if you don't consider yourself a writer, spending the day thinking, taking a writing workshop, tinkering around in a computer or notebook, meeting other interesting people, or doing whatever you want is incredibly fun!
It happens to be the week of the Brooklyn Book Festival so it makes perfect sense to do some writing AND at the same time contribute to this great organization which sponsors writing workshops for the incarcerated, recovering drug addicts, at-risk teenagers, the disabled, the elderly and more…
For more information click here. 
September 9, 2013
In November, New Yorkers will select a new mayor for the first time in more than a decade. The primary is on Tuesday and approximately  750,000 people (it is estimated) will make a decision for a city of 8 million people.
This is an important election that will define the direction of this great city for many years to come. I have one word for you: VOTE.
September 4, 2013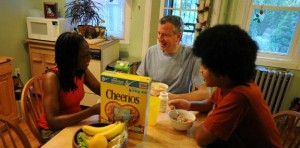 Who are you voting for? I know it's rude to ask but this mayoral election is a big deal. Plus, I'm super interested in which way you're leaning.
I'm surprised how many of my friends and family are undecided. They seem to be teasing out the differences between Bill De  Blasio, Christine Quinn and William Thompson.
I'm more than likely going to vote for Di Blasio. It's kind of a no brainer. He used to be my City Councilman and he's a recognizable tall person around the Slope. While I like his progressive and thoughtful views on education, housing and the middle class, I worry that he has no managerial experience and running the city is like running a really huge and  complex company. It really does require a managerial genius like Bloomberg even if you don't agree with his agenda.
Quinn sounds great on paper. She'd be the first woman and the first gay mayor of New York City. Who can walk away from that. Yet, she also represents the status quo and a continuation of Bloomberg policies and I think we need a change.
Thompson is also very qualified. He's a career politician who has been the head of the Board of Education for 5 terms and City Comptroller. Sadly, he doesn't seem to have much vision or pizazz.
What do you think?
September 4, 2013
Brooklyn-bred tech multimillionaire Jack Hidary is running as an independent candidate for NYC Mayor this November. Despite his financial success, he swears by an "outer-borough" mentality that aims to lift all New Yorkers, while also keeping a focus on maintaining the city's status as a "global capital," attracting (and developing) the best and brightest into the technology and finance industries. He wants your vote to be mayor, so he sat down with Matthew Taub of Only the Blog Knows Brooklyn to make the case.
1.  With Christine Quinn and Bill de Blasio supposedly in a dead heat, much attention has turned to the Democratic primary on September 10th. At the same time, New York City hasn't elected a Democrat as mayor in two decades. What are the limits of the two-party system that made you choose to run outside of it? Are there realistic chances of an independent candidate (such as yourself) winning office? Why should voters take heed?
JH: It is clear that voters across New York City are yearning for independent leadership. Both parties have nominated career politicians who have had many years to make an impact on our schools, economy and public safety yet have failed. Voters have grown weary of the favors career politicians have bestowed on the special interest, just as they've rejected career politicians who advocate for policies that divide our citizens by race, politics, economy and religion. I will be a mayor who will listen and be respectful, I will create solutions, not divisions, and more importantly, I will be a mayor who will do what is right for the City as a whole.  I chose to run an independent on the Jobs and Education Party ticket because these are the two most powerful factors that can empower citizens.
2.  You've been described as a "Bloomberg protégé" for your tech multimillionaire riches and independent, outside the party-lines platform. But you are also quick to point out your "outer-borough" upbringing— that you "come from a place that is different from the other candidates." What is your history in the borough of Brooklyn, and what upbringing (or orientation) do you have that sets you apart from others in the race? In what ways do you plan to expand economic opportunity beyond Manhattan to the other boroughs?
JH: I was born in Brownsville and raised on Ocean Parkway near Coney Island. As a first generation New Yorker whose parents came to these shores hoping to build a better life, I grew up rooted in the values of hard work, determination, and community. My parents were both entrepreneurs. In fact, entrepreneurship ran strong in my family, and we used to joke that the price of admission to Sunday dinner was being an entrepreneur.  It was that exposure to the entrepreneurial spirit at such an early age that gave me the foundation and the drive to start two successful businesses.  While others in the race were talking about the need to create jobs, I was actually creating them.
As Mayor, I want to make it easier for all New Yorkers to start a business.  And as the only candidate in the race with proven experience creating jobs, I know I can deliver on this promise.  Currently, government regulations have created a climate that makes it hard for the small business owner to get their ideas off the ground. As Mayor, I want to remove burdensome regulations that hamper small businesses. In addition, I want to unleash innovative solutions that will help small business owners get their products to market. One way we can achieve this is by facilitating the growth of food incubators – especially in the outer boroughs. Starting food incubators in places like Queens and Brooklyn, where we have some of the best food in the world, would mean small businesses could go there to use shared commercial kitchens, get guidance on packaging standards and design, and share strategies for success.
3.  Education reform is one of your top priorities. You'd like to change our educational system from what you consider an outdated testing model to group learning and experience to prepare students for jobs of the future. What is wrong with the current education system, and what specific policies or programs would you implement?
JH: All one has to do is look at test scores and graduation rates to see that the current system is failing our children. Schools of today are not adequately preparing children for the job market. Many of my opponents in this race have warmly embraced the testing culture which comes at the expense of culture and creativity. As Mayor, I want to move our children away from being taught the test. As Mayor, I want to move our children away from classroom instruction based on rote memorization and lecturing. These are education techniques of yesteryear, and have no place in a 21st century classroom. As Mayor, I want our students to be engaged in meaningful, collaborative learning environments. We've know that when students work together on group projects, they iterate, fail and then succeed, which is exactly what happens in life. Simply put, when kids solve challenges, they learn better, and are better prepared for life outside classroom walls.
4.  Brining more tech jobs to NYC is a lofty and admirable goal, but much of a NYC mayoralty is more nuts and bolts—the mundane, the grimy, even the ugly. Much of our populace inevitably (and necessarily) works in more menial jobs. How do you stand on matters effecting everyday New Yorkers such as "stop and frisk," the impending closures of multiple Brooklyn hospitals, clamping down on tax break boons to real estate super-developers? How do you feel about unionization efforts by fast food workers, raising the minimum wage and offering paid sick leave for workers?
I'm happy for the federal judges' ruling against 'Stop and Frisk.' It is a 90's era policing tactic that has should have never been used as our primary tool to keep New Yorkers safe. I support introducing more technology into our police force, and want a renewed call for more cops on the streets so we can have a greater community policing presence.  I oppose closing local hospitals that fill a vital community and health care role. I believe that City Hall should work with smaller hospitals to make needed upgrades and to assist them in finding partners that can help keep costs low and expand health care options to the areas they service.  In the area of taxes, I believe we must strive for tax equality. However, I also believe that the next mayor must spend the tax dollars wisely and more responsibly. I oppose blanket calls for tax increases until a Hidary administration does a complete review of the City finances.
5.  In the dwindling days of Bloomberg's third term, many are reflecting on his legacy. What is your overall impression of the Bloomberg's administration? In what ways do you feel he improved the experience and opportunities of the city? What policies or agendas did you disagree with?
JH: Mayor Bloomberg managed this City through multiple of economic crisis.' In addition, he has handled education in a manner that has left us with tremendous progress to build upon. He has been a mayor who championed the arts, our environment, and became a national leader for tougher gun control – all positions New Yorkers are in strong agreement with. Most importantly, he showed New Yorkers that an independent mayor could govern effectively.
August 15, 2013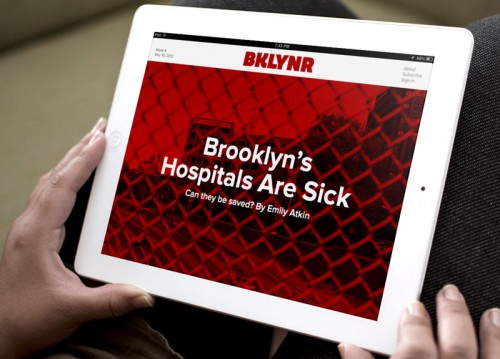 BKLYNR, the upstart online journalistic endeavor that I love is celebrating a few milestones. They've already put out ten issues in just five months. Amazing for the quality of the writing, reporting, design and the ambition.
The good news is that traffic and subscriptions are on the rise. In the last issue they published an interactive map, which showed the ages of Brooklyn's buildings. That got them mention all over the web, including. Atlantic Cities, Co.Design, and Gizmodo. They're also turning it into a 18" by 24" poster.
In Bklynr 10, you can read about a fishing boat off the coast of Sheepshead Bay, a  traditional  Russian bath— a "banya" — out in Sea Gate, and the upcoming elections and what it means for Brooklyn.
You need to subscribe in order to read. There are two issues a month and it's only $20 for a full year.
August 14, 2013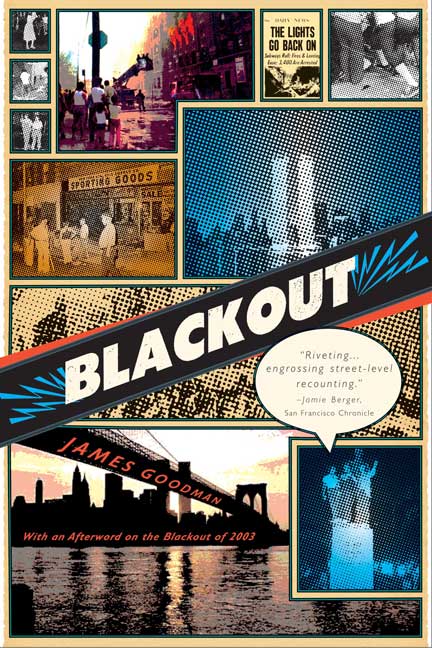 Today is the tenth anniversary of the 2003 Northeast Blackout. Pulitzer Prize finalist James Goodman, author of Blackout, wrote the following for the afterword of the paperback edition of his book.
That July, they thought they knew why.  And when the power failed twenty-six years later, in August 2003, they thought they knew again.
Not why the power failed.
No one knew that, and once people were assured that the blackout was just a blackout–not sabotage or a bomb–few peopler eally cared.  Initial reports thatlightning had caused it ("just like 1977," news-people said) werequickly discredited.  The politicians who scrambled to the nearest microphone to blame regulation or deregulation,oil-men or tree-huggers, Democrats or Republicans, were by and largeignored.  Instant analysis gave way toinvestigative reporting, and for weeks each day's papers carried the latesttheory: overgrown trees; equipment failure; human errror; commuciationsmishmash; computer crashes; clueless system operators; the absence of uniformoperating standards and procedures; balkanized oversight; unenforcedregulations; federal rules violations; utility mismanagement; the structure ofthe industry; the politics of energy policy; or all of the above: thesuperpower's third-world power grid.
Officials in Washington, Ottawa, and eight state capitals ordered investigations. Utilities pointed fingers at one another.  Experts argued. But the people who knew themost said the least, realizing that it would be months before investigatorscould collect, organize, and interpret  the data–tens of thousands of bits andpieces of information–that might allow them to trace, millisecond by millisecond, the cascade of events that transformed the routine failure of afew power lines into a history-making electrical disaster.
New Yorkers didn't know why the power failed.
What they knew was why, when it did, no one had looted.
They were sure they knew, and it felt really good to say.
The city had changed.
Back in the 1970s, New York had been in  desperate straits, wracked by stagflation, strikes, arson, drugs, graffiti,cynicism, a serial killer, stinking subways, white flight, gas lines, high crime, fiscal crisis, and racial strife.Now it was a different place.
Despite the recession and the fallout from the attack on the World Trade Center, the economy was fundamentally sound.  The population had topped eight million in 2000, and it continued to grow.  New immigrants had revitalized several struggling neighborhoods; artists had revitalized others.  A record number ofconstruction workers had built a record numbers of new homes, and with aid from the city, they had built some of those homes for first-time homeowners in theSouth Bronx, Harlem, even Bushwick.
It was a new city, pundits said, a city  remade.  Families were more stable.  Streets were cleaner.  In the parks, flowers bloomed.  The police were tougher.  Drug use was on the wane.  New Yorkers cared for one another and for New York.  Respect for the law had grown.  Violent crime was at all-timelows.  Selfishness and detachment wereout; cooperation, responsibility, and compassion were in vogue. The subways  were safe, and often on time.  And thanksto Osama Bin Laden and Saddam Hussein, black and white New Yorkers were finallyon the same side of the color line.
Some stressed the new civility.
Some stressed the half-life of a long economic boom.
Some stressed the years of tough policing, and their dark side, fear.
Everyone mentioned the difference that the time of day might have made: The power failed at 4:30 in the afternoon, giving the police three and a half hours to mobilize before sunset and another half hourbefore dark.
The list of reasons was long,but next to no one argued about which reason was right.  People don't get as worked up when bad things don't happen as when they do.  In 1977, people had refused to acknowledge that there might be more than one reason why people looted.  In 2003, people readily acknowledged that there might be more than one reason why they did not.  But, in a way, they were not acknowledging   much: almost all the small reasons added up to one big reason, the reason that felt so good to say:
New York, and New Yorkers, had changed.
What a difference a day had made.
On August 13, and for months before that, most of the talk and writing about the city had been grim: the billion-dollar budget  deficit; the fitful recovery from recession; the corporate relocations; thedecline in tourism; the narrowly averted transit strike; the layoffs of thousands of city workers; the hike in taxes, transit fares, and fees; theclosing of firehouses, subway token booths, branch libraries, and outer-borough zoos.  Violent crime remained low, but two years after September 11, most New Yorkers expected another terrorist attack, and many said they had simply learned to live with anxiety andfear.
In fact, until the afternoon of August 14, hardly a day had passed without a commentator asking,  "Are we living through the 1970s all over again?"
Then the power failed.
There was some panic, and some price-gouging.  After the sun went down,there were scattered incidents of looting. But the vast majority of people rose to the occasion.  Even Con Edison came through.  The utility had done "as good a job ascould be hoped for," the mayor said.
Things were not so bad after all.  Certainly nothing like the 1970s.  On the contrary, things were good.  And New Yorkers were good too.
That was a comforting comparison, and it lay atthe heart of a comforting explanation. But it ignored at least one inconvenient fact: When the power failed in July 1977, most people did pretty much the same thing they had done when the powerfailed in November 1965, and would do again when the power failed in August 2003.  Some of them did the exact samethings: They evacuated subway trains; hung out on stoops; directed traffic; hosted blackout parties; bagged patients on respirators; walked for miles andmiles; carried water to the elderly and infirm; cooked and ate food they feared would spoil.  Read more
August 9, 2013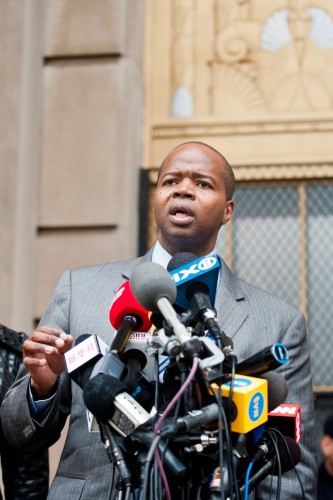 A partner in a private law practice and a former federal prosecutor, Kenneth Thompson was already involved in some of New York City's most controversial criminal cases when he made further shockwaves by announcing his intention to enter the race for Brooklyn District Attorney, taking on incumbent Charles "Joe" Hynes, who has held the position since 1990.Only the Blog Knows Brooklyn's Matthew Taub sat down with candidate Thompson for a few questions.
1. You attracted considerable attention a few years ago when you began representing Nafissatou Diallo, the hotel housekeeper who accused Dominique Strauss-Kahn, then the managing director of the International Monetary Fund, of sexual assault. The handling of the case came under criticism from lawyers for Mr. Strauss-Kahn and from the Manhattan district attorney's office, which eventually dropped the criminal charges because of questions about Ms. Diallo's truthfulness. What can you tell us about the civil and criminal case(s) involved in this matter, and your role? Were you were satisfied with the overall outcome?
Kenneth Thompson: In my career as an attorney in public service as well as in private practice, I have fought for victims—victims of violence, discrimination at work, civil rights abuses and sexual assault. In this case, it was clear to me from the outset that Ms. Diallo needed a lot of help to face some very powerful forces. I'm proud that I was able to get Ms. Diallo justice in the civil courts. Because of the settlement, Ms. Diallo will be able to pull the pieces of her life back together after this horrific experience and will now be able to move forward.
OTBKB: District Attorney Hynes has been in office for twenty-three years—he is considered by many to be the mainstream choice, an incumbent with strong institutional backing—at the very least, a formidable candidate to take on. Why should Brooklynites believe that it's time for him to go?
THOMPSON: Our campaign has the momentum for change, and support is growing every day. In addition to the support of Abe George, our campaign has earned the endorsement of the Amsterdam News, Assemblymember Dov Hikind, 1199/SEIU United Healthcare Workers East, which represents 220,000 members in New York City and over 100,000 members and retirees in Brooklyn alone. We've also won the support of Brooklyn Congressmembers Yvette Clarke and Hakeem Jeffries, Bay Ridge Democrats, Lambda Independent Democrats, Brooklyn-Queens NOW PAC and Muslim Democrats of New York. The reason we are getting so much support is because everywhere I go, people agree that it is time for a change. Under the current leadership, Brooklyn reports of wrongful convictions are coming out every day it seems, and we have the lowest felony conviction rate of any DA's office in the City. Because of Hynes' gross incompetence, a potential cop killer was let out of prison without bail. There is something very disturbing about Hynes' judgment when he promotes a prosecutor whose coercion of false testimony, lies in court and intimidation of witnesses caused a man to be wrongfully imprisoned for 15 years. Enough is enough. As Brooklyn D.A., I will fight to ensure that innocent New Yorkers are not locked up for crimes they didn't commit while criminals go free, and that prosecutors are held accountable – not promoted or given a reality tv show – when they violate the public trust. That just can't happen – we need a tough, hands on, but fair prosecutor in this borough to fight for justice, and make our communities safer and stronger.
OTBKB: Former Manhattan prosecutor and Sheepshead Bay native Abe George was a third candidate in the race, but he recently dropped out, endorsing you instead. What were former candidate's George's positions and platforms that coalesced with your own, and in what ways did you differ?
THOMPSON: Abe and I are on the same page – we both feel strongly that Brooklyn can't afford another 4 years of the failed Hynes administration. Among other things, he agrees that we have to fight to end the pattern of wrongful convictions and prosecutorial misconduct that has tainted the D.A.'s office, and bring common sense reform to the criminal justice system. Together, we will keep fighting for a safer and stronger Brooklyn where there is one set of rules for everyone, and equal justice is more than words etched into a court house wall.
OTBKB:  Another area Hynes has received criticism is with regard to the Hasidic community—both for prosecuting the perpetrators of sexual assault (by those within the community embarrassed by the negative exposure) and for not prosecuting them enough, or even punishing the whistleblowers. Assemblyman Dov Hikind, influential in the Hasidic community, recently endorsed your candidacy, rather than Hynes (as expected). What does this endorsement mean to you, and what can this community expect from you as a District Attorney?
THOMPSON: I have a proven track record of fighting for one standard of justice for every community, unlike DA Hynes who has overseen a dysfunctional office that has often pitted members of the Orthodox Jewish community – and other communities – against each other. He has said that Orthodox Jews are "insular" and worse than the Mafia. Brooklyn needs new leadership that won't just flail around and prosecute inconsistently depending on which way the political wind blows, we need a new DA who will protect every community. I'm honored to have the support of Assemblyman Hikind, and I'm proud of the support we're getting every day from Borough Park to Bushwick. People from all Brooklyn communities can expect a fair trial and equal justice, that's what I will deliver as DA.
OTBKB: What is your history and upbringing in the borough of Brooklyn? How do you plan to employ your perspective to change the DA's office, and reform the criminal justice system?
THOMPSON: I grew up in the projects in the Bronx, was raised by a single mother, and moved to Brooklyn when I became a federal prosecutor in the Clinton administration. My upbringing looms large in informing my perspective today. My mother was one of the first female cops of the NYPD to walk a beat in New York in the 70s. She risked her life to provide for me and my brother and sister; but also because she had a fundamental belief in justice for all. That stuck with me. And I've dedicated my career to the fight for equal justice —as a federal prosecutor seeking justice for people like Abner Louima, and as a private attorney fighting for victims of assault, discrimination and civil rights violations. And that's why I am running for District Attorney: because the people of Brooklyn deserve a DA who believes in fighting crime and corruption wherever it exists. It's clear that the office's old-fashioned approach is not solving all of today's problems. I will not only fight crime, but I will also make sure every case is investigated and prosecuted with integrity so that justice prevails.
August 8, 2013

Coming on August 24th from 6-9PM, The Revolutionary Fare at The Old Stone House sounds like a fun event at everyone's favorite local history museum in everyone's favorite  Park Slope park (JJ Byrne-Washington Park).
This event will feature classic period cocktails (included in the $12 price of admission), colonial-inspired dishes from top Brooklyn restaurants, as well as beer and cider for sale along with a special cocktail tasting hosted by mixologist Dave Arnold of Booker and Dax.
Expect a very convivial social evening with a professional and amateur pie baking contest judged by Sarah Lohman of the blog Four Pounds Flour, period music by Glover's Marblehead Regiment, as well as Brooklyn's own Parlour Game and a special performance, The Age of Pain(e), the evening will surely transport you back to a more revolutionary time.
And that's not all. The event will also honor Heritage Radio founder Patrick Martins. HeritageRadioNetwork.org is committed to archiving, protecting, and advancing our country's rich food culture through programs that give voice to America's leading food professionals, farmers, policy experts, artists, and tastemakers. The Old Stone House is pleased to count Heritage Radio among their friends and supporters and is thrilled to have them as a media sponsor for this event.
Leading up to August 24th, Heritage Radio will do a series of interviews with The Old Stone House team along with Revolutionary Fare's participating food, beverage and baking participants.
As with all things old becoming new again, this Revolutionary Fare event, while having an old time vibe will appeal to the retro-revolutionary in us all.
For those who don't know: The Old Stone House is a modern reconstruction of the Vechte-Cortelyou House, a 1699 Dutch stone farmhouse that was the site of the largest battle of the Revolutionary War – the Battle of Brooklyn on August 27, 1776, and in the late 1800's the home field for the Brooklyn Dodgers. Located in Washington Park/JJ Byrne Playground in Park Slope, Brooklyn, the Old Stone House presents more than 100 varied cultural events annually, creating a strong sense of community through history, environmental education and the arts.