Legend Massimo Vignelli, Designer of Subway Map, to Speak at Transit Museum
August 21, 2012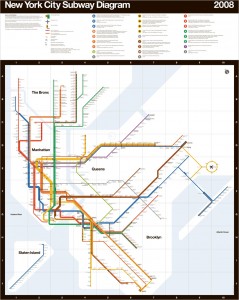 Few people probably know the name of the designers who designed the subway map many of us look at every day. Few imagine ever getting a chance to hear them speak.
But on on September 12th, Massimo Vignelli and his design partners Beatriz Cifuentes and Yoshi Waterhouse will speak at the New York Transit Museum with Michael Beirut about their famous and controversial 1972 New York City subway diagram and its new appearance in the MTA's Weekender.
At this special Transit Museum event, Beirut will lead a discussion with Vignelli, Cifuentes and Waterhouse. This will be followed by a brief Q and A. Signed and numbered subway diagrams (limited edition of 1,000) will be available for purchase for $500 each. You can get tickets here. 
This promises to be an interesting and exciting discussion with a design team respected worldwide and hugely influential on the city of New York .
In 2008 and 2012, Vignelli updated his diagram to account for changes in station names and toned down the color scheme, adopting uniform colors for each line Vignelli will discuss this in addition to change she made to the map in response to one of the largest criticisms leveled at the 1972 diagram and that was the deceiving square shape of Central Park.
Vignelli simplified the new version by removing parks entirely. Take that.
Comments