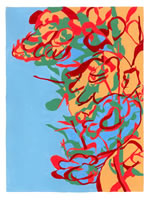 On
Wednesday, July 8th, Madarts Studios will celebrate the grand opening of their new Park Slope art gallery with the
exhibition: INTRO.  All forty artists of Madarts are featured in the exhibition to christen their new
permanent gallery in the heart of Park Slope: 461 5th Avenue (right on
the corner 5th Ave. and 10th Street).
At the exhibition, which opens at 6 pm will continue with a "meet the artists" after-party at Commonwealth Bar just down the street at 5th Ave. and
12th St. 
INTRO gallery hours will be Thursdays through Sundays from noon to 6pm, closing Sunday, August 9th.
 For
six years running Madarts Studios has put on shows in the giant
warehouse of art studios just south of their new gallery, which is an airy new gallery venue at Fifth Avenue and 10th Street.

Painting by Madarts artist Rebecca Aidlin