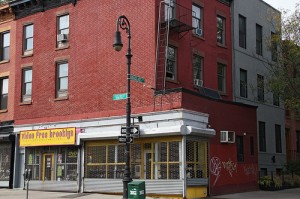 Jim Hanas, the Social Media Editor of the New York Observer just got in touch via email to tell me about an interesting article today about Cobble Hill's Video Free Brooklyn by Kim Velsey; it's one of the last video rental shops in Brownstone Brooklyn.
Sigh.
But this is a video store with social media and crowd sourcing smarts. Rah. They're using a  Kickstarter-like service called Indiegogo to raise money so they can afford much needed renovations to their shop. Here's a quote from the Observer article.
"I don't think it's any different or less valid than when PBS or NPR ask people to donate for a free tote bag, or the Kickstarter campaign in Detroit to build a life-size statue of RoboCop," said Mr. Hillis, who has thus far raised about $7,000 (with two weeks to go on a $50,000 campaign) on Indiegogo. "As long as you're transparent about where the money is going, you're putting together something that people want to be a part of."
Anything to keep a real video rental place in business. We miss Video Forum in Park Slope for the convivial conversation and tips about movies.
Sigh.
Here's the link to Video Free Brooklyn's Indiegogo page.