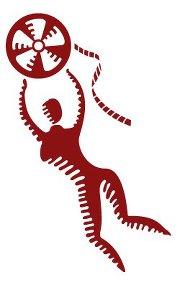 Tonight Brooklyn Film Works in Washington Park presents its annual evening of  Asbury Shorts, an exhibition of award-winning short films specially selected from major US & International film festivals by Doug LeClaire. I went last year and was very impressed and entertained by the selection of short films. The program features films that have won Academy Awards or "Best of Show" honors from such festivals as Sundance, Chicago International, Aspen Shorts,The Berlin Film Fest, Melbourne and South by Southwest.
Asbury's purpose is to present these highly entertaining films to the general public in a real theater setting and not on an iPod or computer.
AT 8PM before the show starts, enjoy special musical guests: CUMBIAGRA @ 8 PM.
The films start at 8:40 PM:
"Friends and Strangers", directed by Ed Caban
"The Lost Thing" directed by Andrew Ruhemann & Shaun Tanand
"Bye Bye Now" directed by Aideen O"Sullian/ Ross Whitaker
"While the Widow was Away" directed by Adam Reid
"She's a Soul Man" directed by Caitlin Byrnes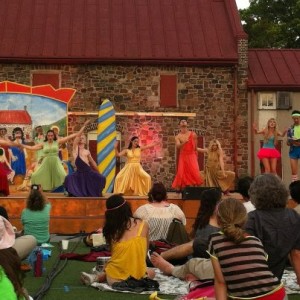 What a pleasure to join more than 400 neighbors on the Turf behind the Old Stone House  to watch Piper Theatre's production of  Xanadu, the theatrically re-imagined 1980′s Olivia Newton- John movie.
Have You Never Been Mellow?
Props to cast, especially Alissa Laderer, MaryAnne Piccolo, who bring much in the way of  joy, talent and enthusiasm to their singing and dancing (sometimes on roller skates). They made it look easy and artful on an extremely humid night. What spirit!
Have You Never Been Mellow?
Truth be told, the show itself has few memorable songs (Have You Never Been Mellow?) but overall conveys a spirited disco feeling with soaring gospel harmonies. The set and costumes are colorful and  campy fun and the glittery, Spandex spectacle is a pleasure to watch from the plastic lawn sipping a beer from The Gate, munching on Starburst (bought at the concessions stand).
Have You Never Been Mellow?
Set in Venice Beach circa 1980, the story, by Douglas Carter Beane (the award-winning playwright of "The Little Dog Laughed" and "Lysistrata Jones"), is about Kira, a Greek muse who descends from Mt. Olympus to inspire Sonny, a street artist with a dream to open a roller disco.
Have You Never Been Mellow?
Silliness, satire and star-crossed love come together in a happy frolic directed by John Macinerney, who was kind enough to provide me with my very own day glow necklace. At the end of the show, the cast joyously tossed beach balls to the audience.
On a very hot Friday night, it felt like we were at Venice Beach being very mellow indeed.
Damn, I can't get that song out of my head. Dates: July 12, 13, 19, 20 at 8 PM at the Old Stone House (The Turf).
The photo is  by my friend Josh Mack.