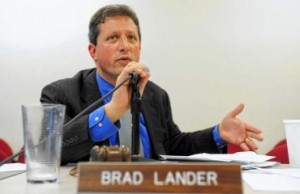 An article by Peter Dreier in the July 30-August 6, 2012 edition of the Nation calls Park Slope's City Councilmember Brad Lander one of today's social justice heroes. Here's an excerpt
"Since his election to the New York City Council in 2009, Brad Lander has become a master at inside/outside organizing, using his office to encourage grassroots mobilization. Lander served for a decade as executive director of the Fifth Avenue Committee, a Brooklyn nonprofit, which garnered national recognition for its combination of community organizing and community development. Lander then spent six years as director of the Pratt Center for Community Development, helping groups organize for neighborhood improvement. He led a successful campaign to create New York City's inclusionary zoning program, which requires developers to set aside 20 percent of their units for low- and moderate-income families and to pay building service workers a living wage.
"On the council Lander has led the fight for a living-wage law, community involvement in budgeting, affordable housing and an inspector general's office to monitor the NYPD. A co-founder of the council's progressive caucus, Lander, 43, helped catalyze a group of activists and academics to formulate One City/ One Future, a progressive manifesto for economic development."
Who else is on this list. Dunno. Don't have access to The Nation online. Pay Wall!