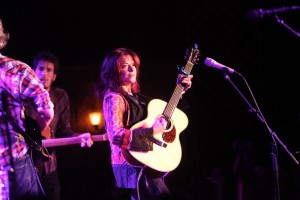 I arrived late for the Musical Extravaganza to Restore Red Hook (presented by Jalopy) at the Bell House but I didn't miss Rosanne Cash.
And that's a good thing.
At 10PM, Brad Lander, the respected City Council member for the district that includes Red Hook, Gowanus and Park Slope, took to the stage to introduce the legend who had arrived from Manhattan to pitch in for a Red Hook devastated by Hurricane Sandy.
Rosanne brought incandescent star power to the stage. But her cred doesn't just come from the fact that her dad is Johnny Cash, who made her a list when she was 18 of 100 essential country songs. She is also a smart songwriter with a flair for the well-chosen word. She's got a very generous and inclusive stage presence and a husband, producer John Leventhal, who is one hell of a guitar player.
Last night she did a few songs from The List, her album of contemporary interpretations of her dad's list, including to-die-for versions of Long Black Veil, Heartaches by the Number by Elvis Costello and Motherless Children. She also did Etta's Song and Modern Blue, two new songs from a forthcoming album about the South.
She opened with the rocking Radio Operator from her 2006 album Black Cadillac, which she made after her father, her mother Vivian Cash Distin, and her stepmother June Cash all died within a span of two years. Later she treated the audience to her big radio hit, Seven Year Ache. The arrangements of all the songs by John Leventhal betrayed a  delicious roots, country and twangy blues sensibility.
The audience screamed "one more song" when the band left stage and she obliged with one more. Her depth of spirit was clearly on display as she thanked the audience in return and urged the crowd to give generously to aid the restoration of Red Hook."
"I don't think I've ever had so much fun performing in New York City."
Photo by Tom Martinez