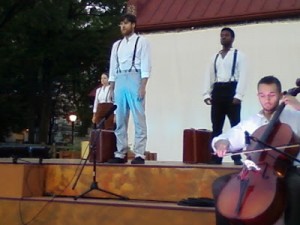 Richard Grayson, author of Brooklyn Diaries, I Brake for Delmore Schwartz, And to Think He Kissed Him on Lorimer Street, and other titles, ventured to Park Slope this weekend to see Piper Theatre's outdoor production of The Island of Doctor Moreau.
I love to read Grayson's reactions to local culture. He's smart and very knowedgable about art and theater.
He's also an interesting guy. I've read the Brooklyn Diaries, which is compulsive reading (by a compulsive writer) for those interested in one young man's college and post-college years in 1970′s and 80′s Brooklyn.
Grayson writes about his cultural wanderings in Williamsburg and other neighborhoods on his blog, Dumbo Books of Brooklyn. Just this week, he's written about  a zine fest at Pete's Candy Store, Eugene Mirman in Williamsburg Park and a recent breakfast in Ft. Greene. He also takes pictures.
"Tonight we were mesmerized by a stunning performance of an innovative, visceral, and commanding adaptation of H.G. Wells' The Island of Doctor Moreau conceived and executed by the amazing Piper Theatre outside the Old Stone House in Park Slope's Washington Park."