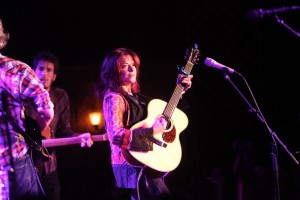 I arrived late for the Musical Extravaganza to Restore Red Hook (presented by Jalopy) at the Bell House but I didn't miss Rosanne Cash.
And that's a good thing.
At 10PM, Brad Lander, the respected City Council member for the district that includes Red Hook, Gowanus and Park Slope, took to the stage to introduce the legend who had arrived from Manhattan to pitch in for a Red Hook devastated by Hurricane Sandy.
Rosanne brought incandescent star power to the stage. But her cred doesn't just come from the fact that her dad is Johnny Cash, who made her a list when she was 18 of 100 essential country songs. She is also a smart songwriter with a flair for the well-chosen word. She's got a very generous and inclusive stage presence and a husband, producer John Leventhal, who is one hell of a guitar player.
Last night she did a few songs from The List, her album of contemporary interpretations of her dad's list, including to-die-for versions of Long Black Veil, Heartaches by the Number by Elvis Costello and Motherless Children. She also did Etta's Song and Modern Blue, two new songs from a forthcoming album about the South.
She opened with the rocking Radio Operator from her 2006 album Black Cadillac, which she made after her father, her mother Vivian Cash Distin, and her stepmother June Cash all died within a span of two years. Later she treated the audience to her big radio hit, Seven Year Ache. The arrangements of all the songs by John Leventhal betrayed a  delicious roots, country and twangy blues sensibility.
The audience screamed "one more song" when the band left stage and she obliged with one more. Her depth of spirit was clearly on display as she thanked the audience in return and urged the crowd to give generously to aid the restoration of Red Hook."
"I don't think I've ever had so much fun performing in New York City."
Photo by Tom Martinez
Somehow it seemed appropriate to honor George Harrison, once the under-rated Beatle, in Brooklyn, once the under-rated borough.
Second fiddle no more. A large group of Brooklyn musicians restored George Harrison  to his rightful place in the pantheon of 20th century genius songwriters.
In other words: George Harrison: you rock. And so do organizers Greta Gertler and Adam D. Gold, whom, just weeks after the 20th anniversary of John Lennon's death (and the attending tributes and nostalgia) had the audacity and the common sense to celebrate another ex-Beatles masterpiece from 40 years ago.
Only in Brooklyn could a super group of stellar musicians calling themselves The Universal Thump come together to recreate the Phil Spector-style wall of sound that enhanced George Harrison's 1970 All Things Must Pass.
Only in Brooklyn could this dizzying array of vocalists and instrumentalists, perform the entire, yes, the entire three-album set.  In the process they brought down the house not once but numerous times during the three-hour show at The Bell House last night, November 29th, the 10th anniversary of Harrison's death from cancer and just days away from the albums release date in 1970.
All Things Must Pass, co-produced by Harrison and the legendary (and scary) Phil Spector, is an album loved by many, including Greta Gertler and Andy Gold, the team behind this hugely ambitious undertaking.
I asked Gertler, a singer/songwriter and pianist, what it is she loves about the album, which ranges from spirituals  such as "My Sweet Lord" to a host of country-style ballads and 'wall-of-sound' pop masterpieces such as "What is Life?"
"The album is just so inspiring. I love every minute of it and it makes me feel like writing songs is important in the world," she told me. "The album is consistently fantastic with a spirit of adventure and exploration."
"Will there be another show of this?" I asked Gertler after the show eager to know if this group of 40 musicians are set to repeat the magic of Monday night.
"I haven't even gotten that far," she told me.
Indeed, Gertler had every right to be exhausted (and elated). What she and Gold accomplished was a masterful feat of producing. The matching of singer to song was near perfect and the musical arrangements were mind boggling good. The album itself is so brilliantly calibrated from song to song that the concert itself had an almost perfect pace.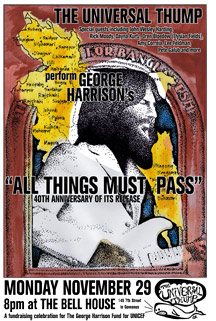 After sobbing through last night's American Masters' documentary Lennon NYC, timed for the 30th anniversary of Lennon's death, I'm ready for some George Harrison
Coming to The Bell House on November 29th at 8PM, there's a 40th anniversary celebration of of All Things Must Pass, the former Beatles' first solo (triple) album, released on November 27th, 1970.
Interestingly, it was the best-selling album of any solo Beatle and was co-produced by Harrison and the legendary Phil Spector (who later worked with John Lennon on Rock 'n Roll).
The album displays Harrison's spiritual side "My Sweet Lord," as well as  "Behind That Locked Door" to 'wall-of-sound' wonders such as "What is Life?"
Out of love for the album, The Universal Thump, a Brooklyn-based orchestral pop collective, led by singer-songwriter-pianist, Greta Gertler and Adam B Gold will perform "All Things Must Pass" in its entirety with a 15-piece, expanded 'wall-of-sound' mode including: 2 drummers, 2 bass players, strings, horns, guitarists, keyboardists and more with the guest vocalists listed above.
P.S. Greta Gertler shares my maiden name (minus the H). Yay for G(h)ertlers!