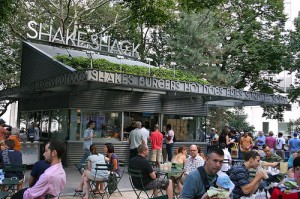 Yeah. It's pretty exciting. And I've never even been to the Manhattan Shake Shack. But Hepcat has and he LOVED IT.
Part of Danny Meyer's foodie empire, the hamburger, fries and shake shack made its name and fame in Madison Square Park in 2004 (pictured above).  It is now crossing the bridge to Brooklyn and people are pretty darn excited.
Well, not everyone.
Sal Casaccio, owner of Tony's Famous Pizzeria, which has been in business for 20 years, at the corner of Fulton and Adams Streets, is reportedly not too thrilled.
He told the Brooklyn Paper: "We got caught in the flood of landlords trying to bring in so-called big business — I can't believe they're taking this building from us,"