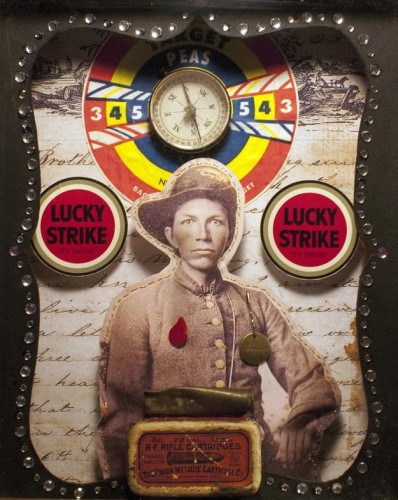 It's funny what grabs me, what inspires me to post on this old blog. I got an email this morning and it intrigued me. The subject line was: "Meditations on mortality: Shadow boxes by Gail Ghezzi…
Well, I have no idea who Gail Ghezzi is though I am fascinated by GH last names because my maiden name, may father's family name is Ghertler.
Meditation grabbed me, too. Then I saw mortality. Then I saw shadow boxes… Click. Reader, I opened the email.
Below is a description of Gail Ghezzi's artwork that looks very interesting. She collects things—records, artifacts, pop culture odds and ends—and turns them into shadow boxes a la Joseph Cornell but with a different kind of attitude. Way different.
The point of the email was to announce the debut of a website Birth, Death Repeat and an exhibition at Jalopy Tavern through October 12th. The details are below. I'm sorry I missed the opening on Saturday but I was in the thick of the Brooklyn Book Festival so I probably would have missed it anyway. But it's not too late to see the show, or to check out the website. Ghezzi's artwork sounds interesting and very interactive. Read ahead and you'll see what I mean:
"Birth, Death, Repeat…" is an art/writing project featuring the shadow boxes of the Brooklyn designer Gail Ghezzi. Ghezzi's shadow boxes are meditations on mortality that use antique artifacts and found objects she acquires at antique fairs, online and on her sidewalk. Each box imagines the final moments of a fictional character, and then surrounds that character with the detritus of a life. These lives are captured in short paragraphs attached to each box to make this the first collaboration between the artist and her husband/author Ben Greenman since the births of their children.

Anyone can participate by submitting a short story at birthdeathrepeat.com

Ghezzi's art  was debuted at Jalopy Tavern on Saturday, September 21 in Brooklyn. After the opening, the party continued next door at Jalopy Theater  with live music by Lara Ewen . Ewen performed from her new record "The Wishing Stone Songs," which features package design by Ghezz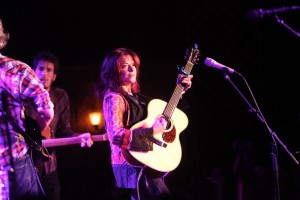 I arrived late for the Musical Extravaganza to Restore Red Hook (presented by Jalopy) at the Bell House but I didn't miss Rosanne Cash.
And that's a good thing.
At 10PM, Brad Lander, the respected City Council member for the district that includes Red Hook, Gowanus and Park Slope, took to the stage to introduce the legend who had arrived from Manhattan to pitch in for a Red Hook devastated by Hurricane Sandy.
Rosanne brought incandescent star power to the stage. But her cred doesn't just come from the fact that her dad is Johnny Cash, who made her a list when she was 18 of 100 essential country songs. She is also a smart songwriter with a flair for the well-chosen word. She's got a very generous and inclusive stage presence and a husband, producer John Leventhal, who is one hell of a guitar player.
Last night she did a few songs from The List, her album of contemporary interpretations of her dad's list, including to-die-for versions of Long Black Veil, Heartaches by the Number by Elvis Costello and Motherless Children. She also did Etta's Song and Modern Blue, two new songs from a forthcoming album about the South.
She opened with the rocking Radio Operator from her 2006 album Black Cadillac, which she made after her father, her mother Vivian Cash Distin, and her stepmother June Cash all died within a span of two years. Later she treated the audience to her big radio hit, Seven Year Ache. The arrangements of all the songs by John Leventhal betrayed a  delicious roots, country and twangy blues sensibility.
The audience screamed "one more song" when the band left stage and she obliged with one more. Her depth of spirit was clearly on display as she thanked the audience in return and urged the crowd to give generously to aid the restoration of Red Hook."
"I don't think I've ever had so much fun performing in New York City."
Photo by Tom Martinez
Today on Facebook Chris Owens, Democratic State Committeeman, 52nd Assembly District, urged friends and neighbors to volunteer in Red Hook, which is walking distance from Brownstone Brooklyn. He is suggesting that people send Carlos Menchaca a message on Facebook.
My good friend Carlos Menchaca will be the lead organizer for volunteers for the Office of Emergency Management's relief efforts in Red Hook, Brooklyn. If you have some time in the next few days or weeks, send him a message and he'll hook you up with a task. A lot of people and businesses in Red Hook were devastated by the hurricane and need our help.

For those of us who live right up the hill in the Park Slope area, which was fortunately spared by the storm, this is a volunteer opportunity that is within walking distance.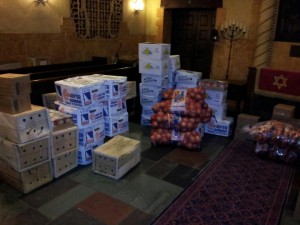 Volunteers at Congregation Beth Elohim pitched in yesterday to prepare food for the Park Slope Armory, which is housing evacuated elderly patients from flooded nursing homes in South Brooklyn.
600 sandwiches (peanut butter & jelly and turkey) were prepared in the kitchen of the synagogue.
On his blog Water Over Rocks Rabbi Andy Bachman reflects on the day, which also included an event with esteemed authors Paul Auster and Don DeLillo. Writing at 5AM this morning, volunteers have already prepared breakfast.
 Hundreds of pounds of dry goods, batteries, flashlights and candles sent over to Red Hook in several shifts, continuing through the weekend; the gym, social hall, pool and basketball court open for restless kids and families; placing orders for food to prep for hundreds more throughout the weekend; Jonathan Safran Foer introducing Paul Auster and Don DeLillo at the end of the night. But then a call for volunteers with eggs–800 eggs that became 3000 eggs. And then someone from the Department of Homeless Services asked if we could be a drop-off center for clothes for the now homeless residents of Breezy Point (yes, of course.) And then at around 8:30 pm a truck from Masbia showed up with hundreds of pounds of carrots, potatoes, squash, onions, green beans, bread, eggs (more eggs), and sliced kosher turkey…

Today breakfast is already served–dozens showed up at 5:15 am to prepare bagels, cream cheese, butter and yes, eggs.

Today lunch for 600 again. And then Saturday lunch and Saturday night dinner…

The human capacity to love, to work together, to draw meaning from the seemingly inexplicable, is truly an awesome power.
You can do it on your cell phone:
Text REDCROSS to 90999 to give $10 to American Red Cross Disaster Relief, which helps people affected by disasters such as hurricanes, floods, earthquakes, wildfires and tornadoes.
Or you can go to the Red Cross website.
The Red Hook Houses are without power and running water. Donations are being accepted at PS 32, on Hoyt Street between Union and President.
Donations of bottled water, paper towels, and toilet paper. are needed.
Despite the absence of the beloved Park Slope Halloween Parade, Halloween in Park Slope post-Sandy was actually quite charming.
Seventh Avenue was packed with trick-or-treaters and parents at 5PM or so. Parents were advised to do the bulk of the outdoor trick or treating before dark and that seems to have been the case. Everyone I saw seemed to be in a good mood, including shopkeepers who distributed candy until they ran out. As always, the Community Bookstore was the place to be. This year, a giant green puppet (alligator, dinosaur) was suspended over the front counter. At least that's what it looked like to me.
It was great to see the kids enjoying themselves after being cooped up at home for days.
Third Street, which is usually the final stretch of the Halloween Parade, was Halloween central nonetheless. Hundreds of parents and children streamed down our block for hours as candy was distributed by good-natured adults.
I must say, Halloween had a very quaint, small town feeling without the parade. The parade, I might add, started in a very casual way and has become quite a production, which takes months of planning. Yesterday was a reminder that Halloween can be just as fun without the parade. In fact, it felt like Park Slope of olde, a real back-to-basics Halloween.
That  said, the parade is a community building spectacle we're probably not willing to do without.
A benefit of no parade to parents: Halloween wasn't nearly as exhausting as it has become with hours of trick or treating followed by a parade that goes until 9PM or so.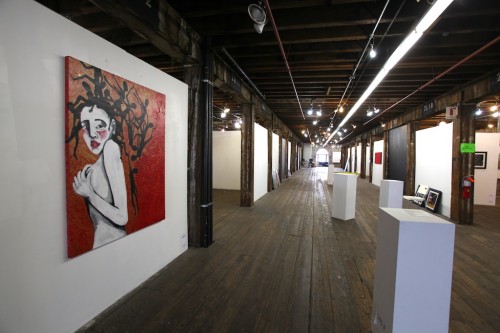 July 28 through August 19 see how the artists of the Brooklyn Waterfront Artist Coalition  responded to the challenge: "What is color?"
There will be over 1000 works of art in all media exhibited in BWAC's amazing 25,000 square foot Civil War-era warehouse gallery with great views of New York Harbor and the Statue of Liberty.
The first floor of the exhibit will be devoted to a special juried show of 120 works of art in all media submitted by artists from around the country. Brooke Kamin Rapaport was the show's sole juror. An independent curator and contributing editor and writer for Sculpture magazine, she is also the former curator of the contemporary art department of the Brooklyn Museum. 
Ms. Rapaport writes: "Through the deliberate choice of riffing on color, artists work in cellophane or video, digital photography or ink jet prints, acrylic or oil paint, loom loops or felt, and corrugated cardboard or collage. There are traditional landscape photos tweaked to magnify the photographer's vision of a polychrome cityscape. There is an assortment of abstract painting, some referencing color theory and much of it looking nostalgically to 1950s and 1960s modernist canvases. There are great swaths of color in these installations, sculpture, paintings and photographs."