Leslie Albrecht, a reporter for DNA Info, wrote a lovely profile (with a great slide show) of Park Slope's Heather O'Donnell, who runs Honey & Wax Booksellers. Albrecht sure knows a good lede when she sees it.
"Heather O'Donnell isn't the type of rare book dealer who puts on white cotton gloves before she handles her precious volumes. She's fine with plopping an 1881 edition of Henry James' "Washington Square" — which sells for $2,000 — on the kitchen counter next to a plate of marinating chicken."
Okay, let's not get carried away. I'm sure O'Donnell doesn't often leave her rare and valuable books in the kitchen. But she does, for the moment, run her business out of the attractive dining room of her historically detailed Park Slope apartment.
O'Donnell is a true book lover who believes books should be well loved and well used. She is also a client of my new company Brooklyn Social Media. Full disclosure there.
"She launched her rare book business Honey & Wax Booksellers in that spirit earlier this year. To her, rare books shouldn't be locked away in cabinets like specimens. She likes that books can be used to form relationships when they're passed between people. Her favorite part of the business is uniting appreciative collectors with long-sought books." writes Albrecht in her DNA Info piece.
Next week Honey & Wax will be the first rare bookseller at the Brooklyn Book Festival, an open-air celebration of, well, books. In fact, it is the largest literary event in New York City. This year there are more than 280 authors, more than 104 panels confirmed and something like 45,000  visitors expected.
Wowza.
O'Donnell will be there with an astonishing selection of rare books, first editions and special signed copies. She'll also be giving out tasty honey sticks. She is excited to showcase some of her best stock, and to field questions from festival attendees about the books they have and the books they want.
O'Donnell is uniquely qualified to answer those questions.  A lifelong book lover, she moved to NYC in 1989 to study English at Columbia. She received a doctorate from the Yale English department and worked as a curatorial assistant at the Beinecke Library, where she developed an eye for rare books. For seven years, she was a bookseller in the flagship New York gallery of Bauman Rare Books, dealing in a wide range of material, from Shakespeare to Audubon to Churchill. O'Donnell's desire to make her mark in the borough she calls home inspired her to launch Honey & Wax Booksellers earlier this year, and she's eager to make her Brooklyn festival debut on September 23.
Photos by Leslie Albrecht of DNA Info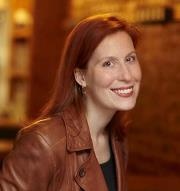 It was only a matter of time before the first indie rare book dealer arrived in Park Slope. Sure, Brooklyn has always had great used bookstore like P.S. Books, Unnameable, Book Thug Nation. Park Slope used to have quite a few before high rents got the best of them. But Honey & Wax Booksellers, founded by Heather O'Donnell, is truly something new.
A Park Slope resident for 15 years (and a PS 321 parent), Heather studied English at Columbia and Yale, where she worked as a curatorial assistant in the Beinecke Library. After three years teaching at Princeton, she left academia for rare books, learning the trade in the flagship gallery of Bauman Rare Books.
In other words, Heather has major cred.
Last fall, she left to launch Honey & Wax out of her Park Slope dining room. She specializes in surprising copies of classic literature, "books with a social life and a secret past."
"It's a risk, but there's a real opportunity now for a different kind of bookseller. I say this because all around me, I see the emergence of a different kind of collector. Digital text has made everyone newly aware of the qualities of the printed book," she writes in an email. "Some people don't miss those qualities, but others really do, and seek out printed books by choice.
On September 23rd, Heather will be the first rare book dealer ever to exhibit at the Seventh Annual Brooklyn Book Festival, the largest annual literary event in NYC. There she will be handing out the first Honey & Wax catalog, which features eighty books photographed in a friend's Ditmas Park home, at the Brooklyn Book Festival.
She'll also be displaying a wonderful selection of books, including some of her favorites: Walker Evans's copy of The Waste Land, Graham Greene's copy of George Eliot's letters (with his handwritten indexes in each of the seven volumes), a signed first edition of Toni Morrison's Beloved, a first edition of Countee Cullen's Color, an inscribed first edition of Truman Capote's Tree of Night and even a signed first edition of Maira Kalman's Max Makes a Million. 
Full disclosure: Honey & Wax Booksellers is a client of Brooklyn Social Media, my new PR and social media firm for entreprenuers and authors.