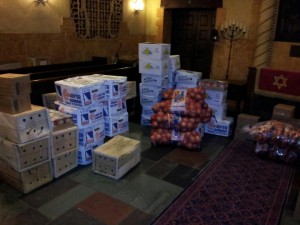 Volunteers at Congregation Beth Elohim pitched in yesterday to prepare food for the Park Slope Armory, which is housing evacuated elderly patients from flooded nursing homes in South Brooklyn.
600 sandwiches (peanut butter & jelly and turkey) were prepared in the kitchen of the synagogue.
On his blog Water Over Rocks Rabbi Andy Bachman reflects on the day, which also included an event with esteemed authors Paul Auster and Don DeLillo. Writing at 5AM this morning, volunteers have already prepared breakfast.
 Hundreds of pounds of dry goods, batteries, flashlights and candles sent over to Red Hook in several shifts, continuing through the weekend; the gym, social hall, pool and basketball court open for restless kids and families; placing orders for food to prep for hundreds more throughout the weekend; Jonathan Safran Foer introducing Paul Auster and Don DeLillo at the end of the night. But then a call for volunteers with eggs--800 eggs that became 3000 eggs. And then someone from the Department of Homeless Services asked if we could be a drop-off center for clothes for the now homeless residents of Breezy Point (yes, of course.) And then at around 8:30 pm a truck from Masbia showed up with hundreds of pounds of carrots, potatoes, squash, onions, green beans, bread, eggs (more eggs), and sliced kosher turkey...

Today breakfast is already served--dozens showed up at 5:15 am to prepare bagels, cream cheese, butter and yes, eggs.

Today lunch for 600 again. And then Saturday lunch and Saturday night dinner...

The human capacity to love, to work together, to draw meaning from the seemingly inexplicable, is truly an awesome power.