Last night I ventured into Pork Slope, Top Chef Dale Talde's new classic American restaurant on its opening night and found it to be fun, friendly and inexpensive. It's so not kosher and it's so not P.C. It's actually a welcome—if  bawdy and slightly unhealthy—change from the vegan/veggie/healthy/locavore sanctimony of  many Park Slope restaurants.
Saturday night, opening night, was noisy and crowded and everyone was in a good mood. Strangers at the bar talked to each other: What do you think? Did you ever go to Aunt Susie's? We've been waiting for this to open. Do you mind moving one seat so my husband, who's waiting on line, can sit next to me?
A young woman even offered me tastes of her tater tots. Friendly!
Oh, and for the opening, you had to stand in line for twenty minutes or more to order your food.
But it was fun.
I think that was just an opening night thing. I'm guessing there will be waiter-service in the future. The man taking orders at the end of the bar was friendly and eager to explain the sandwiches like the Porky Melt, which is a pork patty with cheese on pumpernickle/rye bread.
Remember pumpernickle/rye bread?
While standing on line, the bartenders were friendly and helpful.
"Hey, can I get a drink for anyone standing on line," I heard one of the bartenders say.
"I know you left an empty drink glass on the bar. You want something else?" a friendly bartender said to me.
"How much is a PBR,?" I asked a female bartender using the acronym for Pabst Blue Ribbon.
"Three dollars," she said.
Sold.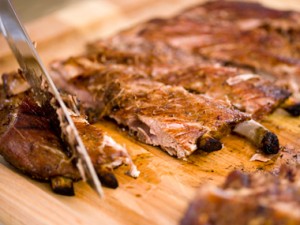 When Pork Slope officially opens on Saturday, you just might get a chance to taste what all the hype is about. Dale  Talde's new Park Slope outpost with the truly great name is more fun and folick than Talde, his elegant, delicious and somewhat pricey "Asian-American" eatery on Seventh Avenue.
With 25 beers on tap and more than 100 whiskeys, Pork Slope is ready for the Fifth Avenue crowds. And the crowds, I'm guessing, are ready for it. There's brisket to be had, as well as ribs, po' boys, pulled pork sandwiches, country ham 'n biscuits, and fried chicken.
The price point? I'm hearing that most dishes are below $15. Pork Slope is located on Fifth Avenue between Carroll Street and Garfield Place. Heck, it's in the space that used to be Aunt Suzie's, Park Slope's red sauce Italian powerhouse, co-owned by Irene LoRe, president of Park Slope Fifth Avenue BID.