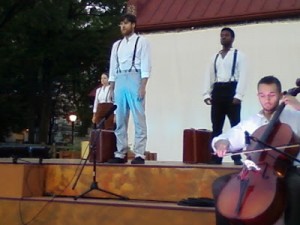 Richard Grayson, author of Brooklyn Diaries, I Brake for Delmore Schwartz, And to Think He Kissed Him on Lorimer Street, and other titles, ventured to Park Slope this weekend to see Piper Theatre's outdoor production of The Island of Doctor Moreau.
I love to read Grayson's reactions to local culture. He's smart and very knowedgable about art and theater.
He's also an interesting guy. I've read the Brooklyn Diaries, which is compulsive reading (by a compulsive writer) for those interested in one young man's college and post-college years in 1970′s and 80′s Brooklyn.
Grayson writes about his cultural wanderings in Williamsburg and other neighborhoods on his blog, Dumbo Books of Brooklyn. Just this week, he's written about  a zine fest at Pete's Candy Store, Eugene Mirman in Williamsburg Park and a recent breakfast in Ft. Greene. He also takes pictures.
"Tonight we were mesmerized by a stunning performance of an innovative, visceral, and commanding adaptation of H.G. Wells' The Island of Doctor Moreau conceived and executed by the amazing Piper Theatre outside the Old Stone House in Park Slope's Washington Park."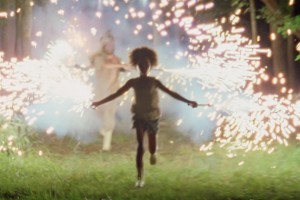 MOVIE TO SEE
Beasts of the Southern Wild is playing at BAM starting Friday, July 13th. I saw the film last weekend and loved it. It is worth the price of admission just to see the performance by 8-year-old Quvenzhané Wallis. For all of its magical realism and visual "tropes" it manages to convey the gritty survivalistic life of the impoverished inhabitants of the Bathtub outside of New Orleans nd the horror of Katrina. This visually and viscerally powerful film will make you understand Katrina in a new way.
MUSICAL THEATER AL FRESCO
Friday, July 13 at 8PM: Piper Theatre presents Xanadu, a theatrical reimagining of the Olivia Newton John movie with a young, enthusiastic cast, flying beachballs, and roller skates. 8PM in Washington Park in Park Slope.
WATERFRONT WALK
Sunday, July 15 at 2PM: Francis Morrone, an architectural historian who has written for The New York Sun, the New York Times and the Wall Street Journal begins a three-part Walking the Waterfront series (sponsored by the Municipal Arts Society).  It starts at the base of Manhattan, where the initial phase of the new East River Waterfront Esplanade opened in July 2011, and continues through undeveloped sections of the South Street Seaport. The other two tours examine development along the Hudson (Aug 18 at 2pm) and the Brooklyn shorefront (Aug 25 at 6pm).
POETRY AND MUSIC
Sunday, July 15 at 6PM: The Return of Urban Michef with poets Bill Evans, Thaddeus Rutkowski, Joanna Sit, Michele Madigan Somerville and Mike Sweeney will read with percussionists Peter Catapano and Tony Cenicola. Cornelia Street Cafe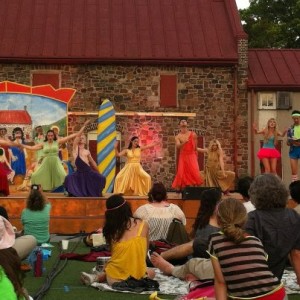 What a pleasure to join more than 400 neighbors on the Turf behind the Old Stone House  to watch Piper Theatre's production of  Xanadu, the theatrically re-imagined 1980′s Olivia Newton- John movie.
Have You Never Been Mellow?
Props to cast, especially Alissa Laderer, MaryAnne Piccolo, who bring much in the way of  joy, talent and enthusiasm to their singing and dancing (sometimes on roller skates). They made it look easy and artful on an extremely humid night. What spirit!
Have You Never Been Mellow?
Truth be told, the show itself has few memorable songs (Have You Never Been Mellow?) but overall conveys a spirited disco feeling with soaring gospel harmonies. The set and costumes are colorful and  campy fun and the glittery, Spandex spectacle is a pleasure to watch from the plastic lawn sipping a beer from The Gate, munching on Starburst (bought at the concessions stand).
Have You Never Been Mellow?
Set in Venice Beach circa 1980, the story, by Douglas Carter Beane (the award-winning playwright of "The Little Dog Laughed" and "Lysistrata Jones"), is about Kira, a Greek muse who descends from Mt. Olympus to inspire Sonny, a street artist with a dream to open a roller disco.
Have You Never Been Mellow?
Silliness, satire and star-crossed love come together in a happy frolic directed by John Macinerney, who was kind enough to provide me with my very own day glow necklace. At the end of the show, the cast joyously tossed beach balls to the audience.
On a very hot Friday night, it felt like we were at Venice Beach being very mellow indeed.
Damn, I can't get that song out of my head. Dates: July 12, 13, 19, 20 at 8 PM at the Old Stone House (The Turf).
The photo is  by my friend Josh Mack.