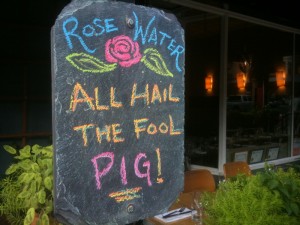 August 23 is the official date for Rosewater's annual Salute to Swine Fest!
They're firing up the Party-Que Spit and roasting a fine piggy from an upstate address over hardwood coals.
The pork will be served with cole slaw, corn on the cob, heirloom tomatoes, cold draft beer and fresh pink wine and you've got one swell porcine summer soirée. "We'll have more fun than a possum in the corn crib with the dog tied up!" is what they're saying.
Tickets go on sale Thursday, July 26th at 1pm. $78, all inclusive of beverage, tax and gratuity. Get yours quick - it's always a sellout. 718-783-3800, phone only.