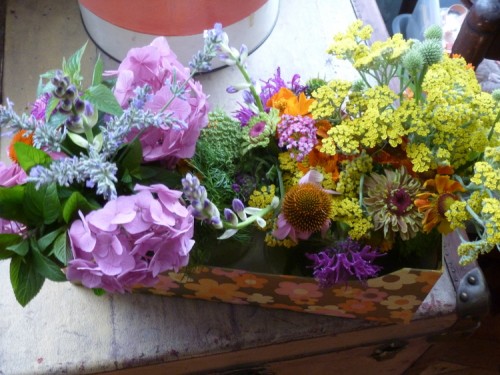 Just when I was feeling really fatigued by  winter, Susan Steinbrock Design sent me an email about her new garden and floral design website. The  photographs on the site of arrangements of colorful wild flowers grown in a Brooklyn lot made my day.
Spring is afoot and I am grateful to Susan for reminding me.
Brooklyn-based gardening business, Susan Steinbrock Design will plant and maintain perennials, annuals and flowering shrubs. SSD will select plants to create a continuously blooming garden, from spring bulbs through fall asters, yielding personally designed bouquets, directly from your garden to table.
"I believe in environmentally sound practices, using compost to enrich soil that is often depleted of nutrients. I choose flowering perennials native to our region as well as other plants that encourage pollinators and benefit the overall health of our Brooklyn neighborhoods," Susan writes on the website.
Whether you are looking for a complete design and renovation of your current garden space, a new window box or container, or just advice in choosing plants that will thrive in your garden's light and shade, Susan can work with you to make something beautiful.
And that is beautiful.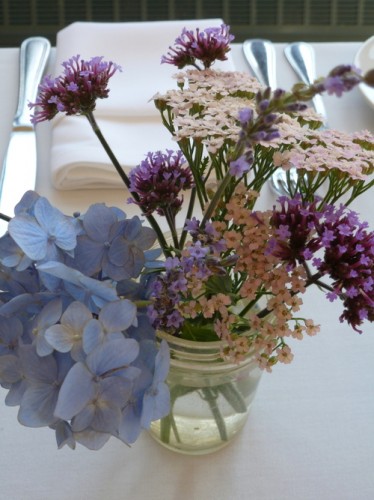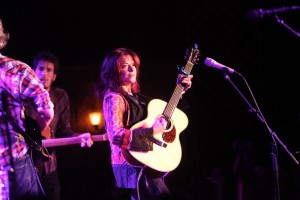 I arrived late for the Musical Extravaganza to Restore Red Hook (presented by Jalopy) at the Bell House but I didn't miss Rosanne Cash.
And that's a good thing.
At 10PM, Brad Lander, the respected City Council member for the district that includes Red Hook, Gowanus and Park Slope, took to the stage to introduce the legend who had arrived from Manhattan to pitch in for a Red Hook devastated by Hurricane Sandy.
Rosanne brought incandescent star power to the stage. But her cred doesn't just come from the fact that her dad is Johnny Cash, who made her a list when she was 18 of 100 essential country songs. She is also a smart songwriter with a flair for the well-chosen word. She's got a very generous and inclusive stage presence and a husband, producer John Leventhal, who is one hell of a guitar player.
Last night she did a few songs from The List, her album of contemporary interpretations of her dad's list, including to-die-for versions of Long Black Veil, Heartaches by the Number by Elvis Costello and Motherless Children. She also did Etta's Song and Modern Blue, two new songs from a forthcoming album about the South.
She opened with the rocking Radio Operator from her 2006 album Black Cadillac, which she made after her father, her mother Vivian Cash Distin, and her stepmother June Cash all died within a span of two years. Later she treated the audience to her big radio hit, Seven Year Ache. The arrangements of all the songs by John Leventhal betrayed a  delicious roots, country and twangy blues sensibility.
The audience screamed "one more song" when the band left stage and she obliged with one more. Her depth of spirit was clearly on display as she thanked the audience in return and urged the crowd to give generously to aid the restoration of Red Hook."
"I don't think I've ever had so much fun performing in New York City."
Photo by Tom Martinez
You probably heard them, too.
News helicopters are flying over Park Slope this morning as they circle over the Atlantic Center capturing aerial images of the morning commute on the second day of minimal subway service in New York City.
Yesterday, commuters waited on extremely long lines to catch buses at the Atlantic Center and Fulton Street to ride across the Manhattan Bridge to working subways in Manhattan. So the Brooklyn commute is this morning's news.
Those news helicopters have been circling since five or six in the morning (or earlier) which seems awfully early. It certainly woke me up earlier than I wanted to be.
A friend writes on Facebook: "Relentless helicopters overhead…reminiscent of another apocalyptic event." I know what she means.
Helicopters hovering overhead.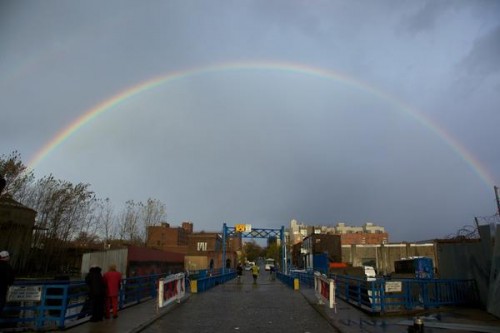 Here is an update from City Councilmember Brad Lander who also serves Cobble Hill, Carroll Gardens, Park Slope, Windsor Terrace, Borough Park and Kensington. He included the photo above by Conor O'Donough.
I hope you and your family made it safely through the storm. Mercifully, the damage in the neighborhoods in this City Council district was not too bad. I'm sure you've seen pictures and heard about the heartbreaking fires and widespread flooding elsewhere the city.

Volunteers Needed

I was heartened by all of the emails I got yesterday from people who wanted to help. There are two shelters in the 39th Council District, John Jay High School and the Park Slope Armory, that need volunteers. You need to be willing to work an eight hour shift and cannot bring your children. The Armory is sheltering people with additional medical needs, so volunteers should be comfortable working with the elderly, disabled, or others who may need extra support.

While those are the two shelters in my council district, there may be other shelters closer to you. Enter your address here to find the closest shelter to you and reach out to see if they are also in need of volunteers.

You can sign up to volunteer during future emergencies at the City's service website.

Reporting Damage

If you see any downed trees or other debris from the storm, your first call should be to 311 (If there is an immediate danger to life, call 911 right away). Make sure to write down the tracking number from your 311 call.

We should remember that the effects of this storm are being felt across New York City, and agencies will rightly be prioritizing trees on power lines and other especially dangerous situations.

My office is also recording damage in the district and following up directly with City agencies. You can report storm damage on my website (make sure to include the 311 tracking number).

More News Coming Soon

Mayor Bloomberg is expect to give a press conference shortly with updates on the City's response to the the storm and updates on transportation and agency closures. I will send out another email later today with additional updates.

Gowanus Canal

Many of you contacted me yesterday with concerns about the Gowanus Canal, a highly polluted waterway, which flooded neighboring streets. I have communicated with EPA Region 2 Administrator Judith Enck and NYC Department of Environmental Protection Commissioner Carter Strickland. Thanks to both of them for making the time, and communicating quickly (with each other, and with me) about our concerns at the canal.

If you live near the canal, do not touch standing water in the area, or any sediment or debris left by Gowanus flood-waters.

After the storm, the EPA and DEP are committed to work together conduct any sampling needed to address potential issues of toxicity created by the flooding.

Prospect Park

We checked in with Prospect Park staff this morning and learned that the park was hit hard. They are still assessing damage, but will be reaching out in the coming days for donations and volunteers to help put the park back together.

I look forward to seeing many of you – and working with you – in the coming days as we clean up from the storm.

Brad

PS: If you are looking for something inspiring after this brutal storm, check out this picture of an amazing rainbow above the Gowanus Canal this morning.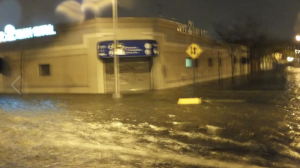 Pardon Me for Asking has pictures of the Gowanus area at 9PM Monday night. A friend of the blogger took the picture above and wrote: "the water down the street was a few feet deep, and very toxic. It smelled like oil and sewage."
Very scary.
Seems that the folks at Freddy's Bar & Backroom have nothing better to do, and no place better to be, so they've decided, to keep their doors open in case Sandy wants to stop by for a party. Also if anyone needs shelter, food, assistance of any sort, or some cheep whiskey.
Where: Freddy's Bar 627 5th Ave Brooklyn NY 11215
When: Now and forever
Once again, Freddy's Bar has proven it is not easily scared, time and time again. We survived Bruce Ratner and an illegal relocation, last year's Hurricane Irene (we stayed open for that one too – But she never showed up,) a bad economy and worse politics, so No Blow Hard named Sandy will close our doors.

We are located on 5th Ave between 17th & 18th Street in the South Slope of Brooklyn, 1 block into the safe zone; 1 block from Zone C of the NYC Hurricane Evacuation Map.

To celebrate this Natural disaster, our specialty cocktail will be the 16oz Hurricane Sandy: The recipe is Vodka, White and Dark Rum, Amaretto, Triple Sec, Orange Juice, Pineapple Juice in a pint glass with ice topped with grenadine. Cost is what ever the bartender can get out of you or $10.00. Tonight in the Backroom there will literally be an Open mic, in case anyone wants to rant. We will stay open as long as need be.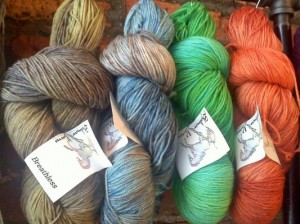 On Saturday, October 8 from 10AM until 6PM, Stitch Therapy and the Old Stone House (Fifth Avenue and Third Street in Park Slope) present the Kings County Fiber Arts Festival this weekend at The Old Stone House, a festival of natural fibers for spinners, knitters and crocheters, offering handspun and painted yarns and rovings of many varieties. Handcrafted knit, crocheted and woven clothing, hats & scarves for the family.
The following artisinal fiber artists will be on hand at the festival: Artikal Handcrafted Millinery, Bay Haven Short Tails, Bittersweet Ridge, Brooklyn Crochet Collective, Cobblerock Ridge Farm, Compassioknit, Crochet shirret Rag Rugs, Decadent Fibers, Fish Hollow, Full Moon Farms, Hellomello Handspun, Humdinger Alpacas, Juliet Martin Designs, Lilac Hill Farm, Looliemom Fiber Arts, Loop of the Loom, Okos Farm Fiber, Pollywogs, Queen Bee Fibers, Utopia Bath, Winter's Past Farm
Here's a schedule of activities to expect:
11 am: Pop-Up Yoga NYC: An Ergonomic Stretch for Crafters
12 pm: Finger Knitting Demonstration for Children
12pm – 6 pm: Fabrications, an exhibit by Gail Rothschild in the OSH Great Room
1 pm: Finger Knitting Demonstration for Children
2 pm: Spinning Wheel and Drop Spindle Demonstration by NYC's Spin City
3 pm: Music by the Famous Accordion Orchestra
4 pm: Fleece Talk – identification and Characteristics w/ Kris Brynes, Winter's Past Farm
6 pm: Exhibit Reception: Fabrications by Gail Rothschild
PHOTO FROM PARK SLOPE STOOP!
Councilmember Brad Lander truly wants to know: What would you do with $1 Million?
Tonight in Park Slope, residents are coming together to tell City Councilmember Brad Lander how to spend $1 million of City funds on projects in their neighborhood.
Next spring, their votes will choose the winning projects. The process, called "Participatory Budgeting," gives New Yorkers a chance to vote on how some of their tax dollars are spent.
WHAT: Participatory Budgeting Neighborhood Assembly
WHEN: Wednesday, October 3rd, 6:30 – 8:30 PM
WHERE: Greenwood Baptist Church, 461 6th Street (at 7th Avenue), Brooklyn
Last year's ideas ranged from the kooky to the sublime: a Gowanus Canal Gondola (aka a "Gowandola"), filling potholes, renovating schools, and building parks. I wasn't there, but I hear that the conversations were sometimes heated (what do you expect?) but creative and inspiring.
Participatory budget meetings are going on all over the city. This meeting is one of five in Councilmember Lander's district in September and October, and one of more than fifty city-wide.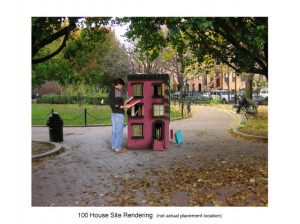 Heather O'Donnell has a sweet story on her blog Honey & Wax Booksellers about the Hundred Story House, which was in Park Slope's Washington Park yesterday.
The Hundred Story House is the brainchild of Julie Marchesi and Leon V. Reid IV (illustration at left is a rendering) who organized a Kickstarter campaign to get the project off the ground and managed to raise an impressive $13,502 last March.
The One Hundred Story House is a miniature lending library and installation that was designed for Cobble Hill Park but is evidently going to other parks, too .
In  fact, the House opened in Washington Park in Park Slope on September 8th. I guess it's going to be there for a while (I will check with Kim Maier at the Old Stone House for further information).
Marchesi and Reid wrote on the Kickstarter site: "Brooklyn is very bookish. If you walk the streets on a fair weathered weekend in certain neighborhoods, you will notice a system of informal and anonymous book-sharing. You will see piles of paperbacks and hardcovers lying on sidewalks or stacked on brownstone steps, available to any passersby looking for a good novel, or a cookbook from 1972."
Ah yes, I did find Secrets of La Bonne Table a 1970′s French cookbook by Jeannette Seaver on the street once. Marchesi believes this tradition speaks to limited space in our too-small apartments " but also to the distinctly Brooklyn spirit of small-scale community interactivity that can be possible in a huge metropolis. It also speaks to a shared love of the written word — as do our many bookstores, public libraries, and coffee shops filled with famous (or soon-to-be) writers at work."
Lovely idea. I can't wait to see it.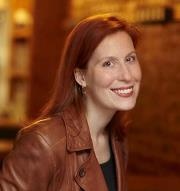 It was only a matter of time before the first indie rare book dealer arrived in Park Slope. Sure, Brooklyn has always had great used bookstore like P.S. Books, Unnameable, Book Thug Nation. Park Slope used to have quite a few before high rents got the best of them. But Honey & Wax Booksellers, founded by Heather O'Donnell, is truly something new.
A Park Slope resident for 15 years (and a PS 321 parent), Heather studied English at Columbia and Yale, where she worked as a curatorial assistant in the Beinecke Library. After three years teaching at Princeton, she left academia for rare books, learning the trade in the flagship gallery of Bauman Rare Books.
In other words, Heather has major cred.
Last fall, she left to launch Honey & Wax out of her Park Slope dining room. She specializes in surprising copies of classic literature, "books with a social life and a secret past."
"It's a risk, but there's a real opportunity now for a different kind of bookseller. I say this because all around me, I see the emergence of a different kind of collector. Digital text has made everyone newly aware of the qualities of the printed book," she writes in an email. "Some people don't miss those qualities, but others really do, and seek out printed books by choice.
On September 23rd, Heather will be the first rare book dealer ever to exhibit at the Seventh Annual Brooklyn Book Festival, the largest annual literary event in NYC. There she will be handing out the first Honey & Wax catalog, which features eighty books photographed in a friend's Ditmas Park home, at the Brooklyn Book Festival.
She'll also be displaying a wonderful selection of books, including some of her favorites: Walker Evans's copy of The Waste Land, Graham Greene's copy of George Eliot's letters (with his handwritten indexes in each of the seven volumes), a signed first edition of Toni Morrison's Beloved, a first edition of Countee Cullen's Color, an inscribed first edition of Truman Capote's Tree of Night and even a signed first edition of Maira Kalman's Max Makes a Million. 
Full disclosure: Honey & Wax Booksellers is a client of Brooklyn Social Media, my new PR and social media firm for entreprenuers and authors.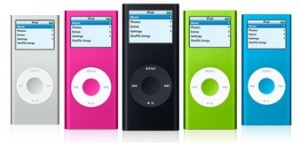 Last night at the Republican National Convention, GOP Vice Presidential nominee Paul Ryan compared his iPod playlist to Mitt Rommney's.
"We're a full generation apart. And, in some ways we're a little different. There are the songs on his iPod that I've heard on the campaign bus and on many hotel elevators. He's actually urged me to play some of those songs at campaign rallies. I said, I hope it's not a deal breaker, Mitt, but my playlist starts with AC/DC and ends with Zeppelin."
I looked at my playlist this morning. Mine starts with Adele (and then Adrian Hibbs) and ends with The White Stripes and Yo La Tengo.
What's the A and Z of your playlist? And what does or doesn't it say about you?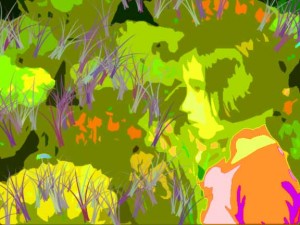 There are 1,814 artists participating in the Go Brooklyn Arts massive open studio weekend on September 8-9, 2012. Eighty of them are in  Park Slope.
That's a bigger number than I expected. There are a lot of artists in and around Park Slope but most of them don't have their studios in Park Slope, a neighborhood made up mostly of apartment buildings and brownstones. We don't have much in the way of loft or industrial buildings.
Go Art Brooklyn is a crowd -curated, crowd-sourced open studio extravaganza backed by the Brooklyn Museum. As an art appreciator, you can sign on as a visitor and actually vote for the artists you like best during your studio visits.
Of the eighty Park Slope artists, I know a few including my husband Hugh Crawford, who will open his photography studio right here on Third Street. "The last few years I have been making photographs I describe as "tangles". They are of rose bushes, ocean waves, the banks of the Gowanus Canal, amusement park rides, trees, and distressed ground. What I am trying to capture is "the act of seeing." Since mid-2011, my work is multiple exposures reassembled into single compositions with some of the work printed as large as 20 feet long," he writes in his Go artist statement.
Also, Bernette  Rudolph (above), whom I consider the elder goddess of Park Slope artists, will be showing her prints and mixed-media work in her Third Street studio, as she's been doing since 1985. "I work in my art studio with music or silence depending on what I am creating. I have been a working artist over fifty years exhibiting in museums and art galleries thru the United States. My current inspiration is photographing the people I see on the streets of New York City and the vast variety of people who ride the New York subways. I use photo shop to turn the photos into works of art," she writes in her Go artist statement.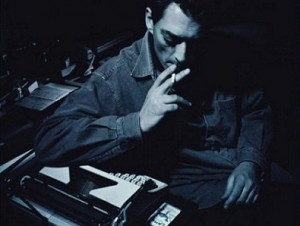 Last week I reported that Amy Sohn's new book was out in bookstores. And now for something completely different. Park Slope's elder literary statesman has a new book coming out
Did  I just call Paul Auster an elder literary statesman?
Well, he is probably one of the best known authors in the neighborhood and certainly one of the most important in the world. Some of his books are considered the most influential books of the late 20th century. It must be said: the  man has major cred.
On Tuesday, his new memoir, Winter Journal will be coming out. Today there's an interview in Salon Magazine where he shares his thoughts on his work, writing and the political climate in America.
He and Salon executive editor David Dailey met in Park Slope: "We met at a Park Slope cafe not far from his Brooklyn home on a recent rainy afternoon, where the conversation skipped easily from his new book to the New York Mets, and from literary politics to the presidential race," Dailey writes.
The interview is very interesting and you should definitely read it. Auster talks  about his decision to write another memoir. He's already written three: The Invention of Solitude, the Red Notebook and Hand to Mouth. Now this one. Auster is only 64 and he looks wonderful when I see him on Seventh Avenue. It's hard to believe that I've been seeing him in the neighborhood for twenty-one years, since he was in his forties.
Sure he looks a bit older now, but very dignified. He walks with the weight and intensity of someone who writes every day. He always looks lost in thought. Deeply. Every time I see him I wonder, what has he written today in his writing studio? In the Salon interview he talks about why he felt compelled to write this book:
"I don't know. As I've said, I can never answer why. I wanted to do it, so I did it. Was it the idea of, you know, reaching the age I've reached? I don't know. I'm not sure. I do know that, oddly enough, all these 40th anniversaries that were taking place in the last few years have been throwing me back to the old days a lot. I've been speaking about things that haven't been preoccupying me a lot, and maybe haven't spoken about. "Invisible" really goes back to Columbia in the late 1960s.
"So, you know, I'm living in the present, thinking about the past, hoping for the future. And then too, there's another thing I'd like to say: Most of the time, the way I seem to generate books is to bounce off the one I've done before, so to negate it, to do the opposite, to reinvent it. The book that came before it ["Sunset Park"] is the first book that consciously I wrote in the now, capital "N," and it was also immediate, all so much about our present moment, that the impulse was to go back afterwards."
Last night I ventured into Pork Slope, Top Chef Dale Talde's new classic American restaurant on its opening night and found it to be fun, friendly and inexpensive. It's so not kosher and it's so not P.C. It's actually a welcome—if  bawdy and slightly unhealthy—change from the vegan/veggie/healthy/locavore sanctimony of  many Park Slope restaurants.
Saturday night, opening night, was noisy and crowded and everyone was in a good mood. Strangers at the bar talked to each other: What do you think? Did you ever go to Aunt Susie's? We've been waiting for this to open. Do you mind moving one seat so my husband, who's waiting on line, can sit next to me?
A young woman even offered me tastes of her tater tots. Friendly!
Oh, and for the opening, you had to stand in line for twenty minutes or more to order your food.
But it was fun.
I think that was just an opening night thing. I'm guessing there will be waiter-service in the future. The man taking orders at the end of the bar was friendly and eager to explain the sandwiches like the Porky Melt, which is a pork patty with cheese on pumpernickle/rye bread.
Remember pumpernickle/rye bread?
While standing on line, the bartenders were friendly and helpful.
"Hey, can I get a drink for anyone standing on line," I heard one of the bartenders say.
"I know you left an empty drink glass on the bar. You want something else?" a friendly bartender said to me.
"How much is a PBR,?" I asked a female bartender using the acronym for Pabst Blue Ribbon.
"Three dollars," she said.
Sold.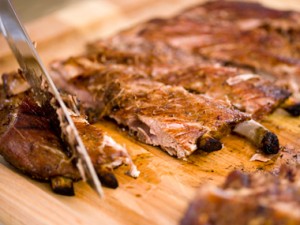 When Pork Slope officially opens on Saturday, you just might get a chance to taste what all the hype is about. Dale  Talde's new Park Slope outpost with the truly great name is more fun and folick than Talde, his elegant, delicious and somewhat pricey "Asian-American" eatery on Seventh Avenue.
With 25 beers on tap and more than 100 whiskeys, Pork Slope is ready for the Fifth Avenue crowds. And the crowds, I'm guessing, are ready for it. There's brisket to be had, as well as ribs, po' boys, pulled pork sandwiches, country ham 'n biscuits, and fried chicken.
The price point? I'm hearing that most dishes are below $15. Pork Slope is located on Fifth Avenue between Carroll Street and Garfield Place. Heck, it's in the space that used to be Aunt Suzie's, Park Slope's red sauce Italian powerhouse, co-owned by Irene LoRe, president of Park Slope Fifth Avenue BID.
In Sunday's Scotsman, a Scottish news website, Lee Randall, a travel journalist travels to Brooklyn and lives like a native. His father was born in Brooklyn and the reporter found plenty of things to love about the borough, including the Brooklyn Museum, the Brooklyn Botanic Garden, and Park Slope's Al Di La.
"Forget hotels and live like a native in buzzing Brooklyn, suggests Lee Randall
"Wandering around Williamsburg, the hipster capital of Brooklyn, brings to mind my late father, who was born in this borough, which was an independent town before its engulfment by New York City in the late 19th century. Dad wouldn't recognise the place. In fact, even I don't recognise it. The last time I ventured to this part of my native city was in the 1980s, when we'd joke that you needed to pack heat to get in and out alive. Now – all joking aside – I'd advise you to pack a Mac computer, a trilby, and a refined palate for artisan beer and coffee, else die of shame."
"Also notable was lunch at Al Di La Trattoria (248 Fifth Avenue; www.aldilatrattoria.com), where they offer a local, organic, sustainable take on Italian food, in a sweet little room overlooking a Park Slope corner."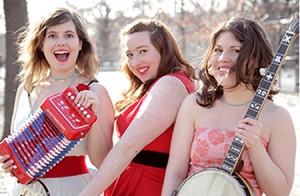 Doll Parts calls itself Brooklyn's premiere Dolly Parton cover band. I think that probably desribes them to a "T". I don't think there are any other Dolly Parton cover band in Brooklyn but I could be wrong.
I'm psyched because I happen to love Dolly Parton's songwriting (Coat of Many Colors, Jolene). A lot of people probably think of Dolly as an icon of country kitsch but I think there's a lot more going on.
The five member band will play Union Hall on Wednesday at 7:30 PM. Gentleman Callers is also on the bill.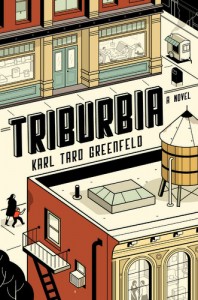 Amy Sohn's Motherland will be out next week but already the buzz begins. Today in the New York Times, Ginia Bellafante's article For a Spicier City, Turn the Page?, bundles Sohn's sequel to her bestselling Prospect Park West with a first novel by Karl Taro Greenfield called Triburbia.
According to Bellafante, "each of the two books revolves around the broader community of a highly ranked public elementary school: P.S. 321 in Park Slope and what is obviously P.S. 234 in TriBeCa, places so readily linked to an image of concerned liberal affluence that to a certain kind of New Yorker they hardly require annotation. Here the image of family wholesomeness gives way to a picture of acute marital anomie and rampant infidelity. Stereotypes endemic to the city populate: the entrepreneurial chef, the yearning screenwriter, the drifting vintage clothier, the gay father desperate for a second child, all of them sharing an aversion or mounting indifference to the partners with whom they've purchased their co-ops, renovated their kitchens and shared the enervating burdens of modern child rearing."
A book that will surely inspire conversation, debate and even secret late night reading Motherland comes out on August 14th. Mark your calendar.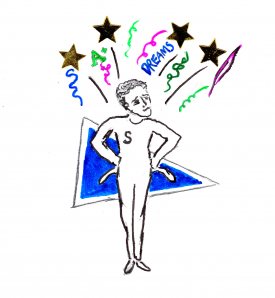 Yesterday, I met blogger Daniel Levin at the Tea Lounge, which was full of people staring at their laptops, sipping coffee and, ostensibly, working or trying to get work. We were introduced by my friend Paula Bernstein, author of Identical Strangers: A Memoir of Twins Separated and Reunited.
Truth be told, Levin is nothing special. In fact, he writes a blog called Nothing Special(Tales from a Generation Unfulfilled) dedicated to people who suffer from "specialness," something he deems akin to a long-term medical disorder. "We are bitter, jealous people with few practical skills and lots of gold stars. There is no known cure. But this blog is the first medically proven* site to help sufferers," he writes.
Levin, a graduate of Yale University, a playwright and lyricist, ponders what happens to all these special people? Do they go on to fabulous jobs or are they sitting in the Tea Lounge trying to get ahead in the world?
Nothing Special is a blog for people who believe what they've been told all their lives by parents, teachers and college acceptance letters. When they finally go out into the world, they realize that the world is actually filled with a lot of special people (and not all of them went to Yale).
"Our parents thought we were special and saved all of our artwork," he writes on Nothing Special. "Our teachers told us we were highly verbal. Our movies told us we could win a karate tournament from six months of training with a handyman, and make our family hot by going back in time. From Mr. Rogers to Stuart Smalley, we were assured that always, no matter what…we were…(stage whisper) special."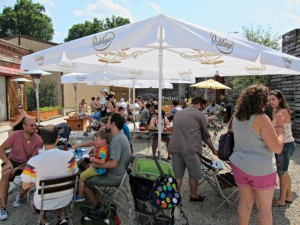 You all remember the No Stroller Manifesto at the defunct Patio Lounge on Fifth Avenue and the No Strollers policy at Union Hall. Well, Greenwood Park, a new 13,000 square foot bar in Park Slope with a huge outdoor space, decided that strollers are not only allowed they are welcome.
But do people who hang out at bars really want kids around. The City Room blog at the New York Times revisits this issue once again.
"I arrived around 6 PM with friends and showed my ID to the doorman. OH YEAH, time for a laid back and relaxing time with some frosty beverages and bar food! WRONG, welcome to Chuck-E-Cheese in South Slope," a Yelp reviewer, John H., posted on July 3.
If you're interested in the history of the Park Slope babies in bars/no strollers issue, read my essay The Park Slope Stroller Wars in Make Mine a Double: Why Women Like Us Like to Drink.
Photo from: blog.urbanedgeny.com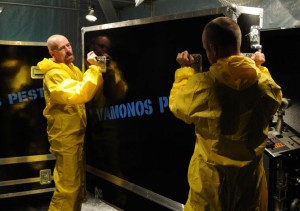 The Gate was quite crowded last night for its weekly showing of Breaking Bad.
This week I went with my son, who is officially 21. We sat at the bar. He had a PBR (Pabst Blue Ribbon, I learned) and I had a glass of white wine.
The sound worked perfectly and everyone quieted down when the show came on. The episode was excellent. No spoilers here except to say that Marie is getting wackier, Skyler is going off the rails, Walt is inscrutable, Jesse is as tragic as ever and Mike is fascinating.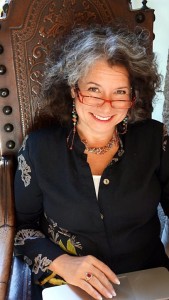 I just love Gina Barreca's funny and smart take on the world.
On Huffington Post today, Gina Barreca writes a love letter to independent bookstores.
For those who don't know, Gina blogs for the Chronicle for Higher Education, Huff Post and Psychology Today. She is also a professor of English and feminist theory at the University of Connecticut. Her books, which have been translated into seven languages, include They Used to Call Me Snow White But I Drifted, Babes in Boyland, and It's Not That I'm Bitter. Her latest book, Make Mine a Double, was published in September 2011 and includes an essay of mine in there called the Park Slope Stroller Wars.
Here's an excerpt from a piece called Why Independent Bookstores Matter, which will resonate with Park Slopers, great supporters of indie bookstores like the Community Bookstore. Read the rest on Huff Post. 
"Independent bookstores do everything big corporate bookstores do, with only one significant difference: Independents do it better.
"Without independent bookstores — meaning those places not owned by huge corporate chains or multinational conglomerates –there would be three, maybe four, books published a year.
"There would be a blockbuster thriller, a densely detailed romance, a pseudo-science exploration of a catchy phenomena, and a celebrity bio.
"And a diet book — there would be a diet book.
"So eventually, there would be one book issued per year: a densely detailed autobiographical and pseudo-scientific celebrity thriller containing recipes. Denzel Washington meets Stephen J. Gould meets Don Delillo meets The Naked Chef. Yum."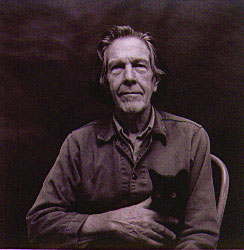 File this under: I went with my family to see John Cage perform Empty Words at the Hunter College Auditorium when I was a kid. I was bored out of my mind but somehow I understood that we were seeing something amazing
On August 3, at 8PM at Roulette I will have the chance to experience all 12 hours of Empty Words again.
Varispeed, a group of composer-performers, will perform Part I of their 12-hour arrangement of John Cage's Empty Words, a landmark text-based work from the mid-70s that transforms speech into music and brings to light the beauty and power of the human voice.
Performing this piece is quite an undertaking.
In Part I, Cage's text "establishes a distinctly non-syntactical speech rhythm with words and phrases arranged through chance operations from Thoreau's journals." The vocalist-performer-arrangers of Varispeed (Aliza Simons, Dave Ruder, Paul Pinto, Brian McCorkle, & Gelsey Bell) and special guests augment their voices with a bevvy of electronics, "while spatializing sound and action into a Cagean feast for the senses."
Varispeed is a newly formed collective of composer-performers from experimental theatre group Panoply Performance Laboratory, ensemble thingNY, and Why Lie? that creates site-specific, sometimes-participatory, oftentimes-durational, forevermore-experimental events. Their new arrangements in Perfect Lives Manhattan made Time Out New York and New York Times' critic Steve Smith's "Best of 2011" list.
Empty Words will continue in three more installments during the evening. Parts II & III will be performed at nearby Exapno (33 Flatbush Ave, 5th floor) at 11 PM and 2 AM, respectively.
And the final installment occurs at 5AM in the morning on the Brooklyn Bridge:
Part IV will be a sound walk across the Bridge at 5 AM. All parts are free and open to the public.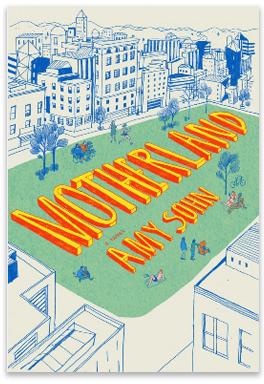 As we in Park Slope breathlessly await the release of Motherland, Amy Sohn's sequel to her bestselling Prospect Park West, Nancy McDermott has published a positive review of the book in Spiked, a British website. McDermott gives the book high praise for its readability and satire: "Motherland is both lightning-fast beach reading and well-observed social satire. Though the book won't last the summer, Rebecca Rose and company will stay with you well into the autumn."
McDermott, a moderator on Park Slope Parents  before she moved to rural Upstate New York, is an excellent writer and a cogent thinker on the culture of parenting in contemporary society. I love her blogs, The Brown House Years and The Parenting Mystique (Why America is Obsessed with Raising Kids).  Here's an excerpt from her review.  Do read the rest of Park Slope Parents Behaving Badly on Spiked.
"Motherland is the sequel to Prospect Park West, Amy Sohn's hyperrealist novel set in Park Slope, Brooklyn. In the first book of the series, Sohn used a mix of real and imagined people and events to explore the excesses of modern urban parenting culture. In Motherland, she revisits many of same themes and characters, but this novel is not so much about new parenthood as midlife crisis, two life events which, for the first time in history, are tending to occur around the same time."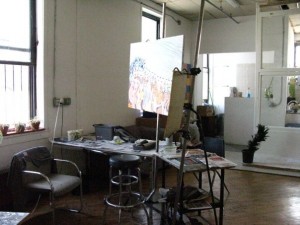 Seven years ago the Brooklyn Artists Gym opened. A resource for studio and exhibition space for local artists, the space has evolved many times to accommodate the ever growing number of members who made use of it.
As of this week, Brooklyn Artists Gym will operate under a new name, Brooklyn Art Space. There are two cogent reasons for the name change. "First, if the staff gets one more inquiry about fitness facilities, they may just lose it!" the new management writes in an email.
Secondly, and perhaps more importantly, Peter Wallace, the founder of Brooklyn Artists Gym, is moving on to other pursuits and will pass the torch to his current staff: Rhia Hurt, Director; Ajit Kumar, Advisor; Mary Negro, Gallery Coordinator; Jannell Turner, Consultant; and Rachael Whitney, Marketing Coordinator.
I remember seven years ago meeting with Peter at the now defunct Perch to discuss his new venture, Brooklyn Artists Gym. Perch must have just opened around that time, too. Peter had a real vision about it and many creative ideas that would come to pass.
"Peter's vision is what brought everyone here, and the staff will continue to expand upon this vision as Peter moves onto the next phase of his creative process. His insight, enthusiasm, and devotion to the studios will be missed!"
And so it is: Brooklyn Art Space is now christened.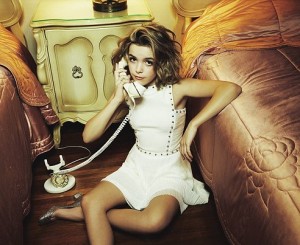 Yesterday, a very reliable source reports that Kiernan Shipka, who plays Sally Draper on AMC's Mad Men, was at 'Snice having lunch. The Park Slope vegan lunch spot is on Fifth Avenue and Third Street. No word on what she ate or drank. We do know that she wasn't  there with her television parents, John Hamm and January Jones. And her TV stepmother, Megan ,played by Jessica Pare, was nowhere to be found.
No one shouted out: We Love you Kiernan Shipka. But we do.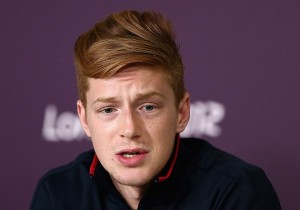 Doesn't he have the most perfect first name for an Olympic athlete? That said, Race Imboden is a fencer not a miler or a sprinter. But he's our's and we're rooting for him as he competes for a an Olympic medal in the London Olympics, which start this weekend.
I can't wait to spot him in the Opening Ceremonies on Friday night.
Today's fun quote from Race is this. He's talking about his English born mom, Fiona:
"She's emotional about me competing. She's always pacing back and forth in big rooms while I'm fencing," he said. "But she has an assigned seat here, so we'll see how that works."
This quote is from an article is by Greg Wyshynski of Yahoo Sports. 
Also watch this cool video about Ryan by @radical media that I posted the other day.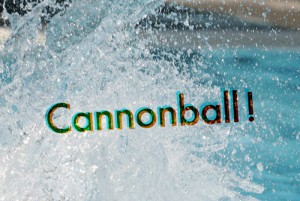 A summer art opening? A little splashy fun?
Park Slope's Vicki Sher, a painter in her own right, has curated an art show called Cannonball opening at Frosch & Portmann at  53 Stanton Street on Manhattan's Lower East Side on Thursday, July 26 from 6-8PM.
"It's a collective jump into the pool. Each artist plunges into her/his subject while feeling the ripple of activity in the room. Each distinct body of work claims a piece of its own, and shared, area," writes Sher.
Inspired by the iconic call of summer, the swimmers' cry of "Cannonball!" as they jump into a pool, this exhibition brings together artists who dive into specific territory while maintaining a playful spirit. The show connects driven and deeply pursued paths to the lighthearted attitude behind summer vacation.
Many of the artists connect to the show's title with strong black shapes that pack a punch. In Don Voisine's paintings and Lauren Seiden's dense graphite works on paper, the viewer is drawn into the black surface to consider questions of space, balance and rhythm. Denise Kupferschmidt's black drawings on tile bring to mind icons and talismans; at the same time they act as a lighthearted reminder of the pool's edge. Paul Wackers' still lifes use black for contrast, to emphasize the plant's strong silhouette and power as a signifier of interior life.
Park Slope's historic district just got BIGGER.
New York's City Council voted today to approve an expansion of the Park Slope Historic District, making it the largest historic district in the city. The City Council vote affirms the Landmarks Preservation Commission approval on April 17, 2012.
This expansion will include 580 buildings  from approximately 7th Street to 15th Street (including the 7th Avenue frontage), 7th Avenue to 8th Avenue, and along 15th Street from 8th Avenue to Prospect Park West (including the western side of Bartel Pritchard Square). A map of the expansion is available at the LPC website.
The extension also includes the former Ansonia Clock Works factory, once the world's largest clock manufacturer, as well as homes built for its workers.
Here is a statement from the Council:
"The Council's action not only celebrates a storied part of the city's industrial past, but the sensitive adaptive reuse of the factory complex and its contribution towards the vitality and historic character of the area," the Park Slope Civic Council said in an issued statement. "The Civic Council is united in our desire to maintain the neighborhood's quality of life and to ensure that it is preserved for future generations of Park Slope residents and visitors alike to enjoy."