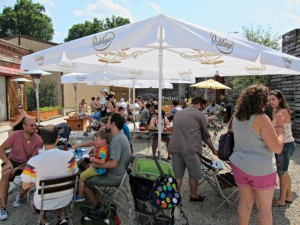 You all remember the No Stroller Manifesto at the defunct Patio Lounge on Fifth Avenue and the No Strollers policy at Union Hall. Well, Greenwood Park, a new 13,000 square foot bar in Park Slope with a huge outdoor space, decided that strollers are not only allowed they are welcome.
But do people who hang out at bars really want kids around. The City Room blog at the New York Times revisits this issue once again.
"I arrived around 6 PM with friends and showed my ID to the doorman. OH YEAH, time for a laid back and relaxing time with some frosty beverages and bar food! WRONG, welcome to Chuck-E-Cheese in South Slope," a Yelp reviewer, John H., posted on July 3.
If you're interested in the history of the Park Slope babies in bars/no strollers issue, read my essay The Park Slope Stroller Wars in Make Mine a Double: Why Women Like Us Like to Drink.
Photo from: blog.urbanedgeny.com