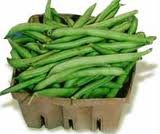 2,000 signatures have been collected so far from neighbors in Windsor Terrace, who are opposed to a new Walgreens at the site of the old Key Food, that went out of business in 2012.
"Green Beans Not Walgreens" is smart and funny new slogan (and website name) the group has come up with. The site will be chock full of information and action to oppose the replacement of Key Food with a Walgreens pharmacy.
The neighborhood activists say the area needs a full-service grocery store and not another pharmacy/drug store. Read more at their website.