Here are the main points from Tuesday's storm update at 11AM by Mayor Bloomberg. Now he's speaking Spanish, so I have a moment to add to this post. I live blogged the notes below. Most important  message: Schools will be closed on Wednesday, it will be at least 3-4 days before subway and electrical power is restored.
23 serious fires;  no loss of life in fires; 80 houses lost
76 shelters will stay open until  Zone A and other persons can find temporary housing
Storm claimed 10(sic) lives in NYC (Cuomo announced that 15 lives were lost)
Main priority is getting mass transit system up and running and restoring power.
East River bridges open are now open.
MTA says last night was the worst  disaster the subway has seen in its history
Con Ed says damage unprescedented in scope
3/4 of a million New Yorkers are without power
There is extensive flooding in all under-river subway tunnels
There will be limited bus service this afternoon; restoration of bus service by tomorrow
Wednesday roads will be  cleared and free of water
No flights from  airports
Mayor has determined that yellow cab drivers can pick up multiple passengers
Livery and black cars driver can pick up passengers anywhere in the city (TLC license plate)
NYU and Manhattan Vet's Hospital Closed
NYU Langone evacuation is complete.
No storm related fatalities at any hospital
Some shelters lost power last night
4,000 tree service request; most in  Queens (311  to report downed trees)
Crane is stable, required evacuation of 57th Street
Schools closed tomorrow.
City workers are expected to go to work if they can get safely to work
HRA Centers are open
Reaching out to small businesses
Use 311
Stay away from Parks
Away from damaged trees
"Nature is  more powerful than we are"
First priority to getting transit and power system up and running
"Get the City We Love Back On Its Feet"
Today the MTA announced that they're spending $29 million to restore some service lost to budget cuts last year, and even some new bus lines.
Back in 2009, the MTA cried poverty and eliminated certain bus routes in an effort to balance the 2009-2010 budget (at the expense of its customers, I might add).
Today they've restored many of those eliminated bus lines and announced some brand new bus lines in places that never had buses before. One of these routes goes from the Brooklyn Navy Yard to Greenpoint along the East River waterfront.
Red Hook, the neighborhood most underserved by public transportation, also got new bus service, which is very good news.
A cynic might say that the MTA did the good deed to sweeten the fact that they're planning to raise fares next year. But the adding back and expansion of services is good news since much of it is happening in Brooklyn.
They also say that there has been an uptick in the number of riders on public transportation. All of these improvements will be phased in over the course of a year beginning this coming October.
"You have my assurance that we are committed to the strongest, most efficiently operated transportation system we can provide to the region and promise you that we will make every effort to continue to make the kind of progress that makes these improvements possible," says Chairman and Chief Executive Officer Joseph J. Lhota who has been in service since November.
For specifics about the restoration and improvements go here.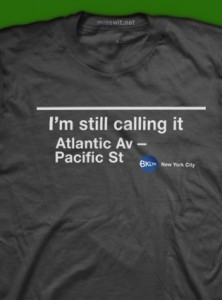 Graphic designer and Develop Don't Destroy Brooklyn activist Deborah Goldstein, also known as Miss Wit, wanted to share her latest t-shirt design with the readers of OTBKB.
I too have been miffed at the renaming of some local subway stations. For instance, the Atlantic Avenue/Pacific Street subway station has been renamed Atlantic Av/Barclay's Stadium, I believe. Jay Street Boro Hall is now Jay Street MetroTech.
Miss Wit writes, "A British multinational bank (in the news currently for extreme and "systematic greed" practices) bought NYC subway naming rights very cheaply from a cash strapped state agency on the back of a corrupt deal.
"By calling the subway station by said British multinational bank, which certainly not a very many will do, one accepts that scenario as being acceptable.
"The station once known as Pacific Street-Atlantic Avenue will soon be called something else, due to the fact that the same company that bought the rights to the stadium the station sits under, also bought the rights to the station. For the first time in NYC Transit history, a Subway station will bear the name of a corporate entity.
But….
I'm Still Calling it Atlantic Pacific!"
 You can buy the t shirt here. FOR 10% OFF Use Promo Code FFCR at check-out thru July 15
Help is on the way for the riders of the B61 bus. I got to know a little bit about riding the bus in Park Slope when I was commuting to the city for court reporting classes. Because I had that heavy (HEAVY) backpack, I would wait for the bus on the corner of Third Street and Seventh Avenue and wait.
And wait.
And wait.
I saw the same people every day and some days we got mighty impatient. There was always someone standing way out in the middle street looking southward for the bus. "Is that a bus," we'd ask.
Truth of the matter, it was almost always more prudent—and faster—to just walk to the subway at Grand Army Plaza or Flatbush Avenue. But sometimes you just want to take a bus.
On cold winter mornings, there was always such relief when the bus finally arrived. On most mornings there was just plain relief that there was a bus at all.
Well, some exciting changes are  afoot for riders of the B61 bus.
City Councilmember Brad Lander's press guy sent out a release yesterday about the debut of something called BusTime on the B61 bus, making it the second bus in Brooklyn with the system that provides real-time bus arrival and location information. You an learn how the system works here.
The system, which is already in use for the B63 bus on Fifth and Atlantic Avenues, uses GPS devices on buses, which lets bus riders use their cell phones and computers to find out where the next buses to arrive on a route actually are.
I will say that it sounds like a big improvement over standing out in the middle of the street, risking injury, to check on whether there's a bus coming. Especially for those of us who need distance glasses and can barely see two blocks away. Quite often a van or a truck looked like a bus and I (and others) got our hopes up.
There are other planned improvements to the B61 bus, as well.
· More frequent buses in the PM rush hour, increasing the average headway from ten to nine minutes.
· More reliable service at all hours resulting from:
o An increase in the amount of time the bus has to make the run and to recover at the end of the route.
o A change in the location of the bus driver shift change from the middle of the line to the end of the line.
Lander says: "Bus Time is a great step forward for B61 bus riders, who are looking for more reliable bus service. The MTA has brought Bus Time to the B61 at our urging and I look forward to taking further steps to making the line a great bus for the neighborhoods it serves."