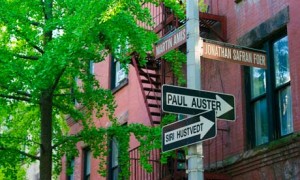 It seems that across the pond, they've discovered that Brooklyn is quite the writerly place. I guess when Brit author Martin Amis buys a house in Cobble Hill, it becomes news over there. I did, however, enjoy the Guardian article and especially this paragraph, which reminded me of what happened when Jonathan and Nicole spent 3.5 million on their house. That sounds like chump change these days.
"Today Sunny's is popular for bluegrass sessions and literary salons that attract aficionados from across the borough. There is not a night of the week when you can't attend a reading in Brooklyn, or several. Many take place at the independent bookstores that have proliferated in the last few years, or – like BookCourt in Cobble Hill, where I remember waiting in a long line of young tattooed men and women to hear Bret Easton Ellis read – doubled in size. And writers aren't just coming here to read; they are flocking here to live. Some, such as Paul Auster, have been here for decades; others, like Martin Amis (a stone's throw from BookCourt), are fresh off the boat. On Saturdays you can go Pulitzer spotting at Fort Greene's farmers' market, where both Jhumpa Lahiri and Jennifer Egan may be found perusing the vegetables. When Jonathan Safran Foer and his wife Nicole Krauss, author of The History of Love, brought a Park Slope townhouse in 2005, bloggers gasped at the $3.5m [£2.26m] price tag."
I was one of those  bloggers and I remember it well. Rad photo illustration from The Guardian.