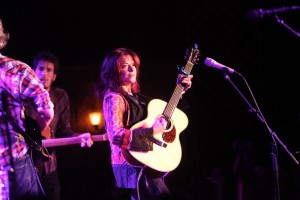 I arrived late for the Musical Extravaganza to Restore Red Hook (presented by Jalopy) at the Bell House but I didn't miss Rosanne Cash.
And that's a good thing.
At 10PM, Brad Lander, the respected City Council member for the district that includes Red Hook, Gowanus and Park Slope, took to the stage to introduce the legend who had arrived from Manhattan to pitch in for a Red Hook devastated by Hurricane Sandy.
Rosanne brought incandescent star power to the stage. But her cred doesn't just come from the fact that her dad is Johnny Cash, who made her a list when she was 18 of 100 essential country songs. She is also a smart songwriter with a flair for the well-chosen word. She's got a very generous and inclusive stage presence and a husband, producer John Leventhal, who is one hell of a guitar player.
Last night she did a few songs from The List, her album of contemporary interpretations of her dad's list, including to-die-for versions of Long Black Veil, Heartaches by the Number by Elvis Costello and Motherless Children. She also did Etta's Song and Modern Blue, two new songs from a forthcoming album about the South.
She opened with the rocking Radio Operator from her 2006 album Black Cadillac, which she made after her father, her mother Vivian Cash Distin, and her stepmother June Cash all died within a span of two years. Later she treated the audience to her big radio hit, Seven Year Ache. The arrangements of all the songs by John Leventhal betrayed a  delicious roots, country and twangy blues sensibility.
The audience screamed "one more song" when the band left stage and she obliged with one more. Her depth of spirit was clearly on display as she thanked the audience in return and urged the crowd to give generously to aid the restoration of Red Hook."
"I don't think I've ever had so much fun performing in New York City."
Photo by Tom Martinez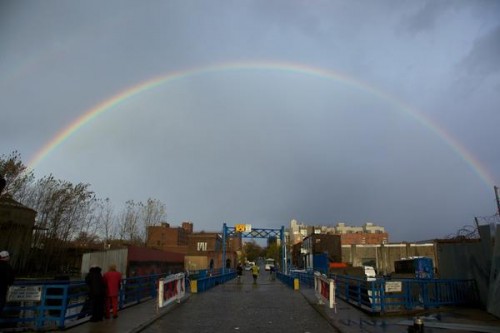 Here is an update from City Councilmember Brad Lander who also serves Cobble Hill, Carroll Gardens, Park Slope, Windsor Terrace, Borough Park and Kensington. He included the photo above by Conor O'Donough.
I hope you and your family made it safely through the storm. Mercifully, the damage in the neighborhoods in this City Council district was not too bad. I'm sure you've seen pictures and heard about the heartbreaking fires and widespread flooding elsewhere the city.

Volunteers Needed

I was heartened by all of the emails I got yesterday from people who wanted to help. There are two shelters in the 39th Council District, John Jay High School and the Park Slope Armory, that need volunteers. You need to be willing to work an eight hour shift and cannot bring your children. The Armory is sheltering people with additional medical needs, so volunteers should be comfortable working with the elderly, disabled, or others who may need extra support.

While those are the two shelters in my council district, there may be other shelters closer to you. Enter your address here to find the closest shelter to you and reach out to see if they are also in need of volunteers.

You can sign up to volunteer during future emergencies at the City's service website.

Reporting Damage

If you see any downed trees or other debris from the storm, your first call should be to 311 (If there is an immediate danger to life, call 911 right away). Make sure to write down the tracking number from your 311 call.

We should remember that the effects of this storm are being felt across New York City, and agencies will rightly be prioritizing trees on power lines and other especially dangerous situations.

My office is also recording damage in the district and following up directly with City agencies. You can report storm damage on my website (make sure to include the 311 tracking number).

More News Coming Soon

Mayor Bloomberg is expect to give a press conference shortly with updates on the City's response to the the storm and updates on transportation and agency closures. I will send out another email later today with additional updates.

Gowanus Canal

Many of you contacted me yesterday with concerns about the Gowanus Canal, a highly polluted waterway, which flooded neighboring streets. I have communicated with EPA Region 2 Administrator Judith Enck and NYC Department of Environmental Protection Commissioner Carter Strickland. Thanks to both of them for making the time, and communicating quickly (with each other, and with me) about our concerns at the canal.

If you live near the canal, do not touch standing water in the area, or any sediment or debris left by Gowanus flood-waters.

After the storm, the EPA and DEP are committed to work together conduct any sampling needed to address potential issues of toxicity created by the flooding.

Prospect Park

We checked in with Prospect Park staff this morning and learned that the park was hit hard. They are still assessing damage, but will be reaching out in the coming days for donations and volunteers to help put the park back together.

I look forward to seeing many of you – and working with you – in the coming days as we clean up from the storm.

Brad

PS: If you are looking for something inspiring after this brutal storm, check out this picture of an amazing rainbow above the Gowanus Canal this morning.
Here are the main points from Tuesday's storm update at 11AM by Mayor Bloomberg. Now he's speaking Spanish, so I have a moment to add to this post. I live blogged the notes below. Most important  message: Schools will be closed on Wednesday, it will be at least 3-4 days before subway and electrical power is restored.
23 serious fires;  no loss of life in fires; 80 houses lost
76 shelters will stay open until  Zone A and other persons can find temporary housing
Storm claimed 10(sic) lives in NYC (Cuomo announced that 15 lives were lost)
Main priority is getting mass transit system up and running and restoring power.
East River bridges open are now open.
MTA says last night was the worst  disaster the subway has seen in its history
Con Ed says damage unprescedented in scope
3/4 of a million New Yorkers are without power
There is extensive flooding in all under-river subway tunnels
There will be limited bus service this afternoon; restoration of bus service by tomorrow
Wednesday roads will be  cleared and free of water
No flights from  airports
Mayor has determined that yellow cab drivers can pick up multiple passengers
Livery and black cars driver can pick up passengers anywhere in the city (TLC license plate)
NYU and Manhattan Vet's Hospital Closed
NYU Langone evacuation is complete.
No storm related fatalities at any hospital
Some shelters lost power last night
4,000 tree service request; most in  Queens (311  to report downed trees)
Crane is stable, required evacuation of 57th Street
Schools closed tomorrow.
City workers are expected to go to work if they can get safely to work
HRA Centers are open
Reaching out to small businesses
Use 311
Stay away from Parks
Away from damaged trees
"Nature is  more powerful than we are"
First priority to getting transit and power system up and running
"Get the City We Love Back On Its Feet"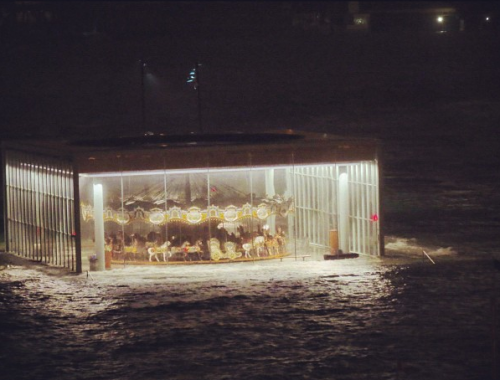 An Instagram by Ana Andjelic is making the rounds among my Facebook friends. The image above is of the submerged Jane's Carousel in Brooklyn Bridge Park.
It's a sobering image of a carousel that usually brings much joy in Brooklyn on a devastating night we will never forget. Image below is of Jane's Carousel before Sandy.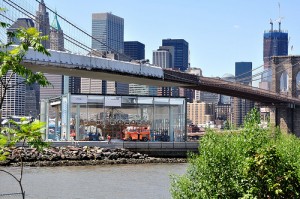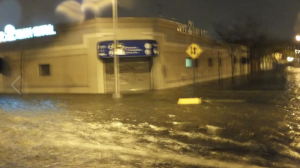 Pardon Me for Asking has pictures of the Gowanus area at 9PM Monday night. A friend of the blogger took the picture above and wrote: "the water down the street was a few feet deep, and very toxic. It smelled like oil and sewage."
Very scary.
Seems that the folks at Freddy's Bar & Backroom have nothing better to do, and no place better to be, so they've decided, to keep their doors open in case Sandy wants to stop by for a party. Also if anyone needs shelter, food, assistance of any sort, or some cheep whiskey.
Where: Freddy's Bar 627 5th Ave Brooklyn NY 11215
When: Now and forever
Once again, Freddy's Bar has proven it is not easily scared, time and time again. We survived Bruce Ratner and an illegal relocation, last year's Hurricane Irene (we stayed open for that one too – But she never showed up,) a bad economy and worse politics, so No Blow Hard named Sandy will close our doors.

We are located on 5th Ave between 17th & 18th Street in the South Slope of Brooklyn, 1 block into the safe zone; 1 block from Zone C of the NYC Hurricane Evacuation Map.

To celebrate this Natural disaster, our specialty cocktail will be the 16oz Hurricane Sandy: The recipe is Vodka, White and Dark Rum, Amaretto, Triple Sec, Orange Juice, Pineapple Juice in a pint glass with ice topped with grenadine. Cost is what ever the bartender can get out of you or $10.00. Tonight in the Backroom there will literally be an Open mic, in case anyone wants to rant. We will stay open as long as need be.