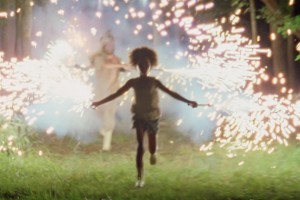 MOVIE TO SEE
Beasts of the Southern Wild is playing at BAM starting Friday, July 13th. I saw the film last weekend and loved it. It is worth the price of admission just to see the performance by 8-year-old Quvenzhané Wallis. For all of its magical realism and visual "tropes" it manages to convey the gritty survivalistic life of the impoverished inhabitants of the Bathtub outside of New Orleans nd the horror of Katrina. This visually and viscerally powerful film will make you understand Katrina in a new way.
MUSICAL THEATER AL FRESCO
Friday, July 13 at 8PM: Piper Theatre presents Xanadu, a theatrical reimagining of the Olivia Newton John movie with a young, enthusiastic cast, flying beachballs, and roller skates. 8PM in Washington Park in Park Slope.
WATERFRONT WALK
Sunday, July 15 at 2PM: Francis Morrone, an architectural historian who has written for The New York Sun, the New York Times and the Wall Street Journal begins a three-part Walking the Waterfront series (sponsored by the Municipal Arts Society).  It starts at the base of Manhattan, where the initial phase of the new East River Waterfront Esplanade opened in July 2011, and continues through undeveloped sections of the South Street Seaport. The other two tours examine development along the Hudson (Aug 18 at 2pm) and the Brooklyn shorefront (Aug 25 at 6pm).
POETRY AND MUSIC
Sunday, July 15 at 6PM: The Return of Urban Michef with poets Bill Evans, Thaddeus Rutkowski, Joanna Sit, Michele Madigan Somerville and Mike Sweeney will read with percussionists Peter Catapano and Tony Cenicola. Cornelia Street Cafe