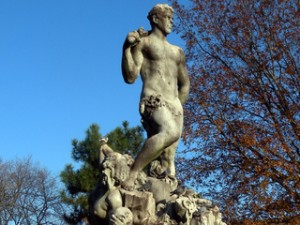 File this under: One more reason, among many, to visit Green-Wood Cemetery.
A sculpture created by Brooklyn sculptor Frederick William MacMonnies in 1919 is coming to Green-Wood Cemetery from Queens and is causing quite an inter-borough uproar.
Queens City Council Member Peter Vallone believes it should stay in Queens.
McMonnies, born in Brooklyn Heights,  is considered a part of the Beaux Arts movement. His sculpture of Nathan Hale is in City Hall Park inManhattan.
The heirs of the sculptor have offered to pay for the restoration of the statue IF it moves to Green-Wood. But Queens politicians and neighborhood leaders believe it should be kept in Queens.
An almost naked man standing over topless mermaids, the statue titled "Triumph of Civic Virtues" is no stranger to controversy. According to DNA Info, Anthony Weiner, before is sexting naked pictures scandal, called the statue "sexist" claiming it didn't represent virtue at all.