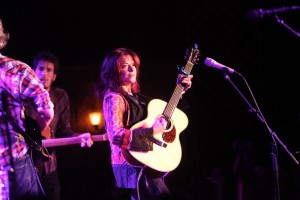 I arrived late for the Musical Extravaganza to Restore Red Hook (presented by Jalopy) at the Bell House but I didn't miss Rosanne Cash.
And that's a good thing.
At 10PM, Brad Lander, the respected City Council member for the district that includes Red Hook, Gowanus and Park Slope, took to the stage to introduce the legend who had arrived from Manhattan to pitch in for a Red Hook devastated by Hurricane Sandy.
Rosanne brought incandescent star power to the stage. But her cred doesn't just come from the fact that her dad is Johnny Cash, who made her a list when she was 18 of 100 essential country songs. She is also a smart songwriter with a flair for the well-chosen word. She's got a very generous and inclusive stage presence and a husband, producer John Leventhal, who is one hell of a guitar player.
Last night she did a few songs from The List, her album of contemporary interpretations of her dad's list, including to-die-for versions of Long Black Veil, Heartaches by the Number by Elvis Costello and Motherless Children. She also did Etta's Song and Modern Blue, two new songs from a forthcoming album about the South.
She opened with the rocking Radio Operator from her 2006 album Black Cadillac, which she made after her father, her mother Vivian Cash Distin, and her stepmother June Cash all died within a span of two years. Later she treated the audience to her big radio hit, Seven Year Ache. The arrangements of all the songs by John Leventhal betrayed a  delicious roots, country and twangy blues sensibility.
The audience screamed "one more song" when the band left stage and she obliged with one more. Her depth of spirit was clearly on display as she thanked the audience in return and urged the crowd to give generously to aid the restoration of Red Hook."
"I don't think I've ever had so much fun performing in New York City."
Photo by Tom Martinez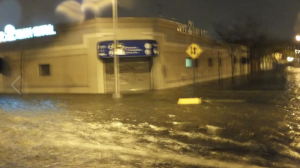 Pardon Me for Asking has pictures of the Gowanus area at 9PM Monday night. A friend of the blogger took the picture above and wrote: "the water down the street was a few feet deep, and very toxic. It smelled like oil and sewage."
Very scary.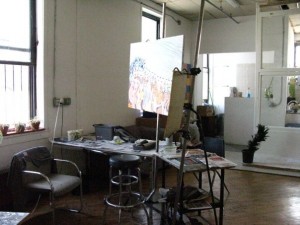 Seven years ago the Brooklyn Artists Gym opened. A resource for studio and exhibition space for local artists, the space has evolved many times to accommodate the ever growing number of members who made use of it.
As of this week, Brooklyn Artists Gym will operate under a new name, Brooklyn Art Space. There are two cogent reasons for the name change. "First, if the staff gets one more inquiry about fitness facilities, they may just lose it!" the new management writes in an email.
Secondly, and perhaps more importantly, Peter Wallace, the founder of Brooklyn Artists Gym, is moving on to other pursuits and will pass the torch to his current staff: Rhia Hurt, Director; Ajit Kumar, Advisor; Mary Negro, Gallery Coordinator; Jannell Turner, Consultant; and Rachael Whitney, Marketing Coordinator.
I remember seven years ago meeting with Peter at the now defunct Perch to discuss his new venture, Brooklyn Artists Gym. Perch must have just opened around that time, too. Peter had a real vision about it and many creative ideas that would come to pass.
"Peter's vision is what brought everyone here, and the staff will continue to expand upon this vision as Peter moves onto the next phase of his creative process. His insight, enthusiasm, and devotion to the studios will be missed!"
And so it is: Brooklyn Art Space is now christened.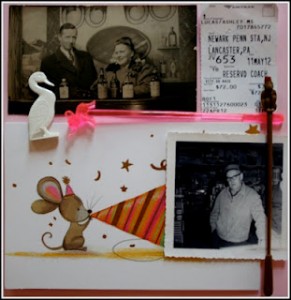 Here's a fun thing for teens and tweens to do this weekend. Great if you don't know what else to do with all those special family photos, cards, and random pictures on your wall.
Join Ashley Lucas at Film Biz Recycling this summer to make something super cool with your finds at home + the wonderful recyclables at FBR! Register today for Saturday's event.
Found Items Collage
Ages 10+ | Great for Tweens + Teens
July 22, 2012 | 1:00pm – 2:30pm
$15 Per Person
540 President Street, Brooklyn, NY 11215
Brooklyn Castle, a new documentary, is the story of a public school chess team at Williamsburg's IS 318. With rankings higher than Albert Einstein's and students from mostly low-income and immigrant homes, this dedicated chess team has captured over 26 national chess titles, more than any other  middle school in the United States.
Facing budget cuts and the threat of losing the chess after-school program, the instructors students and parents band together to help save the program.
This uplifting, must-see film will be presented by Rooftop Films on their very own rooftop in Park Slope/Gowanus on Saturday, July 21. Location: The Old American Can Factory (232 Third St. @ 3rd Ave). Doors open at 7:30PM. At 8PM, there will be a mini-chess tournament. The film begins at 9PM.