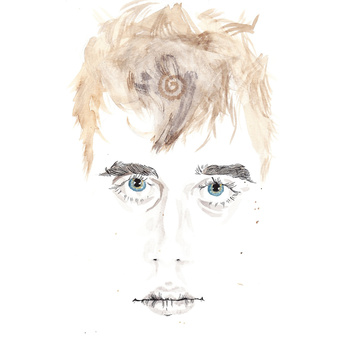 It has been interesting to observe my 22-year-old son Henry since January 20th when he released Wendy, his album of seven songs loosely based on Peter Pan. My son, whose solo musical project goes by the name of Small Wonder, seems to be walking with a spring in his step these days. He has a newfound confidence born of completion and validation. Within hours of Wendy's release on Band Camp, a digital music site, he was "discovered" by Gold Flake Paint, an influential blogger in England. Without reading it first, he read the following review aloud to us in the living room:
"I don't really know anything about Small Wonder. There was another full-length back in 2011 but nothing since. "Small Wonder is henry crawford and vice versa." is all that the album bio tells us and while it's not much to go on, I don't need any more than that. All I need to know is laid out across a record that just hit me, instantly. It makes me want to sob. It makes me want to hug everyone I've ever loved and apologise to all of those that I've let down. It makes me want to crawl in to the one I love now and hold her for longer than I ever have before. I feel connected to it. I feel like I grew up with it; like it knows all of my secrets and fears and hidden memories. I feel like it was made only for me. I feel like maybe it was made by me.

And this is where my new-found problems come in, because I've yet to tell you anything about Wendy. You don't know what it sounds like, which genre it falls in to, which of the seven tracks is the most catchy, where the hidden secrets are to be found – but you know what? I'm ok with that. There are times when I don't want to pull a record apart in that way, to deconstruct it to its roots. Sometimes I just want it to be there and to exist and hope that when someone reads the way it affects me, as a person rather than a magazine, they'll take a chance on it anyway."
In a stunned silence, we took in what we'd just heard. Then my husband spoke in characteristic understatement.
"I think that was a good review," he said.
After that astonishing rave, there were more reviews of my son's gorgeous song cycle about the difficulties of growing up. There were reviews from music bloggers in Greece and Italy. A French blogger compared Wendy to the films of Spike Jonze.  Leor Galil in the Chicago Reader wrote: "Small Wonder main man Henry Crawford calls his music "agnostic gospel," and that tag well fits his band's new album Wendy; the kitchen-sink indie-rock songs have nothing to do with religion (or gospel music for that matter), but they've got an otherworldly spiritual energy that's got me hooked." In NME, a British music weekly, the reviewer wrote: "Small Wonder is anything but inconsequential. Henry Crawford's project is grand and intricate." Just yesterday Wendy was mentioned in Stereogum: "Album highlight "Clearly Again" frames those concerns in a fragile yet expansive indie-rock ballad."
Within a day of its release, the album was picked up by a distributor called Father and Daughter Records. The album is available on iTunes and can be purchased as a tape cassette or LP. Don't look for a CD, CD's are, not surprisingly, done for.
Which isn't to say that I needed a bunch of music bloggers,  reviewers or an influential indie distributor to tell me that my son had created something special.  I've listened to the album almost daily since January 20th because I am fascinated by its lyricism, its slow building musical epiphanies, and its searing instrospection. The album is intricately based on the imagery of Peter Pan. In songs with names like Ball Lighning, Clearly Again, Patron Saint of Pretty Faces and Lost at Highway, Small Wonder describes the inner landscape of a young man transitioning from adolescence to young adulthood with a hyper-vigilant sense of awe and apprehension.
I am so proud of my son because he has not only created something complex and beautiful but he finished it, named it and put it out there for the world to hear. That is brave and strong. For someone who writes about his fears of growing up, I can't imagine a better example of it.
A word about the drawing of Henry on the cover (and on this post). It's by the extremely talented Susannah Cutler.