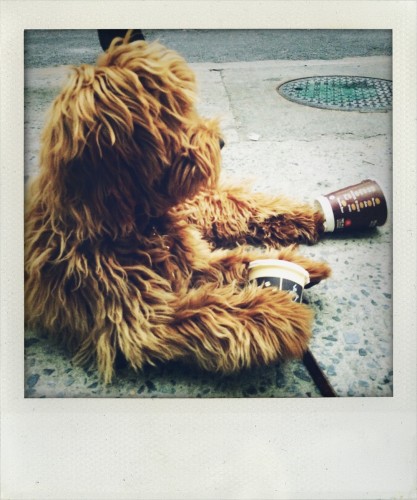 First things first: She used to live on Park Slope's Third Street. So that's a lot of cred right there.
Last week Suzanne Donaldson launched Mrs. Sizzle, what she's calling a dog and art blog, a site for dog lovers who admire art and photography. With her unerring eye, Donaldson and her team will bring you gorgeous art, leashes and pet accessories, tips on training, and most importantly: a resource for dog rescue. In fact, any photos that Donaldson shoots for the blog will be with rescue dogs in the hopes of finding them homes. Quickly.
Donaldson is eminently qualified to run a super-duper blog. She's been a photo editor for more than 20 years and is a woman of great taste and style. She's worked at Glamour, Interview Magazine, Robert Mapplethorpe Studio, various Condé Nast magazines, and as the director of Luhring Augustine Gallery in New York City.
Whoa.
Needless to say she is obsessed with dogs (has three of her own) and photography so starting a dog photography and art blog was, like, a no brainer. Yay for photo lovers, yay for dog lovers everywhere and yay for me, a new blog to have on my bookmark tab.
Check out Mrs. Sizzle for posts about Cindy Sherman and her parrots, William Wegman and his iconic Weimaraners, and a cool seventies shot of a car and a dog by the brilliant William Eggelston. Most fun of all, you can send snaps of your pets to her Snap Paws section. You just might see your shot posted on Mrs. Sizzle.
Congrats to Suzanne for this exciting venture or should I say adventure.
Photo by Ines and Vinoodh, who post their dog Leo's pic every day at @INEZVINOODH.  Find it on Mrs. Sizzle