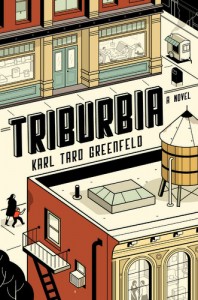 Amy Sohn's Motherland will be out next week but already the buzz begins. Today in the New York Times, Ginia Bellafante's article For a Spicier City, Turn the Page?, bundles Sohn's sequel to her bestselling Prospect Park West with a first novel by Karl Taro Greenfield called Triburbia.
According to Bellafante, "each of the two books revolves around the broader community of a highly ranked public elementary school: P.S. 321 in Park Slope and what is obviously P.S. 234 in TriBeCa, places so readily linked to an image of concerned liberal affluence that to a certain kind of New Yorker they hardly require annotation. Here the image of family wholesomeness gives way to a picture of acute marital anomie and rampant infidelity. Stereotypes endemic to the city populate: the entrepreneurial chef, the yearning screenwriter, the drifting vintage clothier, the gay father desperate for a second child, all of them sharing an aversion or mounting indifference to the partners with whom they've purchased their co-ops, renovated their kitchens and shared the enervating burdens of modern child rearing."
A book that will surely inspire conversation, debate and even secret late night reading Motherland comes out on August 14th. Mark your calendar.