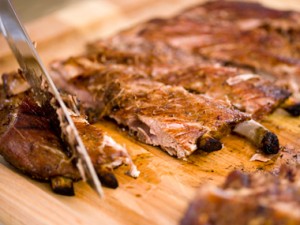 When Pork Slope officially opens on Saturday, you just might get a chance to taste what all the hype is about. Dale  Talde's new Park Slope outpost with the truly great name is more fun and folick than Talde, his elegant, delicious and somewhat pricey "Asian-American" eatery on Seventh Avenue.
With 25 beers on tap and more than 100 whiskeys, Pork Slope is ready for the Fifth Avenue crowds. And the crowds, I'm guessing, are ready for it. There's brisket to be had, as well as ribs, po' boys, pulled pork sandwiches, country ham 'n biscuits, and fried chicken.
The price point? I'm hearing that most dishes are below $15. Pork Slope is located on Fifth Avenue between Carroll Street and Garfield Place. Heck, it's in the space that used to be Aunt Suzie's, Park Slope's red sauce Italian powerhouse, co-owned by Irene LoRe, president of Park Slope Fifth Avenue BID.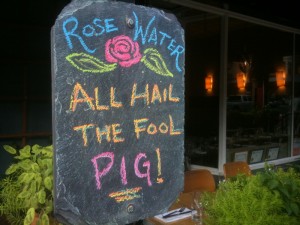 August 23 is the official date for Rosewater's annual Salute to Swine Fest!
They're firing up the Party-Que Spit and roasting a fine piggy from an upstate address over hardwood coals.
The pork will be served with cole slaw, corn on the cob, heirloom tomatoes, cold draft beer and fresh pink wine and you've got one swell porcine summer soirée. "We'll have more fun than a possum in the corn crib with the dog tied up!" is what they're saying.
Tickets go on sale Thursday, July 26th at 1pm. $78, all inclusive of beverage, tax and gratuity. Get yours quick – it's always a sellout. 718-783-3800, phone only.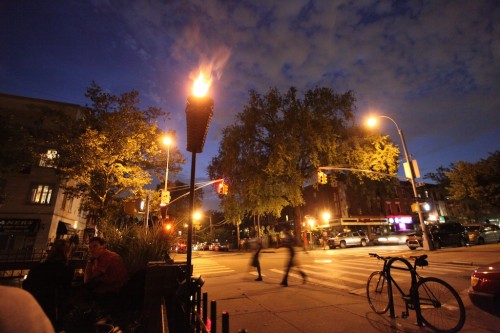 Pinkberry has chosen Park Slope as the location of its first Brooklyn shop. An honor, I'm sure. The official opening day is July 20th. Shhhh, I  think there's going to be a grand opening event on July 19th. Keep your eyes open, there  just might be frozen yogurt coming out of those spigots.
Pinkberry isn't just a national yogurt chain, it's global with outposts in Egypt, Jordan, Kuwait, Russia, Turkey and Bahrain among others. On their website they say they originated the tart frozen yogurt that everyone serves now. They also serve smoothies, fruit parfaits, waffle cookies, cones and fruit bowls with a wide variety of toppings.
The new Park Slope location is 161  Seventh Avenue on the corner of Garfield Place. For many years, there were various Japanese restaurants in that spot. Most recently there was the Seventh Avenue Wine Bar. Upstairs is Rancho Alegre, the Mexican restaurant I've only been to once many years ago.
Nuff said.
Park Slope is becoming something of a frozen yogurt mecca. There's the very popular Culture: An American Yogurt Company on Fifth Avenue between 3rd and 4th Streets. This company, which originated in Park Slope, makes their yogurt in-house from live probiotic cultures. Toppings like key lime and blackberry pie are pretty wonderful.
There's also Yogo Monster, now a serve-it-yourself establishment on Seventh Avenue near Union Street with a "salad bar" of  fruit, nut and candy toppings. The make-it-yourself aspect is really fun and easy.
So get ready for the frozen yogurt Olympics. Pinkberry, Culture, Yogo Monster. Let's see who wins our vote.
Wasabi-crusted tuna with orange sauce: A Kitchen in Brooklyn
A  stolen cheesecake: A Cake Bakes in Brooklyn
Peter Pan donuts at Farmacy: Eat It
Comida Mercado Fresco and Brooklyn Fare: NY Times
Should bodegas be armed?:  The Brooklyn Ink
New gin distillery in Sunset Park: TBI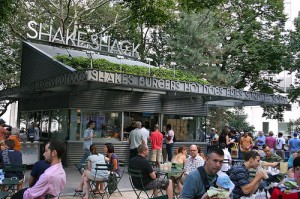 Yeah. It's pretty exciting. And I've never even been to the Manhattan Shake Shack. But Hepcat has and he LOVED IT.
Part of Danny Meyer's foodie empire, the hamburger, fries and shake shack made its name and fame in Madison Square Park in 2004 (pictured above).  It is now crossing the bridge to Brooklyn and people are pretty darn excited.
Well, not everyone.
Sal Casaccio, owner of Tony's Famous Pizzeria, which has been in business for 20 years, at the corner of Fulton and Adams Streets, is reportedly not too thrilled.
He told the Brooklyn Paper: "We got caught in the flood of landlords trying to bring in so-called big business — I can't believe they're taking this building from us,"