Our man Brad Lander, City Council Member for the 39th District, is in the news yet again this week. Earlier in the week Lander penned a piece in the Huffington Post against the nomination of Cathie Black for NYC Schools Chancellor and now he's speaking out against full body scans at airports.
Today on the steps of City Hall, Lander joined Council Members David G. Greenfield, Gale Brewer, Fernando Cabrera, Debi Rose, Robert Jackson and Jumaane Williams in support of legislation that would ban the use of full body scanners in New York City, including New York's two airports – JFK International Airport and LaGuardia Airport.
The Council Members were also joined by  Marc Rotenberg, a professor of law at Georgetown University and President of the Electronic Privacy Information Center (EPIC). He is heading up a  lawsuit to suspend the deployment of body scanners at US airports, pending an independent review.
I just got word about last night's forum on the future of Gowanus, Envisioning a Green Gowanus & Beyond. The series, presented by the Fifth Avenue Committee, hopes to ensure community participation in the Gowanus Canal Superfund and other community redevelopment processes.
Last night's forum, Making a Splash, was held at The Old American Can Factory. Community residents, elected officials and other local leaders were there, in addition to representatives from the US Environmental Protection Agency (EPA) and members of the EPA's Community Advisory Group (CAG).
The "Making a Splash" forum highlighted what the public can expect from the Superfund process. The forum included an educational presentation by experts from the Edison Wetlands Association about their extensive experiences with the Superfund clean-up process and the importance of on-going community participation.
A representative from the US EPA also provided details on the government agency's role and mission to remediate the site. Local City Councilmember Brad Lander also voiced his commitment to being a part of the community discussions and efforts to encourage efficient, thoughtful clean up of the waterway and new development alongside the Canal.
Brad Lander is one of many NYC City Council Members speaking out against the nomination of Cathie P. Black for NYC schools chancellor.
Over the past few days he has heard from many in Brooklyn's 39th district (which includes Park Slope, Carroll Gardens, Kensignton, Boro Park and Windsor Terrace) who are furious about her nomination. Lander is also urging members of his district to join him and other members of the City Council on the steps of City Hall at 11 a.m. on Wednesday in support of Councilmember Jumaane Williams City Council Resolution calling on the State to deny the waiver to Ms. Black. Here is an excerpt from his email:
"As I wrote on Huffington Post the nomination Ms. Black – with no background in education, no track record of public service or knowledge of government, and no demonstrated commitment to public education – through a brazenly secret process, reeks of contempt for democracy and disregard for our kids.
"And there's more at stake than just cronyism. Her appointment is also symbol of a critical choice we are facing: Are our public schools a place to educate well−rounded citizens for the New York City of tomorrow? Or are they the junior academy of corporate America, oriented around test−taking and the bottom line?
"So, it's time to stand up for our schools.
"Because she has no educational experience, under State Law Ms. Black requires a waiver stating that her "exceptional training and experience are the substantial equivalent" of teaching experience and academic credentials. How anyone could make this argument with a straight face, I'm really not sure.
"Sign this petition to urge State Education Commissioner David Steiner not to grant her a waiver."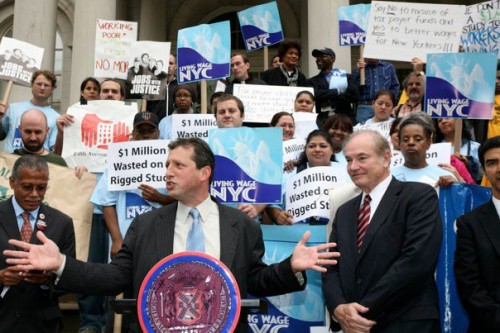 At a rally organized by LIving Wage NYC at  City Hall yesterday, City Council Member Brad Lander (who represents Carroll Gardens, Park Slope, Windsor Terrace, Kensington and Boro Park) along with other Brooklyn and NY city council members, verbally blasted the Economic Development Corporation (EDC) for spending (they say wasting) $1 million on a living wage study that they believed was rigged in support of Mayor Bloomberg's opposition to the concept of a living wage.
Bloomberg supports the concept of an arbitrary minimum wage that may or may not have anything to do with where the person lives and whether it's actually a livable salary for someone living in, say, New York City, one of the most expensive cities on the planet.
A living wage is wage based upon the cost of living in an area, rather than an arbitrary minimum.
In an ideal world: someone who works an ordinary 40 hour per week job would be able to afford shelter, food, health care, and other basic necessities of life. What a concept!
Existing legislation defines a living wage in New York City as a minimum of $10 per hour with benefits, or $11.50 per hour without benefits. Good luck living on that anywhere in New York City. (Click here for the Living Wage Calculator).
Opponents of the EDC's report backed up their frustration with a report exposing Charles River Associates (CRA), the group chosen by the EDC, as a management consulting firm that is actually opposed to  living wage and even minimum wage policies.
A detailed report was written about the Charles River Group by the Fiscal Policy Institute (FPI) and the National Employment Law Project (NELP), two highly respected economic research groups.
Read more at the website of Living Wage NYC. Photograph of Brad Lander by Tom Martinez.
Multiple homicides make for bloody weekend: Gothamist
Municipal Arts Society Summit: Atlantic Yards Report
Indomitable Freddy's to open in Fifth Avenue space: Develop Don't Destroy
Sheepshead Bay mosque is back on: Brooklyn Paper
Public hearing on Slope landmark expansion: Brad Lander's website
Your personalized subway map: City Room
New York City Councilmember Brad Lander is hosting the "School Food Rocks Conference" to get parents, educators, students and food activists talking about bringing healthy and sustainable school food to District 15 neighborhood schools.
The conference is a first step int he process to improve school food and help build networks for parents and school leaders who are interested in this issue.
The event will feature keynote speeches by Chef Jorge Collazo, the first executive chef of the New York City schools and celebrated author and "Renegade Lunch Lady" Chef Ann Cooper .
What: "School Food Rocks," conference on healthy school food
When: Saturday, October 23rd. Conference 10-2:30pm (keynote speeches are scheduled between 10:30 and 11:30 AM).
Where: MS 51- William Alexander Middle School , 350 5th Ave , Brooklyn , NY 11215
Eric McClure of Park Slope Neighbors spearheaded this morning's rally in support of the bike lane on Prospect Park West. According to McClure: "The relative size of the two events this morning — about 350 people at our rally and about 75 at the protest — once again demonstrates that there really isn't a "controversy" over the calming of traffic and addition of a bike path to Prospect Park West."
In an email interview, McClure said that he believes the redesign of Prospect Park is favored by most Park Slopers. "While the empirical data clearly supports the project — our radar study revealed a 25% drop in average speeds and an 80% reduction in drivers exceeding the speed limit, figures that we're confident will be confirmed by the Department of Transportation's own measurements — it's also clear that when it comes to a popularity contest, the redesign of Prospect Park West is a clear winner."
A survey put out by the offices of Councilmembers Brad Lander and Steve Levin should further help determine the community's opinion of the changes on Prospect Park West.
This morning proponents of the Prospect Park West Bike Path and Traffic Calming Project gathered at  Grand Army Plaza to show their support for a calmer, bike-friendly Prospect Park West.
At almost the same time opponents demonstrated their opposition to the new Prospect Park on grounds of public unsafety.
I wasn't able to make it because that's the "get my daughter off to school time of day" but I wish I could have heard the dueling demos.
According to Park Slope Neighbors, the group that initiated the bike lane in the first place and encouraged the Department of Transportation, the bike lane has reduced dangerous and illegal speeding by 80%.
This group is trying to make it "crystal clear to the press, elected officials, and opponents just how much this project is valued by the entire community."
But others find it dangerous and ugly. Lois Carswell of Seniors for Safety told CBS News: "It has not only made it more unsafe, but it has made it hideously ugly," she said. Adding that dodging bikers while crossing the street has made her feel unsafe.
Councilmembers Brad Lander and Steve Levin, in conjunction with Brooklyn Community Board Six, have posted an online survey seeking opinions about the Prospect Park West Bike Path and Traffic-Calming project.. If you haven't already fill out the survey, it's easy and fast.
Councilmember Brad Lander, Councilmember Stephen Levin, and Brooklyn Community Board 6 want your feedback on recent changes to Prospect Park West!
Do the Survey. It's easy, it's fast and it's your chance to register your opinion about the controversial bike lane.
Earlier this year, the NYC Department of Transportation changed Prospect Park West from three to two lanes of traffic and installed a separated two-way bike lane. The goal: to reduce speeding, to encourage and improve city biking and to increase pedestrian safety.
This fall, DOT is studying the effects of these changes, including data on accidents, speeding, vehicle and bicycle volumes, and cycling behavior, which they will present to the public in 2011.
Councilmember Lander, Councilmember Levin, and Brooklyn Community Board 6 are gathering feedback on these changes, in order to provide an opportunity for resident input.
Do the bike lane survey, do the bike lane survey!
Councilmember Stephen Levin, Councilmember Brad Lander, and Community Board 6 have launched a survey to hear feedback from residents and commuters regarding the Prospect Park West Bike Lanes.
Yesterday I got this note from City Councilmember Brad Lander:
"Like everyone I've talked to, I was sickened to learn of the gut−wrenching hate attack in the Bronx last week, in which nine young men tortured and brutalized a gay man. This comes right after the painful suicide of Tyler Clementi at Rutgers, and the recent suicides of at least a half−dozen gay teenagers around the country after anti−gay bullying.
"And then this weekend, I was appalled at Carl Paladino's shockingly insensitive, bigoted comments in Borough Park, claiming that he does not want kids "brainwashed into thinking that homosexuality is an equally valid and successful option." As someone who (proudly) represents part of Borough Park and (proudly) believes in LGBT equality, I can assure you that even plenty of Orthodox Jews who don't support marriage equality on religious grounds were furious at what he said – and where and when he said it – recognizing that neither politics nor religion can be an excuse for giving cover to violence and hate.
"And all of this less than a year after I had hoped we were on the cusp of passing marriage equality in New York.
"It sure doesn't seem like so much to ask that our friends and colleagues could have the simple dignity of knowing that their government doesn't think less of their love than of mine. Or that the many kids of gay and lesbian couples who are growing up in our neighborhood would know that their families are entirely welcome and equal. Or that teenagers discovering their own sexuality would feel safe in who they are, not bullied by their classmates, or brutalized by hateful thugs, or demeaned by politicians pandering for votes.
City Councilmember Brad Lander (Democrat, 39th District) seems to be taking on the issue of healthy food in the public schools. In the following email sent my way, he talks about salad bars in the schools, school gardens, getting rid of Styrofoam and more. And that' s not all. He and other local school leaders are even planning a local food conference.
As I talk to the parents of public school students, one issue I've heard about often is school food – making it more nutritious and sustainable, and getting kids to eat healthy meals (not always at easy thing, I know, as the parent of a 7 year old and a 10 year old).

Many schools in our community have already taken some great steps forward – among other things, they're putting in salad bars, planting school gardens, working with SchoolFood staff on menus, getting rid of Styrofoam, reducing waste, and planning harvest days. As I educate myself further, I've learned that there are many ways for schools to improve the food they serve and that there are many actions we can take, as a city, to do better in feeding our children when they're not at home.

Toward that end, my office and parent leaders from local schools have been working together with the New York City Department of Education's Office of SchoolFood, the Brooklyn Food Coalition, GrowNYC, the District 15 Community Education Council and other organizations on the "School Food Rocks" conference, to be held Saturday, October 23rd.

"School Food Rocks" will bring together parents, educators, students, SchoolFood staff, and food activists to discuss how we can work together to achieve healthier and more sustainable school food throughout District 15. The conference will help schools get started or take next steps in improving their food programs, and strengthen the network of parents and school leaders working on food issues.

The conference will take place on Saturday, October 23rd, from 10am-3pm, at MS 51 (350 5th Avenue). You can register through our website. The day-long event will include an expo fair of sustainable school food programs; workshops on a range of topics; and keynote speeches from Chef Jorge (the first executive chef of the New York City schools) and celebrated author and "Renegade Lunch Lady" Chef Ann Cooper.

Topics covered at the conference will include:

* starting a school garden
* working with SchoolFood on implementing salad bars and healthy menus
* improving your schools' recycling program

Whether your school already has an active sustainable food program, or is just getting started, this conference will be a chance for you to share best practices and collect new information.
The tornado clean up in Brooklyn continues—and stories unfold about what happened during the brief but fierce storm.  3000 trees, some as old as 200-years-old, are estimated to have been destroyed in Brooklyn, including much damage in Prospect Park.
Throughout Park Slope Parks Department and private arborists and tree specialists were seen cleaning up after the storm. Some streets like Prospect Park West were swiftly cleaned up. Neighbors helped neighbors in the clean up. City Council member Brad Lander urged citizens to pitch in with the clean up:
We'd like to build on that spirit tomorrow and over the weekend.  I've talked to some people tonight that could use some help, and I'm sure there will be more.  If you've got a few hours in the next couple of days to help clean and remove debris — or if you could use a bit of help from neighbors — email my office at lander@council.nyc.gov, or call us tomorrow at 718-499-1090. If you leave a message or send an email, please include your name, contact info and times you are available to help.
But the trees weren't the only thing damaged. In the New York Post, Council member Tish James released a list of damage in her district:
• Totals Tree-Related Calls: 1750
• Trees Down: 849 citywide (182 in Brooklyn). That number was later upped to roughly 1,000 citywide.
• Parks Department completed 94 work orders regarding trees down
• Parks Department deployed 22 crews to work through Thursday night. FDNY provided 6 tree-removal crews. NYPD provided 14. The Sanitation Department provided five. The Transportation Department also provided five teams.
• Most power outages were due to downed overhead lines. Total customer outages are 28,324 (just 49 in Brooklyn).
• Number of reported buildings damaged was 45 (Brooklyn had 22).
• There were 27 schools reporting trees down.
The following is a message from City Councilmember Brad Lander responding to last night's tornado in Park Slope, Brooklyn.
Dear Neighbor:

As too many of us know first-hand, earlier this evening a fierce, fast-moving thunderstorm moved through our area, causing significant damage throughout Brooklyn and Queens. In addition to lighting and heavy winds, there were reports of a tornado touching down in Park Slope.

Downed trees caused serious damage to homes, stores, and cars throughout our neighborhood.  Quite a few streets remain closed at this hour, and I know some of you will be dealing with severe damage in the days ahead.  Fortunately, injuries seems to have been limited.  Schools will be open tomorrow (it is true that two large trees fell right in front of MS 51, but they did not damage the building, and they've assured us that school will be ready to start on time).

Below is some emergency management information if your home or vehicle suffered any damages during the storm.  Thanks to the NYPD, FDNY, Parks Department, and others for their quick response (locally, they helped at least one family who were trapped inside their house).

The most heartening thing I saw on my walk around the South Slope tonight was neighbors on every block helping each other clear debris, move downed trees, sweep up glass, and even help a neighbor find a place to stay.

We'd like to build on that spirit tomorrow and over the weekend.  I've talked to some people tonight that could use some help, and I'm sure there will be more. If you've got a few hours in the next couple of days to help clean and remove debris — or if you could use a bit of help from neighbors — email my office at lander@council.nyc.gov, or call us tomorrow at 718-499-1090. If you leave a message or send an email, please include your name, contact info and times you are available to help.

-Brad

---

How to Get Help:

If there is a life-threatening situation (a downed power line, dangerous debris) call 911.

If there is significant debris that is blocking the street or a fallen street tree, please call 311.  Feel free to email your report to my office as well, after you call 311, and please include your 311 confirmation number.

If your house is uninhabitable, call the Red Cross for emergency assistance 1-877-RED-CROS

If you have a power outage, call Con Ed at 1-800-75-ConEd or www.coned.com.

If you have lost phone service, call Verizon at 1-800-837-4966.

If you have debris on your property that the city cannot take care of and you are physically unable to do so, email or call my office to see if we have volunteers that can help.

If urgent items, such as blocked streets or crushed cars, are not dealt with by mid-day tomorrow, or if you have any other questions or concerns, please feel free reach out to my office at 718-499-1090 for help.
Crossing the street at 9th Street and Fourth Avenue just got a whole lot less dangerous.
Park Slope City Council Member Brad Lander and other Park Slope and Sunset Park pols and community leaders joined DOT Commission Janette Sadik-ahn to unveil pedestrian countdown clocks, which are set to be installed along the length of 4th Ave from Pacific to 65th Streets and on 3rd Ave from Prospect Avenue to 63rd Street, display numbers that count down the number of seconds remaining before the "flashing hand" phase turns solid red.
Those signs have proven to be a big help for pedestrians at dangerous crosswalks because they can decide whether there is enough time to cross the street safely and reduce the number of pedestrians still in crosswalks during the "do not walk" phase of the light.