In case you missed it at the New Voices Festival, catch Robin Hessman's fabulous documentary My Perestroika this Tuesday (tomorrow) as part of the IFC's Stranger Than Fiction series.  More info and tix here.
Singer Judith Berkson celebrates the release of her CD Oylam (ECM) next Monday, May 24 at Joe's Pub. On October 9 she will perform with the Kronos Quartet at Le Poisson Rouge in a program including her arrangements of Schubert lieder.
For news of Andrea Weber and her fellow dancers – as well as beautiful videos of the late, great choreographer – check the Merce Cunningham website.
Julie Worden and the Mark Morris Dancers return to Lincoln Center this August during Mostly Mozart to perform Morris's masterwork L'Allegro, il Penseroso ed il Moderato. This is a must-see if there ever was one.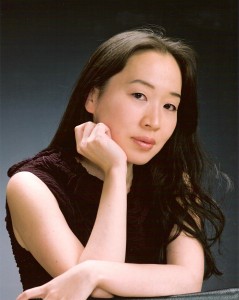 Sarah met pianist Hiroko Sasaki at Blue Ribbon Brooklyn, where the kitchen is open late and the staff is always as sweet as Sauternes.  Hiroko will perform the gorgeous Debussy Preludes this Wednesday at Carnegie Hall's Weill Recital Hall.  Tickets are still available. Do your dreams a favor and come.
Sarah: It's rare to play both books of the Debussy Preludes in the same concert.  What motivated your choice?
Hiroko: I feel very strongly about the music of Debussy. I feel comfortable with his language, and I love his imagination. At first I wasn't sure that having both books on the same concert would be easy to listen to, but I have played them together a few times now, and people seem to enjoy it very much. Although they were not written too far apart – Book I in 1910 and Book II in 1913 — they are different. I think it's a nice opportunity for people to hear all of them at once.
Sarah: The preludes have very descriptive titles.  How do these titles influence your performance?
Hiroko: Debussy put the most intricate and exquisite markings and titles in his scores. It is worth mentioning that he placed the titles at the end of each piece, in parentheses and preceded by three dots, as if to say, "If you want to hear it this way, go ahead, but only if you want to." It's beautiful that they're presented as afterthoughts, but I have taken them in all the way.  When I play the first few notes of the Footprints in the Snow, I am alone in a very, very cold and white landscape where everything is frozen and very lonely. When I play the Hills of Anacapri, it's a southern island with wind blowing against my face and the Mediterranean blue sky in the background. To me, that's just in the music.
Sarah: How old were you when you began playing the piano?
Hiroko: I was three.  But it wasn't until I left Japan to study in the UK, when I was 13, that I realized I truly enjoyed making music and that I wanted to do it for the rest of my life. I remember feeling, "Hey, I really love doing this, and I'm good at it!"
Sarah: What do you look for in a piano?

Hiroko: I look for a personal connection. I always have a very strong reaction to pianos. Generally, I like old pianos. They seem to have a more personal tone. I enjoy feeling that I can have conversations with the instrument I'm playing.  Sometimes a piano will surprise me and give me a sound that I did not expect. Performance can become so much more alive when that happens. It is difficult to find that in newer pianos.
Sarah: You study with the wonderful Sophia Rosoff, the leading teacher of the Abby Whiteside method.  Can you tell me what you've learned from her?
Hiroko: This is very difficult to put into words. Although I have been influenced by her for a long time now, it is only fairly recently that I have come to understand the anatomy of what she does.  I had a typical conservatory training at Curtis and Peabody— a very good one, too—but sometimes the experience can seem to add up to people continually telling you what to do and how to do it. I went to Sophia feeling desperate, and I kept going back, even though I didn't quite understand what she was doing to me. People used to ask me what she did and I just didn't know how else to describe it except "love."  I still believe that's a large part of what she does and who she is. I've learned so much from her technically, but I think her core lesson is that she never separates what's physical from what's internal and musical. I couldn't do what I'm doing now without her help.
Sarah: What does classical music have to teach us in the 21st century?
Hiroko: You tell me!  Actually, I think about this quite a bit.  Sometimes it feels so silly to me, everyone playing the same old repertoire that has already been played by millions of people.  It's not like the old days, when recordings were not readily available, and people had to go to a concert to hear music, and the performers were closer, culturally, to the composers.  Or the really old days, when the performers were the composers.  Having said that, these are great works of art that have survived the test of time. We can always go back to them and be nourished.  I often notice that my impressions of a certain historical time and place are quite vivid, though they are informed almost entirely by music. Classical music takes people to different places in space and in time.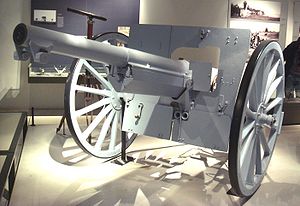 FRENCH 75
Born about the same time as the Debussy Preludes and similarly enduring, this cocktail was a favorite of US soldiers stationed in France during WW1.  Most educated drinkers agree that the French 75 is on the short list of Best Drinks Ever, although battles still occur over the proper base spirit.  In tribute to its potency, it was named after the French 75-mm anti-tank gun. The Savoy Cocktail Book warns, "It hits with remarkable precision."
1 ounce gin (sometimes made with Cognac)
1/2 ounce simple syrup (equal parts sugar and water, heated to dissolve, then cooled)
1/2 ounce lemon juice
chilled brut champagne
Shake first three ingredients very well with ice, and strain into a chilled flute.  Top with champagne.  Twist a lemon rind over top to express oil, rub around rim, and discard.  This is the perfect thing to drink in a sunken cathedral.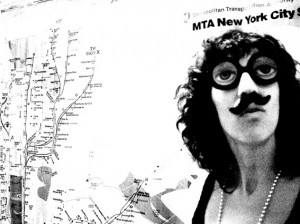 Sarah met Cristina Guadalupe for burlesque and beer at the Galapagos Art Space.  Cristina is an architect and artist who recently moved to Brooklyn from her native Barcelona.
Her short film Moose Youth will screen at Powershovel Art Space in Tokyo this May and in Los Angeles in July.  She is currently working on a new short called Le Dauphin, featuring fellow diva Peekaboo Pointe, which will show at gallerie du jour – agnes b in Paris from September 9-23.
Sarah: What is your favorite building in New York?
Cristina: The Guggenheim.  There is no building in the world that achieves what the Guggenheim does.  Even if you have been many times, as you approach the building it remains so alien, so crazy and unexpected.  It has gone far beyond what Frank Lloyd Wright could have expected.  You cannot display art in the Guggenheim or curate a show without taking the space itself into account.  Even though it is all white, it is anything but a white box.
Sarah: What is the purpose of architecture?
Cristina: Vitruvius said that architecture enables things to happen and contains the activity.  It's not necessary to construct a solid thing.  What is most important is making the social interaction that happens in a place the best it can be.  Like a piazza in an old city is a political space, a void that creates a place where people can gather and discuss.  Architecture is not solid; it's void.  It's about letting it happen.  Today, though, this is getting more complex because people gather more and more in virtual spaces.
Sarah: Do you see any connections between your study of architecture and your filmmaking?
Cristina: Moose Youth was a cinematographic essay about a place. There was this space I fell in love with – a space between walls with no roof and the F train circling around.  It gave me the same feeling I felt with a Plaza de Toros.  Although the film had some sort of structure – introduction of the character, development, and end – it was more photography in motion than a narrative film.  It was also about how at the end of ourselves there's this space where no one gets in, not our husband, not our mother, not our friends.
Sarah: Tell me about your next film.
Cristina: Le Dauphin was the title given to the heir apparent to the throne of France and is also my main character, Victor, a smart, French 19-year-old boy.  It's filled with crazy Brooklyn characters.  It's like Alice in Wonderland meets Don Quixote meets the Catholic journey down into the Inferno.
Sarah: I can't wait to see it!  How do you make the films?
Cristina: I use a handheld Japanese camera called a Harimezumi.  It's digital but the quality is like Super 8.  It's low res.  Moose Youth is silent.  I was going to do music, but the images alone are so powerful. Le Dauphin will have some dialog and music.
Sarah: At the end of the day, do you consider yourself an architect or an artist?
Cristina: I'm not 100% architect or 100% visual artist.  Sometimes I get worried that I'll be a dilletante. Jean Cocteau, who is my biggest influence, was accused of being a dilletante, because he was a painter, a writer, a cinematographer, and a poet.  So I guess I can't worry about it.  I feel deep inside of me that everything I do is just the expression of my art.  I feel the same feeling whether I am designing a building or making a film. Cocteau said that all were expressions of his poetry.
Sarah: Aren't films innately different, though, because they unfold in a linear way?  A building can be approached from any angle.
Cristina: Yes and no. Above all, cinematography is creating a scenario and a place where things are going to happen. The film is not the movie itself but the invisible element you are taking back home. Cinematography is a tool for expression. Sadly the industry has turned it into a pale shadow of what it could be. This place we are trying to go: it's where we put a platform of experimentation out there that lets many interpretations happen and new questions unfold.  Just like the void in the piazza.
THE WEDDING BAND
Go to Galapagos Art Space for the art and the space, not the cocktails.  We stuck to beer and wine, avoiding the electric blue Cosmos and scary cocktail specials such as the "Back Alley Orgasm."  The burlesque was intoxicating enough.  Instead, here's a cocktail I designed for Cristina's wedding.  A week before you want to drink this, fill a sterilized jar with a cut, ripe pineapple, then fill jar with aged rum.  Let sit for a week, shaking daily, then strain and keep it in the frig.
For two cocktails, muddle together in the bottom of a shaker:
1/2 lime, cut into four pieces
1/4 ounce simple syrup (equal parts demerara sugar and water, heated to dissolve then cooled)
1/4 ounce St. Elizabeth's Allspice Dram
1/4 ounce Maraschino Liqueur
Fill shaker with ice and add:
2 ounces pineapple-infused rum
2 dashes Peychaud's bitters
Shake very well.  Strain into two chilled flutes, filling glasses halfway.  Top each cocktail with:
approx. 2 ounces ice-cold NV champagne
Viva Cristina!
The always-enticing Peekaboo Pointe will dance this Saturday at Galapagos Art Space.
Judith Berkson celebrates her record release at Joe's Pub on May 24.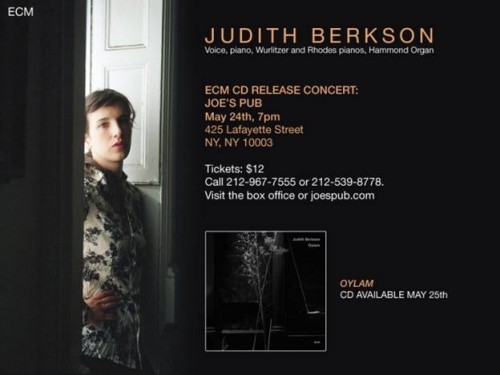 This week's Diva is Indigo Street, guitarist/singer/songwriter, who performs solo as well as with Shahzad Ismaily/101 Crustaceans/Landlady. Sarah met Indigo at the wonderful Walter Foods in Williamsburg for some lobster rolls and strong drinks.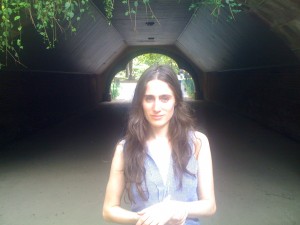 Sarah: Tell me about your travels as a kid.  Why'd you run away from home at fifteen?
Indigo: I grew up in a fairly small, privileged part of the NYC arts community.  By the time I was twelve I'd danced at Lincoln Center and BAM, and even Madison Square Garden, so the stuff other people can't wait to get to NY to do seemed sort of pedestrian to me.  I felt there was something else out there.  It was all very fantasy-based, very bohemian.  I went to Woodstock with some friends for the weekend.  I saw this guy walking through town barefoot, holding a guitar.  I think he was wearing a buckskin vest.  The next weekend I lied to my mother and told her I was going back to stay with friends.  She dropped me off and I just sat under a tree in the center of Woodstock and waited for the guy with the guitar.
Sarah: Did he show up?
Indigo: After an hour and a half, he walked up to me and sat down.  We ate ice cream for dinner and slept in the woods.  It was very romantic.  We hid out for a while in a half-built house that was just the wood frame, which is my favorite stage in the life of a house.  Crows perched on the window-less windowsills.  People kept telling me the police were walking around town with my picture, so on the fourth night we got someone to drive us over to her place. It was the middle of the night and she came down in her nightgown, and she was so cool.  I remember her asking if anyone wanted a cup of tea, which in retrospect is amazing, 'cause I had been so horrible and inconsiderate.
Sarah:  How long did you stay home?
Indigo: A few days, then I went back on the road.  I was at college briefly, but I got kicked out. You're not supposed to be able to get kicked out of Simon's Rock, but somehow I managed.  I moved back to NY at about 17.
Sarah: What's more important to you: sex, drugs, or rock and roll?
Indigo: Ooh, that's hard.   Right now I'm pretty much trying to abstain, so I'm liable to say sex.  And though occasional, my love of drugs is holding strong.   Altered states can facilitate great music making, and music making, itself, can produce some of the best altered states!  I guess that's what formed that holy trinity in the first place.
Sarah: How do you get so many different sounds out of the guitar?
Indigo: Often, rock guitarists rely on pedals to get different sounds, but I feel fortunate in that I didn't learn to use them earlier.  It made me learn to use the pick to vary the sound, different parts of my fingers, different articulations.  I used to have an apple corer I loved to play with.  It came in handy when I broke my wrist.
Sarah: What are the advantages of being self-taught as a musician?
Indigo: It makes invention easier. It more easily creates a musician who has their own voice rather than someone who is proficient but has trouble being original.  Being self-taught gives you idiosyncratic skills and gaps.  But that's okay, because my main goal has always been to remove craft and artifice and get to the emotional heart of things.
Sarah: What does avant-garde mean to you?
Indigo:  That's an interesting question.  I think that 30 years ago it just meant music that was pushing boundaries, music people hadn't heard before.  New.  But now there's a specific sound attached, even a specific location – the downtown scene, places like the Stone – this kind of sound that's without a melody, often without a key.  I like a lot of that music, and as a guitarist enjoy playing that type of music, but as a writer that doesn't feel like the truest expression for me.  I have to be careful not to worry about what is new for other people.  I try to create something that's new for me, allowing it to feel as simple as possible and to include any and all influences.
Sarah: A lot of people are worried about shedding their influences.
Indigo: Not me.  I feel that imitation is possibly the most important part of being an artist.  Being an artist is a spiritual practice.  It's devotional, and you find your devotion by connecting to the people who have come before you in your art form.  By paying careful attention to what moves you, circling around it, you circle around yourself, really.  That's how you find the kernel of yourself.  I mean, I spent years in my bedroom imitating Ray Charles, learning his albums note for note.  There is no danger I'll ever be accused of sounding like Ray Charles!  But when I listen to him and I feel like my head will explode, that's who I am.  That love.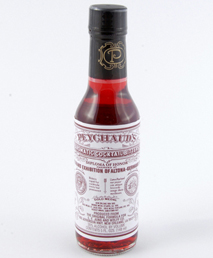 THE SAZERAC
After giving up heroin, Ray Charles had the same drink every day for the rest of his life: half a mug of black coffee with half a mug of Bols gin and two sugars.  We should pick and choose what we imitate.  Instead I recommend the Sazerac, the classic New Orleans whiskey drink, which they make exceptionally well at Walter.  This will put you in the mood for sex, drugs, rock and roll, and everything.
Mix in cocktail shaker filled with ice:
2 ounces rye (also delicious made with Cognac, or a mix of half-Cognac, half-rye)
1 barspoon simple syrup
3 dashes Peychaud's bitters
Stir for a long time.  Fill a short rocks glass with ice and drizzle a little absinthe over the ice.  Swirl it around, then discard ice and absinthe.  Strain the cocktail into the absinthe-rinsed glass.  Twist a lemon rind over the top, rub around rim, and drop in.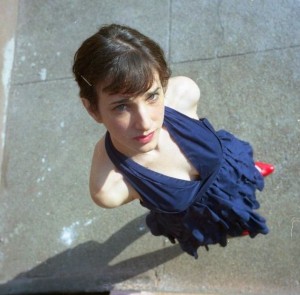 Sarah met singer, composer, and instrumentalist Judith Berkson at Barbes to talk about her beautiful new CD Oylam, due out next month on ECM Records.  Stay tuned for news about her upcoming shows, including a May record release at Joe's Pub.
Sarah: What was your earliest exposure to music?
Judith: My dad is a cantor, and he was teaching me all the prayers by ear starting at age three.  We had a family band – my mom played piano and we sang three-part harmony.  My dad was really strict.  He forced me to listen to opera, which at the time I resented, but now I'm sort of glad, because I love it.  All the music we had growing up was Jewish music, cantorial recordings, klezmer.  Those things stuck with me.
Sarah: When you sing, what kind of sound are you aiming for?
Judith: I want it to sound like someone is talking to you right in your ear.  Simple, like recordings from the fifties.  Now we have all this modern recording technology, but I love that old sound.  It's like you were right there.
Sarah: Your new CD has a lot of eclectic material.  What's the connecting thread?
Judith: It's the culmination of four or five years of work.  I wanted to explore all the forms I enjoy – lieder, jazz, cantorial music, and the quirky, atonal songs I write – to take them and make them personal.  I want to connect directly to the essence of each thing.  The editing process was very important.  I was trying to cut out anything inessential, like whittling down a piece of wood.
Sarah: I love the Yiddish piece "Hulyet, Hulyet."  It's stunning.
Judith: Gebirtig is the shit.  He was a Polish songwriter, killed during WW2 in the ghetto.  In my arrangement I tried to go for an austere feeling to  contrast with the lyrics.
Sarah: Is it hard being a singer and having your instrument inside your body?
Judith: It's not comparable to any instrumentalist.  It's a whole other level of maintenance and neurosis.  Obviously you have to practice every day.  Not smoke, not drink too much.  Not talk too much.  It's a battle.
Sarah: Do you have any rituals before you perform?
Judith: Yeah, I take a Klonipin!
Sarah:  What's more important to you, vowels or consonants?
Judith:  What an interesting question!  Why do you ask?
Sarah: I guess I really noticed the clarity of your consonants.
Judith: I take that as a compliment.  Vowel sounds are so important in the classical way of singing.  The vowel is what carries the sound.  But I think the consonant is what sets up the vowel to be pure and to be understood.  It's what communicates.
Sarah: Tell me about the cantorial tradition.  What is it all about technically?
Judith:  It's modal music, and it's part of the Ashkenazic tradition.  There are different modes for the different services and times of day.  Within that, it's improvised, and each culture and each individual cantor had their own way of using the modes, so there are Polish, German, Romanian styles, etc. Opera was a big influence as well.  When I sing this music I don't even have to think about it.  In a way I'm always sort of doing it for my father.  I knew he'd get a kick out of the piece I put on the CD because I'm adding chords that are very atypical.
Sarah: How do you use your voice in cantorial music?
Judith: I hear the man sound.  It's not feminine.  It's kind of deep and aggressive.  At the same time, you have to be flexible and have a voice that can carry.  They do this thing they call a "kvetch" which is when your voice cracks or breaks before a note and it feels like you're almost crying.
Sarah: When you work as a cantor, do you feel like you have to be holy?
Judith:  I'm only the assistant cantor.  Belief? I don't even want to go there.  The music is what I focus on.  When I sing, I'm trying to create a connection to the beautiful traditions of the past.  Institutions are broken.  I'm just trying to make people feel good.  That's the only thing that matters to me.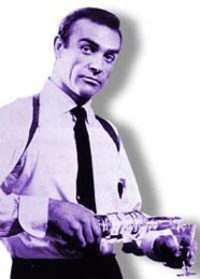 THE VESPER MARTINI
Judith likes vodka and I like gin.  Next time we drink martinis, which I hope will be soon, we'll have to have vespers.  The delicious compromise is as follows…
"A dry martini," [Bond] said. "One. In a deep champagne goblet."
"Oui, monsieur."
"Just a moment. Three measures of Gordon's, one of vodka, half a measure of Kina Lillet. Shake it very well until it's ice-cold, then add a large thin slice of lemon peel. Got it?"
"Certainly, monsieur." The barman seemed pleased with the idea.
"Gosh, that's certainly a drink," said Leiter.
Bond laughed. "When I'm…er…concentrating," he explained, "I never have more than one drink before dinner. But I do like that one to be large and very strong and very cold and very well-made. I hate small portions of anything, particularly when they taste bad. This drink's my own invention. I'm going to patent it when I can think of a good name."
-Ian Fleming, Casino Royale
No one embodies the principal of "a sound mind in a sound body" more than this week's diva, Alicia Villarosa.  Sarah Deming chatted with the Pilates instructor, author, competitive speed skater, and bargain-finding genius over scrumptious mint juleps at the Vanderbilt.
To experience Alicia's tougher side, show up for her Boot Camp Fitness Class in Prospect Park, Wednesdays and Fridays at 9:15 AM (class meets inside the park at the stairs across from the picnic house near the 3rd St entrance).
Sarah: Congratulations on your Image Award nomination for Down to Business!  How was the ceremony?
Alicia: More fun than humanly possible. When we got there, there was this lovely women's tea and a fashion show of the work of Stevie Wonder's wife. The whole thing is a drunken blur of high-end food and cocktails.  Unfortunately, our award was announced while we were still outside; this happened for a lot of the nominees in categories that weren't televised.  We knew we probably weren't going to win anyway because the comedian Steve Harvey had written a dating book in our category.  We had fun on the red carpet, though.  Celebrities at the front were holding things up, like Eve from America's Next Top Model.  The rapper Xzibit was in line behind us and he flirted with me.  He was in a good mood because he ended up winning for his show "Pimp My Ride."
Sarah: What was it like co-writing the book with your mom?
Alicia: Tough.  My mother isn't really a writer.  She's fabulous at giving workshops and doing speaking engagements on her 10 steps of entrepreneurship for women, which is how we got the book deal.  My sister's agent helped us write the proposal and steered us away from memoir and toward the self-help genre.  My mother sent me the first drafts and I revised them.  She's a bit of a drama queen and required hand-holding, but we have a very good relationship, so it could withstand it.  I'm so happy for my mother now.  She's 80 and it's important for her at this point in her career to have a book.
Sarah: What are you going to write next?
Alicia:  I'm doing some freelance health pieces for the Root, which is an African American news website founded by Skip Gates and sponsored by Newsweek.  I'm also co-writing a book proposal with a financial fund manager.  It's a self-help book on the correlation between debt and obesity.  It can be a cycle for people, where depression about money problems leads to overeating.  We want to help people break that cycle through healthy exercises like spending fasts.
Sarah: With so many talents, what do you say at a party when someone asks you what you do for a living?
Alicia: Usually I say that I'm a Pilates teacher first, but it depends on what I did that day.  If I spent a lot of time writing I might say I'm a journalist.
Sarah: What do you bring personally to the teaching of Pilates?
Alicia: A very athletic bent, which is what Pilates started as.  Some contemporary Pilates has become a little watered down, but if you watch old footage of Joseph Pilates, he was really hardcore.  This was rehab for people with injuries, and if you've ever had rehab, you know that it hurts.  You hate your PT!  I bring some of that rigor and rehabilitative focus back to the teaching.
Sarah: Do you think that people with a background in competitive athletics have an advantage in business?
Alicia: That's a great question!  I think they do, definitely.  Athletes are used to a cutthroat environment.  They've had to be extremely internally motivated in order to survive, and they're used to having to step up and produce on a regular basis.  The confidence of that can take you very far.  It's like a card you always have in your pocket.  Also, exercise is good for the brain.  It gets the blood flowing and helps with creativity.  When I'm riding my bike and I need an idea for an article, I'll tell myself to think about the problem on the ride.  You have to stay focused on your surroundings while you bike, but there's a back part of your brain that is always free to think.
Sarah: What is your favorite sport right now?
Alicia: Speed skating, because you can go super fast.  Downhill, in a tuck, you're faster than a cyclist. It's a fabulous feeling.
MINT JULEPS
The bar manager at the Vanderbilt, Floyd, juices up his juleps with apricot nectar and a rye-cognac base.  I'm grateful to him for sharing the innovative  recipe.  Julep days are here again.
Prepare a simple syrup by mixing 1 C sugar, 2/3 C water, and 1/3 C apricot nectar together.  Heat, stirring, until  sugar melts.  Add a bunch of chopped mint and let cool.   Strain before using.
To serve, pour about 3/4 ounces of the minted syrup into a chilled julep cup or rocks glass.  Top with crushed ice and a handful of fresh mint leaves, which you have "spanked" between your hands to release oils.  Pour over ice 1 ounce rye whiskey and 1 ounce cognac.  Sip through a straw.
Sarah Deming met with filmmaker Robin Hessman at Restaurant Tatiana on the Brighton Beach boardwalk.  Over shots of vodka and tasty snacks, we discussed Robin's feature documentary My Perestroika,which will debut in NY March 25 and March 28 as part of the film series New Directors/New Films, curated by MoMA and the Film Society of Lincoln Center.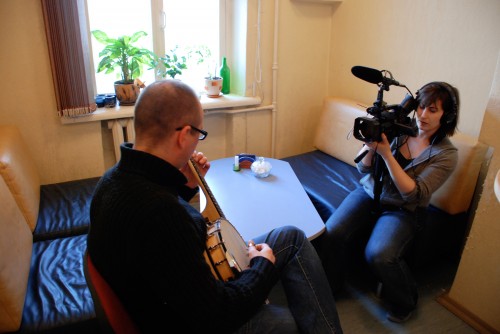 My Perestroika tells the story of five forty-year-old Russians – a married couple teaching history, a single mother, an aging punk rocker, and a successful businessman – tracing their paths from childhoods behind the Iron Curtain to comings-of-age during the collapse of Communism to their disparate fortunes in modern Russia. This beautiful film has the lingering finish of a top-shelf vodka.  Highly recommended!
Sarah: How was Sundance?
Robin: Wonderful.  The audiences were incredible.  We had a screening at 8:30 AM on a Monday, and I thought, "Who's going to come to this?"  But it was packed!  We also had a midnight Q&A session that lasted over an hour and continued on the street in front of the theatre.  It was exciting to hear people say that they'd had no idea what a Soviet childhood was like, and couldn't even conceive of the idea that people in the USSR could have happy childhoods, but that they could relate to it.  To see people make emotional, personal connections to the characters in the film was very gratifying.
Sarah: I loved the film's structure.  You managed to tell the story of five individual protagonists, which seems really hard to do, while keeping it unified thematically.
Robin: Editing took a long time.  The struggle was how to make the film about the natural arc of these characters' lives rather than trying to make their lives serve the history of the country.  If a particular political event didn't touch them, it's not in the film, even if it's important globally. The soundtrack is full of songs that mean a lot to Russians of that generation, and all the archival footage is from their own point of view – lots of home movies, footage from their school.
Sarah: The archival footage is so cool!
Robin: That was one of my favorite parts.  I loved sitting in the archives in Russia, waiting for the reels to arrive, and then watching them.
Sarah: Some of your characters are doing well and some are struggling emotionally.  There's no clear sense of whether the change in the country has been good or bad.
Robin: That was very conscious.  When I returned from the US after living in Russia for the 1990s, I got the feeling people wanted me to tie everything up in a neat bow for them and tell them what to think about the new, modern Russia. "It went from Communist utopia to porn and mafia land" or "It went from a restrictive, repressive regime to a land of freedom."  But I can't do that.  I see the complexities.  I've seen friends craving a new pair of leather boots but feeling awful because they grew up thinking that was degenerate.  Or friends who are ethnically Russian but grew up in a republic.  Emotionally, they support independence for the republic, but that means they will need a $100 visa to visit their grandmother's grave.  And I've seen people who used to drop in on each other at all hours and stay up discussing the meaning of life now barely having time to grab a latte.
Sarah: Do you feel like a different person after living in Russia?
Robin:  I do.  I'd love to know who I'd have become if I'd never gone there.  I spent most of my life there between the ages of 18-27, in film school, working for Russian Sesame Street, and then making this film.  At this point it's who I am.
Sarah: You're not from a Russian family yourself.  What attracted you to the culture?
Robin: I had a subscription to Soviet Life when I was ten.  My parents didn't want to let me get it –they were worried I'd be blacklisted or something – but I cried until they gave in.  It came in an unmarked, brown paper wrapper like porn.  Growing up as a kid during the cold war, I was just so curious about this "evil empire" out there.  I didn't believe that millions of people could all be bad.  It started as pure curiosity.  Then I got hooked on the history and the literature.
Sarah: How is Russian Sesame Street different than the American version?
Robin: There's a completely different sensibility.  Certain segments that the American producers thought were boring, the Russians production partners called lyrical and sad.  There were three special Russian muppets that our team invented.  Zeliboba was one of them, a blue monster with feathers and leaves.  He wore sneakers, lived in a hollow tree, and had the personality of a six-year-old boy.  He was very sensitive.  He could smell the melody off a record.
VODKA SHOTS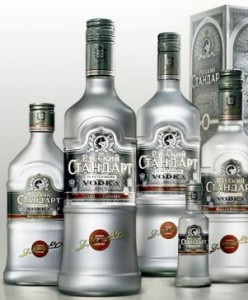 Vodka gets its name from the diminutive form of voda, meaning water.  This "little water" is one of the oldest distilled beverages in the world, dating back to medieval Poland and Russia.  Early vodkas were made through crude heat stills or through leaving the fermented grain or potato mash outside to freeze, concentrating the alcohol.  These spirits would have tasted rough and medicinal, unlike the highly refined vodkas we drink today.  Although allegedly "colorless, odorless, and tasteless," vodka always offers hints of where it came from, its subtlety inviting the taster to be more sensitive.  Our chilled shots of Russian Standard had gentle notes of anisette, wheat, and snow.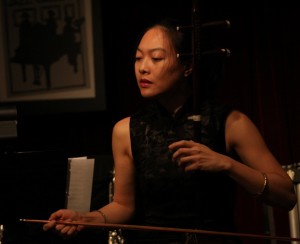 Sarah Deming met vocalist, composer, and multi-instrumentalist Jen Shyu at the Tea Lounge to discuss her composition "Red Sands, Raging Waters," which she will perform at McCarren Hall in Williamsburg on Friday, March 26.
Based on an ancient Chinese narrative form called Shuo-chang (literally, "talk-sing") and Brazilian poetry, "Red Sands, Raging Waters" features Portuguese, Mandarin, Tetum, and Taiwanese vocals (Shyu), dance (Satoshi Haga), clarinet (Ivan Barenbaum), cello (Daniel Levin), vibraphone (Chris Dingman), and percussion (Satoshi Takeshi).  For more information, go here.
Sarah: Tell me about the genesis of this piece.
Jen: I got a commission to compose a new vocal work for the Jazz Gallery.  At the time, I was traveling through China and Taiwan studying Shuo-chang and other traditional music, and the motif of flooding seemed to show up everywhere. After I gave a concert one night, we had to drive home through knee-deep rainwater.  A month later, the day after I left China for Taiwan, someone read my Mayan horoscope and told me my sign was "Red Moon," whose power is  "Universal Water" and whose essence is to purify. The next day, I read an email from my host in China, saying that the day after I'd left, the pipes had burst in her apartment where I stayed!  I thought of this story of a girl who caused flooding wherever she went. Then I learned this Chinese legend about a flood hero named Da Yu or "Yu the Great," because my friend in Beijing was named after him.   I collaborated with a poet named Patricia Magalhaes, who wrote Portuguese lyrics based on the Da Yu myth.
Sarah: What's the myth about?
Jen: Yu's father had unsuccessfully tried to save China from flooding by building dams.  Yu succeeded by digging canals instead.  Taoists love this story because it demonstrates the superiority of working with nature's flow, rather than trying to subdue it.  It's also about the conflict between love and duty.  Yu married his wife but he only spent five days with her before he had to leave.  He told her to name their son Qi (啟) which means "Five Days" after the number of days they shared.  They say Yu passed his own door three times while busy fighting the floods. The first time, his wife was giving birth.  The second time, his son was taking his first steps.  The third time, his son was waving at him and begging him to come home.  But Yu never went inside.  The same night I learned about Da Yu, a woman served me tea named after him, and she said, "He didn't love his wife."  This was different than all historical accounts about him, which praised his abandoning his family in order to fight the flood waters. I wanted to give the wife and her suffering a voice in the piece, too.
Sarah: Is it important for the audience to understand all the words you are singing?
Jen: Well, I had a program with translations for the premiere of the piece.  I've tried singing parts of it in English, but I felt it ruined the mystery.  I like giving people a reason to absorb other cues, to look deeper.  If they don't understand the story, they can make up their own.  When you go to a ritual, you don't try to understand it – you just experience it.  Maybe one day I'll write some simple love songs, I don't know!  But I fear cliché.  Even if the source material is transparent, like a folksong text, I want the music to retain some mystery.  Just like people have mystery.  At least, the people worth knowing.
Sarah: What kind of music did you grow up listening to?
Jen: Mostly classical. I played piano and violin, and my brother played piano and clarinet, so there was always a lot of practicing, and we entered competitions.  My dad would make us these great cassette tapes with all the movements and names of classical pieces written out in his beautiful handwriting.
Sarah: When did you decide to use your own ancestry as an inspiration for your music?

Jen: My degree at Stanford was in classical singing, but I had started singing with some jazz ensembles, and I was reconsidering my path. I met this activist/saxophonist Francis Wong, who said to me, "Why don't you check out your roots for inspiration?"  Nobody had ever said this to me before.  I dug out these Taiwanese folksongs my father had given me, and I started to learn and arrange them.  Then I gave a demo to Steve Coleman in New York, and he told me, "You have a nice voice, but what do you want to do with it?"  I told him I was thinking of going to Taiwan to study indigenous music, and he said, "What are you waiting for?  You could die tomorrow."  He was right.  We build up walls of excuses.  I quit my teaching gig and broke the lease on my apartment. My parents were willing to help me pay for the trip, and I realized I couldn't let pride stand in my way.
Jen: When I started singing as a kid it was in musical theatre, so I've always loved the strong voice.  I find myself channeling Cassandra Wilson sometimes.  I love the incredible depth and richness she has.  You hear the air behind it.  And even though what she does is difficult, she makes it sound easy, like water falling down.  I'm over my "pretty singing" phase, and now I am interested in more primal emotion.  Like these villagers I would listen to in Taiwan.  They would be doing their work, chewing betelnut – none of this protective singer crap – and then they would open their mouths and the most beautiful sound would come out.  It had nothing to do with technique.  Knowledge comes in many different forms.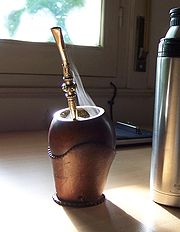 IN PRAISE OF YERBA MATE

Like great music, yerba mate is meant to be shared. The Tea Lounge serves mate the way it's served in South America: in a gourd with a metal straw called a bombilla. The gourd can be refilled many times, the mate becoming sweeter and milder with each re-steeping. Mate is high in Magnesium, slightly bitter, and strangely addictive. As the adorable barista Matthew remarked, "It's caffeinated, but in a different way than coffee. It gives you a mellow feeling. The more you drink it, the more you want to drink."
Over Aviations at Prime Meats, Sarah Deming talked with the enchanting Andrea Weber about her career in modern dance and the legacy of the great Merce Cunningham.
Sarah: When did you know you wanted to dance?
Andrea: At my first dance recital at age four.  I was mad because I wasn't the tallest so I didn't get to be in the center of the line.  I could tell the center was the best place to be.  As I got older I realized what a hard life dancers had, and I tried to do other things, but dance was the place where I felt like myself. My dad and I made a deal that if I got into Juilliard, I would make a go of it, and I did!
Sarah:  What attracted you to Merce's work?
Andrea: A friend told me to take his class.  I was resistant at first, because I thought it was unemotional.  But I went, and I fell in love with the technique and with Merce.  My body was suited to it.  I was too tall for ballet, but Merce loved tall dancers.  I felt an electricity – I loved taking on something so difficult.
Sarah: How do you deal with the perfectionism the work demands?
Andrea: Merce used to say that when you teach a class there should be something that everyone can do and something that no one can do. Sometimes he would ask us to do something absurdly difficult – jump, jump, jump, then hold a crazy position for twenty seconds – but he was always more interested in the trying than in the success.  The wobbles were okay.  Realizing this has been a huge breakthrough for me, not only in dance but also in life.  Right now I am looking for the fragility in the work.  I'm trying to focus on the path between points.
Sarah: What's the view of gender in Merce's work?
Andrea: I think he was very traditional.  There is this clear message in the dance: Man supports woman.  The main duet is almost always between a man and a woman, and it's almost always tender. He was influenced by ballroom dance.  I feel very female in Merce's work.
Sarah: Do you think the work is difficult for audiences to understand?
Andrea: It's only difficult if the audience thinks there is something to understand.  There is no story.  If you can let go and stop making it mean something, then you can have the experience.  Merce created events.  If people walked out, they walked out.  I think he died okay with being misunderstood.
Sarah: He's famous for choreographing dance that is independent of the music. How much attention do you pay to the music when you're dancing?
Andrea: It depends.  Sometimes I zone it out, and sometimes I'm deeply affected.  I had this solo one night in Italy, and the first time I did it, the music was very loud and jazzy.  The next night it was total silence. I remember thinking, "People can't tell me this work isn't emotional, because it's emotional for me."
Sarah: Do you see God in the operations of chance?
Andrea: I feel God's presence in those moments when it all just works.  I'm at peace with it not always being magical, but sometimes it is, and that keeps me going.  I do feel that I was supposed to meet Merce and do his work of chance.  Whether that's God or not, I don't know.
Sarah: What did Merce teach you?
Andrea: When I first joined the company, he put rocks in my hands, and he said, "Feel the weight in your arms when you dance."  I think I made him laugh.  I always felt sort of goofy around him.  The last time I saw him, a few of us visited him at home and we had just come from a Bollywood dance class. We did a dance for him while he lay there and he said, "I can see why that's so popular.  Bravo."  He was ready to make up new steps even on his deathbed.  In a strange way, I feel like his passing has made things clearer for me.  I'm one of the oldest dancers in the company now.  Before he died I'd been considering retiring.  But now I need to see it through the next two years.
Sarah: What happens after two years?
Andrea: The company will disband.  Merce specified that we should do a Legacy Tour for two years, concluding with a show at the Armory on December 31, 2011 with $10 tickets. He also left instructions that the dancers be helped with their transitions.  If his wishes are followed, this will set a precedent for how all dancers everywhere should be treated.  Merce didn't want the company to outlive his ability to create new works. It's sad, but we have to move forward.  As he always said, "It's like putting one foot in front of the other."
THE AVIATION
Crème de violette gives this cocktail a futuristic silvery color reminiscent of a Merce Cunningham unitard. Mixologist Damon Boelte says, "I've been lucky to have had quite a few Merce dancers at the bar. I think of this as their official cocktail."
2 ounces Plymouth Gin
1/2 ounce Maraschino liqueur
3/4 ounce fresh lemon juice
2 dashes Crème de violette (optional but delicious)
Shake all ingredients very well over ice and strain into chilled cocktail glass. Garnish with a cherry. Beware: if you drink more than two, you may start to act avant-garde.
Divas love the Clover Club!  This week's featured diva, producer, director, and Carnegie Mellon-trained actor HaJ, also chose the chic Carroll Gardens cocktail lounge as the spot for our interview.  Over whiskey sours, HaJ told Sarah Deming about her new blog, the Home of the Urban Chameleon and her video content site Tickles TV.
Sarah: What does the term "urban chameleon" mean and how did you come up with it?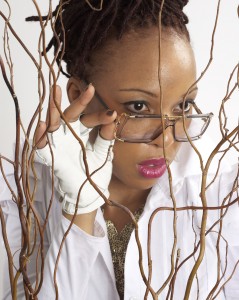 HaJ: I was sitting around with my friends Andress and Zuley and we were brainstorming terms to describe people of our background: people of color who were raised by parents who wanted us to excel, who grew up in low-income urban communities but went to the best private schools and colleges.  We evolved the ability to move freely between various social spheres, to move left and right and up and down.  Yet we never forgot where we came from. Urban chameleons are the type of people who work an office job in midtown, but go back to the old neighborhood to get our hair done, because it's just not the same without the lady who knows your hair, has all the gossip, and has a guy out front selling bootleg DVDs.  There's a more detailed description of the term on the blog as well as some funny videos of classic Urban Chameleon moments.
Sarah: I was reading about how chameleons change color.  Apparently scientists used to think that it was to protect them from predators, but now they think it evolved mostly to signal socially to other chameleons, for courtship and things like that.
HaJ: It's not a defense mechanism; it's a way of identifying.  When Jay-Z shouts out to Marcy Projects or when Obama makes a veiled hip hop reference in a speech, it's all about signaling to other urban chameleons.  A key word you used is "courtship."  It's all about wanting to connect and create commonality.  One of my closest friends who is Haitian has been my muse for a lot of the work because her story represents the American dream. Her family came to this country from Haiti and sacrificed a great deal in order for her to excel. She's the ultimate urban chameleon, goes from business meetings, to posh events around the city and then gets on a plane to help rebuild Haiti.
Sarah: In Prada pumps?
HaJ: I think she prefers Louboutin.
Sarah: This makes me think of the Carol Burnett quote "Comedy equals tragedy plus time."  Often there's something quite dark and sad at the heart of your comedy.
HaJ: Absolutely.  You have to be really careful whenever you make comedy about race, because you are going to piss some people off.  Recently we curated an event at Howard University Homecoming.  We submitted a couple of skits and got comments back like Korean Nail Salon being "coonish," participating in a sort of minstrel tradition of stereotyped blackness.
Sarah: I think that's an absurd misreading!
HaJ: I know.  But I learned a lot from that experience. I don't mind making people uncomfortable, because discomfort is how we grow. I love surprises.  I love creating a situation where the audience is surprised by what comes out of a character's mouth or the way they move their body.  On my blog we wrote about this recent controversy where a group of white girls won the Sprite Step Challenge.  They probably didn't deserve to win based on their technical proficiency, and many people saw the judges' decision as a racist one.  It may have been.  But I have to say I think surprise has its own value as entertainment.  When you see a group of white girls get up on stage and move in a way you don't expect, it's exciting.  I think everyone loves that kind of surprise.  It empowers them to break out of the boxes society has put them in.  For example, when we filmed that skit in the nail salon, the Korean ladies cracked up when I spoke Korean at the end.
Sarah: So that was real Korean?
HaJ: Absolutely!  My friend who is Korean coached me on it.  I'm saying, "Oh no, Young Sok, you have got to fix this one nail!"
Sarah: How do you develop your skits?  Are they improvised or written out?
HaJ: I think of a scenario and give it to the actors.  Sometimes I have certain lines I want them to hit, but often it's just a beginning point and an ending point.  We shoot a few versions and keep the best take.  Improvisation is very important to the process.  And the biggest rules of improv are to always accept and build and always say yes.
Sarah: You have to be comfortable with chaos to work that way.
HaJ: I've always been a non-traditional thinker. My mom likes to tell this story of how when I was about five my dad put on his overcoat and lay down in bed, just as a joke.  He asked me: "HaJ, what's wrong with this picture?"  I said: "You forgot your hat."
WHISKEY SOUR
This basic formula for a sour can be adjusted for other base spirits, but whiskey is the classic.  This is one of the simplest and most crowd-pleasing of cocktails.
2 ounces rye or bourbon
3/4 ounce lemon juice
1 ounce simple syrup (equal parts sugar and water heated together to dissolve)
optional: 1/2 ounce tannic red wine such as Bordeaux
Shake all ingredients vigorously over ice.  Strain into a rocks glass filled with large ice cubes.  For the optional "claret float," pour the red wine slowly over the back of a barspoon onto the surface of the drink.  It will float atop the surface in a red layer, creating a graceful, multi-layered cocktail that commemorates the urban chameleons among us.
This is the second in a series of interviews with Brooklyn women artists at their favorite bars by Sarah Deming.  This week, she met modern dancer Julie Worden for a delicious martini at the magical Clover Club in Carroll Gardens.  Julie has been dancing with the Mark Morris Dance Group since 1994.
You can catch Julie and the Mark Morris Dancers at the Brooklyn Academy of Music this week on Tuesday the 23rd and Thursday the 25th through Saturday the 27th.  The program features the world premiere of "Socrates" to music by Erik Satie.  For online ticketing, go here.
Sarah: Tell me about your childhood and when you knew you wanted to be a dancer.
Julie: I grew up in the small town of Naples, Florida, where all the little girls took dance. We performed at the Swamp Buggy Parade, the Moose Lodge, and the local mall.  I was incredibly shy.  I think I liked the idea of being able to communicate nonverbally, by getting inside of something that already existed and expressing it from the inside out.  I was fourteen when I left home to go to the North Carolina School of the Arts.
Sarah: That's a very rigorous program.  Looking back, do you think the strictness was helpful?
Julie: They tried to break you down, to see if you had a backbone. I was lucky in that I had a strong family and sense of self.  I suppose it's good to weed out the people who won't make it.  Better to learn the truth early on than after 25 years of dance classes.
Sarah: What attracted you to Mark Morris's work?
Julie: I met Mark when I was fifteen and I knew I had to work with him.  I told my teachers that and they said, "He'll never make it; he's the bad boy of dance."  But the next year they were showing us the BBC documentary on him!  I consider Mark a cultural father, not only in dance but in music and art. I see music better through his dances, through the things he pulls out of it.
Sarah: Is there room in the choreography for your own individual expression?
Julie: With Mark's work, yes.  The choreography comes from him, but each dancer represents a different part of humanity.  Together we convey a more well-rounded expression of each particular move, and he wants that spread of personalities.
Sarah: What is your favorite piece to dance?
Julie: Lately it's been "All Fours."
Sarah: I love that one!  To Bartok's Fourth String Quartet.
Julie: The amazing thing about Mark is that he takes pieces that are technically "undanceable" and makes them sound like pop music. Two smalltown girls in California told me they loved that piece and called it "the hip hop number."  Mark assigned two dancers to each string part and broke down the piece bar by bar.  Sometimes we took two hours to work through two bars of music because it's so complex. It has these very tense, spare, Orwellian moments that to me are about suppression and control of emotion, and it has pizzicato movements where it's like the floor is opening beneath you. Mark shows the audience the structure and the rhythm so clearly.
Sarah: Tell me more about rhythm.  Do you think it's innate or can it be taught?
Julie: I don't think rhythm can be taught.  It's something outside of yourself that you have to just exhale and open into.  Overly intellectual artists sometimes have difficulty with this, because there is a striving, a kind of reaching in advance of the beat.  But rhythm is about being almost late.  It's about the bottom.  Sometimes when the company is most fatigued, that's when we're the most together. We're all together – the dancers, the musicians in the pit, the audience.  It's a huge and beautiful thing, because Mark's work is based on folk traditions.  It's like opening into a huge vibration.
Sarah: Where do you think the vibration comes from?
Julie:  The earth?  The ocean? I don't really know.
Sarah: I think dance is the most fleeting of all the arts.
Julie: It's the saddest thing in the world.  Once you get something figured out, it's over.  The older you get and the deeper you become, the more your cartilage wears out.  Maybe that's what makes it so beautiful: The fact that it could be taken from you any second.
Sarah: How do you want to be remembered as a dancer?
Julie: As someone with a pure and clear intent, who meant everything she did. I want people to look at me and see the music.  I want them to sit back in their seats and think, "I'm in good hands."
RECIPE: GIN BLOSSOM
This delicate and delicious recipe comes courtesy of the Clover Club's Julie Reiner, who says that when she opened her bar she wanted to create a cocktail that would be Clover's house martini.

1 1/2 ounces Plymouth Gin
1 1/2 ounces Martini and Rossi Bianco Vermouth
3/4 ounce Apricot Eau de Vie
2 dashes orange bitters
Stir all ingredients very well over ice.  Strain into a chilled cocktail glass.  Garnish with an orange twist.  Drink while discussing deep things.
This is the first in a new series of interviews with Brooklyn women artists at their favorite bars by Sarah Deming. She met the magnificent burlesque dancer Peekaboo Pointe for a Manhattan at Quarter Bar in Brooklyn's South Slope.
Peekaboo leaves this week for a month-long tour of Australia, but when she comes back you can catch her lighting up the stage at Galapagos Artspace in Dumbo and the Bell House in Brooklyn as well as The Slipper Room on the LES and Tribeca's Duane Park.  She will also appear in Washington DC at the Lucky Daredevil Thrill Show on April 9 and the Richmond Varietease Show in Richmond, VA on April 10.
Sarah: Tell me about your dance background and how you ended up in burlesque.
Peekaboo: I have a BFA in Choreography from George Mason University, and I studied modern dance with Bill T Jones and Afro-Cuban with Cutumba in Cuba.  I've always been fascinated by the low-brow tradition in art, strip clubs, that kind of thing. When I came to New York after school I took a burlesque class taught by Ducky Doolittle now a sex educator.  I wasn't hooked right away, but the first time I performed burlesque onstage – at defunct Carroll Gardens joint called Boudoir Bar – I felt like I was home.
Sarah: How has your classical dance training affected the way you approach burlesque?
Peekaboo: I use my modern dance training to create interest and variety in the routine. I want the audience to be dying for the next move, to get a clear build from the beginning to the middle to the end of a routine.  I also use different levels of the stage and am especially big on floor work.  Nothing is sexier than a woman on her back!

Sarah: Your performances are always sexy.  In fact, you won the title of "Most Sensual Performer in Burlesque" at the 2009 Golden Pasties Awards. How important is it to you to create sex appeal on stage?

Peekaboo: It's so important.  A lot of people in the new burlesque try to take the sensuality out.  They want to make burlesque into something political or something verging on performance art.  I really enjoy that kind of burlesque, but I feel that the mission is to bring the hotness back.  When burlesque originated, it was dirty!  These girls were the strippers of their day.  They were turning tricks in the back of the club. Sometimes people see my routine and they say, "Those moves were so dirty!" but the same moves they think are the raunchiest are the ones I stole from Jenny Lee tapes, from the old burlesque dancers of the 1950′s.  People have been having dirty sex forever.  We didn't invent it.
Sarah: Do you get turned on when you dance?
Peekaboo: Absolutely.  And when I'm turned on, I know my audience is, too.
Sarah: How can I learn to twirl my pasties like you?
OUR BARTENDER: It's all in the toes.
Peekaboo: (laughing) Actually, he's right.  It's all in the toes.  You have to bounce on the balls of your feet.  I teach classes in tassel twirling at the School of Burlesque.
Sarah: What advice do you have for our readers?
Peekaboo: Quit your day job.  I quit my job working retail at Agent Provacateur four years ago. Everybody said I was crazy, but it's made me a better person.  You are never going to get anywhere as an artist if you play it safe.  Humans are built to survive, and you are stronger than you think you are.  Just take that leap and trust that someone will catch you.
MANHATTAN RECIPE:

As prepared by our groovy bartender Richard, after owner David Moo.  These proportions are my own – adjust them to suit your taste.
2 ounces Old Overholt Rye Whiskey
1/2 ounce Carpano Antica Sweet Vermouth
Four dashes Angostura bitters
Four dashes Peychaud's bitters
Lemon twist
Orange twist
Brandied cherry – at Quarter they make their own!
Chill a cocktail glass.  Shake the bitters into bottom of glass and express oil from rinds into glass, then rub bitters all over glass using inside of rinds.  Dump out the excess bitters, leaving glass coated with deliciousness.  Stir rye and vermouth very well over cracked ice and strain into prepared glass.  Garnish with a cherry and drink with someone sexy.