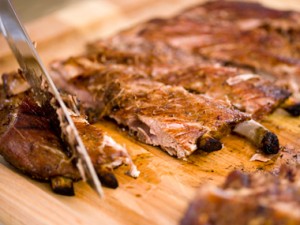 When Pork Slope officially opens on Saturday, you just might get a chance to taste what all the hype is about. Dale  Talde's new Park Slope outpost with the truly great name is more fun and folick than Talde, his elegant, delicious and somewhat pricey "Asian-American" eatery on Seventh Avenue.
With 25 beers on tap and more than 100 whiskeys, Pork Slope is ready for the Fifth Avenue crowds. And the crowds, I'm guessing, are ready for it. There's brisket to be had, as well as ribs, po' boys, pulled pork sandwiches, country ham 'n biscuits, and fried chicken.
The price point? I'm hearing that most dishes are below $15. Pork Slope is located on Fifth Avenue between Carroll Street and Garfield Place. Heck, it's in the space that used to be Aunt Suzie's, Park Slope's red sauce Italian powerhouse, co-owned by Irene LoRe, president of Park Slope Fifth Avenue BID.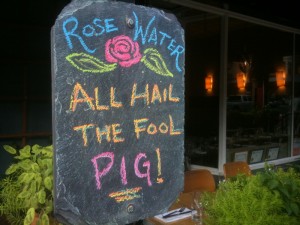 August 23 is the official date for Rosewater's annual Salute to Swine Fest!
They're firing up the Party-Que Spit and roasting a fine piggy from an upstate address over hardwood coals.
The pork will be served with cole slaw, corn on the cob, heirloom tomatoes, cold draft beer and fresh pink wine and you've got one swell porcine summer soirée. "We'll have more fun than a possum in the corn crib with the dog tied up!" is what they're saying.
Tickets go on sale Thursday, July 26th at 1pm. $78, all inclusive of beverage, tax and gratuity. Get yours quick – it's always a sellout. 718-783-3800, phone only.