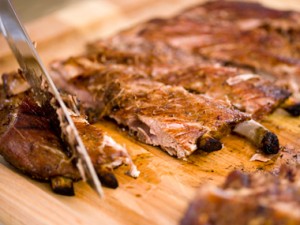 When Pork Slope officially opens on Saturday, you just might get a chance to taste what all the hype is about. Dale  Talde's new Park Slope outpost with the truly great name is more fun and folick than Talde, his elegant, delicious and somewhat pricey "Asian-American" eatery on Seventh Avenue.
With 25 beers on tap and more than 100 whiskeys, Pork Slope is ready for the Fifth Avenue crowds. And the crowds, I'm guessing, are ready for it. There's brisket to be had, as well as ribs, po' boys, pulled pork sandwiches, country ham 'n biscuits, and fried chicken.
The price point? I'm hearing that most dishes are below $15. Pork Slope is located on Fifth Avenue between Carroll Street and Garfield Place. Heck, it's in the space that used to be Aunt Suzie's, Park Slope's red sauce Italian powerhouse, co-owned by Irene LoRe, president of Park Slope Fifth Avenue BID.
In this hilarious interview with Park Slope's John Hodgman, the resident expert on The Daily Show, the PC in Apple commercials and the author of The Areas of My Expertise and More Information Than You Require, Hodman explains that Justin Long, who plays the Mac in the Apple ads, suggested that he invest in Dale Talde's restaurant in Park Slope but he decided  not to.
The hosts of this interview show ask him why and he confesses that he thought it might be a sham (despite Talde being a Top Chef contestant) and because 80% of restaurants fail. He lives around the corner from the restaurant and can never get in because "it's a huge deal."
Oh well. So much for a regular table at a crowded restaurant and the cash rewards of a good investment.