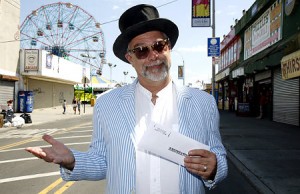 You've heard of the State of the Union, the annual address by POTUS; the State of the State, an address by governors; the State of the City, the state of the borough…
On Thursday, July 26, Dick Zigun, considered the unoffical Mayor of Coney Island, will deliver his annual State of Coney Island Address, his annual wisecracking about the 2012 state of affairs at America's Playground.
Part performance-art, part playful people's politics, Zigun's annual address is known for self promotional humor, as well as real insights into behind the scenes affairs at the poor man's Riviera.
Zigun's State of Coney Island Address will be delivered live, at the Coney Island Museum, 1208 Surf Avenue, Brooklyn, NY on THURSDAY, JULY 26, 7:30PM. The General Public is welcome to attend for $5 (absolutely FREE FOR CONEY ISLAND USA MEMBERS). A brief Question and Answer session will take place immediately after the speech.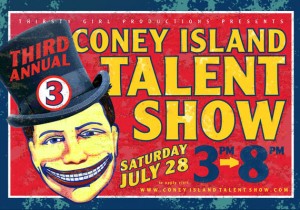 The Coney Island Boardwalk: What a great spot for a talent show.
Be part of the 3rd Annual Coney Island Talent Show on the boardwalk (between 10th & 12th street) on Saturday July 28th from 3:30pm-8pm.
Categories for this year's talent contest are:
Creative kids 9-12 years old
Creative kids 13-17 years old
Circus Freaks & Sideshow Geeks
Song & Dance
Best Drag Performance or Celebrity Impersonator
Over $4000 in cash and prizes!
This years celebrity judges include Dick Zigun of Coney Island USA, Miss Ekaterina, Broadway Brassy and artsy Waldorf kid, Sequoia Harrison!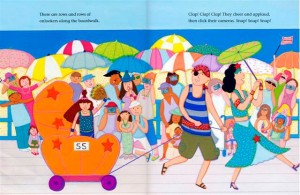 The Coney Island Mermaid Parade was a few weeks ago. But here's a mermaid parade for hipster kids that might be just as fun.
This Saturday from 11AM until 3PM  there's going to be Magical Mermaid Mayhem at Mini Jake's on North 9th Street in Williamsburg.
Children (and grown ups?) are being asked to show up in their mermaid or sea related costume for mermaid snacks, mermaid games, mermaid art activities, mermaid raffle and making up mermaid poems.
Melanie Hope Greenberg, a mermaid fanatic and Park Sloper, will be there reading from her picture book, Mermaids on Parade at 11AM.
At 2PM, you'll have the chance to meet Janna Kennedy, Coney Island Mermaid Parade costume designer and prize winner. And at 2:30, the shop will be having a mermaid parade of its own.