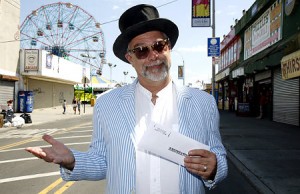 You've heard of the State of the Union, the annual address by POTUS; the State of the State, an address by governors; the State of the City, the state of the borough…
On Thursday, July 26, Dick Zigun, considered the unoffical Mayor of Coney Island, will deliver his annual State of Coney Island Address, his annual wisecracking about the 2012 state of affairs at America's Playground.
Part performance-art, part playful people's politics, Zigun's annual address is known for self promotional humor, as well as real insights into behind the scenes affairs at the poor man's Riviera.
Zigun's State of Coney Island Address will be delivered live, at the Coney Island Museum, 1208 Surf Avenue, Brooklyn, NY on THURSDAY, JULY 26, 7:30PM. The General Public is welcome to attend for $5 (absolutely FREE FOR CONEY ISLAND USA MEMBERS). A brief Question and Answer session will take place immediately after the speech.