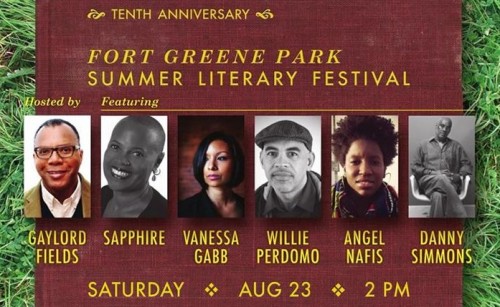 This Saturday will be the 10th annual Fort Greene Park Sumer Literary Festival sponsored by the New York Writers Coalition, one of the oldest and most inspiring community writing programs in the United States.
Killer stoop sales, the Brooklyn Flea, and the saucy return of Habana Outpost are just a few Fort Greene staples in summertime. But when it comes to a community tradition in this ever-changing neighborhood that readers and writers from all generations flock to, there's very little that matches the power of NY Writers Coalition's Fort Greene Park Summer Literary Festival.
Young writers from the NYWC summer youth workshops in Fort Greene Park will share their powerful poetry and prose alongside some of the city's most beloved writers: Five Quarterly co-founder Vanessa Gabb; Lit Fest vets Danny Simmons and Sapphire; BlackGirl Mansionauthor Angel Nafis; and prize-winning poet and children's author Willie Perdomo. The Master of Ceremonies is music journalist and WFMU deejay Gaylord Fields.
This event is free and open to the public and takes place at Fort Greene Park's Prison Ship Martyrs' Monument on Saturday, August 23 at 2:00 p.m. (Rain Venue: BRIC Media House Ballroom at 647 Fulton Street). An after party will follow at 4:30 p.m. at Greenlight Bookstore (686 Fulton Street). Come meet the writers – and invite your friends!