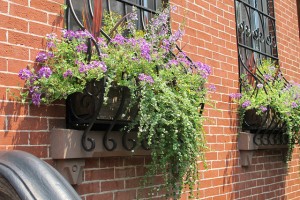 Pop quiz: What's the best window box in Brooklyn?
Now, that's a tough call. There are many thousands of them. Too many. And so many pretty ones. There's definitely an art to it. Some people have the touch (or the green thumb plus the color/design sense).
So how do you win such a contest. First, you've got to enter the contest to be considered. It helps to belong to a Block Association but I don't think it's essential. Still, it's not like some judge-person is going to check out every window box in the borough.
These window boxes created by the Arky's at 487 10th Street in Park Slope are very pretty indeed. Sadly, they're trapped behind the window bars. And they tied for First Place. Check out the other winning window boxes and other categories at the Greenest Block in Brooklyn website. 
Talking to some longtime residents of my block, I have confirmed that there has never been an official block party with a street closing on Third Street between 6th and 7th Aenues.
"311 has made things so easy. Now you can find out how to do things we never knew how to do before," said one Third Street resident of more than twenty years.
I'd always heard that you couldn't close off a two lane street.
"That's not true, we were lazy," she said.
In the past there were mini-block parties, three or four buildings would get together and there would be food, music, musical chairs and a talent show.
"The woman who organized this, she did a good job," another neighbor said.
Not everyone has time to create a weekly television show, or even a bi-weekly or monthly series for Brooklyn's community access television network.
But BRIC, Brooklyn's community access television organization, wants you to know that this shouldn't stop you from submitting your content to air on Brooklyn's community access television network. If you have a 28-minute or 58-minute piece that you think the borough of Brooklyn will want to watch, give them a call and request an appointment to air what we call a "Special."
Special time slots don't occur on a regular basis, so you don't have to commit to submitting content on a rigorous schedule. Create your program in an amount of time that best fits your schedule, give them a call to arrange a Special time slot, and watch your program on the BCAT TV Network. Pretty simple.
According to BRIC, many of their regular users submit specials that can air during one of the station's programming quarters. In fact, you can submit as many as 4 programs within a 13 week period. For more information, visit their website or call 718-683-5605 to arrange an appointment with their Programming Department so you can get your Special time slot.