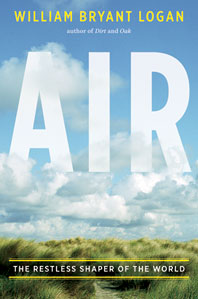 William Bryant Logan, an author who lives and breathes the air of Cobble Hill, Brooklyn, has a new book coming out in August called Air: The Restless Shaper of the World from WW Norton.
The author's fascinating focus is music and how sound is the product of vibrations that travel through the air. In the book, which I haven't read but sounds quite interesting, Logan discusses everything from radio stations to parrots' language to Beethoven to Aeolian harps.
Air. You barely think about it yet it sustains each of us and every living creature. The book is rife with mind boggling factoids like this: "Twenty thousand fungal spores and half a million bacteria travel in a square foot of summer air."
The book sounds at once scientific and poetic. Air. It's one of those simply named books that touches on so many things. "The chemical sense of aphids, the ultraviolet sight of swifts, a newborn's awareness of its mother's breast—all take place in the medium of air."
There is danger in the air, too. I didn't know this but the artist Eva Hesse died of inhaling her fiberglass medium. Thousands were sickened after 9/11 by supposedly "safe" air. The African Sahel suffers drought in part because we fill the air with industrial dusts.
AIR. Learn more about the most ubiquitous thing of all by an author who is a certified arborist and the author of two other books: Dirt: The Ecstatic Skin of the Earth and Oak: The Frame of Civilization.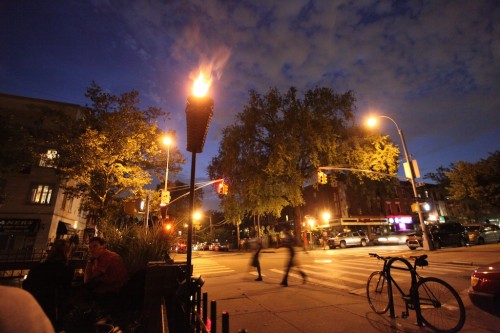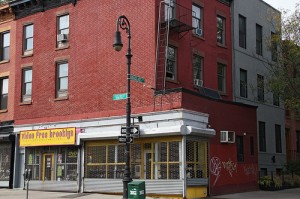 Jim Hanas, the Social Media Editor of the New York Observer just got in touch via email to tell me about an interesting article today about Cobble Hill's Video Free Brooklyn by Kim Velsey; it's one of the last video rental shops in Brownstone Brooklyn.
Sigh.
But this is a video store with social media and crowd sourcing smarts. Rah. They're using a  Kickstarter-like service called Indiegogo to raise money so they can afford much needed renovations to their shop. Here's a quote from the Observer article.
"I don't think it's any different or less valid than when PBS or NPR ask people to donate for a free tote bag, or the Kickstarter campaign in Detroit to build a life-size statue of RoboCop," said Mr. Hillis, who has thus far raised about $7,000 (with two weeks to go on a $50,000 campaign) on Indiegogo. "As long as you're transparent about where the money is going, you're putting together something that people want to be a part of."
Anything to keep a real video rental place in business. We miss Video Forum in Park Slope for the convivial conversation and tips about movies.
Sigh.
Here's the link to Video Free Brooklyn's Indiegogo page.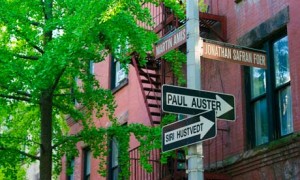 It seems that across the pond, they've discovered that Brooklyn is quite the writerly place. I guess when Brit author Martin Amis buys a house in Cobble Hill, it becomes news over there. I did, however, enjoy the Guardian article and especially this paragraph, which reminded me of what happened when Jonathan and Nicole spent 3.5 million on their house. That sounds like chump change these days.
"Today Sunny's is popular for bluegrass sessions and literary salons that attract aficionados from across the borough. There is not a night of the week when you can't attend a reading in Brooklyn, or several. Many take place at the independent bookstores that have proliferated in the last few years, or – like BookCourt in Cobble Hill, where I remember waiting in a long line of young tattooed men and women to hear Bret Easton Ellis read – doubled in size. And writers aren't just coming here to read; they are flocking here to live. Some, such as Paul Auster, have been here for decades; others, like Martin Amis (a stone's throw from BookCourt), are fresh off the boat. On Saturdays you can go Pulitzer spotting at Fort Greene's farmers' market, where both Jhumpa Lahiri and Jennifer Egan may be found perusing the vegetables. When Jonathan Safran Foer and his wife Nicole Krauss, author of The History of Love, brought a Park Slope townhouse in 2005, bloggers gasped at the $3.5m [£2.26m] price tag."
I was one of those  bloggers and I remember it well. Rad photo illustration from The Guardian.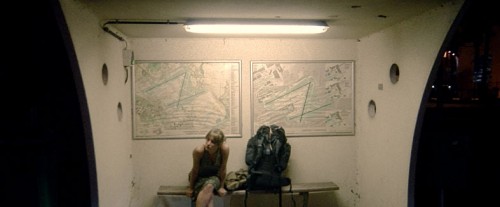 Some truly independent films will be playing this weekend at The Invisible Dog Art Center as part of the Zero Film Festival.
Transforming The Invisible Dog Art Center into an engaging and novel screening space, the Zero Fest will hold nightly events featuring self-financed films.
Olivier Boonjing, a young filmmaker from Brussels, is currently in New York City with members of his cast and crew to attend and promote a ZFF screening of his film Somewhere Between Here and Now.
It sounds really interesting. And the main character's name is Louise. The film is playing Friday, November 19th at 9PM at the The Invisible Dog Art Center located at  51 Bergen Street in Cobble Hill.