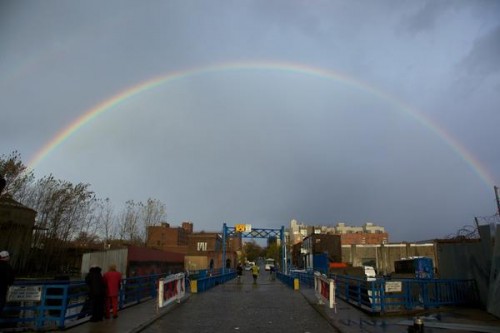 Here is an update from City Councilmember Brad Lander who also serves Cobble Hill, Carroll Gardens, Park Slope, Windsor Terrace, Borough Park and Kensington. He included the photo above by Conor O'Donough.
I hope you and your family made it safely through the storm. Mercifully, the damage in the neighborhoods in this City Council district was not too bad. I'm sure you've seen pictures and heard about the heartbreaking fires and widespread flooding elsewhere the city.

Volunteers Needed

I was heartened by all of the emails I got yesterday from people who wanted to help. There are two shelters in the 39th Council District, John Jay High School and the Park Slope Armory, that need volunteers. You need to be willing to work an eight hour shift and cannot bring your children. The Armory is sheltering people with additional medical needs, so volunteers should be comfortable working with the elderly, disabled, or others who may need extra support.

While those are the two shelters in my council district, there may be other shelters closer to you. Enter your address here to find the closest shelter to you and reach out to see if they are also in need of volunteers.

You can sign up to volunteer during future emergencies at the City's service website.

Reporting Damage

If you see any downed trees or other debris from the storm, your first call should be to 311 (If there is an immediate danger to life, call 911 right away). Make sure to write down the tracking number from your 311 call.

We should remember that the effects of this storm are being felt across New York City, and agencies will rightly be prioritizing trees on power lines and other especially dangerous situations.

My office is also recording damage in the district and following up directly with City agencies. You can report storm damage on my website (make sure to include the 311 tracking number).

More News Coming Soon

Mayor Bloomberg is expect to give a press conference shortly with updates on the City's response to the the storm and updates on transportation and agency closures. I will send out another email later today with additional updates.

Gowanus Canal

Many of you contacted me yesterday with concerns about the Gowanus Canal, a highly polluted waterway, which flooded neighboring streets. I have communicated with EPA Region 2 Administrator Judith Enck and NYC Department of Environmental Protection Commissioner Carter Strickland. Thanks to both of them for making the time, and communicating quickly (with each other, and with me) about our concerns at the canal.

If you live near the canal, do not touch standing water in the area, or any sediment or debris left by Gowanus flood-waters.

After the storm, the EPA and DEP are committed to work together conduct any sampling needed to address potential issues of toxicity created by the flooding.

Prospect Park

We checked in with Prospect Park staff this morning and learned that the park was hit hard. They are still assessing damage, but will be reaching out in the coming days for donations and volunteers to help put the park back together.

I look forward to seeing many of you - and working with you - in the coming days as we clean up from the storm.

Brad

PS: If you are looking for something inspiring after this brutal storm, check out this picture of an amazing rainbow above the Gowanus Canal this morning.