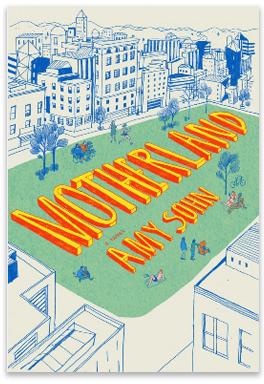 As we in Park Slope breathlessly await the release of Motherland, Amy Sohn's sequel to her bestselling Prospect Park West, Nancy McDermott has published a positive review of the book in Spiked, a British website. McDermott gives the book high praise for its readability and satire: "Motherland is both lightning-fast beach reading and well-observed social satire. Though the book won't last the summer, Rebecca Rose and company will stay with you well into the autumn."
McDermott, a moderator on Park Slope Parents  before she moved to rural Upstate New York, is an excellent writer and a cogent thinker on the culture of parenting in contemporary society. I love her blogs, The Brown House Years and The Parenting Mystique (Why America is Obsessed with Raising Kids).  Here's an excerpt from her review.  Do read the rest of Park Slope Parents Behaving Badly on Spiked.
"Motherland is the sequel to Prospect Park West, Amy Sohn's hyperrealist novel set in Park Slope, Brooklyn. In the first book of the series, Sohn used a mix of real and imagined people and events to explore the excesses of modern urban parenting culture. In Motherland, she revisits many of same themes and characters, but this novel is not so much about new parenthood as midlife crisis, two life events which, for the first time in history, are tending to occur around the same time."