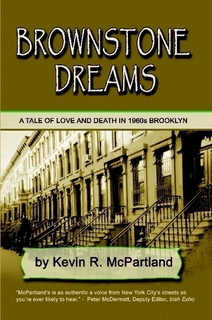 What was Park Slope like before it became the affluent Brooklyn neighborhood it is today? In the Park Slope of Brownstone Dreams, a new novel by Kevin R. McPartland, there are no cappuccino cafes, Bugaboo strollers or real estate offices selling million dollar apartments. Author McPartland spins a tragic tale about the mean streets of 1960's Brooklyn, evoking the sights and sounds of tenements, bars, and schoolyards that comprise the battleground of warring teenage gangs.
The year is 1962. It's early summer and it's already a hot one. 19-year-old Bobby Dutton, street tough and gang member, is in a state of turmoil, after stealing the gun of local wiseguy Vincent Casseo. Still high on glue and beer, Bobby has to figure out how to get the gun back to crazy Vincent, without getting himself killed.
"The next morning Bobby sat leaning on one elbow on a cluttered kitchen table. He sat watching his grandfather go about his morning ritual of drinking tea by the fire-escape window while he shaved and complained. 'Someday you'll know what this is all about, Bobby-boy. It's not fuckin easy makin' a buck in the world. Look at me, other men work on ships that go to sea. I work on a stinking barge in a filthy goddamn canal called Gowanus."
But Bobby isn't interested in how hard it is to make a buck in the world He is much more concerned about Vincent Casseo and his missing gun.
Brownstone Dreams is a gripping thriller about fear, anger and revenge. It is also the story of a Brooklyn neighborhood where drugs and alcohol take control of people's lives; where working-class immigrant families fill tenement buildings; where hardworking men drown their disappointments in seedy pubs, while their sons fight each other with sticks and bats in Prospect Park.
Bobby, forever the dreamer, believes he can get the gun back to Vincent without incident. But that is just the first of many miscalculations that makes Brownstone Dreams such a compelling—and heartbreaking read.
Born and bred in Park Slope, McPartland writes about the world he grew up in with the eloquence and grit of Pete Hamill and Malachy McCourt. "McPartland's is as authentic a voice from New York City's streets as you're ever likely to hear." write Peter McDermott, Deputy Editor of the Irish Echo.
Bobby's story comes to a head with the savage beating of one of his best friends by Vincent. That's when Bobby's game plan changes and he goes on the offensive, unafraid of Vincent's reputation or his threats, determined to avenge his friend's beating.
So begins a downward spiral from which Bobby will never return. Even the love of Cathy, a good neighborhood girl, can't save Bobby from his inevitable trajectory. "Before Park Slope became the trendy family neighborhood of New York's wealthy elite, it was the home of Bobby Dutton, an Irish-American teenager growing up in the cockroach infested flats of McPartland's Brownstone Dreams," writes Marian Fontana, award-winning author of A Widow's Walk: A Memoir of 9/11. "The book captures a bygone era with a voice as fresh as it is engrossing,"
Brownstone Dreams will engross fans of Pete Hamill, Joe Flaherty and Frank McCourt, who will discover in McPartland a brave and bold writer with an urban story worth telling.
About the author: Kevin R. McPartland is a native Brooklynite, novelist and short story writer. His work has appeared in AIM Magazine, Grit Mag and in Adventures in Hell, an anthology of short stories by Vietnam Veterans.