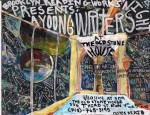 It's a busy week. There are things to do, people to see, High Holy Days to celebrate, as well as Brooklyn Book Festival Book End events to attend all week.  For a full schedule go here.
On Thursday, September 20, at 7PM, Brooklyn Reading Works is hosting Young Writers Night, a Brooklyn Book Festival Bookend Event presenting fiction, poetry and song by teenage writers. The event was curated by high school senior Hannah Frishberg who will be introduced by Brooklyn Poet Laureate Tina Chang. One Teen Story will also be on hand to distribute free copies of that new magazine.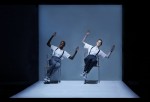 On Friday, September 21, I will be at BAM for Einstein on the Beach, an opera created by Philip Glass, Robert Wilson and Lucinda Childs. This will be the third production of Einstein at the Beach I've seen at BAM, the first without choreographer Lucinda Childs dancing.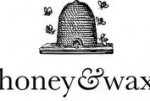 On Sunday, September 23, I will be at the Brooklyn Book Festival with Honey & Wax Booksellers. I will also be talking up Peter Matthiessen Wheelwright's "gorgeous debut novel" As It Is On Earth (Fomite).