Leslie Albrecht, a reporter for DNA Info, wrote a lovely profile (with a great slide show) of Park Slope's Heather O'Donnell, who runs Honey & Wax Booksellers. Albrecht sure knows a good lede when she sees it.
"Heather O'Donnell isn't the type of rare book dealer who puts on white cotton gloves before she handles her precious volumes. She's fine with plopping an 1881 edition of Henry James' "Washington Square" — which sells for $2,000 — on the kitchen counter next to a plate of marinating chicken."
Okay, let's not get carried away. I'm sure O'Donnell doesn't often leave her rare and valuable books in the kitchen. But she does, for the moment, run her business out of the attractive dining room of her historically detailed Park Slope apartment.
O'Donnell is a true book lover who believes books should be well loved and well used. She is also a client of my new company Brooklyn Social Media. Full disclosure there.
"She launched her rare book business Honey & Wax Booksellers in that spirit earlier this year. To her, rare books shouldn't be locked away in cabinets like specimens. She likes that books can be used to form relationships when they're passed between people. Her favorite part of the business is uniting appreciative collectors with long-sought books." writes Albrecht in her DNA Info piece.
Next week Honey & Wax will be the first rare bookseller at the Brooklyn Book Festival, an open-air celebration of, well, books. In fact, it is the largest literary event in New York City. This year there are more than 280 authors, more than 104 panels confirmed and something like 45,000  visitors expected.
Wowza.
O'Donnell will be there with an astonishing selection of rare books, first editions and special signed copies. She'll also be giving out tasty honey sticks. She is excited to showcase some of her best stock, and to field questions from festival attendees about the books they have and the books they want.
O'Donnell is uniquely qualified to answer those questions.  A lifelong book lover, she moved to NYC in 1989 to study English at Columbia. She received a doctorate from the Yale English department and worked as a curatorial assistant at the Beinecke Library, where she developed an eye for rare books. For seven years, she was a bookseller in the flagship New York gallery of Bauman Rare Books, dealing in a wide range of material, from Shakespeare to Audubon to Churchill. O'Donnell's desire to make her mark in the borough she calls home inspired her to launch Honey & Wax Booksellers earlier this year, and she's eager to make her Brooklyn festival debut on September 23.
Photos by Leslie Albrecht of DNA Info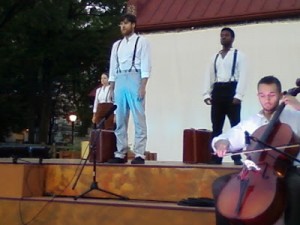 Richard Grayson, author of Brooklyn Diaries, I Brake for Delmore Schwartz, And to Think He Kissed Him on Lorimer Street, and other titles, ventured to Park Slope this weekend to see Piper Theatre's outdoor production of The Island of Doctor Moreau.
I love to read Grayson's reactions to local culture. He's smart and very knowedgable about art and theater.
He's also an interesting guy. I've read the Brooklyn Diaries, which is compulsive reading (by a compulsive writer) for those interested in one young man's college and post-college years in 1970′s and 80′s Brooklyn.
Grayson writes about his cultural wanderings in Williamsburg and other neighborhoods on his blog, Dumbo Books of Brooklyn. Just this week, he's written about  a zine fest at Pete's Candy Store, Eugene Mirman in Williamsburg Park and a recent breakfast in Ft. Greene. He also takes pictures.
"Tonight we were mesmerized by a stunning performance of an innovative, visceral, and commanding adaptation of H.G. Wells' The Island of Doctor Moreau conceived and executed by the amazing Piper Theatre outside the Old Stone House in Park Slope's Washington Park."
The following is an exchange that went on between me and Team Pinkberry. I noticed that someone from the new Park Slope Pinkberry was reading my blog posts and even chiming in about dates and times for their opening.
It occurred to me that it would be nice for them to advertise on OTBKB. So I sent them a message on Facebook. There is no Facebook page for the local Brooklyn business so I guess it went into some national Pinkberry message space.
Yesterday, I spoke with Ryan, the owner of Park Slope's Pinkberry. He lives in Long Island and is very excited about opening a business here. I asked him directly if he'd like to advertise on OTBKB and he told me that he'd have to speak with the national office about advertising.
Today, I got this email from the national office. I think it's a form letter response. I feel a little bit dissed, I have to admit.
Dear Team Pinkberry: Thanks for the comment on my blog and I will let the readers of Only the Blog Knows Brooklyn (a popular Park Slope blog since 2004) know that there will be an opening celebration on July 19th. Yay.

I'd like to offer you an inexpensive banner ad. If you send me a banner jpeg or gif, you can have the top banner spot on my blog.

Let me know if you're interested and I will quote you a low price for 6 months!!!

People know and trust OTBKB and an ad here will speak volumes about our delight in the addition of Pinkberry to the Seventh Avenue landscape.

Best, Louise
about an hour ago

Pinkberry

We are pleased to learn of your interest in partnering with the one-of-a-kind brand that is Pinkberry. We will be sure to share your contact information with the marketing team for further review and follow up. Thank you.




Louise Crawford

Thanks. Advertising with a local blog would show a real commitment to the community. And Brooklyn LOVES neighborhood-invested businesses. It must go both ways.

Park Slope's Barnes & Noble got a lot of flack for not, initially, doing things in conjunction with local schools, etc. They changed their ways big-time and now are, I think, considered a part of the neighborhood when they do the gift wrap fundraisers and poetry readings for local schools. It is especially important for chains and franchises to show their love for where they are.