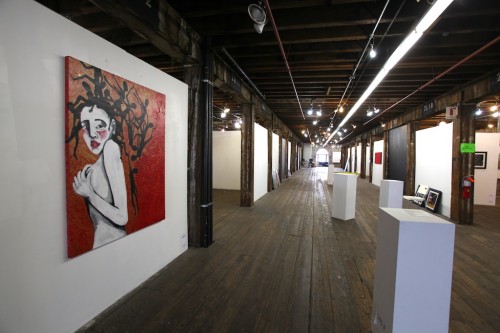 July 28 through August 19 see how the artists of the Brooklyn Waterfront Artist Coalition  responded to the challenge: "What is color?"
There will be over 1000 works of art in all media exhibited in BWAC's amazing 25,000 square foot Civil War-era warehouse gallery with great views of New York Harbor and the Statue of Liberty.
The first floor of the exhibit will be devoted to a special juried show of 120 works of art in all media submitted by artists from around the country. Brooke Kamin Rapaport was the show's sole juror. An independent curator and contributing editor and writer for Sculpture magazine, she is also the former curator of the contemporary art department of the Brooklyn Museum. 
Ms. Rapaport writes: "Through the deliberate choice of riffing on color, artists work in cellophane or video, digital photography or ink jet prints, acrylic or oil paint, loom loops or felt, and corrugated cardboard or collage. There are traditional landscape photos tweaked to magnify the photographer's vision of a polychrome cityscape. There is an assortment of abstract painting, some referencing color theory and much of it looking nostalgically to 1950s and 1960s modernist canvases. There are great swaths of color in these installations, sculpture, paintings and photographs."