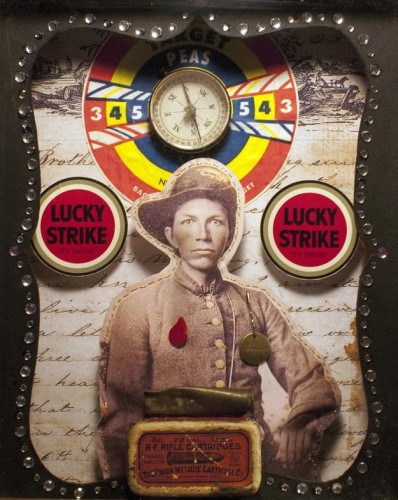 It's funny what grabs me, what inspires me to post on this old blog. I got an email this morning and it intrigued me. The subject line was: "Meditations on mortality: Shadow boxes by Gail Ghezzi...
Well, I have no idea who Gail Ghezzi is though I am fascinated by GH last names because my maiden name, may father's family name is Ghertler.
Meditation grabbed me, too. Then I saw mortality. Then I saw shadow boxes... Click. Reader, I opened the email.
Below is a description of Gail Ghezzi's artwork that looks very interesting. She collects things—records, artifacts, pop culture odds and ends—and turns them into shadow boxes a la Joseph Cornell but with a different kind of attitude. Way different.
The point of the email was to announce the debut of a website Birth, Death Repeat and an exhibition at Jalopy Tavern through October 12th. The details are below. I'm sorry I missed the opening on Saturday but I was in the thick of the Brooklyn Book Festival so I probably would have missed it anyway. But it's not too late to see the show, or to check out the website. Ghezzi's artwork sounds interesting and very interactive. Read ahead and you'll see what I mean:
"Birth, Death, Repeat..." is an art/writing project featuring the shadow boxes of the Brooklyn designer Gail Ghezzi. Ghezzi's shadow boxes are meditations on mortality that use antique artifacts and found objects she acquires at antique fairs, online and on her sidewalk. Each box imagines the final moments of a fictional character, and then surrounds that character with the detritus of a life. These lives are captured in short paragraphs attached to each box to make this the first collaboration between the artist and her husband/author Ben Greenman since the births of their children.

Anyone can participate by submitting a short story at birthdeathrepeat.com

Ghezzi's art  was debuted at Jalopy Tavern on Saturday, September 21 in Brooklyn. After the opening, the party continued next door at Jalopy Theater  with live music by Lara Ewen . Ewen performed from her new record "The Wishing Stone Songs," which features package design by Ghezz