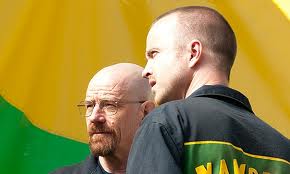 The Gate,surely one of the best neighborhood bars ever, on Fifth Avenue and Third Street in Park Slope will air Sunday episodes of the fifth season of Breaking Bad.
If you're into Breaking Bad and you do not have cable television, this will be excellent news.
This is the place to wach the continuing mis-adventures of Water and Jesse played by the great Bryan Cranston and Aaron Paul. The show, directed and written by Vince Gilligan,  airs at 10PM Sunday nights in NYC.
This is the fifth and final season and from what I've heard the first episode was INCREDIBLE.