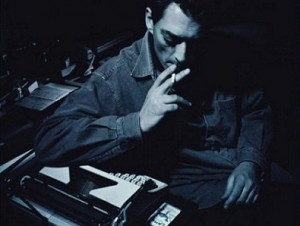 Last week I reported that Amy Sohn's new book was out in bookstores. And now for something completely different. Park Slope's elder literary statesman has a new book coming out
Did  I just call Paul Auster an elder literary statesman?
Well, he is probably one of the best known authors in the neighborhood and certainly one of the most important in the world. Some of his books are considered the most influential books of the late 20th century. It must be said: the  man has major cred.
On Tuesday, his new memoir, Winter Journal will be coming out. Today there's an interview in Salon Magazine where he shares his thoughts on his work, writing and the political climate in America.
He and Salon executive editor David Dailey met in Park Slope: "We met at a Park Slope cafe not far from his Brooklyn home on a recent rainy afternoon, where the conversation skipped easily from his new book to the New York Mets, and from literary politics to the presidential race," Dailey writes.
The interview is very interesting and you should definitely read it. Auster talks  about his decision to write another memoir. He's already written three: The Invention of Solitude, the Red Notebook and Hand to Mouth. Now this one. Auster is only 64 and he looks wonderful when I see him on Seventh Avenue. It's hard to believe that I've been seeing him in the neighborhood for twenty-one years, since he was in his forties.
Sure he looks a bit older now, but very dignified. He walks with the weight and intensity of someone who writes every day. He always looks lost in thought. Deeply. Every time I see him I wonder, what has he written today in his writing studio? In the Salon interview he talks about why he felt compelled to write this book:
"I don't know. As I've said, I can never answer why. I wanted to do it, so I did it. Was it the idea of, you know, reaching the age I've reached? I don't know. I'm not sure. I do know that, oddly enough, all these 40th anniversaries that were taking place in the last few years have been throwing me back to the old days a lot. I've been speaking about things that haven't been preoccupying me a lot, and maybe haven't spoken about. "Invisible" really goes back to Columbia in the late 1960s.
"So, you know, I'm living in the present, thinking about the past, hoping for the future. And then too, there's another thing I'd like to say: Most of the time, the way I seem to generate books is to bounce off the one I've done before, so to negate it, to do the opposite, to reinvent it. The book that came before it ["Sunset Park"] is the first book that consciously I wrote in the now, capital "N," and it was also immediate, all so much about our present moment, that the impulse was to go back afterwards."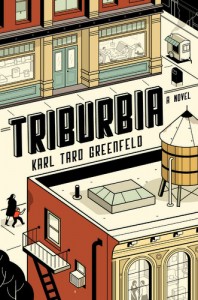 Amy Sohn's Motherland will be out next week but already the buzz begins. Today in the New York Times, Ginia Bellafante's article For a Spicier City, Turn the Page?, bundles Sohn's sequel to her bestselling Prospect Park West with a first novel by Karl Taro Greenfield called Triburbia.
According to Bellafante, "each of the two books revolves around the broader community of a highly ranked public elementary school: P.S. 321 in Park Slope and what is obviously P.S. 234 in TriBeCa, places so readily linked to an image of concerned liberal affluence that to a certain kind of New Yorker they hardly require annotation. Here the image of family wholesomeness gives way to a picture of acute marital anomie and rampant infidelity. Stereotypes endemic to the city populate: the entrepreneurial chef, the yearning screenwriter, the drifting vintage clothier, the gay father desperate for a second child, all of them sharing an aversion or mounting indifference to the partners with whom they've purchased their co-ops, renovated their kitchens and shared the enervating burdens of modern child rearing."
A book that will surely inspire conversation, debate and even secret late night reading Motherland comes out on August 14th. Mark your calendar.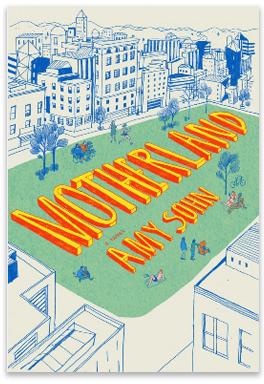 As we in Park Slope breathlessly await the release of Motherland, Amy Sohn's sequel to her bestselling Prospect Park West, Nancy McDermott has published a positive review of the book in Spiked, a British website. McDermott gives the book high praise for its readability and satire: "Motherland is both lightning-fast beach reading and well-observed social satire. Though the book won't last the summer, Rebecca Rose and company will stay with you well into the autumn."
McDermott, a moderator on Park Slope Parents  before she moved to rural Upstate New York, is an excellent writer and a cogent thinker on the culture of parenting in contemporary society. I love her blogs, The Brown House Years and The Parenting Mystique (Why America is Obsessed with Raising Kids).  Here's an excerpt from her review.  Do read the rest of Park Slope Parents Behaving Badly on Spiked.
"Motherland is the sequel to Prospect Park West, Amy Sohn's hyperrealist novel set in Park Slope, Brooklyn. In the first book of the series, Sohn used a mix of real and imagined people and events to explore the excesses of modern urban parenting culture. In Motherland, she revisits many of same themes and characters, but this novel is not so much about new parenthood as midlife crisis, two life events which, for the first time in history, are tending to occur around the same time."