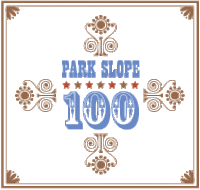 The Park Slope 100 will be rolled out on December 6th. So if you have any nominees, send them in now. This year's list has a different feel from last year's.
Last year's was foundational. It had all the "obvious" choices—ZuZu's Petals, David Yassky, the Dinnersteins, Paul Auster, Chris Altman, Debbie Almontasser, Al Di La, Pastor Meeter, Rabbi Bachman, Susan Fox, Kim Maier, Daniel McEnney, Daniel Goldstein, etc. —with some interesting "unknowns" thrown in for good measure.
Last year, I called the list a highly opinionated, inherently flawed, subjective, obviously controversial list of talented, energetic, ambitious, creative
individuals with vision in the Greater Park Slope area who reach
outward toward the larger community and the world to lead, to help, to create, to teach, to
improve, to enhance, to inform, to network, to make change.
The people chosen for last year's list were community
activists, entrepreneurs, volunteers, spiritual leaders, publishers,
bloggers, leaders of organizations, social workers, therapists,
artists, writers,
educators, politicians, chefs and restaurant owners and whatever else
I've left out.
This year's list is just as far reaching and just as interesting. To me, it feels more topical—many of the people on the list have been mentioned on OTBKB.
Last year's list may have included a disproportionate number of people connected with education and/or parenting. Last year, there were a lot of bloggers, activists, and politicians.
When all is said and done, I don't know how it will play out but I know it's going to be a great list with great people and great stories. If you have nominees please send them in ASAP.
Best of all, the Park Slope 100 now has a spiffy logo designed by Elizabeth Reagh of Good Form Design.