October 21, 2013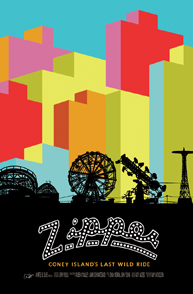 One night only. On October 30th at 9:30 catch Zipper at Nitehawk Cinema in Williamsburg.
Zipper, directed by Amy Nicholson,  is a tale of Coney Island told through the story of a small-time ride operator Eddie Miranda who operates a  carnival contraption called the Zipper in the heart of Coney Island's gritty amusement district.
When his rented lot is snatched up by a real estate mogul, Eddie and his ride become casualties of a power struggle between the developer and the City of New York over the future of the world-famous destination.
Be it an affront to history or simply the path of progress, the spirit of Coney Island is at stake. In an increasingly corporate landscape, where authenticity is often sacrificed for economic growth, the Zipper may be just the beginning of what is lost.
See more at: http://www.nitehawkcinema.com/movie/zipper/#sthash.W3sG2nn7.dpuf
October 20, 2013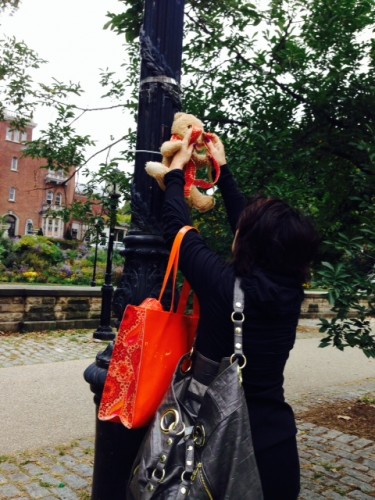 I  didn't know where they came from: the identical teddy bears that appeared on lamp posts on Prospect Park West after the death of Sammy Cohen-Eckstein, the 12-year old boy who was run over by a van a few weeks ago.
I'd seen the make-shift memorial for Sammy. Flowers, notes, stuffed animals at the entrance to Prospect Park on Third Street. Heartbreaking.
Then I heard that it was a student at Park Slope's MS 51, an eighth grader like Sammy, who put up the bears. Alison Collard de Beaufort bought forty of them to put up as a way to remind drivers to slow down. She also wanted to remind people about the senseless loss of her friend and fellow classmate.
On Saturday, a friend of mine decided that the teddy bears needed bows. Red bows. She asked my sister and her 9-year-old daughter to help her place handmade ribbon bows on twenty of the bears on Prospect Park West. I thought it was a beautiful gesture, one that perfectly compliments the initial gesture by Alison, as it honors Sammy with love, beauty and a message to us all to slow down.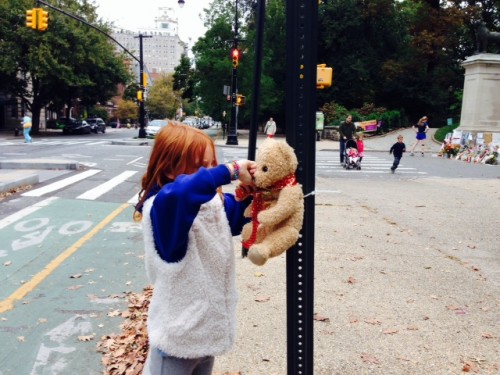 October 18, 2013
October 17, 2013
I feel no sense of religion except this.
Each hand like
a bastard on my lap.
I am thinking of the size
of a tiny darkness
in my palms
that shake out verse
like emerald hummingbirds.
I keep thinking of the word Rhododendron.
In my mind there is only this word
in different sentences.
I plant a rhododendron where your head should be.
It is Christmas Eve in Brooklyn.
I peal an orange in the nebulous vapor
and everything is quiet.
I take toast to the window
and throw the rind at the moon
that recedes into the clouds
like an iridescent testicle into the holy lap of the atmosphere—
I am thinking of the body again.
Tonight at 8PM: Poetry by D. Nurkse, MRB Chelko, Bianca Stone and music by Caitlin Claessens at The Old Stone House (336 Third Street, between 4th and 5th Avenues in Park Slope).
October 17, 2013
I get it Big City; there's no end
to your street light, what
lies beyond (nothing) lurks
out there, but now you must wait
(forever) until morning as I have waited
(forever) to fall asleep, and wait
still and wait now and wait just
a second. It takes two of me to screw
in a light bulb: one to keep my eyes closed
(forever) and one to be open eyed and
satisfied when the switch works just fine.
Now look how the apartment becomes
a box of light; it burns like the others.
Be (forever) grateful. It takes each photon
1 million years to escape the sun.
Tonight at 8PM: Poetry by D. Nurkse, MRB Chelko, Bianca Stone and music by Caitlin Claessens at The Old Stone House (336 Third Street, between 4th and 5th Avenues in Park Slope).
October 17, 2013
An excerpt from A Night in Brooklyn (Alfred A. Knopf)
We are frequently asked, What is death like?
Like tossing a frisbee in Prospect Park,
making sure the release
is free of any twitch or spasm—
any trace of the body's vacilation—
will the disc to glide forward
of its own momentum never verring,
in a trance of straight lined.
Like waving in traffic at Hoty-Fulton
waving away the squeegee man
with his excessive grin and red-veined eyes.
Tonight at 8PM: Poetry by D. Nurkse, MRB Chelko, Bianca Stone and music by Caitlin Claessens at The Old Stone House (336 Third Street, between 4th and 5th Avenues in Park Slope).
October 16, 2013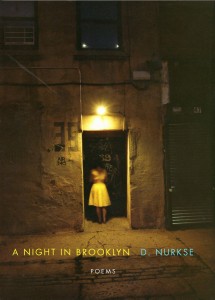 On Thursday, October 17 at 8PM, Brooklyn Reading Works presents Holiday in Reality, an evening of poetry curated by Patrick Smith at The Old Stone House (336 Third Street, between Fourth and Fifth Avenues, F Train to Fourth Avenue, R Train to Union Street).
Smith is thrilled to present Dennis Nurkse, the acclaimed author of A Night in Brooklyn (Alfred A. Knopf) a magical and haunted collection of poems, that is something like a love letter to our fair borough. Brooklyn Poet Laureate Tina Chang wrote of the book:  "…as much a celebration of the borough as it is a meditation on history, time and the furious love of the places the poet inhabits."
Sensual, urgent and fierce, Nurkse's language evokes a white alley cat that mysteriously survives a Bensonhurst winter; the narrow bed where young love took place; the wild gardens behind tenements. In the title poem" We undid a button, turned out the light and in that narrow bed/we built the great city—/water towers, cisterns, hot asphalt roofs, parks/septic tanks, arterial roads, Canarsie, the intricate channels…
Nurkse is the author of numerous collections of poetry, including The Rules of Paradise (2001), The Fall (2003), and The Border Kingdom (2008). His parents escaped Nazi Europe during World War II—his Estonian father worked for the League of Nations in Vienna, his mother was an artist—and moved to New York. Nurkse's family moved back to live in Europe for a number of years, returning to the United States around the time of the Vietnam War. Nurkse lives in New York and teaches at Sarah Lawrence. He was at one time Poet Laureate of Brooklyn.
Also reading on Thursday night: MRB Chelko, Bianca Stone and Pat Smith. Music by Caitlin Claessens. A $5 donation includes beer, wine and snacks.
Highly recommended.
October 14, 2013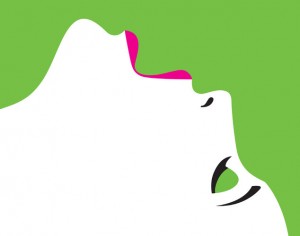 On October 17 at 7PM, Edgy Moms and Babeland Present: What Do Women Want?  Author Daniel Bergner in conversation with Babeland founder Claire Cavanah (462 Bergen Street in Park Slope, Brooklyn)
When it comes to SEX, common wisdom holds that men roam while women crave closeness and commitment. But in his provocative new book, Daniel Bergner turns everything we thought we knew about women's arousal and desire inside out.
Drawing on extensive research and interviews with renowned behavioral scientists, sexologists, psychologists, and everyday women, Bergner forces us to reconsider long-held notions about female sexuality
Claire Cavanah co-founder of Babeland and the co-author of Moregasm, will interview Bergner about his journey into the world of female desire and ask him thought-provoking questions such as: Are women perhaps the less monogamous sex? What effect do intimacy and emotional connection really have on lust? What is the role of narcissism-the desire to be desired-in female sexuality? And is the hunt for a "female Viagra" anything but a search for the cure for monogamy?
DANIEL BERGNER is a contributing writer for the New York Times Magazine and the author of four books of nonfiction: What Do Women Want?, The Other Side of Desire, In the Land of Magic Soldiers, and God of the Rodeo. In the Land of Magic Soldiers received an Overseas Press Club Award for international reporting and a Lettre-Ulysses Award for the Art of Reportage and was named a Los Angeles Times Best Book of the Year. God of the Rodeo was a New York Times Notable Book of the Year.
CLAIRE CAVANAH and Rachel Venning opened the first Babeland store in 1993 in response to the lack of women-friendly sex shops in Seattle. The store offered top quality products, a pleasant place to shop, and most of all information and encouragement to women who wanted to explore their sexuality. The store's popularity with both women and men has led to three more stores in New York, plus a thriving and educational website.
EDGY MOMS is the brainchild of Louise Crawford, artistic director of Brooklyn Reading Works, a monthly thematic reading series at The Old Stone House in Park Slope. Edgy Moms presents smart, powerful, funny, whiny, non-sanctimonious writing about mothers and motherhood. She runs Only the Blog Knows Brooklyn, a popular Brooklyn blog and Brooklyn Social Media, smart social media, publicity and special events for authors and entrepreneurs.
October 9, 2013
Very sad news.
A 12-year-old boy in Park Slope was hit and killed by a van on Third Street and Prospect Park West when he ran out into the street chasing a soccer ball in front of his apartment building. His name is Samuel Cohen-Eckstein.
Note from City Council Member Brad Lander:
"Like many of you, I am heartbroken over the death of our neighbor, Sammy Cohen-Eckstein, a 12-year-old boy who was hit and killed by a van last night on Prospect Park West. Sammy could have been any of our kids. There are no words for a senseless loss like this, but I know our whole community is praying for his friends and family.
Condolences to his family and friends.
October 9, 2013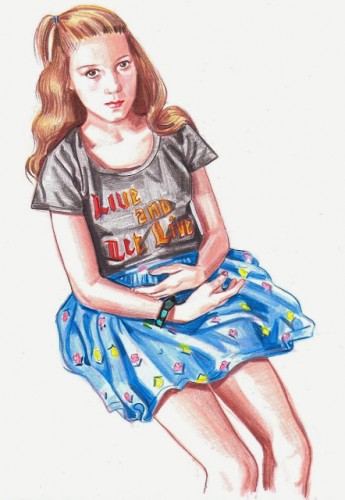 Fashion blog meets mommy blog: What My Daughter Wore presents gorgeous illustrations by a Brooklyn mom of her daughter's daily sartorial choices.
The drawings are simply gorgeous and the outfits are wonderful, too. To me, it feels like a collaboration between mother and daughter—but who knows. Some of the outfits feel mildly subversive on the part of the daughter, like the one where she's wearing a colander on her head.
In a way it's so representative of what's interesting and questionable about a certain strata of Brooklyn at this time: the look-at-my-fabulous-kid thing; the sense of "we're so ultra cool"; the need to shout it out.
But isn't that the pot (me) calling the kettle black. The drawings are truly lovely and the mom and daughter are equally gifted.
As a former mommy columnist myself I wonder if the blogger's kids are turned off by the entire endeavor. Mine certainly were. That said, this blog is done with such love and beauty. Wouldn't anyone be thrilled to have such a record of their lives?
October 8, 2013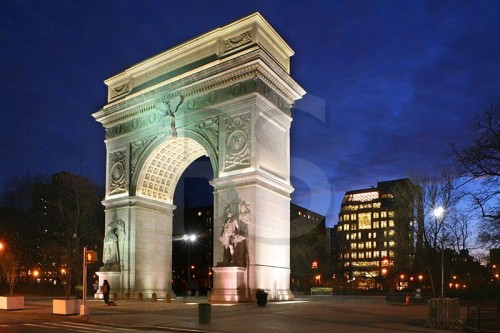 Friend and fellow blogger Cathryn Swan has a book coming out, an event which always calls for a celebration. Especially a book about an important New York City space.
This Thursday October 10th, Bluestockings Books hosts the official release party for Tales of Washington Square Park (and a few other places), a book/zine written by Swan, the editor of the Washington Square Park Blog.
The book includes some of her favorite stories from the blog. At the event, there will be a reading by Swan, conversation about the famous Greenwich Village park and more, and discussion of New York City's privatization of public space.
In the book, Swan touches on the following interesting factoids and more:
Why was the fountain moved 23 feet east to line up with the Arch at Fifth Avenue after 137 years in its previous location?
Did cars really run through the Arch?
What is the story behind the "Hangman's" elm at the park?
Why did Henry James hate the Arch?
From Eleanor Roosevelt, Jane Jacobs, Bob Dylan, Dave Chappelle to today, the park remains the heart of Greenwich Village. It is a constant reminder of the magical commons in the midst of the privatized city
WHEN: Thursday, October 10th @ 7 pm
WHAT: Reading+Discussion: Cathryn Swan's Tales of Washington Square Park (and a few other places)
WHERE: Bluestockings Books, 172 Allen Street between Stanton and Rivington (which is 1 block south of Houston and 1st Avenue).
By Train/Bus: Take the F train to 2nd Ave, come above ground at 1st Ave, and walk one block south along Allen Street. The Delancey-Essex JMZ stop is also nearby, and the M15 bus has a stop on Allen at Stanton.
The event page is here: http://washingtonsquareparkblog.com/official-release-event-for-tales-of-washington-square-park-at-bluestockings-books-thursday-october-10th-reading-discussion-with-cathryn/
Photo by Ron Saari
October 4, 2013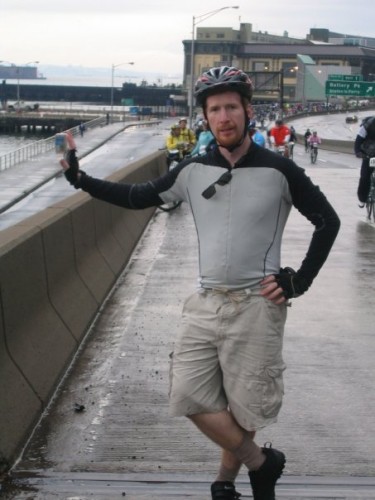 Here's a big shout out to Park Slope's Chris Hennessy, who has Multiple Sclerosis. This weekend he will be riding his bike along with nearly 5,000 people from the tri-state area, up to 100 miles to raise money for support programs, services and research sponsored by the National Multiple Sclerosis Society.
This year for the first time ever, riders with MS, such as Chris, will be provided extra support during the event through a program called "I Ride with MS," a bike series designed specifically to empower cyclists with MS by providing visibility and support tailored to their needs.
You can donate to "Team Hennessy" and help those with MS
Many people with MS experience a temporary worsening of their symptoms when the weather is very hot or humid, or they get overheated from exercise, the program will provide body-cooling neck wraps for these riders to use throughout their journeys, as well as special jerseys that identify them as "I Ride with MS" participants.
Good luck, Chris. Park Slope is rooting for you.
October 1, 2013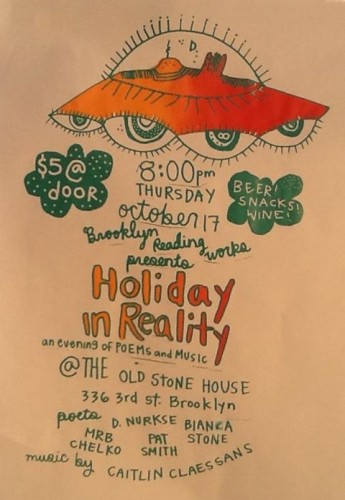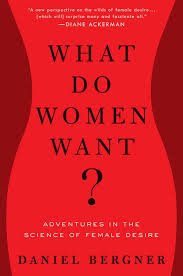 On Thursday October 17, Brooklyn Reading Works present TWO events:
WHAT DO WOMEN WANT? Adventures in the Science of Female Desire. A conversation with author Daniel Bergner and and Babeland co-founder Claire Cavanah (author of Moregasm). Presented Babeland and Edgy Moms.
Where: Babeland, 462 Bergen Street in Park Slope at 7PM
HOLIDAY IN REALITY: An evening of poetry curated by Pat Smith with acclaimed and award winning poet and former Brooklyn Poet Laureate D. Nurske, author of A Night in Brooklyn (Knopf) joining a fabulous and festive roster of poets and performers, including MLB Chelko, Pat Smith, Bianca Stone and  Caitlin Claessons.
Where: The Old Stone House, 336 Third Street in Park Slope at 8PM.
Do them both! A Lit crawl from Babeland to The Old Stone House.
September 24, 2013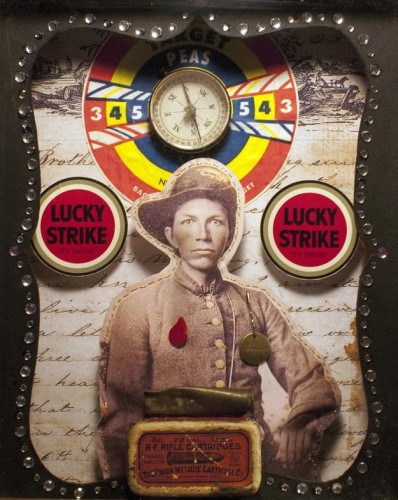 It's funny what grabs me, what inspires me to post on this old blog. I got an email this morning and it intrigued me. The subject line was: "Meditations on mortality: Shadow boxes by Gail Ghezzi…
Well, I have no idea who Gail Ghezzi is though I am fascinated by GH last names because my maiden name, may father's family name is Ghertler.
Meditation grabbed me, too. Then I saw mortality. Then I saw shadow boxes… Click. Reader, I opened the email.
Below is a description of Gail Ghezzi's artwork that looks very interesting. She collects things—records, artifacts, pop culture odds and ends—and turns them into shadow boxes a la Joseph Cornell but with a different kind of attitude. Way different.
The point of the email was to announce the debut of a website Birth, Death Repeat and an exhibition at Jalopy Tavern through October 12th. The details are below. I'm sorry I missed the opening on Saturday but I was in the thick of the Brooklyn Book Festival so I probably would have missed it anyway. But it's not too late to see the show, or to check out the website. Ghezzi's artwork sounds interesting and very interactive. Read ahead and you'll see what I mean:
"Birth, Death, Repeat…" is an art/writing project featuring the shadow boxes of the Brooklyn designer Gail Ghezzi. Ghezzi's shadow boxes are meditations on mortality that use antique artifacts and found objects she acquires at antique fairs, online and on her sidewalk. Each box imagines the final moments of a fictional character, and then surrounds that character with the detritus of a life. These lives are captured in short paragraphs attached to each box to make this the first collaboration between the artist and her husband/author Ben Greenman since the births of their children.

Anyone can participate by submitting a short story at birthdeathrepeat.com

Ghezzi's art  was debuted at Jalopy Tavern on Saturday, September 21 in Brooklyn. After the opening, the party continued next door at Jalopy Theater  with live music by Lara Ewen . Ewen performed from her new record "The Wishing Stone Songs," which features package design by Ghezz
September 24, 2013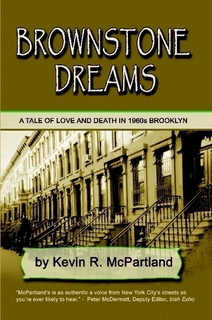 What was Park Slope like before it became the affluent Brooklyn neighborhood it is today? In the Park Slope of Brownstone Dreams, a new novel by Kevin R. McPartland, there are no cappuccino cafes, Bugaboo strollers or real estate offices selling million dollar apartments. Author McPartland spins a tragic tale about the mean streets of 1960's Brooklyn, evoking the sights and sounds of tenements, bars, and schoolyards that comprise the battleground of warring teenage gangs.
The year is 1962. It's early summer and it's already a hot one. 19-year-old Bobby Dutton, street tough and gang member, is in a state of turmoil, after stealing the gun of local wiseguy Vincent Casseo. Still high on glue and beer, Bobby has to figure out how to get the gun back to crazy Vincent, without getting himself killed.
"The next morning Bobby sat leaning on one elbow on a cluttered kitchen table. He sat watching his grandfather go about his morning ritual of drinking tea by the fire-escape window while he shaved and complained. 'Someday you'll know what this is all about, Bobby-boy. It's not fuckin easy makin' a buck in the world. Look at me, other men work on ships that go to sea. I work on a stinking barge in a filthy goddamn canal called Gowanus."
But Bobby isn't interested in how hard it is to make a buck in the world He is much more concerned about Vincent Casseo and his missing gun.
Brownstone Dreams is a gripping thriller about fear, anger and revenge. It is also the story of a Brooklyn neighborhood where drugs and alcohol take control of people's lives; where working-class immigrant families fill tenement buildings; where hardworking men drown their disappointments in seedy pubs, while their sons fight each other with sticks and bats in Prospect Park.
Bobby, forever the dreamer, believes he can get the gun back to Vincent without incident. But that is just the first of many miscalculations that makes Brownstone Dreams such a compelling—and heartbreaking read.
Born and bred in Park Slope, McPartland writes about the world he grew up in with the eloquence and grit of Pete Hamill and Malachy McCourt. "McPartland's is as authentic a voice from New York City's streets as you're ever likely to hear." write Peter McDermott, Deputy Editor of the Irish Echo.
Bobby's story comes to a head with the savage beating of one of his best friends by Vincent. That's when Bobby's game plan changes and he goes on the offensive, unafraid of Vincent's reputation or his threats, determined to avenge his friend's beating.
So begins a downward spiral from which Bobby will never return. Even the love of Cathy, a good neighborhood girl, can't save Bobby from his inevitable trajectory. "Before Park Slope became the trendy family neighborhood of New York's wealthy elite, it was the home of Bobby Dutton, an Irish-American teenager growing up in the cockroach infested flats of McPartland's Brownstone Dreams," writes Marian Fontana, award-winning author of A Widow's Walk: A Memoir of 9/11. "The book captures a bygone era with a voice as fresh as it is engrossing,"
Brownstone Dreams will engross fans of Pete Hamill, Joe Flaherty and Frank McCourt, who will discover in McPartland a brave and bold writer with an urban story worth telling.
About the author: Kevin R. McPartland is a native Brooklynite, novelist and short story writer. His work has appeared in AIM Magazine, Grit Mag and in Adventures in Hell, an anthology of short stories by Vietnam Veterans.
September 24, 2013
Forever Brooklyn from Francesco Paciocco on Vimeo.
September 20, 2013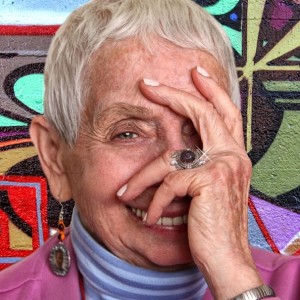 Do you know this woman hiding half her face behind her fingers? That's Bernette Rudolph, my neighbor and a wonderful artist who lives on Third Street in Park Slope. She is also one of the organizers of the Park Slope/Windsor Terrace Artists Open Studio Tour this Columbus Day Weekend (October 12-14, 2013).
At their website,there's a map, studio addresses and information about the exhibiting artists. It's a wonderful group of artists including Tom Keough, who does wonderful and mysterious night paintings of Brooklyn Streets. The other artists are Phillip de Loach, Joy Walker, Bernette Rudolph, Janie Samuels, Lloyd Campbell, Bob Hagan, Robin Epstein, Darcy Lynn, Grace Markman  and David Listokin
At her studio, Bernette will show what she's calling "Master Paintings in Three Dimension." By that she means 3-D treatments of Chagall's wedding couple flying off the surface, Picasso's Guernica, and other master paintings.
I think it sounds fun.
Below is a painting by exhibiting artist Joy Walker: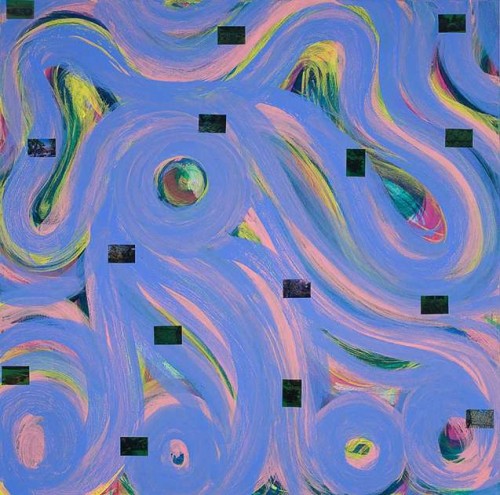 September 19, 2013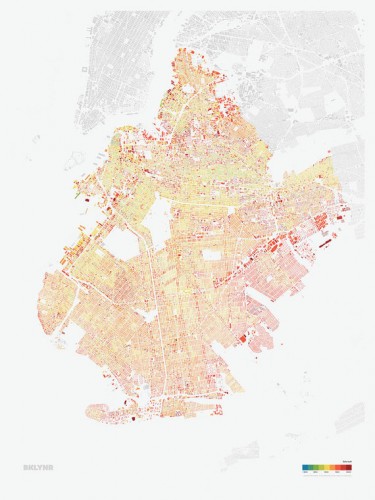 As you know, Brooklyn is one heck of a BIG and complex place.  And while there's ample media coverage of selected aspects of Brooklyn life, news about certain issues and certain neighborhoods is limited.
 Hello BKLYNR, a  bi-weekly that is now releasing its 12th issue This journalistic endeavor tells in-depth stories about all of Brooklyn, and it tells them in innovative and interesting ways. Best of all, if you subscribe, it will magically appear in your inbox every two weeks for only $20 per year. Good deal I say.
In Bklynr Issue 12:
Fighting for Life: A doctor at Long Island College Hospital on the battle to keep the lights on. by Douglas Sepkowitz.
One Block in Crown Heights: Stories behind the buildings we walk past, an interactive panorama by Albert Sun, Zachary Friedman, and David Lei
In the Weeds: The derelict majesty of Brooklyn's Marine Park, photo series by Will Ellis
You can also get a limited edition print of the map pictured above of every block in Brooklyn for $39.
September 16, 2013
In no particular order, these panels at the Brooklyn Book Festival appealed to me. There's so much to choose from and many look very good.  Frankly I've never gotten into one of these panels. It's always so crowded.
ONE.  10:00 A.M. The So-Called 'Post-Feminist, Post-Racial' Life in Publishing: Best-selling author Deborah Copaken Kogan sparked a firestorm with her explosive essay in The Nation, and her experience as a 21st-century female author was marked by slut-shaming, name-calling and an enduring lack of respect. Poet, activist and author of sixteen books,Sonia Sanchez (Homegirls and Handgrenades) has consistently addressed the lack of respect for the struggles and lives of Black America. Author and founder of Feministing, Jessica Valenti, has devoted considerable time to transforming the media landscape for women. Moderated by Rob Spillman, Tin House. Borough Hall Courtroom.
TWO. 2:00 P.M. André Aciman and Claire Messud in Conversation: The experience of otherness and dislocation are preoccupying themes forAndré Aciman (Harvard Square) and Claire Messud (The Woman Upstairs). The conversation will explore how these themes inform their sense of character, as well as their understanding of the very nature of the fictional enterprise. Moderated by Albert Mobilio (Bookforum). Borough Hall Courtroom.
THREE.  3:00 P.M. Publish and Perish? E-books are killing publishing! The corporations are killing publishing! Self-publishing is killing publishing! While headlines continually bemoan the end of the literary world as we know it, others argue that the reports of publishing's demise have been greatly exaggerated.  Janet Groth (The Receptionist) and Boris Kachka(Hothouse) take a look inside two of our most storied institutions—The New Yorker and Farrar, Straus and Giroux—and consider the past while taking the pulse of the literary world today.  Brooklyn Historical Society.
FOUR. 5:00 P.M. What Fills the Void After War? Three acclaimed writers from countries that have known conflict and political unrest discuss war's aftermath and how it informs their work. With Irish writer Colum McCann(TransAtlantic), Sri Lankan writer Ru Freeman (On Sal Mal Lane) and Iraqi writer Sinan Antoon (The Corpse Washer). Moderated by Rob Spillman (Tin House). Borough Hall Courtroom.
FIVE. 5:00 P.M. Let's Talk About (Writing) Sex: Everyone's writing about it.Sam Lipsyte (The Fun Parts) pens sardonic short stories about sex in a misanthropic world. Amy Grace Loyd (The Affairs of Others) depicts an apartment building filled with violence, mystery, and, of course, sex. AndSusan Choi (My Education) puts a (sexy) new twist on the student-teacher relationship. Short readings and discussion. Moderated by Angela Ledgerwood (Cosmopolitan Magazine). Main Stage.
SIX. 11:00 A.M. Mommy Dearest: Some women would sacrifice anything to have a child. Others consider having a child a sacrifice in itself. The complications of adoption, of lost chances, and of the relationship between past and present are all held together by a mother's instinct, or lack thereof. Jennifer Gilmore (The Mothers), Claire Messud (The Woman Upstairs), and Jamaica Kincaid (See Now Then) debate the different roles that motherhood plays in their latest novels.  Moderated by Harold Augenbraum, National Book Foundation. St. Francis Auditorium.
SEVEN. 4:00 P.M. Art Spiegelman and Jules Feiffer in Conversation: Pulitzer-Prize winning graphic novelist Art Spiegelman's newest release, Co-Mix, is a career retrospective that covers his work from Raw to Maus to the New Yorker (and Garbage Pail Kids in between). Joined by Jules Feiffer (Out of Line: The Art of Jules Feiffer), also a Pulitzer winner, they debate the purpose and impact of comics art, its history and development, and their visions of its future. Featuring screen projection. St. Francis Auditorium.
EIGHT. 5:00 P.M. On Nonfiction: American literature is in the midst of a renaissance of sorts, from the glossies to the blogosphere, with an unforeseen proliferation of investigative journalism, memoir, and personal essay. Join Svetlana Alpers (Roof Life), George Packer (The Unwinding) and Clifford Thompson (Love for Sale and Other Essays) in conversation with Phillip Lopate (Portrait Inside My Head) about the renewal and relevance of nonfiction writing today. St. Francis Auditorium
NINE. 10:00 A.M. Family Inheritances: It's all in the family. Sometimes it's the one we're born into and sometimes it's the one we make for ourselves.Joanna Hershon (A Dual Inheritance), Caroline Leavitt (Is This Tomorrow), Callie Wright (Love All), and Donna Hill (What Mother Never Told Me) discuss the secrets, mysteries and hidden truths that permeate these generational relationships and lifelong bonds.  Moderated by Brigid Hughes, A Public Space. St. Ann's
TEN. 12:00 P.M. Arts and Politics in Fiction: Art has always been a tool for political and social change. In these novels, it comes in the form of protest-pop songs, motorcycle photography and high-end fashion. Alex Gilvarry(From the Memoirs of a Non-Enemy Combatant), Rachel Kushner (The Flamethrowers) and Nicholson Baker (Traveling Sprinkler) shed new light on the timeless relationship between art and politics. Moderated by Joel Whitney. St. Ann's.
September 16, 2013
THIS IS THE WEEK of the Brooklyn Book Festival, which gathers 40,000 people to Brooklyn Borough Hall for New York City's largest Book Festival and America's third largest.
From emerging writers to icons, this year includes readings and panels with Pete hamill, Jamaica Kincaid, James McBride,Claire Messud, Colum McCann, Sharon Olds, George Packer, Karen Russell, Sapphire, Art Spiegelman, Meg Wolitzer and Tom Wolfe and many, many more.
The Bookend events, parties, readings and panels during this week leading up to the Book Festival, are really fun, too. Tonight there's a big bash at The Bell House. On Tuesday, Brooklyn by the Book presents Paul Harding, author of the Pulitzer Prize winning Tinkers in conversation with Michele Filgate. That's at the main branch of the Brooklyn Public Library at Grand Army Plaza.
On Wednesday, September 18 at 8PM there's a celebration of the short story with Elissa Schappell, Dawn Raffel, Gregory Spatz, Clifford Thompson and Ron Parsons.  At the Old Stone House, or course. Hope to see you there.
On Thursday September 19, you can cat ch Catherine Gigante-Brown reading from ner novel "The El" at the Brooklyn Navy Yard at 6:30 PM.
Also on Thursday, a tribute to Alexander Cockburn and a celebration and a new collection of his work: A Colossal Wreck: A Road Trip Through Political Scandal, Corrption and American Culture at powerHouse Arena in DUMBO at 7PM.
Friday is the Fourth Annual Brooklyn Indie Part at Greenlight Bookstore in Ft. Green starting at 7PM.
For all the info you need; go to brooklynbookfestival.org
September 16, 2013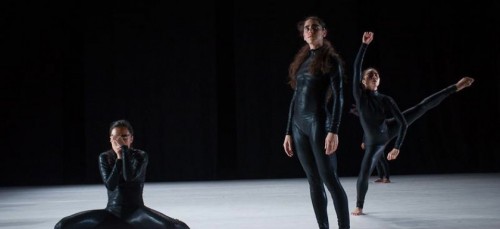 After last year's successful inaugural season the BEAT Festival's second season focuses on site-specific and immersive theatrical experiences in unusual and non-theatrical settings.
BEAT stands for Brooklyn Emerging Artists Theater but the BEAT roster includes a whole lot more than emerging artists with seasoned and accomplished artists like Ping Chong, Lemon Andersen, Brave New World Repertory and others. But there are lesser known groups as well like LeeSaar and the Institute for Psychogeographic Adventure.
This past Sunday night at Congregation Beth Elohim, Brave New World Repertory Theater presented a reading of reflections by those involved with the CBE Feeds initiative, which has been serving food to victims of Hurricane Sandy for the past year and intends to continue.
Also at Beth Elohim, on September 21 they will presenting Ping Chong's Brooklyn 1963, about events connected with civil rights and the fight for freedom in Brooklyn.
There's a whole lot more to the festival, including a performance on Saturday, September 21 of the "striking, sexy and assertive choreography" of LeeSaar, a dance company established in Israel in 2000 by  Lee Sher and  Saar Harari.
September 16, 2013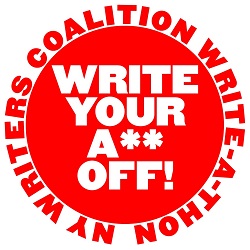 Get your pencils, pens or computers ready. The 8th Annual New York Writers Coalition's Write-A-Thon is this Saturday, September 21, a great writing event and a fundraiser for the New York Writers Coalition.
Please join me at the NYWC Write-A-Thon. I'm going to spend the day writing and you can too. Even if you don't consider yourself a writer, spending the day thinking, taking a writing workshop, tinkering around in a computer or notebook, meeting other interesting people, or doing whatever you want is incredibly fun!
It happens to be the week of the Brooklyn Book Festival so it makes perfect sense to do some writing AND at the same time contribute to this great organization which sponsors writing workshops for the incarcerated, recovering drug addicts, at-risk teenagers, the disabled, the elderly and more…
For more information click here. 
September 9, 2013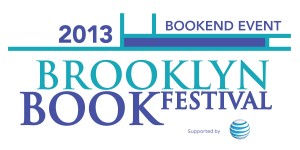 "My short stories are like soft shadows I have set out in the world, faint footprints I have left."
― Haruki Murakami
On September 18, 2013 at 8PM, Brooklyn Reading Works at the Old Stone House will present a Brooklyn Book Festival Bookend Event: SOFT SHADOWS: A CELEBRATION OF THE SHORT STORY with Elissa Schappell, Dawn Raffel, Gregory Spatz,, Clifford Thompson and Ron Parsons, who will read and discuss their work and their favorite short stories. Louise Crawford will host.
Audience members will be invited open-mic style to share their favorite published stories and read the first paragraph.
A $5 suggested donation will include wine and snacks. Books will be sold and signed.
The Old Stone House: 336 Third Street between 5th and 4th Avenues. R train to Union Street, F train to Fourth Avenue. 718-768-3195. For interviews and inquiries: 718-288-4290
ABOUT THE FEATURED AUTHORS
DAWN RAFFEL's illustrated memoir, The Secret Life of Objects, was published in June and was on Oprah's Summer Reading List and Best Memoir List for 2012. She is also the author of two story collections— Further Adventures in the Restless Universe and In the Year of Long Division (soon to be reissued)—and a novel, Carrying the Body. Her stories have appeared in O, The Oprah Magazine, BOMB, Conjunctions, Black Book, Fence, Open City, The Mississippi Review Prize Anthology, The Anchor Book of New American Short Stories, Arts & Letters, The Quarterly, NOON, and numerous other periodicals and anthologies. She was a fiction editor for many years, followed by a seven-year stint as Executive Articles Editor at O, The Oprah Magazine and three years as Editor-at-Large at More magazine; she has also taught in the MFA program at Columbia University and at the Summer Literary Seminars in St. Petersburg, Russia; Montreal; and Vilnius, Lithuania. She is now Editor at Large, Books at Readers Digest, and the editor of The Literarian, the magazine for the Center for Fiction in New York. She lives outside New York City with her husband and sons.
ELISSA SCHAPPELL is the author of Blueprints for Building Better Girls and Use Me, a finalist for the Pen/Hemingway Award. She is a contributing editor at Vanity Fair, where she the author of the "Hot-Type" column. She has been a Senior Editor at the Paris Review and is a founding editor of the literary magazine, Tin House. Elissa has also been the co-editor of the anthologies, The Friend Who Got Away and Money Changes Everything. She lives in Brooklyn, New York with her family.
GREGORY SPATZ is the author of novels Inukshuk, Fiddler's Dream and No One But Us, as well as short story collections, Half as Happy and Wonderful Tricks. His short stories have appeared in literary journals and magazines such as Glimmer Train Stories, New England Review, Kenyon Review, Epoch, Santa Monica Review, The New Yorker, etc., and he has published numerous book and music reviews for The Oxford American. He's won numerous grants from the Washington State Artist Trust, as well as a Washington State Book Award, and in 2011 he was named Individual Artist of the Year by the Spokane Arts Commission. He is also the recipient of a 2012 National Endowment for the Arts literature fellowship.
CLIFFORD THOMPSON is the author of Love for Sale and Other Essays from Autumn House Press. His essays about books, film, jazz, and American identity have appeared in The Threepenny Review, The Iowa Review, Commonweal, Film Quarterly, Cineaste, Oxford American, Black Issues Book Review, and elsewhere. He is the author of a novel, Signifying Nothing. He lives in Brooklyn, New York, with his wife and children.
RON PARSONS is the author of the new story collection The Sense of Touch from Aqueous Books. He is writer living in Sioux Falls. Born in Michigan and raised in South Dakota, he was inspired to begin writing fiction in Minneapolis while attending the University of Minnesota. His short stories have appeared in such places as The Gettysburg Review, Indiana Review, The Briar Cliff Review, Flyway, and The Onion. This is his debut collection.
ABOUT THE HOST
Louise Crawford runs Brooklyn Readings Works, which has been called "the best place to chase fiction with a little history" by Conde Nast Traveler. She is the founder of the popular blog Only the Blog Knows Brooklyn and the Brooklyn Blogfest, an annual networking event for bloggers. Her company Brooklyn Social Media gets the word out about artists and entrepreneurs.
September 9, 2013
In November, New Yorkers will select a new mayor for the first time in more than a decade. The primary is on Tuesday and approximately  750,000 people (it is estimated) will make a decision for a city of 8 million people.
This is an important election that will define the direction of this great city for many years to come. I have one word for you: VOTE.
September 4, 2013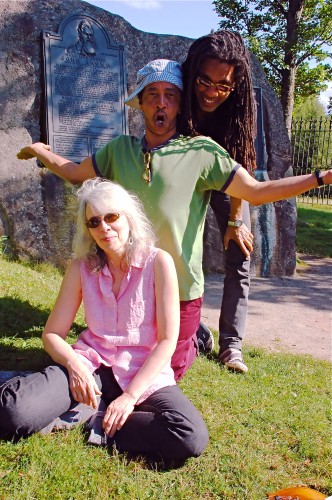 Janine Nichols, a Brooklyn performer and leader of the band SEMI-FREE, has plenty to be excited about.
First, she got a glorious CD review wondering why she is not famous by David Malachowski! Click below to read it:
http://www.dailyfreeman.com/articles/2013/08/23/entertainment/doc5216d71ea3c14007168306.txt
Second, SEMI-FREE now has a band photo (see above). Pictured are Nicols and bandmates Brandon Ross and Charlie Burnham.
And third: Semi-Free now has a video on You Tube: http://www.youtube.com/watch?v=ObT_hq7-2oA
The photo and video were shot by the visual artist Peter Seward at John Brown's Farm in Lake Placid, NY. It was from there that John Brown organized his assault on the Kansas Territory and, later, Harper's Ferry. Hallowed ground.
The song in the video, shot wild on borrowed guitars, is a new one, MOON OR NO MOON, the story of a slave escape. Nichols based it on a character in the Pulitzer Prize-winning novel, The Known World by Edward P. Jones.
September 4, 2013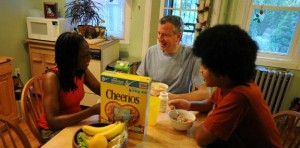 Who are you voting for? I know it's rude to ask but this mayoral election is a big deal. Plus, I'm super interested in which way you're leaning.
I'm surprised how many of my friends and family are undecided. They seem to be teasing out the differences between Bill De  Blasio, Christine Quinn and William Thompson.
I'm more than likely going to vote for Di Blasio. It's kind of a no brainer. He used to be my City Councilman and he's a recognizable tall person around the Slope. While I like his progressive and thoughtful views on education, housing and the middle class, I worry that he has no managerial experience and running the city is like running a really huge and  complex company. It really does require a managerial genius like Bloomberg even if you don't agree with his agenda.
Quinn sounds great on paper. She'd be the first woman and the first gay mayor of New York City. Who can walk away from that. Yet, she also represents the status quo and a continuation of Bloomberg policies and I think we need a change.
Thompson is also very qualified. He's a career politician who has been the head of the Board of Education for 5 terms and City Comptroller. Sadly, he doesn't seem to have much vision or pizazz.
What do you think?
September 4, 2013
Brooklyn-bred tech multimillionaire Jack Hidary is running as an independent candidate for NYC Mayor this November. Despite his financial success, he swears by an "outer-borough" mentality that aims to lift all New Yorkers, while also keeping a focus on maintaining the city's status as a "global capital," attracting (and developing) the best and brightest into the technology and finance industries. He wants your vote to be mayor, so he sat down with Matthew Taub of Only the Blog Knows Brooklyn to make the case.
1.  With Christine Quinn and Bill de Blasio supposedly in a dead heat, much attention has turned to the Democratic primary on September 10th. At the same time, New York City hasn't elected a Democrat as mayor in two decades. What are the limits of the two-party system that made you choose to run outside of it? Are there realistic chances of an independent candidate (such as yourself) winning office? Why should voters take heed?
JH: It is clear that voters across New York City are yearning for independent leadership. Both parties have nominated career politicians who have had many years to make an impact on our schools, economy and public safety yet have failed. Voters have grown weary of the favors career politicians have bestowed on the special interest, just as they've rejected career politicians who advocate for policies that divide our citizens by race, politics, economy and religion. I will be a mayor who will listen and be respectful, I will create solutions, not divisions, and more importantly, I will be a mayor who will do what is right for the City as a whole.  I chose to run an independent on the Jobs and Education Party ticket because these are the two most powerful factors that can empower citizens.
2.  You've been described as a "Bloomberg protégé" for your tech multimillionaire riches and independent, outside the party-lines platform. But you are also quick to point out your "outer-borough" upbringing— that you "come from a place that is different from the other candidates." What is your history in the borough of Brooklyn, and what upbringing (or orientation) do you have that sets you apart from others in the race? In what ways do you plan to expand economic opportunity beyond Manhattan to the other boroughs?
JH: I was born in Brownsville and raised on Ocean Parkway near Coney Island. As a first generation New Yorker whose parents came to these shores hoping to build a better life, I grew up rooted in the values of hard work, determination, and community. My parents were both entrepreneurs. In fact, entrepreneurship ran strong in my family, and we used to joke that the price of admission to Sunday dinner was being an entrepreneur.  It was that exposure to the entrepreneurial spirit at such an early age that gave me the foundation and the drive to start two successful businesses.  While others in the race were talking about the need to create jobs, I was actually creating them.
As Mayor, I want to make it easier for all New Yorkers to start a business.  And as the only candidate in the race with proven experience creating jobs, I know I can deliver on this promise.  Currently, government regulations have created a climate that makes it hard for the small business owner to get their ideas off the ground. As Mayor, I want to remove burdensome regulations that hamper small businesses. In addition, I want to unleash innovative solutions that will help small business owners get their products to market. One way we can achieve this is by facilitating the growth of food incubators – especially in the outer boroughs. Starting food incubators in places like Queens and Brooklyn, where we have some of the best food in the world, would mean small businesses could go there to use shared commercial kitchens, get guidance on packaging standards and design, and share strategies for success.
3.  Education reform is one of your top priorities. You'd like to change our educational system from what you consider an outdated testing model to group learning and experience to prepare students for jobs of the future. What is wrong with the current education system, and what specific policies or programs would you implement?
JH: All one has to do is look at test scores and graduation rates to see that the current system is failing our children. Schools of today are not adequately preparing children for the job market. Many of my opponents in this race have warmly embraced the testing culture which comes at the expense of culture and creativity. As Mayor, I want to move our children away from being taught the test. As Mayor, I want to move our children away from classroom instruction based on rote memorization and lecturing. These are education techniques of yesteryear, and have no place in a 21st century classroom. As Mayor, I want our students to be engaged in meaningful, collaborative learning environments. We've know that when students work together on group projects, they iterate, fail and then succeed, which is exactly what happens in life. Simply put, when kids solve challenges, they learn better, and are better prepared for life outside classroom walls.
4.  Brining more tech jobs to NYC is a lofty and admirable goal, but much of a NYC mayoralty is more nuts and bolts—the mundane, the grimy, even the ugly. Much of our populace inevitably (and necessarily) works in more menial jobs. How do you stand on matters effecting everyday New Yorkers such as "stop and frisk," the impending closures of multiple Brooklyn hospitals, clamping down on tax break boons to real estate super-developers? How do you feel about unionization efforts by fast food workers, raising the minimum wage and offering paid sick leave for workers?
I'm happy for the federal judges' ruling against 'Stop and Frisk.' It is a 90's era policing tactic that has should have never been used as our primary tool to keep New Yorkers safe. I support introducing more technology into our police force, and want a renewed call for more cops on the streets so we can have a greater community policing presence.  I oppose closing local hospitals that fill a vital community and health care role. I believe that City Hall should work with smaller hospitals to make needed upgrades and to assist them in finding partners that can help keep costs low and expand health care options to the areas they service.  In the area of taxes, I believe we must strive for tax equality. However, I also believe that the next mayor must spend the tax dollars wisely and more responsibly. I oppose blanket calls for tax increases until a Hidary administration does a complete review of the City finances.
5.  In the dwindling days of Bloomberg's third term, many are reflecting on his legacy. What is your overall impression of the Bloomberg's administration? In what ways do you feel he improved the experience and opportunities of the city? What policies or agendas did you disagree with?
JH: Mayor Bloomberg managed this City through multiple of economic crisis.' In addition, he has handled education in a manner that has left us with tremendous progress to build upon. He has been a mayor who championed the arts, our environment, and became a national leader for tougher gun control – all positions New Yorkers are in strong agreement with. Most importantly, he showed New Yorkers that an independent mayor could govern effectively.
September 4, 2013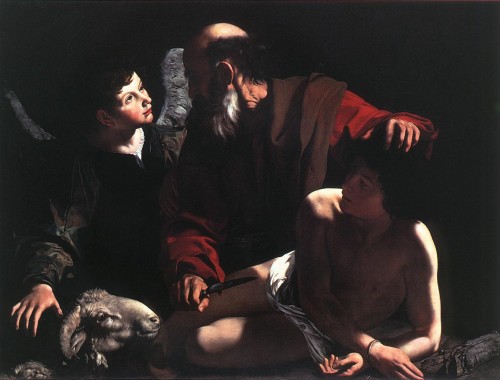 Hey, are you looking for something to do THIS Friday morning/early afternoon?
On the second day of Rosh Hashanah at Congregation Beth Elohim, Pulitzer Prize finalist James Goodman will be interviewed by Rabbi Andy Bachman about the binding of Isaac, the subject of his new book But Where is the Lamb? Imagining the Story of Abraham and Isaac (Schocken). 
Goodman and Rabbi Bachman will grapple with a story that Jews have been trying to make sense of and arguing about for more than 2000 years. It is a story many Jews believe is the most enduring symbol — the very definition — of what it means to be a Jew (Abraham's willingness to sacrifice the son he so longed for to God) and many others wish weren't even in the Bible.
They will discuss a story that lovers of peace and love and joy (and haters of war and sacrifice and blind obedience and faith) love to hate. He will ask how and why we would want to worship a God who (for no good reason) would ask a man to sacrifice his son, and how and why we would celebrate and revere, as the patriarch of patriarchs, a man who without protest, question, or hesitation, set out to obey. He will explore the answers that other people have given over the years. Although there is a lot not to like about the story, we can take comfort even hope in the endless debate about it and the thought that there has never been a time when people read the story we read and wanted to leave it as it is, on the page.
After the class, everyone is invited to Community Bookstore for wine and snacks catered by D'Vine Taste. James Goodman will sign books.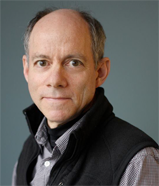 JAMES GOODMAN is a professor at Rutgers University, Newark, where he teaches history and creative writing. He is the author of two previous books, including Stories of Scottsboro, which was a finalist for the Pulitzer Prize. His new book But Where is the Lamb? Imagining the Story of Abraham and Isaac comes out September 15 from Schocken Books. He lives in New York.
Full disclosure: James Goodman is a client of Brooklyn Social Media.
September 4, 2013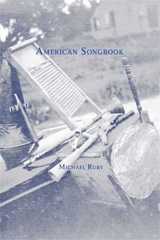 So nice to get a book in the mail. So nice when that book is from Ugly Duckling Presse. So nice when that Ugly Duckling Presse book is by a friend. Even nicer when that friend is Brooklyn's Michael Ruby, author of five full-length collections of poetry,  including the brand new American Songbook. 
American Songbook is Ruby's poetic response to an ambitious sweep of 20th century vocal music, including blues, jazz and country standards, Hip Hop, rock and disco. Lewis Warsh writes "You can sing  along to Michael Ruby's delirious new poems in American Songbook, your voice echoing down (to mis-qute Fred Neil) "the canyon of your mind," until you can't sing any more and the  poem goes off on its own."
It's an inviting book, which begins with the words, "Girls, beef up the rackets, and plasticize the seven dwarfs" in a poem called "Pinchbacks—Take 'Em Away" for the great Bessie Smith.
"Come As You Are" is a poem for Kurt Cobain that begins: "Come circumnavigate this eyeball in a see of eyeballs/As you are glowing polyurethane or coconut soda."
"I just called the chocolate relief/to say four hearts poise/I love you in the varnished spring/I just called the highboy song…" is from a poem called "I Just Called to Say I Love You" for Stevie Wonder.
Reading Ruby's book is like browsing through someone's iTunes playlist. Someone with a really good playlist, that is. All the poems are named for songs and performers, some familiar, some obscure. Quickly the poems take the reader into strange terrain, mangling the lyrics in ways that are complex and compelling. This is language-y stuff that tracks meaning in discombobulating ways. Clearly, he knows (and loves his music) but he also lets loose in the realm of the hallucenogenic poetic imagination.
Ruby's other books include Memories, Dreams and Inner Voices, Compulsive Words and At an Intersection. You can learn more about them here. 
August 15, 2013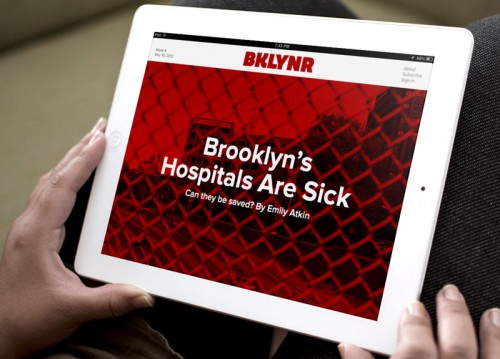 BKLYNR, the upstart online journalistic endeavor that I love is celebrating a few milestones. They've already put out ten issues in just five months. Amazing for the quality of the writing, reporting, design and the ambition.
The good news is that traffic and subscriptions are on the rise. In the last issue they published an interactive map, which showed the ages of Brooklyn's buildings. That got them mention all over the web, including. Atlantic Cities, Co.Design, and Gizmodo. They're also turning it into a 18" by 24" poster.
In Bklynr 10, you can read about a fishing boat off the coast of Sheepshead Bay, a  traditional  Russian bath— a "banya" — out in Sea Gate, and the upcoming elections and what it means for Brooklyn.
You need to subscribe in order to read. There are two issues a month and it's only $20 for a full year.