Two women in Brooklyn open a catering company and their story must be told. They have both worked in numerous and notable professional kitchens and have decided to pool their talents and their passions to open Rustic Supper.
In the beautiful photos on their website, you can practically taste the food and the pleasure it brings.
One of the two is Molly Baz, the daughter of old friends. On Facebook, I have followed the early path of her career as she has worked in professional kitchens in New York City, including Picholine, Allswell, and Glasserie to expand her palate and truly understand the global plate. Her culinary expertise includes classic French cuisine, to rustic Italian, to American gastropub, making stops in Middle Eastern and Asian kitchens along the way.
Molly's partner Amanda Elliott has been working as a private chef and caterer since graduating from The Institute of Culinary Education in 2005. Her globe spanning food emphasizes seasonality, creating memorable meals for two or two hundred.
Together? Well, collaboration, adventurous, fresh ingredients, talent and great energy is all. Just look at their web site and dream about events that would be perfect for this dynamic duo.
For example, dinner could begin with cauliflower fritters with cumin and  date molasses, and steak skewers with aleppo, almond aioli, and thyme. This could be followed by chickpea and yogurt soup with dried mint. And for the main course: leg of lamb, warm spices, garlic, cilantro, charred baby eggplant, tahini, pomegranate,  crispy black rice, dried apricot, shallot, mint.
Dessert sounds divine: cardamom donuts flavored with rosewater and pistachio.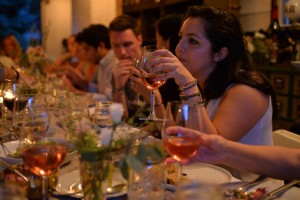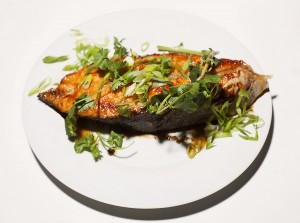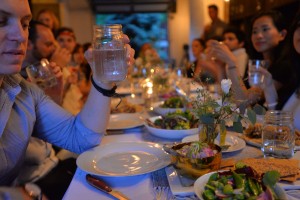 To me, it looks like Rustic Supper excels at creating communal dinners that will inspire conviviality and delight. The food, I must say, looks absolutely delicious.